Company law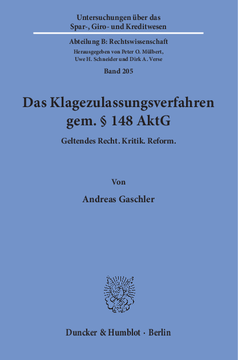 Additional Information
Book Details
ISBN

978-3-428-55110-1
978-3-428-15110-3 (print edition)

DOI

https://doi.org/10.3790/978-3-428-55110-1

Edition

1

Language

German

Pages

441

Collections

Subjects
Pricing
Institution

€ 116.00 (incl. local VAT if applicable)

Individual

€ 89.90 (incl. local VAT if applicable)
About The Author
Andreas Gaschler war nach Erster Juristischer Staatsprüfung (OLG Celle, 2007) wissenschaftlicher Mitarbeiter am Osnabrücker Lehrstuhl von Prof. Dr. Dirk A. Verse M.Jur. (Oxford). Im Studienjahr 2008/2009 studierte er mit gesellschaftsrechtlichem Schwerpunkt in Cambridge (LL.M., 2009). Nach dem Referendariat und der Zweiten Juristischen Staatsprüfung (OLG Celle, 2014) trat er in den Justizdienst der niedersächsischen Justiz ein. Vorwiegend war er seitdem als Zivilrichter tätig. 2016 wurde er an der Mainzer Universität promoviert. Seine Dissertation wurde beim Stiftertag der Johannes Gutenberg-Universität Mainz 2018 mit dem Preis der Alfred Teves-Stiftung ausgezeichnet.
Abstract
Gemäß § 148 AktG können Aktionärsminderheiten, die ein Vorverfahren erfolgreich durchlaufen haben, ausgewählte Gesellschaftsansprüche einklagen. Dieses Minderheitsrecht funktioniert in der Praxis jedoch nicht. Die Arbeit stellt die Regelungsbestandteile des § 148 AktG dar, die als »Sand im Getriebe« verantwortlich für diesen Funktionsausfall sein könnten. Es wird sodann vorgeschlagen, § 148 AktG zu reformieren und Zulassungshürden abzubauen: Die Hürde des Antragsquorums (§ 148 Abs. 1 Satz 1 AktG) erweist sich als zu hoch. Ferner ist die praktisch kaum handhabbare, zu weit geratene Interessenabwägung (§ 148 Abs. 1 Satz 2 Nr. 4 AktG) aufzugeben. Zudem sollte das Verfahren auf die Bestellung eines besonderen Vertreters ausgerichtet werden, der Zugang zu den Informationen der Gesellschaft erhält. Und schließlich sollten die Kostenrisiken gemindert und überdies positive Anreize für Aktionäre in Gestalt prozessrisiko- und aufwandsorientierter Erstattungsansprüche gesetzt werden. »The Shareholder Derivative Suit According to Section 148 of the German Company Code (Aktiengesetz - AktG)«

Section 148 of the German Company Code (Aktiengesetz - AktG) provides for a derivative suit for minority shareholders. However, it has turned out that this minority right does not work in practice. The dissertation first dissects those conditions of the provision that might be responsible for this failure. It then takes on the reform debate and proposes far-reaching steps to lower the legal hurdles for minority sharholders in order to turn the German derivative suit into a success story.
Table of Contents
Section Title
Page
Action
Price

Geleitwort

5

Vorwort

7

Inhaltsverzeichnis

9

Abkürzungsverzeichnis

17

§ 1 Einleitung

23

I. Fragestellung und Anliegen der Untersuchung

23

II. Gang der Untersuchung

26

1. Kapitel: Grundlagen des Verfolgungsrechts

28

§ 2 Das Verfolgungsrecht im Überblick

28

§ 3 Rechtstatsächlicher Befund

30

§ 4 Das Verfolgungsrecht im System der Anspruchsdurchsetzung

31

I. Verwaltungszuständigkeit

31

II. Hauptversammlung

36

III. Zum Stellenwert des § 148 AktG

39

§ 5 Zweckbestimmung des § 148 AktG

40

I. Kompensationszweck

40

II. Präventive Steuerung des Organwalterhandelns

41

1. Standpunkt des Gesetzgebers

41

2. Überzeugungskraft des Präventionsansatzes

42

III. Konkretisierung der Verhaltensmaßstäbe für Verwaltungsorganmitglieder

46

IV. Förderung des Anlegervertrauens in den deutschen Finanzplatz

49

V. Sonstige öffentliche Interessen

50

VI. Relative Bedeutung der Sanktionswahrscheinlichkeit (certainty) und der Sanktionshöhe (severity) für die Verwirklichung der Haftungszwecke

51

1. Verhaltenssteuerung

52

a) Gründe für eine gemäßigte Höhe der Ersatzansprüche

53

b) Argumente für eine häufige Durchsetzung der Innenhaftungsansprüche

61

c) Ergebnis

66

2. Vertrauensbildung

66

3. Ergebnis

67

§ 6 Regelungspolitisches Spannungsfeld des Verfolgungsrechts

67

I. Umgang mit Zweckkollisionen

67

II. Erfolgsbedingungen des Antragsrechts und das Risiko des Rechtsmissbrauchs und nachteiliger Verfahren

68

III. Abstimmung mit der Verbandsverfassung

69

2. Kapitel: Das Verfolgungsrecht de lege lata

71

§ 7 Anwendungsbereich des § 148 AktG

71

I. Ersatzansprüche aus der Geschäftsführung gegen die Mitglieder des Vorstands und des Aufsichtsrats

71

II. Unredlichkeit oder grobe Verletzung des Gesetzes oder der Satzung

72

1. Unredlichkeit

73

2. Grobe Verletzung des Gesetzes oder der Satzung

75

a) Grobheit der Verletzung

75

b) Veranschaulichung anhand der Pflichtverletzungen des Vorstands

80

aa) Pflichtverletzungen bei unternehmerischen Entscheidungen (§ 93 Abs. 1 Satz 2 AktG)

80

bb) Pflichtverletzungen außerhalb unternehmerischer Entscheidungen

86

c) Veranschaulichung anhand der Pflichtverletzungen des Aufsichtsrats

89

III. Konzernrechtliche Ansprüche

90

§ 8 Das Klagezulassungsverfahren gem. § 148 Abs. 1 AktG

91

I. Verfahrensrechtliche Regelungen

92

1. Antragstellung

92

2. Beteiligte des Klagezulassungsverfahrens

92

3. Partieller Untersuchungsgrundsatz?

94

4. Schriftliches Verfahren oder mündliche Verhandlung?

94

5. Rechtsbehelfe

95

II. Das Antragsquorum

95

III. Aktienerwerb vor Kenntnis oder Kennenmüssen von Pflichtverletzung oder Schaden (contemporanous ownership rule)

96

IV. Aufforderung der Gesellschaft zur Klage und Fristsetzung

97

1. Aufforderung

97

2. Setzung einer angemessenen Frist

98

3. Verstreichen der Frist

100

4. Entbehrlichkeit der Fristsetzung

100

V. Vorliegen von Verdachtstatsachen

101

1. Verdacht

101

2. Darlegungs- und Beweislast

104

VI. Keine überwiegenden Gründe des Gesellschaftswohls (§ 148 Abs. 1 Satz 2 Nr. 4 AktG)

105

1. Grundstruktur der Abwägung

106

2. Für Rechtsverfolgung zu gewichtende Aspekte

110

a) Wert der Klageforderung

110

b) Sekundäre Vorteile der Klage

111

c) Öffentliche Klagezwecke

113

3. Gegen Rechtsverfolgung zu gewichtende Aspekte

116

a) Kreis der Gegengründe

116

aa) Ausschluss persönlicher Interessen der Organmitglieder

117

bb) Beschränkungen aus Zweck und Funktionsbedingungen des Zulassungsverfahrens?

117

cc) Beschränkungen aus Wertung des § 145 Abs. 4 AktG?

119

b) Anforderungen an die Eintrittswahrscheinlichkeit?

122

c) Einzelne entgegenstehende Gründe

122

aa) Primäre Kosten eines Klageverfahrens

122

bb) Nachteile aus dem Bekanntwerden von Tatsachen im Klageverfahren

123

cc) Schädliches "Wachhalten" des Pflichtverstoßes

127

dd) Behinderung der Vorstands- und Aufsichtsratsarbeit und notwendige Trennung vom Organmitglied

128

ee) Beeinträchtigung des Betriebsklimas und des Autoritätsgefüges

129

ff) Schonung eines verdienten Organmitglieds

130

gg) Mehrfache Antragstellung (sog. Me-too-Klagen)

131

hh) Mangelnde Eignung des Antragstellers als Repräsentant der Gesellschaft

131

4. Darlegungs- und Beweislast

132

5. Auswirkungen eines Schiedsverfahrens auf die Abwägung

133

6. Fazit

138

§ 9 Das Klageverfahren (§ 148 Abs. 4 AktG)

138

I. Grundlagen

138

II. Nochmalige Fristsetzung

139

III. Pflichten der Organmitglieder nach Klagezulassung

139

§ 10 Klagezulassungs- und Klageverfahren übergreifende Fragestellungen

143

I. Die Informationsbeschaffung für das Klagezulassungs- und das Klageverfahren

144

1. Gesellschaftsrechtliche Instrumente der Beschaffung von Informationen und Beweismitteln

145

a) Berichterstattung des Unternehmens

145

b) Auskunftsanspruch (§ 131 AktG)

146

c) Sonderprüfung (§§ 142 ff. AktG)

148

aa) Grundzüge des gerichtlichen Bestellungsverfahrens

148

(1) Subsidiaritätsgrundsatz

148

(2) Verdachtstatsachen und Amtsermittlungsgrundsatz

150

bb) Ergebnisse der Sonderprüfung und deren Verwendung im Klagezulassungs- und Klageverfahren

154

(1) Inhalt des Sonderprüfungsberichts und Verwendung in den Verfahren gem. § 148 AktG

154

(2) Vernehmung des Sonderprüfers als Zeuge in Verfahren gem. § 148 AktG

155

cc) Gesamtbetrachtung

157

d) Gesellschaftsrechtlicher Anspruch auf Auskunft und Bucheinsicht als Annex zu § 148 AktG?

157

e) Geltendmachung von Auskunfts- und Rechnungslegungsansprüchen der Gesellschaft gem. § 148 AktG?

161

2. Pflicht der Gesellschaftsorgane zur Unterstützung des Klageverfahrens

163

3. Prozessuale Instrumente zur Schließung von Kenntnislücken und zur Beweisführung

164

a) Anscheinsbeweise und tatsächliche Vermutungen

164

b) Sekundäre Darlegungslast

165

c) Urkundenvorlegung, §§ 421 ff., 142 ZPO

169

d) Zeugenbeweis (§§ 373 ff. ZPO) und Parteivernehmung (§§ 445 ff. ZPO)

173

aa) Vernehmung von Vorstands- und Aufsichtsratsmitgliedern im Zulassungs- und Klageverfahren

173

bb) Problem des Ausforschungsbeweises

178

4. Fazit

179

II. Verzicht und Vergleich in ihrer Bedeutung für die Verfahren gem. § 148 AktG

180

1. Voraussetzungen eines Verzichts und Vergleichs

180

2. Rechtmäßigkeitskontrolle der Verzichts- oder Vergleichsentscheidungen

182

3. Exkurs: Probleme der Willensbildung bei § 93 Abs. 4 Satz 3 AktG

192

4. Auswirkungen von Vergleichsverhandlungen und -abschlüssen sowie internen Untersuchungen auf die Verfahren gem. § 148 AktG

193

III. Verhältnis von Gesellschafter- und Gesellschaftsklage

194

IV. Gesellschaftsrechtliche Pflichten und Haftung antragstellender und prozessführender Aktionäre

195

V. Verfahrenskosten und materiellrechtliche Kostenerstattung

199

1. Prozessuale Kostenentscheidung in Bezug auf das Klagezulassungsverfahren

200

a) Kostenzuweisung

200

b) Berechnung der Kosten der Aktionäre im Unterliegensfall

200

aa) Gerichtskosten

201

(1) Streitwertberechnung gem. § 53 Abs. 1 Satz 1 Nr. 4 GKG i. V. m. § 3 ZPO

201

(2) Kosten der Beweisaufnahme

205

bb) Verfahrenskosten der Antragsgegner

207

cc) Kosten der beigetretenen Gesellschaft

209

dd) Kosten der Antragsteller

209

ee) Berechnungsbeispiel

209

ff) Möglichkeiten der Minderung des Kostenrisikos

210

c) Umfang der Kostenerstattung im Obsiegensfall

211

2. Prozessuale Kostenentscheidung in Bezug auf das Klageverfahren

212

3. Materiellrechtliche Kostenerstattungsansprüche der Aktionäre gegen die Gesellschaft

213

a) Anwendungsfälle

213

b) Anspruchsinhalt

214

c) Erforderlichkeitsgrenze des materiellrechtlichen Kostenerstattungsanspruchs?

215

4. Fazit

216

3. Kapitel: Das Verfolgungsrecht de lege ferenda

217

§ 11 Schlussfolgerungen aus dem rechtstatsächlichen Befund und Reformalternativen

217

§ 12 Die Reformansatzpunkte für ein effektives gerichtliches Durchsetzungsverfahren – zugleich Kritik des § 148 AktG

222

I. Anwendungsbereich

223

1. Restriktionen des § 148 Abs. 1 Satz 2 Nr. 3 AktG

223

a) Kritik

223

b) Lösungsoptionen

234

2. Einbindung konzernrechtlicher Ansprüche

235

II. Antragsquorum

238

1. Kritik

239

a) Erschwerung der Antragstellung

239

b) Gründe für Beibehaltung eines Antragsquorums

243

aa) Verhinderung von Rechtsmissbrauch

243

(1) Erpressung in Bezug auf das Zulassungsverfahren als Unterfall des institutionellen Rechtsmissbrauchs

243

(2) Erpressung im Klageverfahren als weiterer Unterfall des institutionellen Rechtsmissbrauchs

251

(3) Sonstige Missbrauchsfälle

252

(4) Gesamtbetrachtung

255

bb) Vermeidung von Anträgen ohne Erfolgsaussicht

256

c) Ausgewogenes Verhältnis der Haftungszwecke

258

2. Lösungsoptionen

261

3. Stufenmodell bei Erweiterung des Anwendungsbereichs?

263

III. Überwiegende Gründe des Gesellschaftswohls

264

1. Kritische Betrachtung

265

a) Entmutigung der Aktionäre und Rechtsanwälte

265

b) Vernachlässigung öffentlicher Klagezwecke

266

c) Gefahr überschießender Einschränkung der Anspruchsverfolgung

268

d) Abwägung mit Vorteilen der Schutzwirkung des § 148 Abs. 1 Satz 2 Nr. 4 AktG

269

2. Regelungsalternativen

271

IV. Adäquate Repräsentation der Gesellschaft: Aktionärsklage oder besonderer Vertreter?

275

1. Kritik

276

a) Fehlende Informationsrechte der zugelassenen Aktionäre

276

b) Keine Befugnis zu außergerichtlichen Verhandlungen

278

c) Strikte Subsidiarität der Aktionärsklage

279

2. Lösungsansätze: Stärkung der Aktionärsbefugnisse oder Einführung eines Sondervertreters

280

a) Reformziele

280

b) Abwägung der Reformalternativen

282

c) Regelungen zum Sondervertreter de lege ferenda

286

aa) Anforderungen an die Person des Sondervertreters

287

bb) Vorschlagsprärogative der Antragsteller

288

cc) Auswechslung eines ungeeigneten Sondervertreters

289

dd) Berichtspflichten

290

ee) Verantwortlichkeit und Haftung des Sondervertreters

292

V. Zugang zu prozessrelevanten Informationen

293

1. Informationsgewinnung im Bestellungsverfahren

293

a) Umkehr der Beweislast entsprechend § 93 Abs. 2 Satz 2 AktG

295

b) Geltung des Untersuchungsgrundsatzes nach dem FamFG

296

aa) Die Sachverhaltsaufklärung und Beweisführung im neuen FamFG-Vorverfahren: Vorteile und Grenzen

296

bb) Elemente des Beibringungsgrundsatzes im Bestellungsverfahren

300

2. Zugang zu Informationen durch besonderen Vertreter

302

a) Informationsrechte

303

aa) Allgemeiner Teil der Informationsrechte

303

(1) Erforderlicher funktionaler Bezug der Information zur Anspruchsdurchsetzung

303

(2) Problem der Auskunfts- und Vorlageverweigerungsrechte

305

bb) Kreis der zur Auskunft Verpflichteten

306

b) Weitere Rechte

310

VI. Kostenrisiken und Anreize

311

1. Kritik des geltenden Rechts

311

2. Lösungsansätze für Aktionäre

320

a) Verbesserungen durch Übergang vom Zulassungs- zum Bestellungsverfahren

320

b) Begrenzung der Kostenrisiken im Bestellungsverfahren

322

c) Positive Anreize

325

aa) Vereinbarkeit mit dem Gesellschaftsinteresse

326

bb) Ertragsbasierter Ansatz (Quota-litis-Methode)

329

cc) Abwägungsmodell

332

dd) Konkreter aufwands- und risikobezogener Ausgleich

333

(1) Aufwendungsersatz und Vergütung

335

(2) Risikovergütung

338

(3) Relative Begrenzung des Anspruchs

344

(4) Zusätzliche Deckelung der Kostenrisiken im Bestellungsverfahren und Optionsmodell

345

(5) Zulässigkeit nach deutschem und europäischem Gesellschaftsrecht

347

(6) Anwendungsbeispiel und mögliche Variationen des Modells

349

3. Lösungsansätze für Rechtsanwälte und besondere Vertreter

351

a) Bestellung des Prozessvertreters der Aktionäre zum besonderen Vertreter

351

b) Vergütung besonderer Vertreter

352

§ 13 Verwirklichung der Reformansatzpunkte in einem institutionellen Vorverfahren?

356

§ 14 Verfolgungsrecht und materiellrechtlicher Anspruch

359

I. Beschränkung des Haftungsumfangs

359

1. Umsetzung einer Haftungsbegrenzung

360

a) Sachlicher Anwendungsbereich

363

b) Regelungstechnische Umsetzung

364

aa) Haftungsbegrenzungen in der Satzung

364

bb) Starre gesetzliche Haftungsobergrenzen (caps)

367

cc) Variable gesetzliche Haftungsbegrenzung

372

(1) Allgemeine schadensrechtliche Billigkeitsklausel

372

(2) Aktienspezifische Billigkeitsklausel

372

dd) Eigener Ansatz: Rahmenmodell

374

(1) Der Rahmen

375

(2) Die Ausfüllung des Rahmens

379

(3) Vorkehr für marktuntypische Vergütungen

383

2. Abstimmung mit der D&O-Versicherung

383

II. Abstimmung mit § 93 Abs. 4 Satz 3 AktG

385

1. Dreijahresfrist

385

2. Widerspruchsquorum

388

a) Angleichung des Widerspruchsquorums

388

b) Reformalternativen

390

III. Abstimmung des § 148 AktG mit außergerichtlicher Anspruchsdurchsetzung durch das zuständige Verwaltungsorgan

393

§ 15 Besondere Regeln für "kleine" oder nichtbörsennotierte Aktiengesellschaften?

395

Ergebnisse

402

Zusammenfassung

409

Literaturverzeichnis

410

Sachwortverzeichnis

438