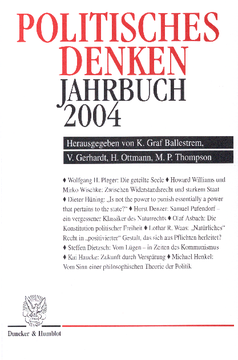 BOOK
Cite BOOK
Style
---
Ballestrem, K., Gerhardt, V., Ottmann, H., Thompson, M. (Eds.) (2004). Politisches Denken. Jahrbuch 2004. Duncker & Humblot. https://doi.org/10.3790/978-3-428-51732-9
Ballestrem, Karl Graf; Gerhardt, Volker; Ottmann, Henning and Thompson, Martyn P.. Politisches Denken. Jahrbuch 2004. Duncker & Humblot, 2004. Book. https://doi.org/10.3790/978-3-428-51732-9
Ballestrem, K, Gerhardt, V, Ottmann, H, Thompson, M (eds.) (2004): Politisches Denken. Jahrbuch 2004, Duncker & Humblot, [online] https://doi.org/10.3790/978-3-428-51732-9
---
Format
---
Politisches Denken. Jahrbuch 2004
Editors: Ballestrem, Karl Graf | Gerhardt, Volker | Ottmann, Henning | Thompson, Martyn P.
Politisches Denken. Jahrbuch, Vol. 14
(2004)
Additional Information
Book Details
Publisher Name

Duncker & Humblot

ISBN

978-3-428-51732-9
978-3-428-11732-1 (print edition)

DOI

https://doi.org/10.3790/978-3-428-51732-9

Edition

1

Language

German

Pages

214

Subjects
Pricing
Institution

€ 120.00 (incl. local VAT if applicable)

Individual

€ 89.90 (incl. local VAT if applicable)
About The Author
Martyn P. Thompson is Associate Professor and Senior Political Theorist in the Department of Political Science. His main fields of interest are the history of political thought since the Renaissance, literature and politics, and contemporary German political philosophy. Professor Thompson has two doctorates, the first from the London School of Economics, the second (the Habilitation) from Tuebingen University. He has been a faculty member in the universities of London, Cambridge and Tuebingen. His honors include a Fellow Commonership at Churchill College, Cambridge University; Fellowships at the Huntington Library and the William Andrews Clark Library in California; and honorary life membership of the R.G. Collingwood Society. Professor Thompson founded the Deutsche Gesellschaft zur Erforschung des politischen Denkens in 1989. He was President of the International Conference for the Study of Political Thought from 1995 to 2002 and he was President of the Michael Oakeshott Association from 2008 to 2010.
Abstract
Im Spannungsfeld zwischen politischer Wissenschaft, Jurisprudenz und Philosophie übernimmt das Jahrbuch Politisches Denken nunmehr seit 15 Jahren die Aufgaben einer bis weit in die einzelnen Fächer hineinreichenden Vermittlung. Der Begriff des "Politischen Denkens" ist bewusst weit angelegt, um sowohl Probleme der Theoriebildung als auch einer reflektierten Praxis aufzunehmen. Durch die groß angelegte Geschichte der politischen Philosophie, die der Mitherausgeber des Jahrbuchs, Henning Ottmann (München), unter den Titel Politisches Denken gestellt hat, ist die historische Reichweite dieses Begriffs inzwischen für die gesamte Antike und das Mittelalter ausgewiesen. In den noch folgenden Bänden wird deutlich werden, dass der Begriff in einzigartiger Weise Theoriebildung und die unter theoretischen Ansprüchen stehende politische Praxis umfasst.Der neue Band des Politischen Jahrbuchs spannt einen Bogen von Platons anthropologischer und ethischer Begründung der Politik über die Hobbes-Rezeption in Deutschland, einer Erinnerung an Samuel Pufendorf bis hin zu einer Erörterung der Theorieansätze an Helmuth Plessner und Michael Oakeshott. Weitere Themen sind der Freiheitsbegriff der Aufklärung und die Lügen in den Zeiten des Kommunismus sowie ein Beitrag zur Strafrechtstheorie im frühneuzeitlichen Naturrecht. Daneben finden sich Rezensionen sowie Nachrufe auf Norberto Bobbio und Ernst Vollrath.Mit dem neuen Verlagsort Berlin werden die Verbindungen des Jahrbuchs Politisches Denken zur parlamentarischen Praxis in der Bundesrepublik Deutschland enger geknüpft. Die Herausgeber sind bemüht, die strategische Diskussion der politischen Parteien kritisch zu begleiten und auf die großen Programmfragen der sozialen Demokratie in Deutschland mit analytischen Mitteln einzugehen. Dabei kommen auch die Praktiker zu Wort, die in der politischen Arbeit Theorieanstöße geben.Das "Jahrbuch Politisches Denken" ist bis zum Jahr 2003 im J. B. Metzler Verlag erschienen. Mit dem vorliegenden Jahrbuch 2004 ist diese Publikation in den Verlag Duncker & Humblot, Berlin, überführt worden.
Table of Contents
Section Title
Page
Action
Price

Inhaltsverzeichnis

5

Vorwort

7

I. Aufsätze

9

Wolfgang H. Pleger: Die geteilte Seele. Zum Verhältnis von Anthropologie und Ethik bei Platon

11

I. Einleitung

11

II. Anthropologie und Ethik auf dem Hintergrund des Leib-Seele-Dualismus

13

1. Platons rational-eudämonistische Ethik

13

2. Anthropologie nach dem Modell des Leib-Seele-Dualismus\r

15

III. Die geteilte Seele - Anthropologie und Ethik in Platons Politeia

16

1. Über Glück und Gerechtigkeit (Politeia I)

16

2. Die Teile der Seele und des Staates (Politeia II-IV)

16

3. Die Tugenden der Stände und der Seele

18

IV. Modifizierte Anthropologie - modifizierte Ethik

19

1. Anthropologie als Psychologie

19

2. Ethische Konflikte

20

V. Resümee

21

Howard Williams und Mirko Wischke: Zwischen Widerstandsrecht und starkem Staat. Ein Beitrag zur deutschen Rezeptionsgeschichte von Hobbes

25

I. Kant und der erste Übersetzer des Leviathan

25

II. Paul Johann Anselm Feuerbach und das Widerstandsrecht

28

III. Carl Schmitt und der starke Staat

32

IV. Ferdinand Tönnies und die historisch-systematische Hobbes-Interpretation

38

V. Schlussbetrachtung

42

Dieter Hüning: "Is not the power to punish essentially a power that pertains to the state?\" The Different Foundations of the Right to Punish in Early Modern Natural Law Doctrines

43

I. The Natural Right Approach to Punishment in Grotius and Locke

45

II. The Public Law Approach to Punishment in Hobbes and Pufendorf

50

III. The Question of the Right to Punish in the 18th Century

57

Horst Denzer: Samuel Pufendorf - ein vergessener Klassiker des Naturrechts

61

I. Berühmtheit zu seiner Zeit

61

II. Ende des Ruhms

62

III. Die prägenden Ideen

63

IV. Das Naturrecht

68

V. Leben in seiner Zeit

71

VI. Wirkung

74

Olaf Asbach: Die Konstitution politischer Freiheit. Grundlagen, Probleme und Aktualität der politischen Theorie der Aufklärung

77

I. Zur Bedeutung und Aktualität der politischen Theorie der frühen Neuzeit

77

II. Die Revolutionierung des Wissens in der frühen Neuzeit

81

III. Grundlagen der politischen Theorie der Neuzeit

83

IV. Was ist "Aufklärung\"?

87

V. Politische Theorie der Aufklärung als politische Wissenschaft

91

VI. Politische Theorie der Aufklärung und die Zähmung des Leviathan

94

VII. Politische Theorie der Aufklärung zwischen Herrschaft und Befreiung

98

1. Aufklärung und die Herrschaft der Vernunft

98

2. Aufklärung und der Doppelcharakter des modernen Staates

100

VIII. Bedingungen und Aufgaben politischer Theorie

103

Lothar R. Waas: "Natürliches\" Recht in "positivierter\" Gestalt, das sich aus Pflichten herleitet? Von der Paradoxie der Menschenrechte

107

Steffen Dietzsch: Vom Lügen - in Zeiten des Kommunismus

125

I.

127

II.

131

III.

137

IV.

140

Kai Haucke: Zukunft durch Verspätung. Helmuth Plessners Vision eines deutschen Beitrages zum politischen Humanismus Westeuropas

147

I. Die politische und ethische "Tragik\" der Deutschen: "Volk\" und "Kultur

152

II. Legitimationsprobleme des politischen Humanismus

155

III. Plessners Versuch einer philosophischen Erneuerung des politischen Humanismus

157

IV. Zur Aktualität der plessnerschen Bestimmungen nach 1989

163

Michael Henkel: Vom Sinn einer philosophischen Theorie der Politik. Bemerkungen zum Theoriebegriff bei Hans Buchheim und Michael Oakeshott

167

I.

170

II.

174

III.

178

IV.

185

II. Nachrufe

189

Henning Ottmann: Vom Nutzen und Nachteil der Philosophie für die Politik. Laudatio auf Norberto Bobbio zur Verleihung des Hegel-Preises der Stadt Stuttgart

191

Heinz-Gerd Schmitz: βουλεύεσθαι καλώς. Zum Tode von Ernst Vollrath

197

III. Rezensionen

201

Autorenverzeichnis

213