Public construction law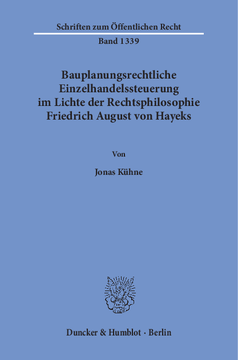 BOOK
Bauplanungsrechtliche Einzelhandelssteuerung im Lichte der Rechtsphilosophie Friedrich August von Hayeks
Schriften zum Öffentlichen Recht, Vol. 1339
(2017)
Additional Information
Book Details
ISBN

978-3-428-55042-5
978-3-428-15042-7 (print edition)

DOI

https://doi.org/10.3790/978-3-428-55042-5

Edition

1

Language

German

Pages

272

Collections

Subjects
Pricing
Institution

€ 92.00 (incl. local VAT if applicable)

Individual

€ 71.90 (incl. local VAT if applicable)
About The Author
Studium der Rechtswissenschaft an der Ernst Moritz-Arndt-Universität Greifswald, Studentische Hilfskraft am Lehrstuhl für »Bürgerliches Recht und Zivilprozessrecht« von Prof. Dr. Jürgen Kohler, Lehrbeauftragter des Dekanats der Rechts- und Staatswissenschaftlichen Fakultät Greifswald. Bogislaw-Stipendiat. Wissenschaftlicher Mitarbeit am Lehrstuhl für »Öffentliches Recht, Verfassungsgeschichte, Rechts- und Staatsphilosophie« von Prof. Dr. Joachim Lege, Universität Greifswald. Referendariat am OLG Hamburg mit Stationen u.a. bei Hogan Lovells und Taylor Wessing. Wissenschaftlicher Mitarbeiter bei Taylor Wessing. Hamburg, Rechtsanwalt bei Loschelder, Köln.
Abstract
Viele Gemeinden in Deutschland unterwerfen ihren Einzelhandel engen bauplanungsrechtlichen Vorgaben. Indem sie Einzelhandelsansiedlungen in bestimmten räumlichen Lagen beschränken oder gänzlich untersagen, sollen Innenstadthandel und bestimmte Nahversorgungsbetriebe vor wirtschaftlicher Konkurrenz geschützt werden. Bleibt die Gemeinde planerisch untätig, verhindern gesetzliche Planersatzregeln Einzelhandelsvorhaben, deren Konkurrenztätigkeit eine Gefährdung zentraler Versorgungsbereiche erwarten ließe.

Diese Arbeit bewertet das Konzept der bauplanungsrechtlichen Einzelhandelssteuerung volkswirtschaftlich. Sie geht hierbei von der Rechtsphilosophie Friedrich August von Hayeks aus, die ergebnisbezogene Interventionen in das Marktgeschehen mit großer Skepsis betrachtet. Es zeigt sich, dass die Instrumentarien der Einzelhandelssteuerung ihre Ziele häufig nicht erreichen und erhebliche Effizienzverluste nach sich ziehen. Der Verfasser sieht Hayeks Thesen weitgehend bestätigt. »Zoning Regulations Regarding Retail Establishments in the Light of Friedrich August von Hayek's Philosophy of Law«

By means of zoning planning law German municipalities try to prevent the settlement of new retail outlets. Their regulation aims to protect established retail outlets against competitors, especially in the midtowns. The work assesses this concept critically and invokes the philosophy of law of the Nobel Prize winner Friedrich August von Hayek.
Table of Contents
Section Title
Page
Action
Price

Vorwort

5

Inhaltsverzeichnis

7

Einleitung

17

A. Einzelhandelssteuerung durch Bauleitplanung

18

B. Friedrich August von Hayek

19

C. Ökonomische Analyse des Rechts

20

D. Methodisches Vorgehen

22

Kapitel 1: Bauplanungsrechtliche Einzelhandelssteuerung

23

A. Schutzrichtung bauplanungsrechtlicher Einzelhandelssteuerung: Zentrale Versorgungsbereiche

24

I. Funktion und Begriff des Nahversorgungszentrums

25

II. Funktion des Innenstadtzentrums

27

III. Nebenzentren

29

IV. Die mittelständische Struktur der Wirtschaft als Schutzgut (§ 1 Abs. 6 Nr. 8a BauGB)

29

B. Maßgebliche Rechtsvorschriften und Regelungsstrukturen

31

I. Einzelhandelssteuerung im unbeplanten Innenbereich

32

1. Die Schlüsselvorschrift: § 34 Abs. 3 BauGB

32

a) Durch § 34 Abs. 3 BauGB geschützte zentrale Versorgungsbereiche

33

b) Der Begriff der schädlichen Auswirkungen

34

c) Darlegungs- und Beweislast

36

2. Rückgriff auf § 11 Abs. 3 BauNVO im faktischen Baugebiet

36

II. Planungsinstrumentarien der Gemeinde

37

1. Qualifizierter Bebauungsplan

37

a) Grundsatz: Ausschluss großflächigen Einzelhandels außerhalb von Kerngebieten nach § 11 Abs. 3 BauNVO

37

b) Grobdifferenzierung nach Gebietstypen

41

c) Feindifferenzierung innerhalb von Gebietstypen

42

2. Einfacher Bebauungsplan nach § 9 Abs. 2a BauGB

44

3. Bestandsschutz, Veränderungssperre und Rückstellung

45

4. Weitere Einflussmöglichkeiten der Gemeinde

46

III. Gesetzliche Planungsvorgaben

48

1. Gebot gerechter Abwägung und städtebauliche Rechtfertigung

48

2. Raumordnungsrecht und Zentrale-Orte-Konzept

49

a) Das Zentrale-Orte-Konzept

50

b) Regelungstechnische Probleme bei raumordnerischer Einzelhandelssteuerung

52

3. Interkommunales Abstimmungsgebot

53

a) Überprüfung von planungsrechtlichen Auswirkungen

54

b) Überprüfung raumordnungsrechtlicher Funktionszuweisungen

55

IV. Rechtskontrolle

56

C. Die Praxis gemeindlicher Einzelhandelssteuerung

57

Kapitel 2: Die Rechtsphilosophie Friedrich August von Hayeks

60

A. Überblick über Hayeks Staatsphilosophie

61

I. Die zwei Ordnungstypen: Kosmos und Taxis

61

II. Die Evolution spontaner Ordnungskräfte

63

III. Der Marktmechanismus

64

IV. Das Recht der spontanen Ordnung

66

1. Recht und Zwang

66

2. Die abstrakte Regel

68

a) Befehl und Gesetz

68

b) Kollision von Zielen

69

c) Materielle Unterscheidung von abstrakt und konkret

70

d) Die Gerechtigkeit abstrakter Regeln

72

3. Der Universalisierbarkeitstest

73

4. Gesetze als Ergebnis eines Evolutionsprozesses

75

5. Die Grenzen der Nomokratie: Schutz öffentlicher Güter

76

V. Staatliche Interventionen, die einer spontanen Ordnung fremd sind; Hayeks Gegnerschaft zur "Mischordnung"

78

VI. Hayeks Auffassung zur Stadtplanung

81

VII. Hayeks Kernproblem: Das Verhältnis von teleokratischen und nomokratischen Ordnungsmethoden

82

B. Interpretation: Das Mischordnungsproblem

84

I. Planwirtschaftliche Regulierung mit positiver Zielrichtung (Teleokratie)

84

II. Marktwirtschaftliche Regulierung mit negativer Zielrichtung (Nomokratie)

86

III. Parallelexistenz beider Ordnungstypen

89

IV. Mischordnung (Planung von Wettbewerbskausalitäten)

90

1. Charakter der Mischordnung

90

2. Probleme der Mischordnung

92

a) Ineffizienz der teleokratischen Intervention

92

b) Die mittelfristige Notwendigkeit, Mischordnungsregeln nachzukorrigieren und die Teleokratie auszudehnen

93

aa) Mischordnungsregeln können ihr Wettbewerbsergebnis nicht auf Dauer garantieren

93

bb) Das Mischordnungstrilemma

94

(1) Die erste Option: Die Mischordnungsregeln gelten fort

94

(2) Die zweite Option: Rückkehr zur Nomokratie

95

(3) Die dritte Option: Nachkorrektur der Mischordnungsregeln

96

(4) Nachkorrekturen können nicht durch Rechtsauslegung vorgenommen werden

98

c) Zusammenfassung: Die sich ausdehnende Mischordnungsineffizienz

100

3. Versuchung zur Mischordnung

101

V. Fazit: Die Parallelordnung ist der Mischordnung überlegen

102

Kapitel 3: Einzelhandelssteuerung als Mischordnung

104

A. Methodisches Vorgehen

105

B. Einzelhandelssteuerung durch Bauleitplanung

106

I. Positives Planergebnis

107

1. Erhaltung der Nahversorgung

107

2. Verringerung der Verkehrsbelastung

108

3. Erhaltung gewachsener Zentren

109

II. Mutmaßliches Ergebnis interventionsfreien Wettbewerbs

109

1. Auswirkungen auf die Nahversorgung

110

2. Auswirkungen auf die Verkehrsbelastung

111

3. Auswirkungen auf die gewachsenen Zentren

111

III. Geplante Wettbewerbskausalität

113

1. Erhaltung der Nahversorgung

113

2. Reduktion von PKW-Emissionen

114

3. Erhaltung gewachsener Zentren

114

IV. Marktungleichgewicht bei Ausstieg aus der Mischordnung

115

1. Marktungleichgewicht bei Ausstieg aus dem Nahversorgerschutz

116

2. Marktungleichgewicht bei Ausstieg aus dem Schutz gewachsener Zentren

117

V. Nachkorrekturbedarf im Regelsystem der Mischordnung

118

1. Nachkorrektur oder Untergang der verbrauchernahen Nahversorger

119

a) Erstes Szenario: Zunahme des PKW-Besitzes

119

b) Zweites Szenario: Abnahme der einzelhandelsrelevanten Kaufkraft im Quartier

120

c) Drittes Szenario: Planungsrechtlich nicht beeinflussbare Managemententscheidungen

120

d) Methoden der Nachkorrektur

122

2. Nachkorrektur oder Untergang der gewachsenen Zentren

123

a) Erstes Szenario: Zunahme des PKW-Besitzes

123

b) Zweites Szenario: Verlust der kulturell-ästhetischen Qualität der gewachsenen Zentren im Binnenwettbewerb

124

c) Drittes Szenario: Abnahme der einzelhandelsrelevanten Kaufkraft

124

d) Viertes Szenario: Nachbargemeinde lässt größere Einkaufsparks zu

125

aa) Das Problem zwischengemeindlichen Regulierungswettbewerbs

126

bb) Nachkorrektur durch das Gebot interkommunaler Abstimmung

127

VI. Zusammenfassung: Die Wirkung einzelhandelssteuernder Bauleitpläne

128

C. Einzelhandelssteuerung im unbeplanten Bereich

129

I. Steuerungswirkung des § 34 Abs. 3 BauGB

130

1. Positives Planergebnis und das Ergebnis interventionsfreien Wettbewerbs

130

2. Geplante Wettbewerbskausalität

131

3. Marktungleichgewicht bei Ausstieg aus der Mischordnung

131

4. Nachkorrekturbedarf im System der Mischordnung

132

a) Minimalgewinngarantie durch Auslegung

132

b) Verkaufsflächenvergleich

133

c) Zehn-Prozent-Regel

133

aa) Nahversorgung

134

(1) Erstes Szenario: unterversorgter Markt

134

(2) Zweites Szenario: gesättigter Markt

134

(3) Drittes Szenario: Marktentwicklungen, die nicht nach § 34 Abs. 3 BauGB genehmigungsbedürftig sind

135

(4) Zusammenfassung: Auswirkungen einer Zehn-Prozent-Regel auf die quartiereigene Nahversorgung

136

bb) Gewachsene Zentren und Zentrenästhetik

137

(1) Erstes Szenario: Fließende Aushöhlung des Zentrenumsatzes

137

(2) Zweites Szenario: Einheitlich geplanter zentraler Versorgungsbereich sperrt gewachsene Zentren

137

(3) Drittes Szenario: Verlust der kulturell-ästhetischen Qualität der gewachsenen Zentren im Binnenwettbewerb

138

(4) Viertes Szenario: Marktentwicklungen, die nicht nach § 34 Abs. 3 BauGB genehmigungsbedürftig sind

138

(5) Zusammenfassung: Auswirkungen einer Zehn-Prozent-Regel auf die gewachsenen Zentren

139

cc) Ergebnis: Steuerungswirkung der Zehn-Prozent-Regel

139

d) Lösung des Problems durch materielle Auslegung?

140

5. Zusammenfassung: Steuerungswirkung von § 34 Abs. 3 BauGB

141

II. Steuerungswirkung des § 11 Abs. 3 BauNVO i. V. m. § 34 Abs. 2 BauGB

141

1. Positives Planergebnis und das Ergebnis interventionsfreien Wettbewerbs

142

2. Geplante Wettbewerbskausalität

142

3. Marktungleichgewicht bei Ausstieg aus der Mischordnung

143

4. Nachkorrekturbedarf

143

a) Strikte Anwendung der 800-m²-Formel

144

aa) Erstes Szenario: Unterversorgung

144

bb) Zweites Szenario: Gewachsenes Einzelhandelsgebiet

145

cc) Drittes Szenario: Marktentwicklungen, die nicht genehmigungsbedürftig sind

146

b) Korrektur nach § 11 Abs. 3 S. 4 BauNVO durch Auslegung

146

5. Zusammenfassung: Die Steuerungswirkung von § 11 Abs. 3 BauNVO

149

III. Ergebnis: Einzelhandelssteuerungsvorschriften im unbeplanten Bereich sind teleokratisch unbefriedigend

149

D. Einzelhandelssteuerung durch Raumordnungsrecht

150

I. Positives Planergebnis

151

1. Erhaltung der zentralörtlichen Gliederung

151

a) Das System zentraler Orte

151

b) Die Festlegung zentraler Orte in den Landesentwicklungsplänen

152

2. Verpflichtung der Gemeinden zum Schutz ihrer zentralen Versorgungsbereiche

153

II. Mutmaßliches Ergebnis interventionsfreien Wettbewerbs

153

1. Wirkung auf die zentralörtliche Gliederung

153

2. Wirkung auf die zentralen Versorgungsbereiche

154

III. Geplante Wettbewerbskausalität

154

1. Erhaltung der zentralörtlichen Gliederung

154

2. Schutz der zentralen Versorgungsbereiche

156

IV. Marktungleichgewicht bei Ausstieg aus der Mischordnung

156

1. Ungleichgewicht in der zentralörtlichen Gliederung

156

a) Keine Anpassung der zentralörtlichen Gliederung der Einzelhandelsstruktur

157

b) Keine Anpassung der Einzelhandelsstruktur im innergemeindlichen Wettbewerb

157

2. Schutz zentraler Versorgungsbereiche

158

V. Nachkorrekturbedarf

158

1. Erhaltung der zentralörtlichen Gliederung

158

a) Erstes Szenario: Schrumpfende Kaufkraft

158

b) Zweites Szenario: Verlagerung der Bevölkerung

159

c) Drittes Szenario: Wandel der Verbrauchermobilität

160

d) Viertes Szenario: Ausbreitung kleinflächigen Einzelhandels

160

e) Fünftes Szenario: Wirtschaftliches Versagen einer Gemeinde

161

f) Auslegungsspielraum und Auslegungsprobleme

161

2. Schutz zentraler Versorgungsbereiche

163

VI. Zusammenfassung: Die Steuerungswirkung des Raumordnungsrechts

164

E. Ergebnis: Die einzelhandelssteuernde Mischordnung und ihr Problem

165

I. Das Verhältnis von Bauleitplanung und Planersatz

166

II. Landesrechtliche Vorgaben des Raumordnungsrechts

167

III. Zusammenfassung und offene Fragen

168

Kapitel 4: Effizienzanalyse einzelhandelssteuernder Rechtsnormen

169

A. Methodik, Terminologie und Effizienzmaßstab

169

I. Spieltheoretische Prognose rationalen Verhaltens

169

II. Wertungsmaßstab: Effizienzniveau gemessen an den Präferenzen des Regulierers

171

III. Abstraktes Wettbewerbsschema: Effizienzverluste durch Mischordnungsinterventionen im Modell der Substitutionskonkurrenz

175

1. Die Erfüllung von Verbraucherpräferenzen im nomokratischen Wettbewerb

176

a) Das Modell vollständiger Konkurrenz

176

b) Reale Abweichungen vom Modell vollständiger Konkurrenz

177

c) Modifikation des Modells: Substitutionskonkurrenz statt vollständige Konkurrenz

178

d) Optimale Produktdifferenzierung durch Wettbewerb

180

e) Zusammenfassung: Die Wirkungen des Wettbewerbs

181

2. Die Beeinträchtigung des Verbrauchernutzens durch Mischordnungsinterventionen

181

a) Ineffizientes Differenzierungsergebnis: Zentral geplant, statt wettbewerblich gewachsen

182

b) Ineffiziente Differenzierungsmethode: Marktzutrittsbarrieren

182

c) Zusammenfassung: Effizienzverluste durch Mischordnungsinterventionen

184

3. Die Instabilität der Mischordnung

185

4. Die Überlegenheit der Parallelordnung

186

IV. Weiteres Vorgehen: Einordnung von Einzelhandelswettbewerb und Einzelhandelssteuerung in das abstrakte Modell

188

B. Schutz der Nahversorgung

188

I. Entwicklung der Nahversorgung in der reinen Nomokratie

189

1. Standortdifferenzierung in der Nomokratie

189

a) Das unternehmerische Interesse an Standortdifferenzierung

189

b) Der Einfluss der Motorisierung: Standortpräferenzen verlieren an Gewicht

191

2. Das Verkaufsflächenwachstum

192

3. Das Nutzenniveau von mobilen und immobilen Verbrauchern

193

II. Auswirkungen einzelhandelssteuernder Interventionen auf die Nutzenstruktur

195

1. Planerische Zielsetzung: Lenkung der mobilen Verbraucher zu den quartiereigenen Nahversorgern

195

2. Kosten bei Steuerungserfolg

196

a) Erhöhung der variablen Vertriebskosten und Monopolgewinne

196

b) Regulierungsaufwand als Kostenfaktor

197

3. Kosten bei Steuerungsmisserfolg

198

a) Wahrscheinlichkeit des Misserfolgs

198

b) Zusätzliche Kosten für immobile Verbraucher

199

4. Ergebnis: Ineffizienz und Kontraproduktivität der Mischordnung

200

III. Parallelordnungsvorschlag: Gemeindlicher Eigenbetrieb von Nahversorgern

200

C. Schutz der gewachsenen Zentren

202

I. Entwicklung gewachsener Zentren in der reinen Nomokratie

202

1. Produktdifferenzierung beim Handel mit zentrenrelevanten Gütern

202

a) Inhaltliche Differenzierung (Service/Preis)

202

b) Standortdifferenzierung (Agglomeration/Isolation)

203

2. Die Bewertung der Einkaufsästhetik durch den Markt (Ästhetik als öffentliches Gut)

205

3. Die gewachsenen Zentren im Wettbewerb

206

a) Der Wettbewerbsvorteil der Innenstadt: Agglomeration zahlreicher wirtschaftlicher Funktionen in zentraler, ästhetisch gestalteter Lage

207

b) Wettbewerbsnachteile der Innenstadt

207

4. Zusammenfassung: Die Überlebensfähigkeit von Innenstädten und anderen gewachsenen Zentren im nomokratischen Wettbewerb

208

II. Auswirkungen einzelhandelssteuernder Interventionen auf die Nutzenstruktur

209

1. Zielsetzung der Intervention

209

2. Kosten der Intervention

210

a) Generell: Unerfüllte Verbraucherpräferenzen und Monopolpreise

210

b) Außerhalb der gewachsenen Zentren: Verzerrung des Wettbewerbs der Angebotsformen

211

c) Innerhalb der Innenstädte: Überagglomeration und Funktionsverlust

212

d) Unternehmenskonzentration und Oligopolstrukturen

214

3. Ergebnis: Die einzelhandelssteuernde Intervention konterkariert unter erheblichen Wohlstandsverlusten ihr eigentliches Ziel

215

III. Parallelordnungsvorschlag: Wettbewerbliche Anreizmodifikation durch Subventionierung des Innenstadthandels

215

D. Schutz einer geplanten zentralörtlichen Gliederung

217

I. Raumaufteilung in der reinen Nomokratie

217

1. Zwischengemeindliche Flächenaufteilung im Wettbewerb

217

2. Die Zentrale-Orte-Theorie von Christaller

218

a) Zentrale-Orte-Theorie als affirmative Wettbewerbsprognose

218

b) Grenzen des Marktes: Verwaltungsprinzip und Verkehrsprinzip

219

c) Schwächen der Zentrale-Orte-Theorie

220

aa) Modellcharakter

220

bb) Ungenaue empirische Daten

222

cc) Der Wert der Zentrale-Orte-Theorie

223

3. Das Verhältnis nomokratischer Wettbewerbsergebnisse zu dem Idealergebnis im Sinne der Zentrale-Orte-Theorie

224

II. Auswirkungen einzelhandelssteuernder Interventionen auf die Raumaufteilung

225

1. Monopolismus und Vereitelung einer Gleichgewichtsdifferenzierung

225

2. Fehlanordnung zentraler Orte durch hoheitliche Fehlplanung

226

3. Benachteiligung kleiner Gemeinden

227

4. Ergebnis: Regulierung an den Verbraucherinteressen vorbei

228

III. Die Zentrale-Orte-Theorie in der teleokratischen Parallelordnung

231

E. Verhinderung von Verkehrsbelastungen

233

I. Verkehrsbelastung in der reinen Nomokratie

233

II. Parallelordnung: Internalisierung externer Effekte durch Treibstoffbesteuerung

234

III. Auswirkungen einer einzelhandelssteuernden Intervention auf den Straßenverkehr

235

F. Ergebnis: Die Ineffizienz der einzelhandelssteuernden Mischordnung

236

Schlussbetrachtung

238

A. Zusammenfassung des Argumentationsgangs

238

I. Bauplanungsrechtliche Einzelhandelssteuerung

238

II. Auf Hayek gestützte Mischordnungstheorie

239

III. Mischordnungstheorie und Einzelhandelssteuerung

240

IV. Ökonomische Ineffizienz

241

V. Eine irrationale Regulierungspraxis setzt sich beharrlich fort

242

B. Ausblick: Einzelhandelssteuerung als Folge eines Demokratieversagens?

242

I. Demokratietheorie und Demokratiekritik Hayeks

243

1. Ausweitungstendenzen der Mischordnung werden durch den demokratischen Prozess verstärkt

243

2. Der Zerfall der Demokratie

245

II. Einzelhandelssteuerung als Ausfluss einer "Schacher-Demokratie"?

246

1. Interessenkonstellation: Wettbewerbsaversion etablierter Einzelhändler

246

2. Lobbyismus der Einzelhandelsverbände auf Staatsebene

247

3. Lobbyismus des mittelständischen Einzelhandels gegen Großprojekte auf kommunaler Ebene

249

C. Fazit: Eine verbraucherschädliche Regulierungspraxis wird fortbestehen

250

Literaturverzeichnis

252

Sachwortverzeichnis

269