Contract law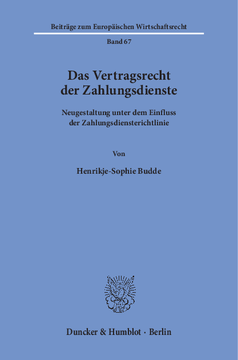 Additional Information
Book Details
ISBN

978-3-428-54797-5
978-3-428-14797-7 (print edition)

DOI

https://doi.org/10.3790/978-3-428-54797-5

Edition

1

Language

German

Pages

252

Collections

Subjects
Pricing
Institution

€ 98.00 (incl. local VAT if applicable)

Individual

€ 76.90 (incl. local VAT if applicable)
About The Author
Henrikje-Sophie Budde studierte von 2005 bis 2011 Rechtswissenschaften an der Universität Passau, der Humboldt-Universität zu Berlin und am King's College London. Nach ihrem ersten Staatsexamen promovierte sie bei Prof. Dr. Dr. Stefan Grundmann, LL.M., am Lehrstuhl für Bürgerliches Recht, Deutsches, Europäisches und Internationales Privat- und Wirtschaftsrecht an der Humboldt-Universität zu Berlin. Während dieser Zeit war sie als wissenschaftliche Mitarbeiterin im Bundestag im Abgeordnetenbüro von Prof. Dr. Günter Krings, LL.M., tätig. Ihr Referendariat absolvierte sie am Kammergericht Berlin mit Stationen am Bundesverfassungsgericht und im Bundeskanzleramt. Seit dem 1. Februar 2017 ist sie in der Berliner Justiz tätig.
Abstract
Die Zahlungsdiensterichtlinie ist die wohl umfassendste europarechtliche Regelung im Vertragsrecht, die auf Verbraucher und Unternehmer Anwendung findet. Ihr Regelungsbereich erstreckt sich von der Vertragsanbahnung bis zur Haftung. Vor diesem Hintergrund untersucht die Arbeit das Harmonisierungspotential der Richtlinie und dessen Auswirkungen auf die Umsetzung in das deutsche BGB. Sie kommt zu dem Ergebnis, dass die Richtlinie bereits ein auf der Vollharmonisierung basierendes System des Zahlungsdiensterechts enthält. Durch bestimmte Abweichungsmöglichkeiten der Mitgliedstaaten und Vertragsparteien erleichtert sie die Umsetzung. Diese ist jedoch nicht ohne Wertungsverschiebungen und Auswirkungen auf die Dogmatik des deutschen Zahlungsdiensterechts erfolgt. Ein Rückgriff auf auftragsrechtliche und geschäftsbesorgungsrechtliche Prinzipien bleibt weiterhin erforderlich. Die Arbeit bewertet die Änderungen und kommt zu dem Schluss, dass eine positive Weiterentwicklung stattgefunden hat. »Contract Law on Payment Services«

The Payment Services Directive is probably the most comprehensive European legislation of contract law which is applicable to businesses and consumers covering the fields from contract initiation to liability. Taking this into account the thesis explores the harmonization potential of the directive and assesses the impact of the mostly fully harmonizing directive on the system of the German payment services law.
Table of Contents
Section Title
Page
Action
Price

Vorwort

5

Inhaltsverzeichnis

7

Abkürzungsverzeichnis

11

Einleitung

15

1. Teil: Harmonisierungspotential der Zahlungsdiensterichtlinie

20

1. Kapitel

20

Harmonisierung und Harmonisierungsansätze im europäischen Privatrecht

20

A. Begriff der Harmonisierung

20

B. Harmonisierungsinstrumente

21

I. Verordnung

22

II. Richtlinie

24

C. Harmonisierungsansätze der Europäischen Kommission im europäischen Privatrecht

25

I. Mindestharmonisierung

25

II. Vollharmonisierung

27

III. Mindestharmonisierung und Vollharmonisierung im Vergleich

30

1. Nachteile der Vollharmonisierung

30

2. Vorteile der Vollharmonisierung

31

IV. Neuartige "Halbharmonisierung", sogenannte gezielte Vollharmonisierung

31

V. Ordnung der Begrifflichkeiten zur Bestimmung des Harmonisierungspotentials

34

D. Harmonisierung im europäischen Zahlungsdiensterecht

35

2. Kapitel\r

38

Bestimmung des Harmonisierungsgrades und der Harmonisierungstiefe der Zahlungsdiensterichtlinie

38

A. Maßstäbe zur Bemessung der Verteilung der Regelungskompetenz in EU-Richtlinien

38

I. Primärrechtliche Maßstäbe

38

1. Kompetenzgrundlage

38

2. Subsidiaritätsprinzip

40

II. Sekundärrechtliche Maßstäbe

41

1. Ziel der Richtlinie

41

2. Harmonisierungsklausel

45

3. Anwendungsbereich

47

B. Regelungstechniken des EU-Richtlinien-Gesetzgebers zur Schaffung von Abweichungsmöglichkeiten

52

I. Explizite Abweichungsmöglichkeiten der Mitgliedstaaten

54

1. Verweise auf nationales Recht

54

2. Explizite Übertragung der Regelungskompetenzen

55

3. Optionen

56

II. Implizite Abweichungsmöglichkeiten der Mitgliedstaaten

57

1. Regelungslücken

58

2. Unbestimmte Rechtsbegriffe und Generalklauseln

58

3. Konkretisierungskompetenz

60

III. Abweichungsmöglichkeiten durch Parteivereinbarung

62

C. Bemessung des Harmonisierungspotentials der Zahlungsdiensterichtlinie anhand der Abweichungsmöglichkeiten der Mitgliedstaaten und Parteien

63

I. Vertragsbedingungen und Informationspflichten

63

II. Gemeinsame Bestimmungen des Titels IV

70

III. Autorisierung von Zahlungsvorgängen

74

IV. Zahlungsaufträge und transferierte Beträge

83

V. Ausführungsfrist und Wertstellungsdatum

84

VI. Haftung

87

VII. Datenschutz

91

VIII. Außergerichtliche Beschwerdeverfahren und Streitbeilegungsverfahren

91

IX. Die Generalklauseln "angemessenes Entgelt" und "unverzüglich"

92

D. Ergebnis und Bewertung

95

I. Ergebnis

95

II. Bewertung des Ergebnisses

98

1. Bewertungsgrundlage

98

2. Bewertung

99

2. Teil: Auswirkungen der Richtlinienvorgaben auf das deutsche Zahlungsdiensterecht

102

3. Kapitel

104

Begriff des Systems im deutschen Privatrecht

104

A. Inneres System

104

B. Äußeres System

106

C. Systematische Gestaltungsspielräume des Gesetzgebers bei der Umsetzung vollharmonisierenden Richtlinienrechts

106

4. Kapitel

107

System des Zahlungsdiensterechts im BGB

107

A. Allgemeine Vorschriften und Zahlungsdienstevertrag

108

I. Informationspflichten

108

1. Vorvertragliche Informationspflichten

109

2. Auskunfts- und Unterrichtungspflichten

114

3. Aufklärungs-‍, Warn- und Beratungspflichten

116

II. Abweichende Vereinbarungen

118

III. Zahlungsdienstevertrag, Änderung und Kündigung des Zahlungsdiensterahmenvertrags

123

1. Rechtsdogmatische Einordnung der Vertragstypen des Zahlungsdiensterechts und des Zahlungsauftrags

123

2. Änderung des Zahlungsdiensterahmenvertrags

127

3. Kündigung des Zahlungsdiensterahmenvertrags

129

IV. Entgelte

133

B. Autorisierung von Zahlungsvorgängen und Zahlungsauthentifizierungsinstrumente

141

I. Autorisierung

141

II. Zahlungsauthentifizierungsinstrumente

145

1. Begriff

146

2. Nutzungsbegrenzung

147

3. Pflichten des Zahlers und des Zahlungsdienstleisters in Bezug auf Zahlungsauthentifizierungsinstrumente

149

C. Ausführung von Zahlungsvorgängen

151

I. Wirksamkeit von Zahlungsaufträgen

151

1. Zugang

151

2. Ablehnung

154

3. Unwiderruflichkeit

156

II. Kundenkennung

161

III. Ausführungsfrist und Wertstellungsdatum

169

1. Ausführungsfrist

169

2. Wertstellungsdatum

170

D. Haftung

176

I. Haftung bei nicht autorisierten Zahlungsvorgängen

176

1. Haftung des Zahlungsdienstleisters

176

2. Gefährdungshaftung des Zahlungsdienstnutzers

184

3. Verschuldenshaftung des Zahlungsdienstnutzers

194

4. Anscheinsbeweis

199

II. Erstattungsanspruch

202

III. Haftung bei nicht erfolgter oder fehlerhafter Ausführung

209

IV. Anspruchsausschluss

218

1. Anzeigefrist

218

2. Haftungsausschluss

218

E. Ergebnis und Bewertung

219

I. Ergebnis

219

II. Bewertung des Ergebnisses

225

5. Kapitel

226

Lehren für den Systembegriff aus der Umsetzung der Zahlungsdiensterichtlinie

226

A. Lehren für den äußeren Systembegriff

226

I. Lehren für die systematische Umsetzung europäischen Richtlinienrechts

226

1. Klarstellende Regelungen als Zersplitterung nationaler Kodifikationen

226

2. Europäische Begriffsbildung im BGB

227

3. Fortgeltung nationaler Rechtsgrundsätze als Grenze des EU-Rechts und zur Vervollständigung des europäischen Systems

228

II. Lehren für die systematische Ausgestaltung europäischen Richtlinienrechts

229

1. Öffnungsklauseln in Form der Parteivereinbarung zur Erleichterung der Integration in nationales Recht

229

2. Rechtsaktübergreifende Begriffsbildung

229

3. Rechtsmissbrauchseinwand anstelle einer systemkonformen Auslegung?

230

III. Schlussfolgerung: Europäische Allgemeine Grundsätze als Integrationshilfe vollharmonisierenden Richtlinienrechts

230

B. Lehren für den inneren Systembegriff – Ansätze in der Zahlungsdiensterichtlinie für ein europäisches Dienstleistungsrecht

230

6. Kapitel

235

Wesentliche Ergebnisse und Ausblick

235

Literaturverzeichnis

239

Stichwortverzeichnis\r

250