Political ideologies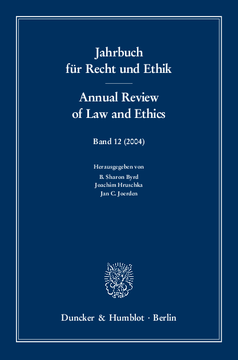 BOOK
Cite BOOK
Style
---
Byrd, B., Hruschka, J., Joerden, J. (Eds.) (2004). Jahrbuch für Recht und Ethik / Annual Review of Law and Ethics. Bd. 12 (2004). Themenschwerpunkt: Zur Entwicklungsgeschichte moralischer Grund-Sätze in der Philosophie der Aufklärung / The Development of Moral First Principles in the Philosophy of the Enlightenment. Duncker & Humblot. https://doi.org/10.3790/978-3-428-51730-5
Byrd, B. Sharon; Hruschka, Joachim and Joerden, Jan C.. Jahrbuch für Recht und Ethik / Annual Review of Law and Ethics: Bd. 12 (2004). Themenschwerpunkt: Zur Entwicklungsgeschichte moralischer Grund-Sätze in der Philosophie der Aufklärung / The Development of Moral First Principles in the Philosophy of the Enlightenment. Duncker & Humblot, 2004. Book. https://doi.org/10.3790/978-3-428-51730-5
Byrd, B, Hruschka, J, Joerden, J (eds.) (2004): Jahrbuch für Recht und Ethik / Annual Review of Law and Ethics: Bd. 12 (2004). Themenschwerpunkt: Zur Entwicklungsgeschichte moralischer Grund-Sätze in der Philosophie der Aufklärung / The Development of Moral First Principles in the Philosophy of the Enlightenment, Duncker & Humblot, [online] https://doi.org/10.3790/978-3-428-51730-5
---
Format
---
Jahrbuch für Recht und Ethik / Annual Review of Law and Ethics
Bd. 12 (2004). Themenschwerpunkt: Zur Entwicklungsgeschichte moralischer Grund-Sätze in der Philosophie der Aufklärung / The Development of Moral First Principles in the Philosophy of the Enlightenment
Editors: Byrd, B. Sharon | Hruschka, Joachim | Joerden, Jan C.
Jahrbuch für Recht und Ethik / Annual Review of Law and Ethics, Vol. 12
(2004)
Additional Information
Book Details
ISBN

978-3-428-51730-5
978-3-428-11730-7 (print edition)

DOI

https://doi.org/10.3790/978-3-428-51730-5

Edition

1

Language

German

Pages

570

Subjects
Pricing
Institution

€ 172.00 (incl. local VAT if applicable)

Individual

€ 129.90 (incl. local VAT if applicable)
About The Author
Joachim Hruschka, Rechtswissenschaftler, promovierte und habilitierte an der Ludwig-Maximilians-Universität München. 1972 erhielt er die Professur für Strafrecht, Strafprozessrecht und Rechtsphilosophie an der Universität Hamburg. Von 1982 bis 2004 war Hruschka Inhaber des Lehrstuhls für Strafrecht, Strafprozessrecht und Rechtsphilosophie an der Friedrich-Alexander-Universität Erlangen-Nürnberg. Er war Mitherausgeber des »Jahrbuchs für Recht und Ethik« (Duncker & Humblot). Hruschka verstarb im Dezember 2017.Jan C. Joerden, 1978/81 1. und 2. Juristische Staatsprüfung; 1982–1988 Akad. Rat in Erlangen; 1985 Promotion; 1987 Habilitation, Erlangen-Nürnberg. 1988–93 Heisenberg-Stipendiat der DFG und Lehrstuhlvertretungen in Berlin, Erlangen, Jena und Trier. 1993 Lehrstuhl für Strafrecht, insbesondere Internationales Strafrecht und Strafrechtsvergleichung, Rechtsphilosophie an der Europa-Universität Viadrina Frankfurt (Oder). 1994–1998 Prorektor. Seit 1995 Geschäftsführender Leiter des Interdisziplinären Zentrums für Ethik (IZE). 1996 Berufung auf den Lehrstuhl für Strafrecht, Strafprozeßrecht und Rechtsphilosophie, Universität Rostock (abgelehnt). 1998–2002 Prorektor/Vizepräsident der Europa-Universität für das Collegium Polonicum in Slubice/Polen. 2001 Berufung auf den Lehrstuhl für Strafrecht, Strafprozeßrecht und Wirtschaftsstrafrecht, Universität Augsburg (abgelehnt). Seit 2002 Mitglied im Vorstand der IVR, Deutsche Sektion. 2004 »Medaille für Verdienste um die Adam-Mickiewicz-Universität zu Posen«. 2007/08 Senior Fellow am Alfried Krupp Wissenschaftskolleg Greifswald. 2009/10 Leiter einer Forschungsgruppe am Zentrum für interdisziplinäre Forschung (ZiF) der Universität Bielefeld. 2015 Dr. h.c. der Adam-Mickiewicz-Universität Poznan (Polen). Seit 2016 Mitglied im Vorstand der Akademie für Ethik in der Medizin e.V., Göttingen. 2017 Medaille »Universitatis Lodziensis Amico«, Universität Łódź (Polen).
Abstract
Die in der Aufklärung entwickelten oder dort jedenfalls ausführlich erörterten moralischen Grundsätze (Goldene Regel, Prinzip der Verallgemeinerung, Kategorischer Imperativ usw.) spielen in der ethischen (juristischen) Diskussion noch heute die größte Rolle. Der vorliegende Band des Jahrbuchs befaßt sich mit dem größeren Teil seiner Beiträge mit der Geschichte dieser Grundsätze.Moral first principles, which were either developed or intensively discussed during the Enlightenment, such as the Golden Rule, the Principle of Generalization, and the Categorical Imperative, play an enormous role in modern ethical and legal debate. The vast majority of the articles in this volume of the Jahrbuch deal with the history of these first principles.
Table of Contents
Section Title
Page
Action
Price

Vorwort

V

Inhaltsverzeichnis – Table of Contents

VII

Zur Vorbereitung der Diskussion über die moralischen Grund-Sätze – Preparatory to the Discussion of the Moral First Principles

1

Merio Scattola: Principium oder principia? Die Diskussion über den Rechtsgrundsatz im 16. und 17. Jahrhundert

3

I. Das erkenntnistheoretische Dreieck des Naturrechts

3

II. Prinzip und System im Naturrecht des achtzehnten Jahrhunderts

7

III. Die mehrfachen Prinzipien des vormodernen Naturrechts

10

IV. Was sind die Prinzipien der Jurisprudenz?

16

V. Die Ordnung der Prinzipien

22

Summary

26

Matthias Kaufmann: Vicos Lehre von der Historizität moralischer Prinzipien

27

I. Die "ewige ideale Geschichte

27

II. Der Gemeinsinn

33

III. Die Weisheit der Philosophen und die Anmaßung der Gelehrten

35

IV. Wahrheit und Integrität

38

Summary

40

Aaron Garrett: The Lives of the Philosophers

41

I. Introduction

41

II. The Context of 17th Century Moral Philosophy

43

III. Lipsius

46

IV. Spinoza

50

V. Bayle

52

VI. Conclusion

55

Zusammenfassung

56

Michael Kempe: Geselligkeit im Widerstreit

57

I. Pufendorfs "Mosaike"-Anthropologie und die Bestimmung der socialitas

58

II. Die socialitas-Diskussion im Medium der Dissertationen

62

III. Der Streit um das Grundprinzip des Naturrechts

67

Summary

70

Die Diskussion in der Aufklärung – The Discussion in the Enlightenment

71

I. Teilnehmer der Diskussion – I. Participants in the Discussion

71

Bernd Ludwig: Naturrecht ohne Grundsatz? John Locke über die "Reasonableness of morality"

73

I.

73

II.

75

III.

77

IV.

82

V.

86

VI.

87

Summary

88

Dieter Hüning: Christian Wolffs "allgemeine Regel der menschlichen Handlungen"

91

I. Einleitung

91

II. Das moralische Prinzip der Vollkommenheit

94

III. Die 'allgemeine Reger' und das Problem ihrer Verbindlichkeit

96

IV. Wolffs Moralprinzip im Kontext der neuzeitlichen Naturrechtslehre

102

Summary

113

Alexander Aichele: Si ve vox naturae si ve vox rationis si ve vox Dei?

115

I.

118

1. Köhlers Gebrauch des Νaturbegriffes

119

2. Die Natur bestimmter Gegenstände als principium cognoscendi

120

3. Das Naturrecht als Teil der praktischen Philosophie

122

II.

123

1. Der formale Begriff eines Prinzips

123

2. Die empirische Methode

125

3. Die zweifache metaphysische Methode

126

a) Die Leistung der natürlichen Theologie

127

b) Die causa efficiens des Naturrechts

128

c) Die causa formalis des Naturrechts

130

d) Die causa finalis des Naturrechts

130

III.

132

1. Der Übergang von theoretischer zu praktischer Philosophie

132

2. Sive ratio sive natura sive Deus

133

IV.

134

Summary

135

Frank Grunert: Das Recht der Natur als Recht des Gefühls

137

I. Der Anspruch: Naturrecht "ex connato sensu interno"

138

II. Jus et lex – Freiheit und Obligation

141

III. Theoretische Hintergründe – Schmauss als Thomasianer

145

IV. Zum Schluß: Naturrecht als kritische Anthropologie

152

Summary

153

II. Längsschnitte – II. Overviews of the Discussion

155

Joachim Hruschka: Die Goldene Regel in der Aufklärung – die Geschichte einer Idee

157

I. Die Ausarbeitung der beiden Versionen der Goldenen Regel

157

II. Der Name "Goldene Regel"

162

IIΙ. Die Funktion der Goldenen Regel bei Hobbes, Thomasius und Heineccius

164

IV. Die Kritik an der Goldenen Regel und ihre Wirkung

167

Summary

171

Thomas Ahnert: Pleasure, Pain and Punishment in the Early Enlightenment: German and Scottish Debates

173

I.

175

II.

180

Zusammenfassung

186

Simone Zurbuchen: Zum Prinzip des Naturrechts in der 'école romande du droit naturel'

189

I. Einleitung

189

II. Die 'école romande du droit naturel' und ihre Bedeutung für die Pufendorf-Rezeption

192

III. Die Verteidigung des Voluntarismus (Barbeyrac)

196

IV. Die Rehabilitation einer epikuräisch-hobbesianischen Begründung des Naturrechts (Burlamaqui)

202

V. Die Rückkehr zum Voluntarismus (de Félice)

206

VI. Warum moralisch sein? Der Versuch einer Synthese zwischen interner und externer Verpflichtung

208

Summary

211

Georg Cavallar: The Law of Nations in the Age of Enlightenment: Moral and Legal Principles

213

I. Introduction

213

II. Samuel Pufendorf

214

ΙII. Locke, Hume and Smith

216

IV. Christian Wolff

218

V. Emer de Vattel

222

VI. Kant

225

VII. Conclusion

227

Zusammenfassung

228

Kant in der Diskussion – Kant in the Discussion

231

Jens Kulenkampff: Moralisches Gefühl oder moral sense: wie berechtigt ist Kants Kritik?

233

Einleitung

233

I. Moralisches Gefühl bei Kant

235

II. Moral sense aus Kants Sicht

238

IIΙ. Moral sense bei den Briten

242

IV. Kants Kritik am moral sense und die Natur moralischer Urteile und Überzeugungen

249

Summary

251

Robert Schnepf: Systematisierung von rechtlichen Intuitionen? – Die drei Formeln Ulpians bei Leibniz und Kant

253

I. Rechtliche Intuitionen und ihre Systematisierung

253

II. Die unterschiedlichen Systematisierungen der Ulpianschen Formeln in den Schriften und in den Vorlesungen Kants

260

ΙII. Die unterschiedlichen Systematisierungen der drei Grundsätze bei Baumgarten und Leibniz

265

IV. Die Grundlagen der Systematisierung der Ulpianschen Formeln bei Leibniz und Kant

275

V. Systematisierung rechtlicher Intuitionen?

280

Summary

282

Wolfgang Bartuschat: Kant über Grundsatz und Grundsätze in der Moral

283

I.

283

II.

286

III.

290

IV.

293

Summary

298

Katrin Flikschuh: Ist das rechtliche Postulat ein Postulat der reinen praktischen Vernunft?

299

I. Einleitung

299

II. Das rechtliche Postulat in Anbetracht der Postulatenlehre der zweiten Kritik

302

1. Die Beziehung zwischen rechtlichem Postulat und Rechtsgesetz: "Anhängung" oder "Erweiterung"?

304

2. Vernunftglaube oder Vernunftbefehl

307

3. Ein theoretischer oder ein praktischer Satz

309

III. Zwei Funktionen des rechtlichen Postulats der praktischen Vernunft

312

1. Die Begründungsfunktion des rechtlichen Postulats hinsichtlich des Besitzrechts

313

2. Die Verweisung durch das rechtliche Postulat auf den Endzweck des Rechts

318

IV. Das Weltbürgerrecht als Endzweck des Besitzrechts gedacht

324

V. Schlussbemerkung

328

Summary

330

Jean-Christophe Merle: Die zwei Kantischen Begriffe des Rechts

331

I. Zwei Kantische Begriffe des Rechts

331

II. Kants Ableitung des Rechtsbegriffs aus dem Sittengesetz in der Rechtslehre

333

IIΙ. Eine Bemerkung zur liberalen Interpretation der Rechtslehre

339

IV. Der liberale Rechtsbegriff

342

V. Schluß

344

Literaturhinweise

345

Summary

346

Beiträge – Articles

347

Oded Balaban: Democracy and the Limits of Tolerance

349

Introduction

349

I. Democracy and Liberalism

350

II. Freedom and Justice – Arguments as Symptoms

356

1. Rawls and Nozick

356

2. Carl Schmitt

359

III. Attempts to Find a Source of Legitimacy

360

1. Self-legitimacy or the Will

361

2. Reason and \"deliberative democracy

363

3. Nature and Jusnaturalism

366

4. A synthesis between rationalism and jusnaturalism – Kant and Hart

368

IV. Tolerance and the Integration of Liberalism with Democracy

370

V. The Limits of Tolerance

378

Zusammenfassung

381

Giuseppe Cacciatore: Croce und Bloch über den Begriff des Fortschritts

383

Summary

399

Hans-Ulrich Hoche:

401

I. Introduction: Metaethics and the need of an integrated logic of conviction and intention

401

II. An improvement on Hare's definition of informal entailment by means of introducing a more detailed criterion for combination tests (C-CT)

401

III. Semantical and pragmatical implications of 'I intend'-sentences according to C-CT

404

IV. A classical calculus of natural deduction

407

V. Some doxastic, buletic, and pragmatic extensions of the classical calculus

408

VI. Where the extended system works

410

VII. Where the extended system seems to yield paradoxes

412

VIII. How to prove the correctness of the derivation rules of the extended system

414

IX. Some problems concerning the rules of deductive closedness

416

X. A doubtful attempt to overcome the paradoxes of buletic logic: The pros and cons of a formation rule to the effect that a buletic operator must not govern a non-action sentence

417

XI. A second attempt: The paradoxes of buletic logic can be shown to be no more virulent than are the corresponding paradoxes of doxastic logic and of the classical propositional calculus

420

XII. A final attempt: The paradoxes which gave rise to doubting the deductive closedness and hence the feasibility of buletic logic can be shown to be merely apparent ones

426

References

431

Zusammenfassung

433

Diskussionsforum – Discussion Forum

435

Raphael Cohen-Almagor with Stefan Seiterle: Excessive Media Ownership and Its Potential Threats to Democracy: A Comparative Analysis

437

I. Introduction

437

II. The Canadian Market

439

1. The press industry

439

2. The broadcasting industry

449

ΙII. The Israeli Market

452

1. The press industry

452

2. The broadcasting industry

455

IV. The German Market

458

1. The press industry

458

2. The broadcasting industry

459

V. Conclusion

462

Zusammenfassung

463

Thomas Crofts: Separating issues of Life and Death

465

I. Introduction

465

II. The Actus Reus of Murder: Would there be a Lawful Omission to Treat?

466

IIΙ. The Mens Rea of Murder: Would this be a Case of Double Effect?

467

IV. The Defences: Would this be a Case of Self-Defence?

470

V. The Defences: Would this be a Case of Necessity?

472

VI. Conclusion

477

Zusammenfassung

478

Uwe Scheffler und Marion Weimer-Hablitzel: Der Weg ist das Ziel

481

I. Die Anomietheorie und ihre Väter

481

II. Dichotomie von Zielen und Mitteln

483

III. Formen individueller Anpassung

484

1. Innovation und Rückzug

484

2. Konformität und scaling-down

485

3. Ritualismus

486

IV. Ritualismus reconsidered

488

1. Ziele des Ritualisten

489

2. Entstehungszusammenhänge

490

3. Angst und ihre Ableitungen

492

a) Haß

493

b) Mißgunst

494

c) Mitleidslosigkeit

495

4. Kriminologie des Ritualisten

496

a) Anzeigeerstattung

497

aa) Falsche Verdächtigung

498

bb) Denunziation

499

cc) Mobbing

500

b) Selbstjustiz

501

c) Viktimologie

501

5. Kriminalpolitik

502

a) Zero Tolerance

502

aa) Ritualistische Forderungen

503

bb) Kriminalpolitische Wende

504

cc) Wechselwirkungen

504

b) Politikerverdrossenheit

506

c) Massenmedien

507

V. Schlußbemerkung

508

Summary

509

Ulla Wessels: Und es gibt doch Supererogationslöcher

511

I. Zurechenbarkeit

512

II. Verdunklungsgefahr

513

III. Eine strafrechtliche Analogie

515

IV. Die deontischen Vielecke

516

V. Wohlfahrtsethische Bewertungen und der Preis der Supererogation

521

VI. Supererogationslöcher

523

Summary

528

Rezensionen – Recensions

529

Autoren- und Herausgeberverzeichnis – Contributors and Editors

543

Personenverzeichnis / Index of Names

546

Sachverzeichnis / Index of Subjects

551

Hinweise für Autoren

557

Information for Authors

559