Criminal law: procedure & offences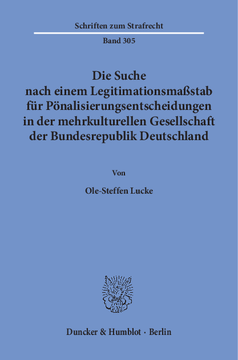 BOOK
Die Suche nach einem Legitimationsmaßstab für Pönalisierungsentscheidungen in der mehrkulturellen Gesellschaft der Bundesrepublik Deutschland
Schriften zum Strafrecht, Vol. 305
(2017)
Additional Information
Book Details
ISBN

978-3-428-55135-4
978-3-428-15135-6 (print edition)

DOI

https://doi.org/10.3790/978-3-428-55135-4

Edition

1

Language

German

Pages

194

Collections

Subjects
Pricing
Institution

€ 80.00 (incl. local VAT if applicable)

Individual

€ 62.90 (incl. local VAT if applicable)
About The Author
Ole-Steffen Lucke, geboren 1981 in Bremen, ist seit 2012 als Strafverteidiger primär im Wirtschaftsstrafrecht tätig. Er studierte Rechtswissenschaft in Heidelberg und absolvierte im Anschluss das Referendariat in Schleswig-Holstein. Neben der Veröffentlichung in Fachzeitschriften zu strafrechtlichen Fragen promovierte er im Jahr 2016 bei Prof. Dr. Manfred Heinrich mit einer Dissertation zu einem dogmatischen Aspekt der Thematik von Kultur und Strafrecht.
Abstract
Die Arbeit betrachtet als dogmatischen Aspekt der Thematik von Kultur und Strafrecht die Suche nach einem Maßstab für legitime Strafgesetze in der kulturell pluralisierten deutschen Gesellschaft. Unter Herausarbeitung der Kulturabhängigkeit des Strafrechts analysiert sie die hergebrachte Diskussion um den materiellen Verbrechensbegriff als wenig zielführend, systematisiert die bisherigen Stellungnahmen in drei Kategorien möglicher Legitimationsfiguren und untersucht die Debatte um die kulturellen Maßstäbe in der Prüfung des Mordmerkmals der niedrigen Beweggründe auf übertragbare Überlegungen. Sodann entwickelt die Abhandlung einen kulturrelativistischen Legitimationsmaßstab, der die effektive Einbindung sämtlicher kultureller Wertvorstellungen in den Strafgesetzgebungsprozess fordert. Zur Umsetzung dessen werden die Einführung des Ausländerwahlrechts, die Installation einer sog. Kulturkommission sowie das Erfordernis einer Zweidrittelmehrheit für den Erlass eines Strafgesetzes vorgeschlagen. »Searching for Standards to Legitimize Penal Legislation within the Culturally Diverse Society of the Federal Republic of Germany«

The dissertation deals with the interdependence of culture and criminal law and considers from a dogmatic point of view the standards for a legitimate penal legislation in a culturally diverse society. It systematizes the existing theories and opinions on the topic and develops its own criteria which demand the consideration of all cultural values in the legislation process, in particular through the establishment of a foreigners' right to vote, the participation of a culture commission and the requirement of a two thirds majority in the vote.
Table of Contents
Section Title
Page
Action
Price

Vorwort

7

Inhaltsverzeichnis

9

A. Einleitung

13

B. Begriffsbestimmungen

17

I. Strafrecht

17

1. Definition

17

2. Legitimation des Strafrechts

19

II. Kultur

21

1. Definitionsansatz

21

2. Interne Verfasstheit von Kulturen

24

a) Kohärente Nationalkulturen

24

b) Dynamische, hybride und intern heterogene Nationalkulturen

25

c) Die kulturelle Pluralisierung in der Bundesrepublik Deutschland

26

3. Das Problem der integrativen Gesamtkultur

29

a) Das Modell der kulturellen Differenz

29

b) Das Kohäsions-Modell

29

c) Das Subkultur-Konzept

30

d) Zwischenergebnis

31

e) Das Aufeinandertreffen von Kulturen

31

aa) Multikulturalität und Multikulturalismus

32

(1) Multikulturalität

32

(2) Multikulturalismus

32

bb) Interkulturalität

34

cc) Transkulturalität

34

dd) "Leitkultur" und "Parallelgesellschaft"

34

ee) Zwischenergebnis

36

4. Das zu vermeidende Simplifizierungsrisiko

37

C. Einfluss der Kultur auf die Pönalisierungsentscheidung

40

I. Kulturabhängigkeit des Rechts?

40

1. These von der Unbeachtlichkeit der Kultur

40

2. These von der Übereinstimmung der Rechtsnormen mit den Kulturnormen

41

II. Abhängigkeit des Strafrechts von der Kultur?

42

1. These von der besonderen Kulturabhängigkeit des Strafrechts

42

2. Thesen zu den Ausnahmen von der Kulturabhängigkeit des Strafrechts

42

a) Differenzierung nach Teilbereichen des Strafrechts

43

b) Ausnahmen nach Mayer

43

aa) Verwaltungsstrafrecht

43

bb) Kulturfremde Gesetze

44

III. Abhängigkeit der Pönalisierung von kulturellen Wertvorstellungen

45

1. Pönalisierung als Auswahlentscheidung

45

2. Abhängigkeit der Auswahl von den kulturellen Wertvorstellungen

47

3. Zwischenergebnis

50

IV. Abgrenzungen und Konkretisierungen

51

1. Von den bisherigen kulturellen Wertvorstellungen abweichende Strafnormen

51

2. Völkerrechtliche Vorgaben

51

3. Wirkung des Strafrechts auf kulturelle Wertvorstellungen – Das Theorem von Legalität und Moralität

52

D. Der Pönalisierungsmaßstab in einer mehrkulturellen Gesellschaft

55

I. Allgemeine Diskussion um den materiellen Verbrechensbegriff

56

1. Rechtsgutslehre

58

a) Wertungsbedürftigkeit des Rechtsgutsbegriffs

59

b) Rechtsgutslehren

60

aa) Schünemann

60

bb) Hassemer und Neumann

61

cc) Roxin

63

dd) Weigend

64

ee) Jäger

65

ff) Hefendehl

67

gg) Wohlers

69

hh) Kahlo

70

c) (Fehlende) Erkenntnisgewinne aus der Rechtsgutslehre

71

2. Maßstab des Bundesverfassungsgerichts (Verhältnismäßigkeitsprinzip)

74

3. Inklusion des Rechtsgüterschutzes in den verfassungsrechtlichen Prüfungsrahmen

76

4. Sozialethische Strafrechtslehre

76

5. Sozialschädlichkeitstheorie

78

6. Strafrechtlicher Funktionalismus

80

7. Die Lehre von den fundamentalen Verhaltensnormen

82

8. Einflüsse aus dem angloamerikanischen Raum

83

a) Harm Principle

83

b) Offense to Others

85

c) System prinzipiengestützter Strafnormlegitimation

86

9. Gesamtbetrachtung

87

II. Die kulturelle Bedingtheit jedes materiellen Legitimationsmaßstabs für die Pönalisierung

89

III. Mögliche Ansätze für eine legitime Pönalisierung in einer mehrkulturellen Gesellschaft

91

1. Strafrechtspluralismus

92

2. Lösungsansätze für eine legitime absolute Strafnormgeltung in einer mehrkulturellen Gesellschaft

97

a) Materielle Maßstäbe

97

aa) Der Rekurs auf die "höherwertige" Kultur nach Mayer

98

bb) Multikulturelles Strafrecht im Sinne des Assimilationsmodells

99

(1) Schutz der abendländischen Kultur

100

(2) Schutz der grundlegenden Wertentscheidungen

101

(3) Verfassungspatriotismus

102

(a) Grünewald

103

(b) Radbruch

103

(c) Hilgendorf und Steffen

103

(d) Zwischenergebnis

104

(e) Hörnle

105

(f) Kritik

107

cc) "Echtes" multikulturelles bzw. transkulturelles Strafrecht

111

(1) Appellfunktion des Straftatbestandes

112

(2) Interkulturelle Normbegründung nach Köhler

114

(3) Kulturindifferente Menschenrechte als Pönalisierungsmaßstab nach Höffe

116

(4) Interkulturelles Kernstrafrecht nach Rössner

119

dd) Zwischenergebnis

120

b) Der prozessuale Maßstab

120

aa) Legitimation durch Zuständigkeit

120

bb) Prozedurale Inklusion nach Dreier

123

c) Zwischenergebnis

124

IV. Die Übertragbarkeit der Diskussion zur Berücksichtigung fremder kultureller Wertvorstellungen bei der Entscheidung über das Vorliegen niedriger Beweggründe im Sinne des § 211 Abs. 2 Gr. 1 Var. 4 StGB

126

1. Wertepluralität

128

a) Diskussion anhand des Definitionsmerkmals der "allgemeinen sittlichen Wertung"

129

b) Diskussion anhand der juristischen Problembeschreibung der Ehrenmorde und der Blutrache

132

2. Die Berücksichtigung abweichender, fremdkultureller Wertvorstellungen

134

a) Dogmatisch uneinheitliche Berücksichtigung

134

b) Objektive Berücksichtigung

136

aa) Begründung aus der Idee eines (interkulturellen) sozialethischen Minimums

138

bb) Gegenargumentation zu der Idee eines (interkulturellen) sozialethischen Minimums

139

(1) Beschränkung auf strikt rechtliche Vorgaben

139

(2) Aufweichung des gesetzlichen Normbefehls

140

cc) Begründung über die Privilegierung des Konflikts zwischen Gesamtkulturen

142

dd) Begründung über das Schuldprinzip

143

ee) Zwischenergebnis

144

c) Pathologisierende Berücksichtigung

144

aa) Der Maßstab der Rechtsgemeinschaft der Bundesrepublik Deutschland

146

bb) Die Pathologisierungstendenz

148

d) Zwischenergebnis

149

V. Eigener Lösungsvorschlag

150

1. Ausländerwahlrecht

152

2. Die Installation einer Kulturkommission

154

a) Sachverständige Interessenvertretung

155

b) Loslösung von der Rationalitätsdoktrin

157

c) Besetzung der Kommission

158

d) Formalisierung

159

e) Zulässigkeit der beratenden Einflussnahme

160

f) Verteidigung der Institutionalisierung einer Kulturkommission

161

3. Erfordernis einer 2/3-Mehrheit für die parlamentarische Schlussabstimmung über ein Strafgesetz

164

4. Kulturrelativismus versus wehrhafte Demokratie

165

5. Die gesetzgeberische Diskussion um die Pönalisierung der Beschneidung von Jungen als Indiz für die praktische Umsetzbarkeit

171

6. Schlussbetrachtung

177

E. Zusammenfassung

178

Literaturverzeichnis

182

Stichwortverzeichnis

192