Civil Servants law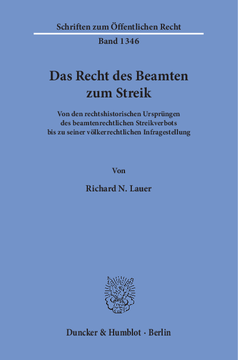 BOOK
Das Recht des Beamten zum Streik
Von den rechtshistorischen Ursprüngen des beamtenrechtlichen Streikverbots bis zu seiner völkerrechtlichen Infragestellung
Schriften zum Öffentlichen Recht, Vol. 1346
(2017)
Additional Information
Book Details
ISBN

978-3-428-55179-8
978-3-428-15179-0 (print edition)

DOI

https://doi.org/10.3790/978-3-428-55179-8

Edition

1

Language

German

Pages

360

Collections

Subjects
Pricing
Institution

€ 104.00 (incl. local VAT if applicable)

Individual

€ 79.90 (incl. local VAT if applicable)
About The Author
Richard N. Lauer studierte Rechtswissenschaften an der Julius-Maximilians-Universität Würzburg. Danach war er als wissenschaftlicher Mitarbeiter am Lehrstuhl für Öffentliches Recht und Europarecht bei Herrn Professor Dr. Ludwigs tätig. Seine Promotion durch die Juristische Fakultät der Julius-Maximilians-Universität erfolgte im Dezember 2016. Seither ist er Rechtsreferendar am Hanseatischen Oberlandesgericht Hamburg.
Abstract
Die Diskussion um das Bestehen eines Streikrechts für Beamte ist wieder in Bewegung geraten. Mehrere jüngere Urteile des EGMR stellen das hergebrachte Beamtenstreikverbot in Frage. Wegweisend anerkannte der Gerichtshof in den Verfahren Demir und Baykara (2008) und Enerji Yapi-Yol Sen (2009) ausdrücklich ein Beamtenstreikrecht aus der Vereinigungsfreiheit des Art. 11 EMRK. Im Lichte dieser Entscheidungen bejahte das BVerwG im Jahr 2014 das Bestehen eines Völkerrechtskonflikts des aus Art. 33 Abs. 5 GG fließenden Streikverbots mit den Vorgaben aus Art. 11 EMRK.

Das übergreifende Erkenntnisinteresse dieser Arbeit gilt der Frage, wie eine Konventionskonformität des nationalen Beamtenstreikverbots mit den Vorgaben aus Art. 11 EMRK erzielt werden kann. Unter Berücksichtigung der rechtshistorischen Entwicklung des Beamtentums wird dargestellt, dass der festgestellte Völkerrechtsverstoß durch eine funktionale Konzentrierung der nationalen Beamtenschaft unter völkerrechtsfreundlicher Auslegung des Art. 33 Abs. 4 GG zu lösen ist. »The Right to Strike for German Officials«

This Ph.D. thesis deals with the question of how the established principle of the ban of strikes for German officials persuant to Article 33 (5) German constitution conflicts with the requirements of Article 11 ECHR as laid down by the European Court of Human Rights in the decisions Demir und Baykara (2008) and Enerji Yapi-Yol Sen (2009). Considering the history of the civil servants this thesis analyses whether a conformity of the national ban of strikes with the European Convention can be reached by interpreting the German constitution in the light of the international law.
Table of Contents
Section Title
Page
Action
Price

Vorwort

7

Inhaltsverzeichnis

9

Abkürzungsverzeichnis

17

Einführung und Gang der Untersuchung

23

A. Einführung in die Thematik

23

B. Gang der Darstellung

24

I. Inhaltliche Darstellung

24

II. Methodische Darstellung

26

1. Teil: Das Streikverbot im nationalen Berufsbeamtentum

29

§ 1 Begriffsbestimmungen

29

A. Begriffsbestimmungen und Systematisierungen im Beamtenrecht

29

I. Begriff des Beamten

30

II. Arten des Beamtenverhältnisses und Berufsgruppen

31

III. Einordnung der Beamten im System des öffentlichen Dienstes

32

B. Begriffsbestimmungen im Kollektivarbeitsrecht

34

I. Begriff des Arbeitskampfrechts

34

II. Erläuterung der Arbeitskampfmittel

35

1. Begriff des Streiks und Streikarten im Überblick

35

2. Die Aussperrung als Pendant zum Streik

38

C. Zusammenfassender Überblick

38

§ 2 Die rechtshistorischen Ursprünge des beamtenrechtlichen Streikverbots

39

A. Der Ursprung der beamtenrechtlichen Treuepflicht

39

B. Wandel der Treuepflicht im Absolutismus

42

I. Das Beamtentum im Fürstenstaat

42

1. Rechtliche Ausgestaltung des Beamtenverhältnisses

43

2. Die Treuepflicht und Folgen ihres Verstoßes

44

II. Die Verwaltungsreformen im 18. Jahrhundert

46

1. Auswirkungen der Verwaltungsreformen auf das Beamtenwesen

46

2. Unbedingte Treueverpflichtung auf den Monarchen

47

III. Vom Fürstendiener zum Staatsdiener

49

1. Veränderungen im Beamtenwesen

50

2. Erweiterung der Treuepflicht

52

C. Die Treue im Beamtenverhältnis der konstitutionellen Monarchie

54

I. Rechtliche Natur des Staatsdienstes

55

II. Instrumentalisierung und Disziplinierung der Beamtenschaft

57

D. Ideologische Treuebindung im Deutschen Kaiserreich

60

I. Rechtliche Stellung der Beamten

60

II. Ideologische Treuebindung an die Regierungspolitik

62

1. Einflussnahme auf den einzelnen Beamten

62

2. Die Vereinsbewegung in der Beamtenschaft

65

a) Ursprünge der privatrechtlichen Vereinsbewegung

66

b) Entwicklung der Beamtenorganisationen und ihre Folgen

68

c) Rechtslage zum Vereinigungsrecht der Beamten

70

d) Streik als erlaubtes Arbeitskampfmittel?

72

III. Zusammenfassender Überblick

74

E. Die Debatte um ein Beamtenstreikrecht in der Weimarer Republik

75

I. Verfassungsrechtliche Stellung der Beamten

75

II. Debatte um ein beamtenrechtliches Streikrecht

78

1. Anfängliche Gewährung eines Streikrechts für Beamte?

78

2. Das beamtenrechtliche Streikrecht in der parlamentarischen Debatte

80

3. Der Streik in der Praxis und seine Folgen

81

4. Rechtliche Begründung des Streikverbots

84

a) Argumentation der Rechtsprechung für ein Beamtenstreikverbot

84

b) Begründung eines Beamtenstreikverbots durch die Literatur

86

III. Zusammenfassender Überblick

88

F. Zeit des Nationalsozialismus und Nachkriegszeit

89

I. Tiefpunkt des modernen Beamtentums

89

II. Demokratischer Neubeginn

92

G. Gleichstellung der Beamten in der DDR

94

H. Der Streik und das Berufsbeamtentum in der Bundesrepublik Deutschland

96

I. Schlussfolgerungen zur rechtshistorischen Entwicklung des Beamtenstreikverbots

100

§ 3 Das Streikverbot im System des Berufsbeamtentums

101

A. Die besondere rechtliche Stellung der Beamtenschaft

102

I. Nationale beamtenrechtliche Rechtsquellen

102

II. Verfassungsrechtliche Stellung der Berufsbeamten

103

1. Das öffentlich-rechtliche Dienst- und Treueverhältnis

104

2. Die Ausübung hoheitlicher Befugnisse

105

3. Die hergebrachten Grundsätze des Berufsbeamtentums

106

a) Die Berücksichtigungspflicht

107

b) Fortentwicklung des Rechts des öffentlichen Dienstes

109

c) Einzelne hergebrachte Grundsätze

109

III. Das ausbalancierte System von einfachgesetzlichen Beamtenrechten und Beamtenpflichten

113

1. Beamtenrechtliche Pflichten und die Folgen von Pflichtverletzungen

114

2. Die Rechtsstellung des Beamten

117

a) Rechte aus dem Beamtenverhältnis

117

b) Kollektive Beamtenrechte

119

IV. Zusammenfassender Überblick zur besonderen Rechtsstellung der Beamtenschaft

120

B. Die verfassungsrechtliche Herleitung des beamtenrechtlichen Streikverbots

120

I. Das Streikrecht als Ausfluss der Koalitionsfreiheit

121

1. Die Koalitionsfreiheit aus Art. 9 Abs. 3 GG

121

a) Gewährleistung der Koalitionsfreiheit

121

b) Anforderungen an Streiks von Privaten auf Schutzbereichsebene

122

2. Der Beamte als Träger der Koalitionsfreiheit

125

a) Grundrechtsträgerschaft von Beamten

125

b) Die Koalitionsfreiheit der Beamten

128

aa) Recht auf koalitionsspezifische Betätigung

128

bb) Gewährung eines Beamtenstreikrechts auf Schutzbereichsebene

129

3. Ergebnis zum Streikrecht als Ausfluss der Koalitionsfreiheit

130

II. Das beamtenrechtliche Streikverbot

131

1. Interne Grundrechtsschranken der Koalitionsfreiheit

131

2. Externe Grundrechtsschranken der Koalitionsfreiheit

132

a) Die beamtenrechtlichen Grundrechtsbeschränkungen

133

b) Eigene Würdigung zum Ausschluss tarifvertraglicher Arbeitsgestaltung

134

c) Eigene Würdigung zum verfassungsrechtlichen Streikverbot

136

aa) Einfachgesetzliche Rechtsgrundlage des Streikverbots

136

bb) Verfassungsrechtliche Begründung des Streikverbots

137

(1) Beamtenrechtliche Treuepflicht und aus ihr hergeleitete Grundsätze

138

(2) Einseitige Regelung des Beamtenverhältnisses

141

(3) Fürsorge- und Alimentationspflicht

143

(4) Staatsstrukturbestimmungen?

145

(5) Zwischenergebnis

147

cc) Das Streikverbot als hergebrachter Grundsatz des Berufsbeamtentums

147

dd) Verbot sonstiger Streiksurrogate

150

d) Rechtsfolgen eines Beamtenstreiks

151

III. Zusammenfassender Überblick zum verfassungsrechtlichen Streikverbot

152

C. Schlussfolgerungen zum Streikverbot im System des Berufsbeamtentums

152

2. Teil: Völkerrechtliche Garantie eines Beamtenstreikrechts

155

§ 4 Internationale Regelungen eines Streikrechts

155

A. Gewährleistung eines Streikrechts im Unionsrecht

155

I. Bestehen eines Streikrechts auf Unionsebene

156

II. Mittelbare Einschränkungen des nationalen Dienstrechts

160

B. Gewährleistung eines Streikrechts aus völkerrechtlichen Vorschriften

162

I. Streikrecht in der Europäischen Sozialcharta

162

II. ILO-Übereinkommen zur Koalitionsfreiheit

164

III. Der UN-Zivilpakt und der UN-Sozialpakt

166

C. Schlussfolgerungen zu den internationalen Regelungen eines Streikrechts

167

§ 5 Das Recht auf Streik in Art. 11 EMRK

168

A. Die Europäische Menschenrechtskonvention und ihre Auslegung

168

I. Bedeutung der EMRK im nationalen Grundrechtsgefüge

168

II. Stellung der EMRK im nationalen Recht

169

III. Der EGMR als Interpret der EMRK und die Bedeutung seiner Urteile

173

1. Die Auslegung seitens des EGMR

173

2. Kontrolldichte des EGMR im Lichte der "margin of appreciation"

175

3. Rechtswirkungen der Gerichtsurteile

177

a) Rechtliche Bindungswirkung gegenüber verfahrensbeteiligten Staaten

177

b) Berücksichtigungspflicht der EGMR-Urteile

178

IV. Zusammenfassender Überblick

181

B. Das Recht auf Streik in Art. 11 EMRK

181

I. Weiterentwicklung des Art. 11 EMRK

182

1. Die Reichweite der Vereinigungsfreiheit

182

a) Ursprüngliche Rechtsprechung zu Art. 11 EMRK

182

aa) Der Streik als eine vieler anderer kollektiver Maßnahmen

183

bb) Einschränkungen des Schutzbereichs

185

cc) Ursachen für die ursprünglich restriktive Interpretation

186

b) Der anfängliche Wandel der EGMR-Rechtsprechung

187

c) Endgültige Weiterentwicklung des Art. 11 EMRK

187

aa) Kollektivverhandlungen als "wesentliches Element" (Demir and Baykara)

188

(1) Das Verfahren Demir und Baykara/Türkei

188

(2) Urteilsinhalt: Anerkennung eines Rechts auf Kollektivverhandlungen

189

(3) Begründung des EGMR zur Weiterentwicklung des Art. 11 EMRK

190

(a) Rezeption internationalen Rechts

191

(b) Berücksichtigung der Auslegungspraxis von Sachverständigenausschüssen

192

(c) Einbeziehung der Praxis der Konventionsstaaten

193

(4) Ergebnis zum Verfahren Demir and Baykara

194

bb) Der Streik als "wichtiger Aspekt" der Koalitionsfreiheit (Enerji Yapi-Yol Sen)

195

(1) Das Verfahren Enerji Yapi-Yol Sen/Türkei

195

(2) Urteilsinhalt: Streikrecht als Menschenrecht

196

(a) Das Streikrecht als "wichtiger Aspekt" der Koalitionsfreiheit

196

(b) Reichweite der Gewährleistung des Streikrechts

197

(3) Begründung des EGMR zur Anerkennung eines Streikrechts mit vollem Rang

200

(4) Ergebnis zum Verfahren Enerji Yapi-Yol Sen

202

d) Bestätigung in der Folgejudikatur des EGMR

202

aa) Kollektive Schutzbereichserweiterung des Art. 11 EMRK

202

bb) Bestätigung eines individuellen Streikrechts für Angehörige des öffentlichen Dienstes

204

cc) Ergebnis zur Folgejudikatur

206

e) Ergebnis zur Reichweite der Vereinigungsfreiheit

206

2. "Das Streikrecht ist nicht absolut" – Grenzen der Koalitionsfreiheit

207

a) Allgemeine Schranken der Koalitionsfreiheit

207

aa) Vorbehalt eines Gesetzes

208

bb) Verfolgung eines legitimen Ziels

209

cc) Notwendigkeit für eine demokratische Gesellschaft

210

(1) Beurteilungsspielraum innerhalb des Art. 11 Abs. 2 EMRK

210

(2) Kontrolldichte bei Eingriffen in den Kernbereich

211

(3) Ergebnis zur Notwendigkeit in einer demokratischen Gesellschaft

213

b) Besondere Schranke für den Öffentlichen Dienst

213

aa) Allgemeine Voraussetzungen gemäß Art. 11 Abs. 2 S. 2 EMRK

214

bb) Besondere Voraussetzungen für Staatsbedienstete

215

(1) Kein absolutes Streikverbot für Staatsbedienstete

215

(2) Eindeutigkeit und Begrenztheit des Streikverbots

216

(a) Besonderheiten für Angehörige der Streitkräfte und der Polizei

216

(b) Begriff der Staatsverwaltung – Orientierung am Pellegrin-Urteil

217

c) Ergebnis zu den Grenzen der Koalitionsfreiheit

219

II. Die Entscheidungen in der zusammenfassenden kritischen Würdigung

220

1. Einbeziehung von Aussagen der Sachverständigenausschüsse

220

2. Rezeption nicht ratifizierter Normen des internationalen Rechts

223

3. Rechtsvergleich bezüglich der Praxis der Konventionsstaaten

225

4. Ergebnis zur kritischen Würdigung

227

C. Schlussfolgerungen zum Streikrecht aus Art. 11 EMRK

227

3. Teil: Konventionsrechtliche Infragestellung des nationalen Streikverbots

230

§ 6 Vereinbarkeit des deutschen Beamtenstreikverbots mit Art. 11 EMRK?

230

A. Der gegenwärtige Stand der Diskussion

231

I. Meinungsstand in der Rechtsprechung

231

II. Diskussion in der Literatur

233

III. Ergebnis zum gegenwärtigen Stand der Diskussion

235

B. Relevanz der EGMR-Urteile zu Art. 11 EMRK in der nationalen Rechtsordnung

235

C. Kollisionslage zwischen Art. 11 EMRK und den nationalen Beschränkungen der Koalitionsfreiheit für Beamte

237

I. Gewährleistungen aus Art. 11 EMRK für deutsche Beamte

237

II. Eingriff in die Gewährleistungen aus Art. 11 EMRK durch nationales Recht

240

1. Eingriff in das Recht auf Kollektivverhandlungen

240

2. Eingriff in das konventionsrechtliche Streikrecht

241

3. Ergebnis: Eingriff in Art. 11 EMRK

242

III. Rechtfertigung der Versagung der tarifvertraglichen Arbeitsgestaltung

242

1. Anforderungen aus Art. 11 Abs. 2 S. 1 EMRK

243

a) Rechtsgrundlage des Ausschlusses tarifvertraglicher Arbeitsgestaltung

243

b) Verfolgung eines legitimen Ziels

244

c) Notwendigkeit für eine demokratische Gesellschaft

245

aa) Beteiligung der Spitzenorganisationen

246

bb) Einbindung des Personalrats unter Abschluss von Dienstvereinbarungen

248

cc) Würdigung des Bestehens eines Interessenausgleichs

249

d) Ergebnis: Rechtfertigung des Ausschlusses der Tarifvertragsfreiheit aus Art. 11 Abs. 2 S. 1 EMRK

251

2. Anforderungen aus Art. 11 Abs. 2 S. 2 EMRK

251

3. Ergebnis: Rechtmäßigkeit der Versagung tarifvertraglicher Arbeitsgestaltung

251

IV. Rechtfertigung des nationalen Beamtenstreikverbots

251

1. Voraussetzungen des Art. 11 Abs. 2 S. 1 EMRK

252

a) Rechtsgrundlage des Beamtenstreikverbots

252

b) Verfolgung eines legitimen Ziels

253

c) Notwendigkeit für eine demokratische Gesellschaft

255

aa) Besondere Anforderungen an das Streikverbot

255

(1) Eindeutigkeit des Streikverbots als inhaltliche Voraussetzung

255

(2) Anforderungen an den Umfang des nationalen Streikverbots

256

(a) Verbot eines absoluten Streikverbots

256

(b) Funktionale Unterteilung nach der Ausübung von Hoheitsgewalt

261

bb) Verhältnismäßigkeit der nationalen Einschränkung

263

(1) Reichweite des nationalen Beurteilungsspielraums

263

(2) Würdigung des Bestehens eines Interessenausgleichs

264

cc) Ergebnis zur Notwendigkeit für eine demokratische Gesellschaft

266

d) Ergebnis: Keine Rechtfertigung des nationalen Streikverbots nach Art. 11 Abs. 2 S. 1 EMRK

267

2. Rechtfertigung der Einschränkung nach Art. 11 Abs. 2 S. 2 EMRK

267

3. Ergebnis: Keine Rechtfertigung des nationalen Beamtenstreikverbots

268

V. Vorliegen eines Völkerrechtsverstoßes

269

D. Schlussfolgerungen zum Vorliegen eines völkerrechtlichen Verstoßes

269

§ 7 Erarbeitung eines Lösungsansatzes zur Behebung des Völkerrechtsverstoßes

271

A. Keine Inkaufnahme des völkerrechtlichen Verstoßes

271

B. Notwendigkeit eines Eingreifens des Gesetzgebers – Lösung des BVerwG

273

I. Reaktion auf den Völkerrechtsverstoß

273

II. Kritische Würdigung der BVerwG-Judikatur

275

III. Ergebnis zum Urteil des BVerwG

278

C. Völkerrechtsfreundliche Auslegung des Grundgesetzes

279

I. Die Methode der völkerrechtsfreundlichen Auslegung

279

II. Lösungsmöglichkeiten im Lichte der Anforderungen des EGMR

281

1. Möglichkeit 1: Partielles funktionsbezogenes Streikverbot

282

2. Möglichkeit 2: Funktionsbezogenes absolutes Streikverbot

283

III. Die völkerrechtsfreundliche Auslegung des Art. 33 GG

285

1. Implementierung eines partiellen funktionsbezogenen Streikverbots in Art. 33 Abs. 5 GG

285

2. Funktionsabhängige Differenzierung im Rahmen des Art. 33 Abs. 4 GG

291

a) Das funktionale Differenzierungskriterium des EGMR

291

b) Anknüpfungspunkt der völkerrechtsfreundlichen Auslegung innerhalb des Art. 33 Abs. 4 GG

296

c) Übertragung des funktionalen Differenzierungsmerkmals auf Art. 33 Abs. 4 GG

299

d) Einteilung der deutschen Beamtengruppen nach ihrer Ausübung von "Hoheitsgewalt"

304

aa) Beschäftigungsbereiche von Beamten in der Bundesrepublik Deutschland

304

bb) Gestaltungsspielraum der Bundesrepublik Deutschland

306

cc) Einteilung der nationalen Beschäftigungsbereiche von Beamten

307

(1) Beschäftigungsbereiche mit "Hoheitsgewalt"

307

(2) Tätigkeitsfelder ohne "Hoheitsgewalt"

314

e) Ergebnis: Funktionale Konzentrierung der Beamtenschaft

319

3. Das Problem der Bestandsbeamten im Bereich der "Bildenden Dienste"

320

IV. Zusammenfassender Überblick zur völkerrechtsfreundlichen Auslegung

325

D. Schlussfolgerungen zur Behebung des Völkerrechtsverstoßes

326

§ 8 Zusammenfassende Thesen

327

Literaturverzeichnis

334

Sachwortverzeichnis

359