Criminal law: offences against the person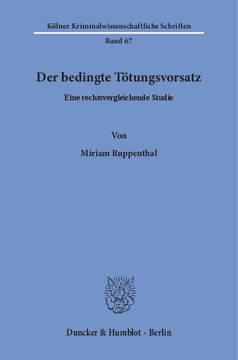 Additional Information
Book Details
ISBN

978-3-428-55102-6
978-3-428-15102-8 (print edition)

DOI

https://doi.org/10.3790/978-3-428-55102-6

Edition

1

Language

German

Pages

411

Collections

Subjects
Pricing
Institution

€ 126.00 (incl. local VAT if applicable)

Individual

€ 98.90 (incl. local VAT if applicable)
About The Author
Miriam Ruppenthal studierte Rechtswissenschaften an den Universitäten Bonn und Münster. Während ihrer Promotion war sie als wissenschaftliche Mitarbeiterin am Institut für Strafrecht und Strafprozessrecht und am Institut für ausländisches und internationales Strafrecht der Universität zu Köln tätig. Zudem war Miriam Ruppenthal Stipendiatin des Deutschen Akademischen Austauschdienstes und Visiting Scholar an der University of California, Boalt Hall School of Law in Berkeley und der Université Panthéon-Assas in Paris. Nachdem sie das Referendariat im Landgerichtsbezirk Bonn absolviert hat, ist sie nun Richterin in Köln.
Abstract
Bei der Vorsatzgrenzziehung handelt es sich bis heute um eine der schwierigsten und umstrittensten Fragen des Strafrechts. Nie ist diese Frage so spannend wie im Bereich der Tötungsdelikte. Nirgendwo ist menschliche Irrationalität so deutlich, der Beweis so schwierig und die Rechtsprechung so uneinheitlich. In der Arbeit wird neben einer Analyse der hierzulande geführten Diskussion die französische und die kalifornische Rechtslage untersucht. Die Untersuchung zeigt: Rechtssicherheit erfordert einen gewissen Grad an Normativierung. Doch der Grat zwischen Normativierung und Vorsatzzuschreibung ist schmal. Normativierung muss daher beim Willenselement anknüpfen. Dieses ist nicht mehr als ein Vorsatzausschlusskriterium ohne eigenständigen positiven Bedeutungsgehalt. Für die Vorsatzbestimmung sind allein die Qualität der vom Täter gesetzten Gefahr und seine Kenntnis davon entscheidend. Darauf, ob der Täter sich mit dem Erfolgseintritt abgefunden hat, kommt es nicht an. Es handelt sich um eine Rechtsfrage, die für den Fall, dass dem Täter die seiner Handlung anhaftende Vorsatzgefahr bewusst ist, stets zu bejahen ist. »Intent to Kill«

The limitation of the scope of intent (bedingter Vorsatz) is one of the most difficult and controversial issues of criminal law. The analysis of the legal situation in Germany, France and California has shown that a certain degree of standardization is required to achieve legal certainty. Only the quality of the danger posed by the perpetrator and his knowledge thereof are decisive to determine intent. It does not matter whether the offender has accepted the possible end result. Acceptance of the deadly result – as a question of law – must always be assumed where the perpetrator was aware of the danger of death (so-called Vorsatzgefahr) inherent in his action.
Table of Contents
Section Title
Page
Action
Price

Vorwort

7

Inhaltsverzeichnis

9

Einleitung

15

A. (Straf-)‌Rechtssystem und Regelwerk

22

I. Die Grundsätze des Common Law

22

II. Der Model Penal Code

28

III. Ergebnis

29

B. Psycho-physische Ausnahmezustände

30

I. Der Affektbegriff nach Saß

30

II. Die Erkenntnisse Raschs über die Alkoholintoxikation

35

C. Gesetzeslage

39

I. Das deutsche Strafgesetzbuch

39

1. Der Allgemeine Teil des StGB

39

a) §§ 15, 16 StGB – Vorsatz und Fahrlässigkeit

39

b) §§ 20, 21 StGB – Schuld

43

2. Der Besondere Teil des StGB

44

a) §§ 211, 212 StGB

44

b) § 222 StGB

46

c) § 213 StGB

47

d) §§ 224 Abs. 1 Nr. 5, 227 StGB

47

II. Der französische Code Pénal

49

1. Élément moral

49

2. Der Allgemeine Teil des CP

50

a) Art. 121-3 CP – dol général

50

b) Art. 122-1, 122-2 CP – imputabilité

53

3. Der Besonderere Teil des CP

56

a) Art. 221-1 CP – dol spécial

56

b) Art. 221-6, 223-1 CP – faute simple und faute délibérée

58

c) Art. 222-7 CP – coups mortels

61

III. Der California Penal Code

62

1. Begriff der mens rea

62

2. Der Allgemeine Teil des CA PC

63

a) Mens rea in its special sense

64

aa) Sec. 7, 20, 29.2 (a) CA PC – Begriffsbestimmung und Grundsätze

64

bb) Negation of mens rea

65

(1) General und specific intent

65

(2) Sec. 29.4 CA PC – voluntary intoxication

67

(3) Sec. 28 (a) CA PC – mental disease

69

(4) Dogmatische Einordnung

70

b) Mens rea in the sense of legal responsability

70

aa) Sec. 25 (b) CA PC – insanity

70

(1) Emotional insanity

71

(2) Voluntary intoxication

72

bb) Dogmatische Einordnung

73

3. Der Besondere Teil des CA PC

73

a) Sec. 187 (a), 188 CA PC – murder

73

aa) Degree structure

75

bb) Malice

75

(1) Express malice – specific intent to kill

76

(2) Implied malice – conscious disregard for life

77

(3) Felony-murder rule

79

b) Sec. 192 CA PC – manslaughter

81

aa) Voluntary manslaughter

82

(1) Specific intent to kill und conscious disregard for life

83

(2) Heat of passion

83

(a) Mitigating circumstance

83

(b) Sufficient provocation

84

bb) Involuntary manslaughter – criminal negligence

85

4. Exkurs: Model Penal Code

86

IV. Zusammenfassung

89

D. Systematische Einordnung

91

I. Dolus eventualis und bewusste Fahrlässigkeit

91

II. Dol éventuel und faute délibérée

93

III. Implied malice, recklessness und criminal negligence

98

IV. Zusammenfassung

101

E. Die Rechtslage in Deutschland

103

I. Die Rechtsprechung zum bedingten Tötungsvorsatz

103

1. Die Vorsatzdefinition der Rechtsprechung

103

a) "Billigen im Rechtssinne"

103

b) Bedingt vorsätzlicher Totschlag und lebensgefährliche Körperverletzung

105

c) Das Phänomen der Hemmschwelle

109

2. Die grundsätzlichen Schwierigkeiten im Prozess

117

a) Beweisrechtliche Probleme

117

aa) Indizienbeweis und Vorsatzbegriff

117

bb) Tatgerichtliche Verwirrung und Prüfungskompetenz der Revisionsinstanz

121

b) Der "Affektbegriff" der Rechtsprechung

126

c) Fälle menschlicher Irrationalität

131

aa) Tatsachenblindheit

132

bb) Tatsachengelöster Optimismus

136

3. Die beiden Vorsatzelemente im Einzelnen

137

a) Das kognitive Vorsatzelement

138

aa) Für-Möglich-Halten des Erfolges

138

bb) Erkenntniseinschränkende Faktoren

144

(1) Affekt

145

(2) Alkoholisierung

150

b) Die Prüfung des voluntativen Vorsatzelements in der Praxis

157

aa) Die "subjektiv-voluntative" Vorsatzprüfung

158

(1) Affekt

161

(2) Alkoholisierung

167

(3) Weitere Tatumstände im Kontext von Affekt und Alkoholisierung

169

bb) Die "normativ-kognitive" Vorsatzprüfung

176

cc) Eine Kehrtwende?

186

4. Abschließende Stellungnahme und Ergebnis

198

II. Lösung im deutschen Schrifttum?

201

1. Zweck der Vorsatzstrafe

202

a) Die Entscheidung des Täters gegen das Rechtsgut

204

b) Der Vermeidegedanke

205

c) Stellungnahme und Ergebnis

207

2. Voluntative Theorien

208

a) Ernstnahmetheorie

209

aa) Klassische Ernstnahmetheorie (Stratenwerth)

209

bb) "Volitiver Normativismus" (Roxin und Schneider)

211

b) Gleichgültigkeitstheorie (Sternberg-Lieben/Schuster)

215

c) Theorie vom manifestierten Vermeidungswillen (Kaufmann und Hillenkamp)

217

d) Vorsatzbestimmung über Indizien und Indikatoren (Hassemer und Philipps)

221

e) Vorsatz als Typusbegriff (Schünemann)

224

3. Kognitive Theorien

226

a) Möglichkeitstheorie (Schröder und Schmidhäuser)

227

b) Wahrscheinlichkeitstheorie (Mayer) und Kombinationslösung (Schroeder)

231

c) Moderne kognitive Theorien – Vorsatzbestimmung nach dem Vorsatzgegenstand

233

aa) Das Verhältnis von Gefahr und Erfolg

234

bb) Normativ-modifizierte Wahrscheinlichkeitstheorie (Jakobs)

236

cc) Risikotheorie (Frisch)

239

dd) Unterscheidung nach der Gefahrqualität im objektiven Tatbestand

245

(1) Lehre von der unabgeschirmten Gefahr (Herzberg)

248

(2) Lehre von der Vorsatzgefahr (Puppe) – "kognitiver Normativismus"

255

(3) Kritische Würdigung der Lehre von der Vorsatzgefahr

263

(a) Doch nur eine quantitative Abstufung?

263

(b) Ungerechtfertigte Einschränkung der Vorsatzstrafbarkeit?

264

(c) Einwand der Unbestimmtheit – Puppes Vernunftsmaßstab

267

(d) Inakzeptable Ausdehnung der Vorsatzstrafbarkeit?

274

(e) Die Unterscheidung von Verletzungs- und Gefährdungsvorsatz

280

4. Abschließende Stellungnahme und Ergebnis

282

F. Der Blick ins Ausland

287

I. Die Rechtslage in Frankreich

287

1. Dol spécial – Art. 221-1 CP

288

a) Vorsatzbeweis

288

aa) Die Praxis der Cour de Cassation

288

bb) Kritische Würdigung

293

b) Affekt und Alkoholintoxikation im Kontext des dol

295

aa) Affekt – crime passionnel

295

bb) Alkoholintoxikation – l'empire d'un état alcoolique/ivresse

298

2. Dol éventuel – Art. 121-3 CP

300

a) Der Begriff des dol éventuel und die Frage nach einem voluntativen Vorsatzelement

300

b) Die Abgrenzung zur bewussten Fahrlässigkeit (imprévoyance consciente)

303

aa) Dol éventuel und imprévoyance consciente nach Pradel

303

bb) Kritische Würdigung

304

cc) Parallelen zu dem Begriff des bedingten Vorsatzes nach Puppe?

307

3. Délit praeterintentionnel – Art. 222-7 CP

309

a) Dol dépassé und dol indéterminé

309

b) Kritische Würdigung

314

c) Vergleich mit der Rechtsprechung des Bundesgerichtshofs zum bedingten Tötungsvorsatz

316

II. Die Rechtslage in Kalifornien

318

1. Implied malice – Sec. 187 (a), 188 CA PC

318

a) Risikoschaffung – natural consequences und high probability of death

319

b) Risikobewusstsein – conscious disregard for life

324

c) Beweis der mental component der implied malice

329

d) Kritische Würdigung

333

2. Voluntary intoxication – Sec. 29.4 (b) CA PC

334

a) General intent und specific intent

335

aa) Zweck der Unterscheidung und Auswirkungen beim criminal homicide

335

bb) Kritik an der Unterscheidung von general und specific intent

337

b) Diminished capacity oder diminished actuality

339

c) Die jüngste Reform: Implied malice

343

d) Kritische Würdigung

346

3. Von murder zu manslaughter: Sufficient provocation – Sec. 192 (a) CA PC

352

a) Mitigating circumstance

352

b) Malicious intent

353

c) Begriff der sufficient provocation – Der objektive Maßstab der reasonableness

354

d) Kritische Würdigung

361

4. Involuntary manslaughter – Sec. 192 (b) CA PC

363

a) Criminal negligence

364

b) Misdemeanour-manslaughter

366

5. Unterscheidung von criminal negligence und implied malice

370

a) Kritische Würdigung

372

b) Vergleich mit dem Begriff des bedingten Vorsatzes nach der Rechtsprechung des Bundesgerichtshofs

374

c) Parallelen zu dem Begriff des bedingten Vorsatzes nach Puppe?

377

G. Fazit/Gesamtbetrachtung

380

I. Zusammenfassung der Ergebnisse

380

II. Auswertung

389

Literaturverzeichnis

395

Sachverzeichnis

408