Methods, theory & philosophy of law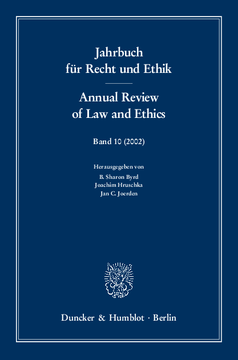 BOOK
Cite BOOK
Style
---
Byrd, B. Hruschka, J. Joerden, J. (Eds.) (2002). Jahrbuch für Recht und Ethik / Annual Review of Law and Ethics. Bd. 10 (2002). Themenschwerpunkt: Richtlinien für die Genetik / Guidelines for Genetics. Duncker & Humblot. https://doi.org/10.3790/978-3-428-50893-8
; Byrd, B. Sharon; Hruschka, Joachim and Joerden, Jan C.. Jahrbuch für Recht und Ethik / Annual Review of Law and Ethics: Bd. 10 (2002). Themenschwerpunkt: Richtlinien für die Genetik / Guidelines for Genetics. Duncker & Humblot, 2002. Book. https://doi.org/10.3790/978-3-428-50893-8
Byrd, B, Hruschka, J, Joerden, J (eds.) (2002): Jahrbuch für Recht und Ethik / Annual Review of Law and Ethics: Bd. 10 (2002). Themenschwerpunkt: Richtlinien für die Genetik / Guidelines for Genetics, Duncker & Humblot, [online] https://doi.org/10.3790/978-3-428-50893-8
---
Format
---
Jahrbuch für Recht und Ethik / Annual Review of Law and Ethics
Bd. 10 (2002). Themenschwerpunkt: Richtlinien für die Genetik / Guidelines for Genetics
Editors: Byrd, B. Sharon | Hruschka, Joachim | Joerden, Jan C.
Jahrbuch für Recht und Ethik / Annual Review of Law and Ethics, Vol. 10
(2002)
Additional Information
Book Details
ISBN

978-3-428-50893-8
978-3-428-10893-0 (print edition)

DOI

https://doi.org/10.3790/978-3-428-50893-8

Edition

1

Language

German

Pages

383

Collections

Subjects
Pricing
Institution

€ 150.00 (incl. local VAT if applicable)

Individual

€ 116.90 (incl. local VAT if applicable)
About The Author
Joachim Hruschka, Rechtswissenschaftler, promovierte und habilitierte an der Ludwig-Maximilians-Universität München. 1972 erhielt er die Professur für Strafrecht, Strafprozessrecht und Rechtsphilosophie an der Universität Hamburg. Von 1982 bis 2004 war Hruschka Inhaber des Lehrstuhls für Strafrecht, Strafprozessrecht und Rechtsphilosophie an der Friedrich-Alexander-Universität Erlangen-Nürnberg. Er war Mitherausgeber des »Jahrbuchs für Recht und Ethik« (Duncker & Humblot). Hruschka verstarb im Dezember 2017.Jan C. Joerden, 1978/81 1. und 2. Juristische Staatsprüfung; 1982–1988 Akad. Rat in Erlangen; 1985 Promotion; 1987 Habilitation, Erlangen-Nürnberg. 1988–93 Heisenberg-Stipendiat der DFG und Lehrstuhlvertretungen in Berlin, Erlangen, Jena und Trier. 1993 Lehrstuhl für Strafrecht, insbesondere Internationales Strafrecht und Strafrechtsvergleichung, Rechtsphilosophie an der Europa-Universität Viadrina Frankfurt (Oder). 1994–1998 Prorektor. Seit 1995 Geschäftsführender Leiter des Interdisziplinären Zentrums für Ethik (IZE). 1996 Berufung auf den Lehrstuhl für Strafrecht, Strafprozeßrecht und Rechtsphilosophie, Universität Rostock (abgelehnt). 1998–2002 Prorektor/Vizepräsident der Europa-Universität für das Collegium Polonicum in Slubice/Polen. 2001 Berufung auf den Lehrstuhl für Strafrecht, Strafprozeßrecht und Wirtschaftsstrafrecht, Universität Augsburg (abgelehnt). Seit 2002 Mitglied im Vorstand der IVR, Deutsche Sektion. 2004 »Medaille für Verdienste um die Adam-Mickiewicz-Universität zu Posen«. 2007/08 Senior Fellow am Alfried Krupp Wissenschaftskolleg Greifswald. 2009/10 Leiter einer Forschungsgruppe am Zentrum für interdisziplinäre Forschung (ZiF) der Universität Bielefeld. 2015 Dr. h.c. der Adam-Mickiewicz-Universität Poznan (Polen). Seit 2016 Mitglied im Vorstand der Akademie für Ethik in der Medizin e.V., Göttingen. 2017 Medaille »Universitatis Lodziensis Amico«, Universität Łódź (Polen).
Abstract
Die Autoren des vorliegenden Bandes setzen sich mit der Frage auseinander, ob die rasante gentechnologische Entwicklung einer Regulierung und Steuerung durch rechtlich verbindliche Richtlinien bedarf und wie solche Richtlinien ausgestaltet sein könnten. Weiterhin wird die Möglichkeit der Implementierung internationaler Richtlinien untersucht und nach den ethischen Grundlagen für entsprechende Richtlinien gefragt. Dabei wurde Wert auf eine interdisziplinäre Zusammensetzung des Autorenkreises gelegt.The volume focuses on the question whether the rapid progress of genetic technology needs to be governed by legally binding guidelines, and asks what character and scope such guidelines would need to have. Special attention is given to whether international guidelines can be implemented and to what the ethical basis of such guidelines might be. In order to address these questions appropriately, the volume comprises contributions from a broad range of academic disciplines.
Table of Contents
Section Title
Page
Action
Price

Vorwort

V

Inhaltsverzeichnis – Table of Contents

VII

Regulierung oder Deregulierung? – Regulation or Deregulation?

1

David Heyd: Hopeless Philosophical Reflections on the Senselessness of Regulation in Genetics

3

I. Regulation

4

II. The Unresolvable Tension between Philosophy and Policy

8

IIΙ. The Israeli Scene

12

IV. Analysis

15

Zusammenfassung

19

Roger B. Dworkin: Cases and Guidelines in Genetics

21

I. Genetic Developments

22

II. Guidelines

24

III. Cases

27

IV. Cases and Guidelines

29

Zusammenfassung

34

Bernard Gert: Should Human Gene Enhancement Be Regulated?

37

I. Distinguishing Gene Therapy from Gene Enhancement

38

II. Social and Medical Concerns About Gene Enhancement

39

Conclusions

44

Zusammenfassung

45

Thomas Nenon/S. Edward Stevens, Jr.: The Limits of Legal Regulations for Controlling Genetic Engineering on Humans

46

Zusammenfassung

55

Literature

55

Lloyd Cohen: Ethical Protocols for Collecting DNA Samples? The Virtue of Traditional Economic/Legal Categories

57

I. The Morrison Institute's Protocols

58

II. Group Consent – Group Rights – Group Property

61

1. Ethical Obligations or Good Manners?

61

2. Paternalism?

62

3. Property Rights in Human Beings

62

4. Collective Rights in Human Beings: Individual Threats To The Collective

64

5. Harm To The Group From Genomic Research?

65

6. Group Property Versus Individual Property

67

7. A Property Right In Information

69

8. The Right of Exit

71

Conclusion

71

Zusammenfassung

72

Ethische Voraussetzungen für Regulierungen – Ethical Presuppositions for Regulations

75

Georg Lohmann: Die Herausforderungen der Ethik durch Lebenswissenschaften und Medizin Zum Streit um den normativen Status des Frühembryos

77

I. Einleitung und Vorüberlegung

77

II. Die Differenzen von Moral, ethischen Menschenbildern und Recht

79

ΙII. Zwischenüberlegung. Was sind mögliche Objekte moralischer Verpflichtungen?

82

IV. Der normative Status des Frühembryos aus moralischer und ethischer Sicht

86

V. Die Herausforderung der Ethik durch die Verrechtlichung des ethisch begründeten Embryonenschutzes

95

Summary

96

Matthias Kaufmann: Potentialität und Wahrscheinlichkeit Zum moralischen und rechtlichen Status überzähliger Embryonen

99

I. Das Problem

99

II. Potentialität im Sinne der Nicht-Diskriminierung

102

ΙII. Potentielle Egalität vs. Einzug der Wahrscheinlichkeit\r

107

Summary

111

Jan C. Joerden: Perspektiven der Stammzellenforschung und Grundlagen für deren rechtliche Regulierung

113

I.

113

II.

114

III.

117

IV.

119

V.

122

Summary

124

Jan C. Schuhr: A Certain Way of Life, Imposed by the Dead upon the Living

125

I. The Simultaneous Existence Problem

126

1. Human Dignity

127

2. The Extended Model of a Crime

130

3. Law as Governing Relations between Subjects

131

II. Protecting the Freedom of the Cosubject

134

1. Judging Interferences by their Effects on Options

134

2. Quantitative vs. Qualitative Approach

135

3. Construction of a Quantitative Approach to Judge Influences

136

4. Result

138

IIΙ. Application

139

1. Remaining Assessments

139

2. Cases

140

3. Prospect

142

Zusammenfassung

144

Beispiele nationaler Regulierungen – Examples of National Regulations

145

Ellen Wright Clayton: Regulating Germ-Line Gene Transfer in the United States

147

I. The Current Regulatory Landscape

147

II. Constitutional Constraints – the Right to Procreate

150

IIΙ. Constitutional Constraints – the Right to Choose Our Children's Characteristics

153

IV. Constitutional Constraints – Parents' Rights to Alter Their Children's Lives

154

V. Constitutional Constraint – the Dilemma of Harm

156

VI. Particular Problems Posed by Inheritable Genetic Modification

157

VII. Conclusion

159

Zusammenfassung

159

Diane Longley: Regulating the Exploration of Aladdin's Cave and Pandora's Box; the UK Regulatory and Advisory Framework for Human Genetics

161

I. Aladdin's Cave and Pandora's Box

161

II. The UK Approach

161

IIΙ. The Basic Legislative Provisions

165

IV. Research Uses of Embryos

166

V. Pre Implantation Diagnosis (PGD)

168

VI. Reproductive and Therapeutic Cloning and Stem Cell Research

173

VII. Conclusion

179

Zusammenfassung

181

Erwin Bernat: Schutz vor genetischer Diskriminierung und Schutzlosigkeit wegen genetischer Defekte: die Genanalyse am Menschen und das österreichische Recht

183

I. Einleitung

183

1. Vorbemerkungen

183

2. "Genetic rights

185

3. Rechtsentwicklung und Gesetzgebung

188

II. Die Genanalyse am Menschen

189

1. Zu medizinischen Zwecken

191

2. Patientendaten und Geheimnisschutz

195

3. Der Schutz eines Rechts auf "geninformationelle Selbstbestimmung

197

a) Gegenüber dem Arbeitgeber

197

b) Gegenüber dem Versicherer

200

ΙII. Die Genanalyse im Rahmen von Pränatal· und Präimplantationsdiagnostik und der Status der Leibesfrucht

203

1. Empirische Grundlagen

203

2. Die Schwangerschaftsunterbrechung wegen Vorliegens der embryopathischen Indikation: straffrei aber dennoch verboten?

205

3. Pränataldiagnostik und embryopathische Indikation

208

4. Das Verbot der Präimplantationsdiagnostik

210

5. Rechtsethische Bewertung und rechtspolitischer Handlungsbedarf

211

Summary

216

Perspektiven internationaler Regulierung – Perspectives of International Regulation

217

Eike-Henner W. Kluge: Regulating Human Genetics: Laws, Treaties, Markets and Codes of Ethics

219

I. Introduction

219

II. Possible Guidelines

222

III. Why Regulate?

230

IV. Analysis

232

V. What Model Should Be Adopted?

234

VI. Conclusion

237

Zusammenfassung

238

William Winslade: International Guidelines in Genetics: Obstacles, Options, and Opportunities

239

I. What is Genetic Enhancement?

240

II. Can International Guidelines Be Established For Enhancement Research and Practices?

241

III. Because of the Obstacles to International Guidelines For Genetic Enhancement, What Other Options and Opportunities Are Available?

246

Zusammenfassung

249

Diskussionsforum – Discussion Forum

251

Gary Chartier: Contested Practices Arthur Isak Applbaum's Ethics for Adversaries

253

I. Burling, Ennis, and Korematsu

255

1. Problems with the De Witt Report

255

2. Framing the Report in the Korematsu Brief

256

3. Lawyers and the Adversarial Ethos

257

II. Applbaum's Challenge to the Adversarial Ethos

259

1. The Public Executioner as Exemplary Adversarial Professional

259

2. Role Definitions and Practice Positivism

260

3. Justifying Adversarial Violations through Redescription

261

4. Justifying Adversarial Violations as instances of Fair Play

264

5. Justifying Adversarial Violations on Consequentialist Grounds

266

III. Assessing Applbaum

268

1. Applbaum 's Hesitancy about Condemning Some Adversarial Violations by Lawyers

268

2. Settled Expectations and Lawyers' Adversarial Violations

270

3. Fair Play and Lawyers' Adversarial Violations

274

IV. Conclusion

276

Uwe Scheffler: Der Staatsanwalt im Kinderzimmer? Zu den Einschränkungen des elterlichen Erziehungsrechts aus der Sicht eines Strafrechtlers

279

I. Ist das elterliche Züchtigungsrecht abgeschafft?

279

1. § 1631 Abs. 2 BGB'00

279

2. § 1631 Abs. 2 BGB'98

280

3. § 1631 Abs. 2 BGB'79

282

II. Ist nunmehr jede Züchtigung strafbare Körperverletzung?

284

1. "Helfende Reaktion\" des Strafrechts? Die sanktionenrechtliche Lösung

285

2. Kein öffentliches Interesse? Die strafprozessuale Lösung

286

3. Nicht jegliche körperliche Bestrafung? Die familienrechtliche Lösung

290

a) Entwürdigende Maßnahmen

290

b) Körperliche Bestrafungen

291

c) Gewaltfreiheit

292

d) Erziehung

293

e) Unvereinbar mit Art. 6 Abs. 2 GG?

294

4. Keine "Mißhandlung\"? Die "alte\" Tatbestandslösung

296

5. Keine "unangemessene\" Behandlung? Die "neue\" Tatbestandslösung

297

6. Strafunrechtsausschluß? Die Lösung auf Unrechtsebene

298

7. Ungeschriebener Strafausschließungsgrund? Ein neuer Lösungsansatz

300

IIΙ. Folgerungen

302

Kenneth R. Westphal: Hegel's Standards of Political Legitimacy

307

Autoren- und Herausgeberverzeichnis – Contributors and Editors

331

Personenverzeichnis Bände 6-10 / Index of Names Volumes 6-10

333

Sachverzeichnis Bände 6-10 / Index of Subjects Volumes 6-10

344

Hinweise für Autoren

371

Information for Authors

373