Methods, theory & philosophy of law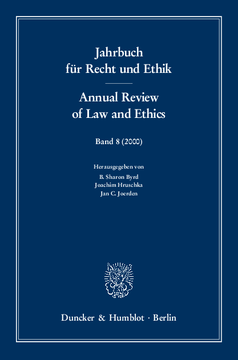 BOOK
Cite BOOK
Style
---
Byrd, B. Hruschka, J. Joerden, J. (Eds.) (2001). Jahrbuch für Recht und Ethik / Annual Review of Law and Ethics. Bd. 8 (2000). Themenschwerpunkt: Die Entstehung und Entwicklung der Moralwissenschaften im 17. und 18. Jahrhundert / The Origin and Development of the Moral Sciences in the Seventeenth and Eighteenth Century. Duncker & Humblot. https://doi.org/10.3790/978-3-428-50366-7
; Byrd, B. Sharon; Hruschka, Joachim and Joerden, Jan C.. Jahrbuch für Recht und Ethik / Annual Review of Law and Ethics: Bd. 8 (2000). Themenschwerpunkt: Die Entstehung und Entwicklung der Moralwissenschaften im 17. und 18. Jahrhundert / The Origin and Development of the Moral Sciences in the Seventeenth and Eighteenth Century. Duncker & Humblot, 2001. Book. https://doi.org/10.3790/978-3-428-50366-7
Byrd, B, Hruschka, J, Joerden, J (eds.) (2001): Jahrbuch für Recht und Ethik / Annual Review of Law and Ethics: Bd. 8 (2000). Themenschwerpunkt: Die Entstehung und Entwicklung der Moralwissenschaften im 17. und 18. Jahrhundert / The Origin and Development of the Moral Sciences in the Seventeenth and Eighteenth Century, Duncker & Humblot, [online] https://doi.org/10.3790/978-3-428-50366-7
---
Format
---
Jahrbuch für Recht und Ethik / Annual Review of Law and Ethics
Bd. 8 (2000). Themenschwerpunkt: Die Entstehung und Entwicklung der Moralwissenschaften im 17. und 18. Jahrhundert / The Origin and Development of the Moral Sciences in the Seventeenth and Eighteenth Century
Editors: Byrd, B. Sharon | Hruschka, Joachim | Joerden, Jan C.
Jahrbuch für Recht und Ethik / Annual Review of Law and Ethics, Vol. 8
(2001)
Additional Information
Book Details
ISBN

978-3-428-50366-7
978-3-428-10366-9 (print edition)

DOI

https://doi.org/10.3790/978-3-428-50366-7

Edition

1

Language

German

Pages

602

Collections

Subjects
Pricing
Institution

€ 150.00 (incl. local VAT if applicable)

Individual

€ 116.90 (incl. local VAT if applicable)
About The Author
Joachim Hruschka, Rechtswissenschaftler, promovierte und habilitierte an der Ludwig-Maximilians-Universität München. 1972 erhielt er die Professur für Strafrecht, Strafprozessrecht und Rechtsphilosophie an der Universität Hamburg. Von 1982 bis 2004 war Hruschka Inhaber des Lehrstuhls für Strafrecht, Strafprozessrecht und Rechtsphilosophie an der Friedrich-Alexander-Universität Erlangen-Nürnberg. Er war Mitherausgeber des »Jahrbuchs für Recht und Ethik« (Duncker & Humblot). Hruschka verstarb im Dezember 2017.Jan C. Joerden, 1978/81 1. und 2. Juristische Staatsprüfung; 1982–1988 Akad. Rat in Erlangen; 1985 Promotion; 1987 Habilitation, Erlangen-Nürnberg. 1988–93 Heisenberg-Stipendiat der DFG und Lehrstuhlvertretungen in Berlin, Erlangen, Jena und Trier. 1993 Lehrstuhl für Strafrecht, insbesondere Internationales Strafrecht und Strafrechtsvergleichung, Rechtsphilosophie an der Europa-Universität Viadrina Frankfurt (Oder). 1994–1998 Prorektor. Seit 1995 Geschäftsführender Leiter des Interdisziplinären Zentrums für Ethik (IZE). 1996 Berufung auf den Lehrstuhl für Strafrecht, Strafprozeßrecht und Rechtsphilosophie, Universität Rostock (abgelehnt). 1998–2002 Prorektor/Vizepräsident der Europa-Universität für das Collegium Polonicum in Slubice/Polen. 2001 Berufung auf den Lehrstuhl für Strafrecht, Strafprozeßrecht und Wirtschaftsstrafrecht, Universität Augsburg (abgelehnt). Seit 2002 Mitglied im Vorstand der IVR, Deutsche Sektion. 2004 »Medaille für Verdienste um die Adam-Mickiewicz-Universität zu Posen«. 2007/08 Senior Fellow am Alfried Krupp Wissenschaftskolleg Greifswald. 2009/10 Leiter einer Forschungsgruppe am Zentrum für interdisziplinäre Forschung (ZiF) der Universität Bielefeld. 2015 Dr. h.c. der Adam-Mickiewicz-Universität Poznan (Polen). Seit 2016 Mitglied im Vorstand der Akademie für Ethik in der Medizin e.V., Göttingen. 2017 Medaille »Universitatis Lodziensis Amico«, Universität Łódź (Polen).
Abstract
Der achte Band des Jahrbuchs für Recht und Ethik befaßt sich mit der Genese der Handlungs- oder Moralwissenschaften, d. i. mit den Bereichen, die (vor allem im 17. und 18. Jahrhundert) aus der allgemeinen Philosophie heraus entstanden sind und sich im Laufe der Zeit zu eigenständigen Wissenschaften entwickelt haben, wie etwa die moderne (nicht-positive) Jurisprudenz und Ethik, moderne Anthropologie, Psychologie und Soziologie. In dem Band werden einerseits die geschichtlichen Entwicklungen selbst, andererseits die in der Aufklärung diskutierten Ansätze zum Thema gemacht und die Bedeutung dieser Ansätze für unsere Gegenwart erörtert.Volume 8 of the Annual Review of Law and Ethics deals with the genesis of the moral sciences. It focuses particularly on the scholarship that emerged from philosophy during the seventeenth and eighteenth centuries and over time grew into independent fields of study, such as modern (non-positive) jurisprudence, ethics, modern anthropology, psychology, and sociology. The articles in this volume consider the historical development itself, but also the various scholarly approaches discussed during the Enlightenment and their meaning for our present generation.
Table of Contents
Section Title
Page
Action
Price

Vorwort

V

Inhaltsverzeichnis

VII

Zur geschichtlichen Entwicklung

1

Bernd Ludwig: Auf dem Wege zu einer säkularen Moralwissenschaft: Von Hugo Grotius' De Jure Belli ac Pacis zu Thomas Hobbes' Leviathan

3

I.

3

II.

6

III.

16

IV.

20

V.

24

Summary

30

Robert Wokler: From the Moral and Political Sciences to the Sciences of Society by Way of the French Revolution

33

I.

33

II.

36

III.

43

Zusammenfassung

44

Jan Schröder: Die Entstehung des modernen Volkerrechtsbegriffs im Naturrecht der frühen Neuzeit

47

I. Einführung

47

II. Die Eliminierung des alten, als Rechtsquelle vorgestellten "ius gentium

49

1. Der Ausgangspunkt

49

2. Die allmähliche Eliminierung des alten ius gentium

50

a) Die Unterscheidung zwischen "ius gentium primaevum\" und "ius gentium secundarium

50

b) Die privatrechtliche Ausweitung des Naturrechts (und weitere Reduzierung des alten "ius gentium\") durch Hugo Grotius (1625)

52

c) Die endgültige Eliminierung des alten "ius gentium\" durch Thomas Hobbes (1642) und Samuel Pufendorf (1672)

53

III. Die Begründung des modernen, durch die Rechtssubjekte von anderen Rechtsmaterien abgegrenzten, "ius gentium

59

1. Das Subjekt des Völkerrechts in der Rechtswirklichkeit des 17. und 18. Jahrhunderts und die Rechtstheorie vor Hobbes und Pufendorf

59

a) Die Rechtswirklichkeit

59

b) Die völkerrechtliche Theorie vor Hobbes und Pufendorf

61

2. Volk (Staat) als Rechtsperson bei Hobbes/Pufendorf und in der Natur rechtslehre des 18. Jahrhunderts

63

a) Die absolutistische Fassung dieser Theorie bei Hobbes/Pufendorf und anderen frühen Naturrechtlern

64

b) Die "liberale\" Fassung dieser Theorie im deutschen Naturrecht seit der Mitte des 18. Jahrhunderts

67

IV. Zusammenfassung

69

Summary

70

Diethelm Klippel: Ideen zur Revision des Naturrechts Die Diskussion zur Neubegründung des deutschen Naturrechts um 1780

73

I. Naturrecht und Moral

75

II. Naturrecht und Stand der Natur

79

III. Staat und Individuum

83

IV. Fazit und Ausblick: Naturrecht im Umbruch

87

Summary

89

Zur Rechtslehre

91

Dieter Hüning: "Nonne puniendi potestas reipublicae propria est\". Die naturrechtliche Begründung der Strafgewalt bei Hugo Grotius

93

I. Einleitung

93

II. Grotius – Vater des Natur- und Strafrechts?

95

ΙII. Die Strafgewalt als Problem des Völkerrechts

99

IV. Grotius' naturrechtliche Begründung des individuellen ,ius puniendi'

104

V. Der Begriff des Unrechts und die stoischen Quellen der naturrechtlichen Straftheorie

110

VI. Die Kritik der Grotianischen Strafrechtsbegründung

118

Summary

123

William Ewald: The Biological Naturalism of Richard Cumberland

125

Zusammenfassung

141

Patrick Riley: Leibniz on Justice as \"The Charity of the Wise

143

I. Christian-Platonist Foundations of Leibniz' Universal Jurisprudence

143

II. Leibniz on Justice as an 'Ascent' to Charity and Benevolence

152

III. A Brief Conclusion

157

Zusammenfassung

158

John W. Cairns: Ethics and the Science of Legislation: Legislators, Philosophers, and Courts in Eighteenth-Century Scotland

159

I. Legislation and Courts in Scotland

159

II. The Enlightened Legislator

163

IIΙ. The Scottish Rejection of Ethical Rationalism

166

IV. Smith's Legal Philosophy

167

V. Smith's Science of Legislation

171

VI. Legislation in Englightened Scotland

175

Zusammenfassung

179

Joachim Hruschka: Existimatio: Unbescholtenheit und Achtung vor dem Nebenmenschen bei Kant und in der Kant vorangehenden Naturrechtslehre

181

I. Die Unterscheidung von Unbescholtenheit und Achtung vor dem Nebenmenschen bei Kant

181

II. Achenwall zur Unterscheidung von juridischer und ethischer existimatio bona

185

III. Thomasius und Titius zur existimatio

187

IV. Thomasius zur Unterscheidung von Recht und Ethik

190

V. Existimatio bei Pufendorf

191

VI. Über die Bedeutung von "existimatio\" im 17. und im 18. Jahrhundert

193

Summary

195

Zur Ethik

197

Fiammetta Palladini: Samuel Pufendorf als Moralphilosoph

199

Summary

207

Thomas Mautner: From Virtue to Morality Antoine Le Grand (1629-1699) and the New Moral Philosophy

209

Introduction

209

Section I: The Historical Location of the Change

209

1. Antoine Le Grand

209

2. The 'Conversion´ to Cartesianism

212

3. Different Conceptions of the Subject-Matter of Philosophy

213

4. The Texthook Revised (1)

214

5. The Shape of the Moral Philosophy Part of a Philosophy Course: The Relation between Moral Philosophy and Civil Philosophy

214

6. The Content of the Standard Moral Philosophy Course

216

7. Le Grand's De vita beata in 1672

217

8. The Textbook Revised (2)

218

9. How the Moral Philosophy Part in 1672 was Revised in 1675

218

10. The Discreet Acceptance of the New Paradigm

224

Section II: The Nature of the Change

225

1. From the Old to the New Moral Philosophy

225

2. A New Conception of Moral Philosophy: Hobbes

227

a) The Contrast Virtue – Action Inessential

227

b) The New Step, away from Aristotle

227

3. More on the Contrast between the Old and the New: Conscience

229

Concluding Remark

231

Zusammenfassung

232

Matthias Kaufmann: Die Rolle des Decorum in der Ethik des Christian Thomasius

233

I. Das Decorum und seine Unterarten

234

1. Das natürliche Decorum

237

2. Das Decorum politicum

239

II. Honestum und Decorum bei Cicero und bei Thomasius

241

III. Moralische Aspekte des Decorum bei Thomasius

243

Summary

245

Clemens Schwaiger: Ein "missing link\" auf dem Weg der Ethik von Wolff zu Kant. Zur Quellen- und Wirkungsgeschichte der praktischen Philosophie von Alexander Gottlieb Baumgarten

247

I. Über die Dringlichkeit einer Erforschung von Baumgartens Ethik

247

II. Baumgartens Weiterentwicklung von Wolffs Verpflichtungsbegriff

250

III. Lebendige Erkenntnis wahrer Verpflichtung als Sinnspitze philosophischer Ethik

254

IV. Resümee und Ausblick

259

Summary

260

Alan P. F. Sell: Approaches to Moral Philosophy among the Eighteenth-Century Dissenters of England and Wales

263

I.

265

Isaac Watts

268

Henry Grove

271

John Taylor

276

Thomas Amory

281

Samuel Bourn III

282

Richard Price

283

Thomas Belsham

288

II.

291

Freedom and necessity

292

Freedom of conscience and the right of private judgment

297

Toleration, or the right freely to worship

304

III.

307

Zusammenfassung

312

Fumihiko Takahashi: The Confucian Golden Rule: Chu Hsi's Neo-Confucian Interpretation and the Critical Arguments by Japanese Confucianists in the Seventeenth and Eighteenth Centuries

315

I. The Four Books and the Five Classics of Confucianism

316

II. The Golden Rule Formulations in Confucian Texts

318

1. \"Chung\", \"shu\" and \"jen\" in the 'Analects'

319

2. The Principle of the Measuring Square in the 'Great Learning´

322

3. The Way of the Superior Man in the ' Doctrine of the Mean´

323

III. Chu Hsi's Intellectualism and the Confucian Golden Rule

325

1. The Golden Rule in Chu Hsi 's 'Articles for Learning'

326

2. Chu Hsi's Comment on \"shu\" in the 'Questions and Answers on the Great Learning´

327

3. Chu Hsi's Intellectualism and Investigation of \"li

329

IV. Critical Arguments by Japanese Confucianists in the Seventeenth and Eighteenth Centuries

331

1. Confucian Tradition in Japan

332

2. Yamaga Soko

333

3. Ito Jinsai

335

4. Ogyu Sorai

337

V. Conclusion

340

Zusammenfassung

340

Zu Anthropologie und Psychologie

343

Kurt Bayertz: Glanz und Elend des aufrechten Ganges. Eine anthropologische Kontroverse des 18. Jahrhunderts und ihre ethischen Implikationen

345

I. Die Lust, auf allen vieren zu gehen

345

II. Herr über alle Wesen, die zur Erde geneigt und zum Boden gedrückt sind

352

III. Eine aufrecht kriechende Maschine?

360

IV. Zusammenfassung und Schlußfolgerung

368

Summary

369

Gerald J. Postema: Sympathy, Comparison, and the Self in Hume's Psychology

371

I. Sympathy

372

II. 'Pity Reverst': Hume on Malice and Envy

374

III. Hume's Analysis of Comparison

377

IV. Referencing and the Self

379

V. The Self and Reversal-Comparison

381

Conclusion

382

Zusammenfassung

383

Melvin Richter: Two Eighteenth-Century Senses of \"Comparison\" in Locke and Montesquieu

385

I.

385

II.

389

III.

391

IV.

393

Zusammenfassung

406

Fernando Vidal: The Eighteenth Century as \"Century of Psychology

407

I. Psychologisation and the Emergence of an Academic Discipline

407

II. Psychology in the Enlightenment

413

III. Psychology, Anthropology, and the Definition of Man

418

1. Johannes von Murait

421

2. Jean Paul Marat

422

3. Ernst Plainer

424

4. Alexandre-César Chavannes

424

IV. The Historicizing of Empirical Psychology

426

V. To sum up

432

Zusammenfassung

433

Abhandlungen

435

Georg Geismann: Sittlichkeit, Religion und Geschichte in der Philosophie Kants

437

I. Das moralische Gesetz

437

II. Das höchste Gut

451

III. Die Postulate

472

IV. Sittlichkeit, Religion und Geschichte

504

Summary

530

Stephen Kershnar: Reflexive Retributive Duties

533

I. The Victim has a Moral Duty to Punish the Culpable Wrongdoer

533

1. Impure Moral Retributivism

533

2. The Retributive Duties are Ρre-Institutional

534

3. The Victim Alone Has the Duty to Punish the Culpable Wrongdoer

536

4. Forfeiture and the Victim's Right to Punish

537

5. Murder Victims and the Right to Punish

539

6. The State's Right and Duty to Punish

540

II. The Duty to Punish the Culpable Wrongdoer is Owed to the Victim

540

1. The Retributive Duty is not Owed to the State

541

2. The Retributive Duty is not Owed to the Culpable Wrongdoer

541

3. The Retributive Duty is Owed to the Victim

542

4. The Victim Can Waive the Retributive Duty

543

5. The Retributive Duty is Reflexive

544

III. The Retributive Duty and the Libertarian-Duty Thesis

545

IV. Conclusion

546

Zusammenfassung

547

Rezensionen

549

Was ist der Mensch? Zwei Neuerscheinungen zu Kants pragmatischer Anthropologie

551

I.

551

II.

552

III.

555

IV.

558

Autorenverzeichnis

575

Personenverzeichnis / Name Index

577

Sachverzeichnis / Subject Index

583

Hinweise für Autoren

589

Information for Authors

591