Arms negotiation & control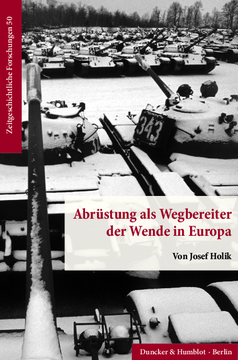 Additional Information
Book Details
ISBN

978-3-428-55200-9
978-3-428-15200-1 (print edition)

DOI

https://doi.org/10.3790/978-3-428-55200-9

Edition

1

Language

German

Pages

71

Collections

Subjects
Pricing
Institution

€ 24.00 (incl. local VAT if applicable)

Individual

€ 17.90 (incl. local VAT if applicable)
About The Author
Josef Holik, geb. 1931 im nordböhmischen Tetschen, studierte Rechts- und Politische Wissenschaften an der Universität Würzburg und Colgate University (Hamilton/USA). Erstes und Zweites Juristisches Staatsexamen, Promotion; 1961 Eintritt in den Auswärtigen Dienst, Auslandsposten in Moskau, Madras, Mogadischu, Brüssel/NATO, Wien; 1987–1995 Beauftragter der Bundesregierung für Rüstungskontrolle und Abrüstung; im Ruhestand Mitglied des Beirats des VN-Generalsekretärs für Sicherheit und Abrüstung.
Abstract
Das Ende des Kalten Krieges und die Wende in Europa sind nur mit Durchbrüchen in der Abrüstung – vor allem die doppelte Nulllösung für die nuklearen Mittelstreckenraketen und die Herstellung des Gleichgewichts bei den konventionellen Streitkräften in Europa – möglich geworden. Gorbatschow brauchte die Abrüstung – wie er selbst sagte – »als Schlüssel unseres Verhältnisses zum Westen«, um die Selbstisolierung der Sowjetunion zu überwinden und als Partner für seine Politik der Perestroika akzeptiert zu werden. Der Westen ging darauf ein, der Abbau der militärischen Konfrontation wurde mit dem Abbau der politischen Konfrontation synchronisiert.

Der Autor, von 1987 bis 1995 Abrüstungsbeauftragter der Bundesregierung, beschreibt die erfolgreichen Verhandlungen und ihre positiven Nachwirkungen auf die globale Sicherheitsdebatte, die aber leider bald nachließen. Die Nachgeschichte befasst sich mit den zukünftigen Chancen für Rüstungskontrolle, Abrüstung und Nichtverbreitung. »Disarmament as forerunner for Europ´s turnaround«

The end of the Cold War and the turnaround in Europe have only been possible as a result of a breakthrough in disarmament - in particular the double zero solution for medium-range nuclear missiles and the establishment of a balance between the conventional armed forces in Europe. Gorbachev needed disarmament - as he himself said - "as the key to our relationship with the West", in order to overcome the self-isolation of the Soviet Union and to be accepted as a partner for his policy of perestroika. The West responded, and the reduction of military confrontation was synchronised with the reduction of political confrontation.

The author, Federal Government Commissioner for Disarmament from 1987 to 1995, describes the successful negotiations and their positive after-effects on the global security debate, which unfortunately soon declined. What follows is about the future opportunities for arms control, disarmament and non-proliferation.
Table of Contents
Section Title
Page
Action
Price

Vorwort

5

Inhaltsverzeichnis

7

A. Der Durchbruch

9

B. Die wichtigsten Verhandlungen

14

I. INF: Die "Nulllösung" für die nuklearen Mittelstreckenraketen

14

1. Doppelbeschluss und Nachrüstung

14

2. Erste INF-Runde in Genf

16

3. Erfolgreiche Wiederaufnahme

19

II. Modernisierung oder Abrüstung: Ein Gesamtkonzept

21

1. Streit um Nachfolge für LANCE

21

2. Brandmauer für nukleare Abrüstung?

22

3. Entscheidung in Brüssel

25

III. Die KSE-Verhandlungen

27

1. Die Vorgeschichte

27

2. Beginn der Verhandlungen

29

3. Eine Lösung für Deutschland

30

4. Zeichnung des KSE-Vertrags

35

5. Streit um die Vertragsauslegung

37

6. Die Auflösung der Sowjetunion

39

IV. Vertrauens- und Sicherheitsbildende Maßnahmen

40

1. Der Helsinki-Prozess

40

2. Die Konferenz von Stockholm

41

3. Die Wiener Dokumente

42

V. Vertrag über den Offenen Himmel

44

VI. Der Abbau der nuklearstrategischen Potentiale

46

1. Die Vorgeschichte: SALT

46

2. Reagans START

49

3. Der neue START-Prozess

50

4. Die Einbindung der Nachfolgestaaten der SU in START

52

5. START I und START II

53

VII. Das Verbot chemischer Waffen

55

VIII. Die Verlängerung des Nuklearen Nichtverbreitungsvertrags (NVV)

60

C. Die Nachgeschichte

64

Ausgewählte Literatur

70