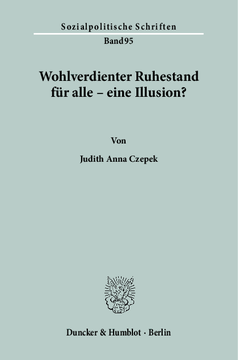 BOOK
Cite BOOK
Style
---
Czepek, J. (2017). Wohlverdienter Ruhestand für alle – eine Illusion?. Duncker & Humblot. https://doi.org/10.3790/978-3-428-55123-1
Czepek, Judith Anna. Wohlverdienter Ruhestand für alle – eine Illusion?. Duncker & Humblot, 2017. Book. https://doi.org/10.3790/978-3-428-55123-1
Czepek, J (2017): Wohlverdienter Ruhestand für alle – eine Illusion?, Duncker & Humblot, [online] https://doi.org/10.3790/978-3-428-55123-1
---
Format
---
Wohlverdienter Ruhestand für alle – eine Illusion?
Sozialpolitische Schriften, Vol. 95
(2017)
Additional Information
Book Details
Publisher Name

Duncker & Humblot

ISBN

978-3-428-55123-1
978-3-428-15123-3 (print edition)

DOI

https://doi.org/10.3790/978-3-428-55123-1

Edition

1

Language

German

Pages

329

Collections

Subjects
Pricing
Institution

€ 132.00 (incl. local VAT if applicable)

Individual

€ 99.90 (incl. local VAT if applicable)
About The Author
Judith Czepek ist akademische Rätin an der Georg-August-Universität in Göttingen. Nach dem Studium der Soziologie und VWL in Marburg, Frankfurt und Heidelberg war sie als wissenschaftliche Mitarbeiterin im interdisziplinären Projekt »Perspectives of Ageing« am Marsilius-Kolleg der Ruprecht-Karls-Universität in Heidelberg und am Lehrstuhl für Global Institutional Development tätig. 2015 wurde sie am Max-Weber-Institut für Soziologie in Heidelberg promoviert. Von 2014 bis 2017 war sie am Institut für Arbeitsmarkt- und Berufsforschung in Nürnberg als Expertin für Fragen des Fachkräftebedarfs, für rentenpolitische Fragestellungen und die Beschäftigungschancen älterer Arbeitnehmer zuständig.
Abstract
Die Verlängerung der Lebensarbeitszeit gilt als »Zauberformel« für die Bewältigung der Folgen des demographischen Wandels. Entgegen dieser Win-Win-Win-Situation für den Sozialstaat, die Betriebe und die Versicherten befasst sich diese Studie mit der These, dass $adas Ziel der Verlängerung der Lebensarbeitszeit und die Absicherung des Lebensstandards im Alter nicht für alle Versicherten realistisch$z ist. Die empirische Studie zeigt, wie die rentenrechtlichen Entwicklungen der letzten zwei Jahrzehnte und die Arbeitsmarktreformen zu Lasten der Versicherten gehen. Die steigende soziale Ungleichheit wird durch staatliche Vorschriften verursacht und gleichzeitig überlässt der Staat die Verteilung der Chancen auf einen »wohlverdienten Ruhestand« zunehmend den Tarifpartnern und dem Markt. Die aktuellen Reformpläne bergen dennoch die Aussicht, gleichermaßen eine Verlängerung der Lebensarbeitszeit und eine Erhöhung der Erwerbsbeteiligung Älterer zu erreichen.»Well-Deserved Retirement for Everyone – an Illusion?«The prolonging of working life seems to be a »magic formula« for coping with demographic change. The study shows how pension policies and labour market reforms shape and amplify individual pension gaps. Along with an increasing social inequality caused by state regulations, the responsibility for an old age pension that preserves the standard of living and a well-deserved retirement is shifted from the state towards employers and employees as wells as towards the market.
Table of Contents
Section Title
Page
Action
Price

Inhaltsverzeichnis

5

Tabellenverzeichnis

9

Tabelle 1: Die Typen institutionellen Wandels: Prozesse und Ergebnisse

36

Tabelle 2: Die Dimensionen unintendierter Effekte 1

39

Tabelle 3: Die Dimensionen unintendierter Effekte 2

39

Tabelle 4: Die theoriegeleiteten Forschungsannahmen

76

Tabelle 5: Die Verteilung der Stellung im Beruf in den Daten der vollendeten Versichertenleben und im Mikrozensus

89

Tabelle 6: Die Verteilung der persönlichen Entgeltpunkte und der Abschlagsmonate in den in den Daten der vollendeten Versichertenleben in West- und Ostdeutschland

92

Tabelle 7: Die Verteilung der soziodemographischen Merkmale nach Zugangskohorte (in Klammern in %)

94

Tabelle 8: Die Verteilung der Qualifikation in den Daten der vollendeten Versichertenleben und im Mikrozensus (in %)

95

Tabelle 9: Die Verteilung der Bildung, der beruflichen Stellung und des Einkommens nach Geschlecht und Zugangskohorte (in Klammern in %)

97

Tabelle 10: Die Verteilung des Einkommens in den in den Daten der vollendeten Versichertenleben

98

Tabelle 11: Die Entwicklung der Normalarbeitnehmer und der atypischen Beschäftigte von 1991 bis 2015a) (in %)

104

Tabelle 12: Die Strukturmerkmale atypisch Beschäftigter 2015 (in %)

106

Tabelle 13: Die Verbreitung beider Modelle der geförderten Altersteilzeitbeschäftigung von 2005 bis 2015 (in %)

111

Tabelle 14: Die Altersteilzeitbeschäftigung nach Alter von 2005 bis 2015 (in %)

112

Tabelle 15: Die Dauer der Inanspruchnahme geförderter Altersteilzeitbeschäftigung von 2005 bis 2015 (in %)

113

Tabelle 16: Die Voll- und Teilzeitbeschäftigung sowie die Inanspruchnahme geförderter Altersteilzeit nach Geschlecht in West- und Ostdeutschland 2015 (in %)

113

Tabelle 17: Die Entgeltgruppen in West- und Ostdeutschland 2000 und 2015 (in %)

116

Tabelle 18: Die Entgeltgruppen nach Geschlecht und Arbeitszeit in West- und Ostdeutschland 2015 (in %)

117

Tabelle 19: Die Rentenarten nach Kohorte in West- und Ostdeutschland (in %)

122

Tabelle 20: Die schichtspezifischen Unterschiede in den durchschnittlichen Entgeltpunkten nach Kohorten in West- und Ostdeutschland

125

Tabelle 21: Die durchschnittlichen Entgeltpunkte nach Rentenart und Kohorte in West- und Ostdeutschland

126

Tabelle 22: Die Einkommensverteilung nach Rentenart 2005 und 2010 (in %)

129

Tabelle 23: Die Verteilung der Bildung nach Rentenart (in %)

130

Tabelle 24: Die Determinanten der Summe der persönlichen Entgeltpunkte

135

Tabelle 25: Die durchschnittlichen Entgeltpunkte nach Qualifikation, Geschlecht und Familienstand in West- und Ostdeutschland

136

Tabelle 26: Die durchschnittlichen Entgeltpunkte nach Schichtmerkmalen in den Erwerbsminderungsrenten in West- und Ostdeutschland

144

Tabelle 27: Die Determinanten der Summe der persönlichen Entgeltpunkte in den Erwerbsminderungsrenten

145

Tabelle 28: Die durchschnittlichen Entgeltpunkte und Anteile (in %) nach Geschlecht und Familienstand in den Alters- und Erwerbsminderungsrenten in West- und Ostdeutschland

147

Tabelle 29: Die Unterschiede in der Alterssicherung in der BRD und in der DDR

156

Tabelle 30: Die Determinanten der Summe der persönlichen Entgeltpunkte in Westdeutschland

164

Tabelle 31: Die Determinanten der Summe der persönlichen Entgeltpunkte in Ostdeutschland

168

Tabelle 32: Die Gegenüberstellung der Hypothesen und zentralen Ergebnisse des Ost-West-Vergleichs

172

Tabelle 33: Die geschlechtsspezifischen Unterschiede in den durchschnittlichen Entgeltpunkten nach Kohorten in West- und Ostdeutschland

174

Tabelle 34: Die durchschnittlichen Entgeltpunkte nach Geschlecht und Kindern in West- und Ostdeutschland

175

Tabelle 35: Die Determinanten der Summe der persönlichen Entgeltpunkte von Männern in Westdeutschland

179

Tabelle 36: Die Verbreitung des Male-Breadwinner-Modells in den Altersrenten bei Frauen nach Qualifikation und Kohorte in West- und Ostdeutschland (in %)

183

Tabelle 37: Die Determinanten der Summe der persönlichen Entgeltpunkte von Frauen in Westdeutschland

185

Tabelle 38: Die rentenrechtlich relevanten Zeiten in den Altersrenten nach Geschlecht und Kohorte in West- und Ostdeutschland (in Monaten)

187

Tabelle 39: Die Determinanten der Summe der persönlichen Entgeltpunkte von Frauen in Ostdeutschland

189

Tabelle 40: Die Abschläge im Rentenzugang 2005

204

Tabelle 41: Die Determinanten der Abschlagsmonate in den Altersrenten

207

Tabelle 42: Die Determinanten der Abschlagsmonate in Westdeutschland

219

Tabelle 43: Die Determinanten der Abschlagsmonate in Ostdeutschland

222

Tabelle 44: Die durchschnittlichen Abschlagsmonate und rentenrechtlichen Zeiten bei Frauen nach Familienstand, Kindern und Bildungsniveau in West- und Ostdeutschland

226

Tabelle 45: Die Determinanten der Abschlagsmonate in den Altersrenten von Männer in Westdeutschland

230

Tabelle 46: Die Determinanten der Abschlagsmonate in den Altersrenten von Frauen in Westdeutschland

234

Tabelle 47: Die Determinanten der Abschlagsmonate in den Altersrenten von Frauen in Ostdeutschland

240

Tabelle 48: Die Anteile und durchschnittlichen Entgeltpunkte nach Versichertenstatus vor dem Leistungsfall in West- und Ostdeutschland

253

Tabelle 49: Der Versichertenstatus im Jahr vor dem Leistungsfall nach Rentenarten (in %)

255

Tabelle 50: Die Determinanten der Wahrscheinlichkeit sozialversicherungspflichtiger Beschäftigung im Jahr vor dem Renteneintritt

258

Tabelle 51: Die Determinanten der Wahrscheinlichkeit geringfügiger Beschäftigung im Jahr vor dem Renteneintritt

261

Tabelle 52: Die Determinanten der Wahrscheinlichkeit von Altersteilzeitarbeit im Jahr vor dem Renteneintritt

264

Tabelle 53: Die Determinanten der Wahrscheinlichkeit von Arbeitslosigkeit im Jahr vor dem Renteneintritt

268

Tabelle 54: Die Wirkungen der zwei Dimensionen der Höhe der Rentenanwartschaften

289

Tabelle 55: Die Wirkungsanalyse sozialrechtlicher Regelungen

291

Tabelle 56: Die Verteilung der soziodemographischen Merkmale in den vollen Erwerbsminderungsrenten (in Klammern in %)

303

Tabelle 57: Die Verteilung der Bildung, des beruflichen Status und des Einkommens in den vollen Erwerbsminderungsrenten (in Klammern in %)

304

Tabelle 58: Die Determinanten der Summe der persönlichen Entgeltpunkte in den Altersrenten 2005

305

Tabelle 59: Die Determinanten der Summe der persönlichen Entgeltpunkte in den Altersrenten 2007

306

Tabelle 60: Die Determinanten der Summe der persönlichen Entgeltpunkte in den Altersrenten 2010

307

Tabelle 61: Die Determinanten der Abschlagsmonate in den Altersrenten 2005

308

Tabelle 62: Die Determinanten der Abschlagsmonate in den Altersrenten 2007

309

Tabelle 63: Die Determinanten der Abschlagsmonate in den Altersrenten 2010

310

Abbildungsverzeichnis

13

Abbildung 1: Der "Eigenschaftsraum" von Institutionen nach Lepsius

29

Abbildung 2: Das Modell zur Komplementarität des Arbeitsmarktes und des Alterssicherungssystems

50

Abbildung 3: Die vier Ebenen der Alterssicherung in Deutschland

53

Abbildung 4: Die Darstellung der Vorgehensweise in den Analysen

84

Abbildung 5: Die Entwicklung der Arbeitslosenquoten in West- und Ostdeutschland von 1950 bis 2015 (in %)

109

Abbildung 6: Die Entwicklung der Inanspruchnahme der 58er-Regelung in West- und Ostdeutschland von 2003 bis 2010 (in %)

110

Abbildung 7: Der Anteil der Rentenarten an den Zugänge in die gesetzliche Rente von 1960 bis 2016 (in %)

120

Abbildung 8: Das durchschnittliche Renteneintrittsalter von 1960 bis 2015 (in Jahren)

124

Abbildung 9: Der Anteil der Personen mit Abschlägen beim Altersrentenzugang und die durchschnittliche Anzahl der Abschlagsmonate von 1997 bis 2015

201

Abbildung 10: Die durchschnittliche Anzahl an Abschlagsmonaten in den Altersrenten nach Geburtsjahr

203

Abbildung 11: Die Entwicklung des Versichertenstatus vor dem Leistungsfall von 1996 bis 2015 (in %)

251

Abkürzungsverzeichnis

14

A. Mind the Gap: Einführung

17

B. Die institutionen- und sozialstaatstheoretischen Grundlagen

26

I. Die Strukturierung des Lebenslaufs durch Sozialpolitik

26

II. Die Orientierung und Strukturierung individueller ­Handlungen durch institutionelle Prozesse

28

III. Der Institutionenwandel

33

IV. Die "dreißigste" Krise des Sozialstaats und die institutionellen Ausgestaltungs- und Wirkungsprinzipien sozialer Sicherung

41

C. Das Modell zur Komplementarität von Arbeitsmarkt und Alterssicherung: Ausgestaltung und Wirkung

49

I. Die institutionelle Komplementarität und die lohnarbeitszentrierte Sozialpolitik

49

II. Die zentralen Merkmale der Ausgestaltung der gesetzlichen Rentenversicherung

51

1. Die Möglichkeiten der Frühverrentung I: Die Renten für langjährig und besonders langjährig Versicherte

66

2. Die Möglichkeiten der Frühverrentung II: Die Rente für Frauen

67

3. Die Möglichkeiten der Frühverrentung III: Die Renten wegen Arbeitslosigkeit und nach Altersteilzeit

67

4. Die Möglichkeiten der Frühverrentung IV: Die 58er-Regelung

68

5. Die Möglichkeiten der Frühverrentung V: Die geförderte Altersteilzeitarbeit

69

6. Die Möglichkeiten der Frühverrentung VI: Die Renten für Schwerbehinderte und bei Erwerbsminderung

70

III. Die Normen und ihre Abweichungen als Untersuchungsleitfaden

74

D. Die Methoden, die Operationalisierung und die Datengrundlage

80

I. Die Ziele der linearen und logistischen Regressionsanalyse

80

1. Die Methode der linearen Regressionsanalyse

80

2. Die Methode der logistischen Regressionsanalyse

84

II. Die Datengrundlage: Die vollendeten Versichertenleben der Deutschen Rentenversicherung

86

III. Die abhängigen Variablen: Die Entgeltpunkte, die Abschlagsdauer und der sozialrechtliche Status

90

IV. Die unabhängigen Variablen und der Kohortenvergleich

93

E. Die Abweichungen von der Normalerwerbsbiographie auf dem Arbeitsmarkt

102

I. Die Ausbreitung atypischer Beschäftigung

102

II. Die Entwicklung und Struktur der Arbeitslosigkeit

108

III. Die Inanspruchnahme von (geförderter) Altersteilzeitarbeit

111

IV. Die Entgelte in West- und Ostdeutschland

115

F. Der Pension Gap I: Über potenzielle Lücken in den Rentenanwartschaften

118

I. Die deskriptiven Befunde: Diversifikation und Stratifizierung

118

1. Die Zuweisung und Diversifikation: Ist die Regelaltersrente die Regel?

119

2. Die Stratifizierung: Die schichtspezifischen Unterschiede

124

II. Der Pension Gap I: Die Generierung von Rentenanwartschaften

130

Exkurs: Rentenanwartschaften in den Erwerbsminderungsrenten

140

III. Der Regional Pension Gap I: Die Rentenanwartschaften im Ost-West-Vergleich

151

1. Die Rentenanpassung nach der Wiedervereinigung

151

2. Die Wiedervereinigung und der Umgang mit den DDR-Flüchtlingen

152

3. Das DDR-Rentenrecht

153

4. Die Umwertung der Bestandsrenten

158

5. Die Überleitung von Ansprüchen der Versicherten nach der Wiedervereinigung

160

6. Die Hypothesen und Konsequenzen für die Auswertung

162

7. Die Generierung von Rentenanwartschaften in Westdeutschland

163

8. Die Generierung von Rentenanwartschaften in Ostdeutschland

167

IV. Der Regional Pension Gap III: Der Vergleich der Rentenanwartschaften in West- und Ostdeutschland

169

V. Der Gender Pension Gap I: Das Male-Breadwinner-Modell in den Rentenanwartschaften in West- und Ostdeutschland

173

1. Die Generierung von Rentenanwartschaften von Männern in Westdeutschland

177

2. Die Generierung von Rentenanwartschaften von Frauen in Westdeutschland

180

3. Die Generierung von Rentenanwartschaften von Frauen in Ostdeutschland

188

4. Der Gender Pension Gap I: Die Unterschiede in den Rentenanwartschaften von Frauen in West- und Ostdeutschland

190

5. Der Gender Pension Gap I: Die geschlechtsspezifischen Unterschiede in den Rentenanwartschaften in Westdeutschland

191

VI. Der Pension Gap I: Die Rentenanwartschaften im Kohortenvergleich

192

VII. Der Pension Gap I: Zwischenfazit

196

G. Der Pension Gap II: Über (staatliche) Leistungen und (private) Kosten der Frühverrentung in Form der Inkaufnahme von Abschlägen

201

I. Die deskriptiven Befunde: Die zunehmende Betroffenheit von Abschlägen kurz nach ihrer Einführung

201

II. Der Pension Gap II: Die Inkaufnahme von Abschlagsmonaten

207

III. Der Pension Gap II: Die Inkaufnahme von Abschlagsmonaten im Kohortenvergleich

212

IV. Der Regional Pension Gap II: Die Inkaufnahme von Abschlagsmonaten im Ost-West-Vergleich

217

1. Die Inkaufnahme von Abschlagsmonaten in Westdeutschland

218

2. Die Inkaufnahme von Abschlagsmonaten in Ostdeutschland

221

3. Der Regional Pension Gap II: Der Vergleich der Inkaufnahme von Abschlagsmonaten in West- und Ostdeutschland

225

V. Der Gender Pension Gap II: Das Male-Breadwinner-Modell in der Inkaufnahme von Abschlagsmonaten in West- und Ostdeutschland

228

1. Die Inkaufnahme von Abschlagsmonaten von Männern in Westdeutschland

229

2. Die Inkaufnahme von Abschlagsmonaten von Frauen in Westdeutschland

232

3. Die Inkaufnahme von Abschlagsmonaten von Frauen in Ostdeutschland

238

4. Der Gender Pension Gap II: Die Unterschiede in der Inkaufnahme von Abschlagsmonaten von Frauen in West- und Ostdeutschland

242

5. Der Gender Pension Gap II: Die geschlechtsspezifischen Unterschiede in der Inkaufnahme von Abschlagsmonaten in Westdeutschland

244

VI. Der Pension Gap II: Zwischenfazit

246

H. Der Pension Gap III: Über eine (zunehmende) Diskrepanz von Berufsausstieg und Renteneintritt

248

I. Die deskriptiven Befunde: Die Abweichungen vom Übergang aus sozialversicherungspflichtiger Beschäftigung in die Rente

248

II. Der Pension Gap III: Die (Aus-)Wege in die Rente

255

1. Die Wahrscheinlichkeit sozialversicherungspflichtiger Beschäftigung vor dem Renteneintritt

256

2. Die Wahrscheinlichkeit geringfügiger Beschäftigung vor dem Renteneintritt

259

3. Die Wahrscheinlichkeit von Altersteilzeitbeschäftigung vor dem Renteneintritt

262

4. Die Wahrscheinlichkeit von Arbeitslosigkeit vor dem Renteneintritt

267

III. Der Pension Gap III: Der Vergleich der (Aus-)Wege in die Rente

269

IV. Die (zunehmenden) Diskrepanzen im Rentenübergang

272

I. Mind The Gap: Fazit

277

I. "Neue" Leitbilder? ‒ Warum die Regelrente nicht die Regel und die Normalerwerbsbiographie nicht die Normalität ist …

277

1. Die Zunahme der Komplementarität als mögliche Ursache der Pension Gaps

280

2. Die Wirkung sozialrechtlicher Regelungen: Zunahme der Komplementarität

291

II. Schlussfolgerungen und weitere Forschung

294

III. Reformoptionen: Administrative Re-Kommodifizierung als Lösung?

297

Anhang

303

Literaturverzeichnis

312

Sachwortregister

325