Social & political philosophy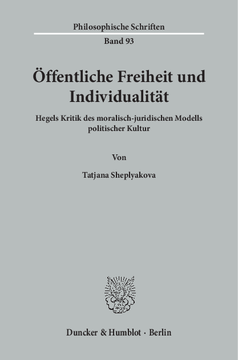 BOOK
Öffentliche Freiheit und Individualität
Hegels Kritik des moralisch-juridischen Modells politischer Kultur
Philosophische Schriften, Vol. 93
(2017)
Additional Information
Book Details
ISBN

978-3-428-54166-9
978-3-428-14166-1 (print edition)

DOI

https://doi.org/10.3790/978-3-428-54166-9

Edition

1

Language

German

Pages

394

Collections

Subjects
Pricing
Institution

€ 104.00 (incl. local VAT if applicable)

Individual

€ 79.90 (incl. local VAT if applicable)
About The Author
Tatjana Sheplyakova ist wissenschaftliche Mitarbeiterin am Exzellenzcluster »Die Herausbildung normativer Ordnungen« der Goethe-Universität Frankfurt am Main. Zu ihren Forschungsgebieten gehören Rechts- und Sozialphilosophie, politische Philosophie und Geschichte der Philosophie, insbesondere Klassische Deutsche Philosophie. Sie hat Philosophie, Anglistik und Interkulturelle Wirtschaftskommunikation in Jena, Brisbane und Strasbourg studiert und wurde 2011 in Frankfurt am Main promoviert.
Abstract
Die moderne Welt ist von einer Krise politischer Freiheit bedroht. Diese Diagnose Hegels bildet eine denkwürdige Konstante seiner Philosophie. Hegels Kritik gilt dabei der bürgerlich-liberalen Verfasstheit der modernen politischen Kultur, die das Versprechen, Freiheit und Gleichheit zu verwirklichen, uneingelöst lässt oder gar ins Gegenteil verkehrt: Freiheit des Einzelnen wird ununterscheidbar von einem Selbstermächtigungsanspruch, während die Gleichheit in die Nivellierung aller Unterschiede umschlägt.

Die vorliegende Studie rekonstruiert diese Diagnose Hegels und verbindet die politisch-rechtliche Reflexion mit freiheitstheoretischen Erörterungen zum Verhältnis von Sozialität und Individualität. Der Schlüssel zu Hegels Diagnose wird dabei in seiner Kritik des Legalismus der Kantischen Moralphilosophie gesucht. Hinter der Kritik eröffnet sich die Perspektive auf mögliche Auswege aus der bürgerlich-liberalen Verfasstheit der politischen Kultur. Methodisch setzt dies allerdings voraus, dass das vernunftrechtliche in ein historisch-genealogisches Denken überführt wird. »Public Freedom and Individuality«

Modernity is marked by a crisis of political freedom. In providing this diagnosis, Hegel locates this crisis in the heart of the bourgeois-liberal political culture itself: Individual freedom here turns into a claim to self-empowerment while equality expresses itself as the levelling of all differences. The key to this diagnosis lies in Hegel's critique of the legalistic frame of the Kantian moral philosophy. Turning away from legalism means leaving the rational law doctrine behind in favor of a historical genealogy of normativity.
Table of Contents
Section Title
Page
Action
Price

Vorwort

5

Inhaltsverzeichnis

7

Einleitung

11

A. Entzweiung – Entpolitisierung – Idee des Rechts

12

B. Die Kernelemente der Untersuchung – Hegels Kant-Kritik vor dem Hintergrund der Entpolitisierungsthese

19

C. Anerkennung – Recht – Staat

23

D. Von der Autonomie zur Logik der Autorisierung

31

E. Warum Hegels Naturrechtsaufsatz?

38

F. Struktur der Arbeit

44

Erstes Kapitel

50

Hegels Zeitdiagnostik: Die Krise des Öffentlichen

50

A. Die Krise politischer Freiheit: Im Vorfeld der Jenaer Modernitätskritik

50

B. Hegels Naturrechtsaufsatz

58

I. Die Problemstellung und die Vorannahmen

58

II. Das Verfahren

66

III. Die Struktur und die Argumentationsstränge

70

1. Der kritisch-diagnostische Teil

70

a) Die "unechten" Behandlungsarten des Naturrechts und die philosophische Aufgabe

70

b) Der reine Empirismus

74

c) Der Formalismus

77

2. Der konstruktive Teil

81

a) Die Ausdifferenzierung der Sittlichkeit in Disziplinen, Sphären und Stände

81

b) Das ästhetische Intermezzo: Die Tragödie und Komödie der Moderne

85

c) Das Primat des Sittlichen: Die Relativierung der Moral und die Kritik des Rechts

90

aa) Die Behauptung des Vorrangs des Sittlichen: Hegels Programm

90

bb) Hegels Begründungen des Vorrangs des Sittlichen

93

(1) Die substantialistische Begründung

93

(2) Die bewusstseinstheoretische Begründung

96

d) Zwischenbilanz

98

e) Die Neubewertung des Rechts

99

IV. Hegels Zeitdiagnosen

104

1. Von der Moderne in die Antike und zurück: Freie Unfreiheit und unfreie Freiheit

104

a) Moderne Freiheit als "allgemeines Privatleben"

104

b) Antike Freiheit oder Freiheit durch Ungleichheit

109

c) Antike und moderne Freiheit: Der Befund einer doppelten Beziehungslosigkeit

111

2. Privatisierung des Rechts und der Moral: Die Zeiten "äußerer Gerechtigkeit"

114

3. Vorbehalte gegenüber Hegels Pauschaldiagnose

122

4. Die Tiefenstruktur der Kritik

128

V. Hegels Innovationen

134

1. Das Zugleich von Mensch und Bürger

134

2. Die Freisetzung von Individualität

137

C. Offene Fragen

143

Zweites Kapitel

146

Hegels Kritik am moralisch-juridischen \nFreiheitsmodell

146

A. Die Ausgangslage: Die Diagnose der Beziehungslosigkeit

146

B. Zum Profil der Entzweiung

148

C. Hegels Kritik an Kant

153

I. Die Spezifik der Kritik

153

1. Hegels Kritik an Kant als Theoretiker des "relativ Sittlichen"

153

2. Über das Verhältnis von Moralität und Legalität bei Kant

155

3. Hegels Kant-Rezeption: Das Lob und das Verschwiegene

160

II. Die Gegenstände der Kritik

167

1. Über die wechselseitige Defizienz von Recht und Moral: Die Notwendigkeit des Zwangs

167

2. Hegels Kritik des Verfahrens

174

a) Die Verkehrung von moralischer Richtigkeit in rechtliche Erlaubtheit

174

b) Das Problem der Unterminierung der Handlungsinitiative oder die Eitelkeit des Subjekts

179

c) Legitimierungsstrategien: Zwischen Inhaltsleere und Willkürherrschaft

187

3. Ein Exkurs zu Fragen der Subjektkonstitution

193

a) Die "Inkorporationsthese": Das Subjekt der Wahl

193

b) Die Superfigur des Ich

196

c) Die Unerklärlichkeit des Scheiterns

198

III. Die Gehalte der Kritik

202

1. Die Anwendungsbedingungen von Moral und Recht und ihre Revision

202

a) Einleitende Erläuterungen

202

b) Das Primat der vertragsrechtlichen Logik: Das "Tautologische" des Nützlichkeitsprinzips

204

c) "Vertrauen" versus Vertragsprinzip? Das Missverständnis über "das Rechte"

208

2. Die Tiefenstruktur der Kritik

214

a) Die Asymmetrisierung des Recht-Pflicht-Zusammenhangs: Der Vorstoß gegen die Enge der Verpflichtungsordnung?

214

b) Moralische Pflichten als legitime Forderungen versus Wahrnehmbarkeit von Rechten

219

c) Versuch einer Kontextualisierung: Subjektive Rechte

222

d) Zwei Arten von "Idealität" oder Die Fähigkeit, Rechte wahrzunehmen

223

e) Moralität als "Erhebung über den Stand"

226

3. Hegels Umkehrung des Verhältnisses von Recht und Moral oder Die Befreiung zum Subjekt

228

D. Hegels Kant-Kritik – und was dann?

234

Drittes Kapitel

236

Individuelle und öffentliche Freiheit

236

A. Die Quellen der Autonomie

236

I. Kants 'andere' Autonomie: Das "Faktum der Vernunft"

236

II. Hegels Genealogie des Rechts

247

1. Antigone als prototypisch handelnde Individualität?

247

2. Das "Förmliche" und "Gegenförmliche": Die Genese des "nachsittlichen" Rechts

252

3. Anforderungen an das "nachsittliche" Recht

254

4. Gesellschaftsbildung

263

a) Zwischenstand der Überlegungen

263

b) Das Öffentlichwerden des Privaten: Die Gesellschaft und ihr Unterschied zur Polis

265

c) Die Gefahr des Plastizitätsverlusts

268

d) "Verbindlichkeit, die nicht bindet" und ihre Formen

274

5. Recht als Befreiung: Wider das "Naturrecht ohne Natur"

277

B. Modelle sozial vermittelter Freiheit und ihre Grenzen

280

I. Hegels Grundlinien der Philosophie des Rechts

280

1. Das Projekt: Subjektivität – Recht – freier Wille

280

2. Die Ausführung: Moralität und Sittlichkeit, Gesellschaft und Staat

294

a) Warum Moralität ein höherer Standpunkt ist

294

b) "Moderne Sittlichkeit" als Reaktion auf ein für überholt erklärtes Problem?

296

c) Die Entzweiung in Gesellschaft und Staat und die Intellektualisierung der Freiheit

298

3. Das ungelöste Problem: "Aufhebung der Moralität in Sittlichkeit"

306

a) Vom Freiheitsversprechen zum Verfallsprozess

306

b) "Moralität als Krankheit am Sittlichen": Hegels Aktualität

308

c) Institutionen

312

4. Zwischenfazit

318

II. Vom Optimismus des Sozialen

320

1. Das "Paradox der Autonomie" und seine Auflösung

320

2. Robert Brandom: Das Vertrauen in das Soziale

328

3. Diskussion: Eine Verharmlosung von Hegels Ansatz?

334

III. Die Dialektik des Selbstbewusstseins und ihre Schranken

337

1. Der Standpunkt der Introspektion: "Anpassung in der Sache, Trotz fürs Selbstbewußtsein"

337

2. Die Vernunft in der Differenz: Vom Primat der Einheit vor dem Vielen

339

3. "Zweite Freiheit": Freiheit nach der Natur

343

4. Natur und Freiheit

347

C. Ästhetisch zu vollziehende Befreiung: \x03 Die Gesellschaft, die im "Schein" wirklich ist

350

Siglen und Kurztitel

357

Literaturverzeichnis

359