Economic theory & philosophy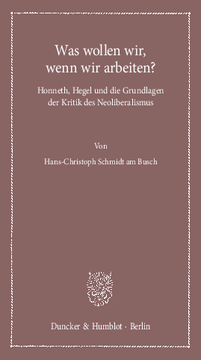 BOOK
Cite BOOK
Style
---
Schmidt am Busch, H. (2017). Was wollen wir, wenn wir arbeiten?. Honneth, Hegel und die Grundlagen der Kritik des Neoliberalismus. Duncker & Humblot. https://doi.org/10.3790/978-3-428-54482-0
Schmidt am Busch, Hans-Christoph. Was wollen wir, wenn wir arbeiten?: Honneth, Hegel und die Grundlagen der Kritik des Neoliberalismus. Duncker & Humblot, 2017. Book. https://doi.org/10.3790/978-3-428-54482-0
Schmidt am Busch, H (2017): Was wollen wir, wenn wir arbeiten?: Honneth, Hegel und die Grundlagen der Kritik des Neoliberalismus, Duncker & Humblot, [online] https://doi.org/10.3790/978-3-428-54482-0
---
Format
---
Was wollen wir, wenn wir arbeiten?
Honneth, Hegel und die Grundlagen der Kritik des Neoliberalismus
Schmidt am Busch, Hans-Christoph
Lectiones Inaugurales, Vol. 16
(2017)
Additional Information
Book Details
ISBN

978-3-428-54482-0
978-3-428-14482-2 (print edition)

DOI

https://doi.org/10.3790/978-3-428-54482-0

Edition

1

Language

German

Pages

89

Collections

Subjects
Pricing
Institution

€ 26.00 (incl. local VAT if applicable)

Individual

€ 19.90 (incl. local VAT if applicable)
About The Author
Hans-Christoph Schmidt am Busch ist Professor für Philosophie an der Technischen Universität Braunschweig. Seine Forschung liegt auf den Gebieten der Politischen Philosophie, der Sozialphilosophie und der Rechtsphilosophie. Darüber hinaus interessiert sich Hans-Christoph Schmidt am Busch für die Geschichte und die philosophischen Grundlagen der Ökonomik. Er ist Autor des Buches »›Anerkennung‹ als Prinzip der Kritischen Theorie« (Berlin / New York, de Gruyter, 2011). Zu den von ihm herausgegebenen Schriften gehören Charles Fourier, »Über das weltweite soziale Chaos. Ausgewählte Schriften zur Philosophie und Gesellschaftstheorie« (Berlin, Akademie Verlag, 2012), »Karl Marx and the Philosophy of Recognition« (Ethical Theory and Moral Practice 16, 4, 2013, 679–758) sowie »Die Philosophie des Marktes / The Philosophy of the Market« (Hamburg, Felix Meiner Verlag, 2016).
Abstract
Wie sollte unsere Arbeitswelt beschaffen sein? Und warum hat sie die fragliche Beschaffenheit nicht? Diese Fragen, die seit dem Ausbruch der Weltwirtschaftskrise vor zehn Jahren verstärkt diskutiert werden, fallen traditionell in den Untersuchungsbereich der Kritischen Theorie in der Tradition der Frankfurter Schule. Glaubt man Axel Honneth, dem neben Jürgen Habermas bedeutendsten zeitgenössischen Vertreter dieser Schule, dann möchten wir, die Angehörigen moderner westlicher Gesellschaften, in der Arbeitswelt eine Art von sozialer Freiheit realisieren, die spezifische Formen der Kooperation und Anerkennung einschließt. Der gegenwärtige (»neoliberale«) Kapitalismus ist für Honneth deshalb problematisch, weil er den institutionellen Erfordernissen dieser Freiheit nicht gerecht werden kann. Der vorliegende Band rekonstruiert die Grundlagen der Honneth'schen Neoliberalismuskritik, diagnostiziert einige Probleme, welche diese Theorie aufwirft, und erläutert, wie sich dieselben im Rückgriff auf Hegels Sozialphilosophie beheben lassen.»What Should Our Workplace Look Like?«What should our workplace look like? Why does it often fail to live up to our expectations? According to Axel Honneth, members of modern Western societies wish to realize a kind of social freedom within the workplace that involves specific forms of cooperation and recognition. For Honneth, neoliberal capitalism is deficient because it cannot realize the institutional requirements that are necessary to bring this freedom about. This volume reconstructs the foundations of Honneth's critique of neoliberalism, diagnoses some of the issues with his account, and explains how these can be addressed through recourse to Hegel's social philosophy.
Table of Contents
Section Title
Page
Action
Price

Vorwort

7

Inhalt

9

Einleitung

11

1. Honneths Sozialphilosophie und die Kritik des Neoliberalismus

18

2. Was wollen wir, wenn wir arbeiten?

34

3. Vier Probleme

37

4. Hegels Sozialphilosophie

48

5. Die sittliche Gesinnung der Mitglieder moderner Gesellschaften

50

6. Was wollen wir, wenn wir arbeiten?

57

7. Die sittliche Ambivalenz von Märkten

60

8. Drei Thesen

71

9. Die Grundlagen der Kritik des Neoliberalismus

76

10. Schluss

81

Literatur

84

Über den Verfasser

88