Employment & labour law: procedure, dispute resolution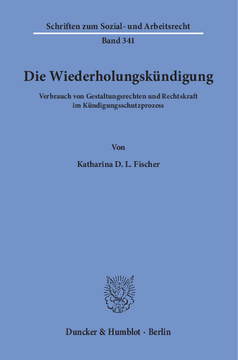 Additional Information
Book Details
ISBN

978-3-428-55159-0
978-3-428-15159-2 (print edition)

DOI

https://doi.org/10.3790/978-3-428-55159-0

Edition

1

Language

German

Pages

270

Collections

Subjects
Pricing
Institution

€ 104.00 (incl. local VAT if applicable)

Individual

€ 79.90 (incl. local VAT if applicable)
About The Author
Katharina D. L. Fischer studierte von 2009 bis 2015 Rechtswissenschaften an der Bucerius Law School in Hamburg und an der University of Sydney mit dem Schwerpunkt Arbeitsrecht. Anschließend promovierte sie bei Professor Dr. Matthias Jacobs an der Bucerius Law School. Von 2015 bis 2017 absolvierte Katharina D. L. Fischer ihren juristischen Vorbereitungsdienst am Hanseatischen Oberlandesgericht Hamburg mit Stationen in Hamburg, Madrid und San Francisco.
Abstract
Eine Wiederholungskündigung liegt vor, wenn ein Arbeitgeber aus einem Grund kündigt, den er schon erfolglos zur Begründung einer früheren Kündigung herangezogen hat. Die »Unzulässigkeit« der Wiederholungskündigung ist sowohl in der Rechtsprechung als auch im Schrifttum seit Langem anerkannt; die Begründungen hierfür variieren allerdings erheblich. Im Wesentlichen gibt es eine materiellrechtliche und eine prozessrechtliche Lösung, welche die Autorin zunächst systematisiert darstellt. Der materiellrechtliche Ansatz geht von einem »Verbrauch« des Gestaltungsrechts »Kündigung« aus, der prozessrechtliche von einer ausnahmsweise angeordneten Rechtskrafterstreckung des Urteils, das der Kündigungsschutzklage gegen die erste Kündigung stattgegeben hat. Hierauf aufbauend entwickelt die Autorin anhand allgemeiner zivilrechtlicher und zivilprozessrechtlicher Grundsätze ein neues, differenzierendes Begründungsmodell. »Repeated Notice of Dismissal«

The unlawfulness of a repeated dismissal has long been recognized under German law, though the reasoning for this inadmissibility is considerably disputed. In essence, there are both substantive and procedural justifications, both of which the author comprehensively presents here. Based on the fundamental principles of substantial and procedural law, the author develops a new, differentiated justification for the unlawfulness of a repeated dismissal.
Table of Contents
Section Title
Page
Action
Price

Vorwort

7

Inhaltsübersicht

9

Inhaltsverzeichnis

15

Teil 1: Einleitung und Überblick

29

§ 1 Einleitung

29

I. Relevanz und Abgrenzung \r

29

II. Ausgangslage, Terminologie und Ziele \r

30

III. Gang der Untersuchung \r

34

§ 2 Fallgruppen mehrerer Kündigungen in einem Kündigungsschutzrechtsstreit \r

35

I. Differenzierungskriterien \r

35

II. Abgrenzung von echter und unechter Wiederholungskündigung nach der Rechtsprechung des BAG \r

36

1. Derselbe Kündigungsgrund im Sinne einer echten Wiederholungskündigung \r

37

2. Anerkannte Fallgruppen einer unechten Wiederholungskündigung \r

40

3. Ergebnis \r

47

III. Fallgruppen der echten Wiederholungskündigung \r

47

1. Rechtskräftige Entscheidung zur ersten Kündigung \r

47

2. Rechtskräftige Entscheidung zur zweiten Kündigung \r

48

3. Keine rechtskräftige Entscheidung zur ersten oder zweiten Kündigung \r

50

4. Ergebnis\r

52

IV. Fallgruppen der unechten Wiederholungskündigung \r

52

1. Rechtskräftige Entscheidung zur ersten Kündigung \r

52

2. Rechtskräftige Entscheidung zur zweiten Kündigung \r

53

3. Keine rechtskräftige Entscheidung zur ersten oder zweiten Kündigung \r

53

4. Ergebnis \r

53

V. Zusammenfassung \r

53

Teil 2: Darstellung der Rechtsprechung und Literatur \r

55

§ 3 Entwicklung der Rechtsprechung des Bundesarbeitsgerichts zur Wiederholungskündigung \r

55

I. Sittenwidrigkeit der Wiederholungskündigung \r

55

1. Entscheidung des BAG vom 12. Oktober 1954 \r

55

2. Keine Weiterentwicklung bis 1993 \r

56

3. Ergebnis \r

56

II. Leitentscheidung des BAG vom 26. August 1993 \r

56

1. Sachverhalt \r

56

2. Tragende Entscheidungsgründe \r

57

3. Ergebnis \r

59

III. Bestätigung der Leitentscheidung von 1993 bis 2012 \r

59

1. Entscheidung des BAG vom 7. März 1996 \r

60

2. Entscheidung des BAG vom 22. Mai 2003 \r

60

3. Weitere Entscheidung des BAG vom 22. Mai 2003 \r

60

4. Entscheidung des BAG vom 12. Februar 2004 \r

61

5. Entscheidung des BAG vom 18. Mai 2006 \r

61

6. Entscheidung des BAG vom 6. Juli 2006 \r

62

7. Entscheidung des BAG vom 8. November 2007 \r

63

8. Entscheidung des BAG vom 26. November 2009 \r

63

9. Entscheidung des BAG vom 6. September 2012 \r

64

10. Ergebnis \r

65

IV. Klarstellung des BAG zum Verbrauch des Kündigungsrechts mit Urteil vom 20. Dezember 2012 \r

65

V. Bestätigung der Rechtsprechungsänderung \r

67

1. Entscheidung des BAG vom 11. Juli 2013 \r

67

2. Entscheidung des BAG vom 20. März 2014 \r

67

3. Entscheidung des BAG vom 18. Dezember 2014 \r

68

4. Ergebnis \r

68

VI. Zusammenfassung \r

68

§ 4 Materiellrechtliche Lösungen zur Unzulässigkeit der Wiederholungskündigung \r

68

I. Verbrauch des Kündigungsrechts \r

69

1. Rechtsprechung des BAG \r

69

2. Verbrauch nach Bötticher als Begründungsansatz des BAG \r

69

3. Ausdrücklich zustimmende Literatur nur bei wirksamer Kündigung \r

72

4. Ablehnende Literatur: "Eine solche Norm gibt es nicht" \r

73

5. Ergebnis \r

74

II. Sittenwidrigkeit der Wiederholungskündigung gemäß § 138 Abs. 1 BGB \r

74

1. Rechtsprechung des BAG\r

74

2. Differenzierungen in der Literatur\r

75

3. Ablehnung in der Literatur \r

75

4. Ergebnis \r

76

III. Unwirksamkeit der Wiederholungskündigung gemäß § 242 BGB \r

76

1. Zustimmende Literatur

76

2. Ablehnende Literatur: § 242 BGB als ultima ratio \r

77

3. Ergebnis \r

77

IV. Zusammenfassung \r

78

§ 5 Prozessrechtliche Lösungen zur Unzulässigkeit der Wiederholungskündigung \r

78

I. Die Relevanz von Streitgegenstand und Rechtskraft und Grundlagen \r

79

1. Streitgegenstand \r

79

2. Rechtskraft \r

82

3. Ergebnis \r

85

II. Streitgegenstand im Kündigungsschutzprozess \r

85

1. Auf den Kündigungsschutzprozess anzuwendendes Prozessrecht \r

86

2. Rechtsprechung: Punktueller Streitgegenstandsbegriff \r

87

3. Wiederholungskündigung als derselbe Streitgegenstand wie im Vorprozess \r

87

4. Wiederholungskündigung als anderer Streitgegenstand gegenüber dem Vorprozess \r

91

5. Ergebnis \r

94

III. Erweiterung der Rechtskraft im Kündigungsschutzprozess \r

94

1. Bedürfnis nach einer Änderung der Regeln der Rechtskraft im Kündigungsschutzprozess \r

94

2. Rechtsprechung des BAG \r

96

3. Rechtskräftiges Aberkennen des Gestaltungsrechts nach Bötticher \r

101

4. Rechtskrafterstreckung auf Sinnzusammenhänge nach Zeuner \r

107

5. Erweiterte Auslegung der Entscheidung, insbesondere nach K. H. Schwab \r

114

6. Telelogische Reduktion des § 322 Abs. 1 ZPO \r

115

7. Analoge Anwendung des § 322 Abs. 2 ZPO \r

117

8. Erweiterung der Präjudizialität und des kontradiktorischen Gegenteils \r

117

9. "Entsprechende Anwendung des Präklusionsprinzips" nach Ascheid \r

118

10. Rechtskraftfremde Präklusion \r

119

11. Grundsätzliche Kritik an einer Erweiterung der Rechtskraft \r

121

12. Ergebnis \r

123

IV. Zusammenfassung \r

123

§ 6 Anforderungen an das Verhalten des Arbeitnehmers \r

124

I. Zur Erforderlichkeit der Erhebung einer Kündigungsschutzklage gegen die Wiederholungskündigung \r

125

1. Entbehrlichkeit einer Kündigungsschutzklage nach Teilen der älteren Literatur \r

125

2. Entbehrlichkeit einer Kündigungsschutzklage nach einer Minderansicht der jüngeren Literatur \r

126

3. Erforderlichkeit einer Kündigungsschutzklage nach der herrschenden Meinung \r

127

II. Folgen bei Erforderlichkeit einer Kündigungsschutzklage \r

127

1. Unzulässigkeit der Kündigungsschutzklage \r

127

2. Begründetheit der Kündigungsschutzklage \r

127

III. Zusammenfassung \r

128

Teil 3: Untersuchung der Wiederholungskündigung \r

129

§ 7 Materiellrechtliche Untersuchung der Wiederholungskündigung \r

130

I. Kündigung als Gestaltungsrecht \r

130

1. Allgemeines zu Gestaltungsrechten \r

131

2. Erlöschen des Kündigungsrechts \r

131

3. Keine Konsequenzen aus der Unwiderruflichkeit und Bedingungsfeindlichkeit von Gestaltungsrechten \r

148

4. Keine Konsequenzen aus Besonderheiten der Kündigung hinsichtlich der Mitteilung des Kündigungsgrundes \r

149

5. Ergebnis \r

150

II. Verzicht auf das Kündigungsrecht \r

150

1. Kein konkludenter Verzicht auf das Kündigungsrecht durch die erste Kündigungserklärung \r

151

2. Kein konkludenter Verzicht auf das Kündigungsrecht durch Rechtsmittelverzicht im Vorprozess \r

154

3. Kein konkludenter Verzicht durch sonstiges Verhalten im Vorprozess \r

156

4. Ergebnis \r

156

III. Anwendung der Generalklauseln \r

156

1. Zur Sittenwidrigkeit gemäß § 138 Abs. 1 BGB \r

157

2. Zum Verstoß gegen das Schikaneverbot gemäß § 226 BGB \r

169

3. Zum Verstoß gegen Treu und Glauben gemäß § 242 BGB \r

170

4. Ergebnis \r

202

IV. Zusammenfassung \r

202

§ 8 Prozessrechtliche Untersuchung der Wiederholungskündigung \r

203

I. Einleitung \r

203

1. Relevanz des Kapitels \r

203

2. Offene Fragen \r

204

3. Methodik und Struktur dieses Kapitels \r

205

II. Streitgegenstand im Kündigungsschutzprozess \r

205

1. Streitgegenstand im Kündigungsschutzprozess nach dem zweigliedrigen Streitgegenstandsbegriff \r

206

2. Streitgegenstand im Kündigungsschutzprozess nach anderen Streitgegenstandsbegriffen \r

211

3. Ergebnis \r

212

III. Rechtskraft \r

212

1. Notwendigkeit einer erweiterten Rechtskraft \r

212

2. Auswahl des zu prüfenden konstruktiven Lösungswegs \r

213

3. Teleologische Reduktion des § 322 Abs. 1 ZPO \r

214

4. Präjudizialität als "Rechtsfolge" und Wirkung der Rechtskraft \r

242

5. Anmerkung zur Rechtsprechung des BAG und Einordnung in das Meinungsspektrum \r

244

6. Ergebnis \r

246

IV. Konsequenzen für Entscheidung über Wiederholungskündigung ohne Urteil im Vorprozess zur ersten Kündigung \r

247

1. Keine Lösung mit teleologischer Reduktion und Präjudizialität \r

247

2. Bindung an Entscheidung zur ersten Kündigung \r

247

3. Ergebnis \r

249

V. Zusammenfassung \r

249

Teil 4: Gesamtergebnis \r

251

Literaturverzeichnis

254