Industrial relations & trade unions law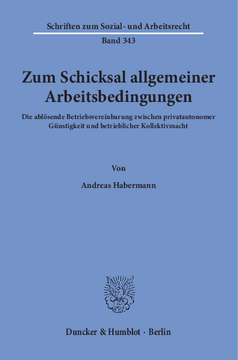 BOOK
Zum Schicksal allgemeiner Arbeitsbedingungen
Die ablösende Betriebsvereinbarung zwischen privatautonomer Günstigkeit und betrieblicher Kollektivmacht
Schriften zum Sozial- und Arbeitsrecht, Vol. 343
(2017)
Additional Information
Book Details
ISBN

978-3-428-55167-5
978-3-428-15167-7 (print edition)

DOI

https://doi.org/10.3790/978-3-428-55167-5

Edition

1

Language

German

Pages

388

Collections

Subjects
Pricing
Institution

€ 126.00 (incl. local VAT if applicable)

Individual

€ 98.90 (incl. local VAT if applicable)
About The Author
Andreas Habermann studierte Rechtswissenschaften sowie im Begleitstudium Europäisches Recht in Würzburg und legte dort 2012 die Erste Juristische Prüfung ab. Im Jahr 2014 folgte die Zweite Juristische Staatsprüfung ebenfalls in Bayern. Von 2009 bis 2015 war er bei Prof. Dr. Christoph Weber am Lehrstuhl für Bürgerliches Recht und Arbeitsrecht (Universität Würzburg) zuletzt als Wissenschaftlicher Mitarbeiter beschäftigt. Im Rahmen eines Lehrauftrags an der Dualen Hochschule Baden-Württemberg ist er nach wie vor im Bereich des Arbeitsrechts nebenberuflich tätig.
Abstract
Allgemeine Arbeitsbedingungen stehen anerkannt im Schnittpunkt von Individual- und Kollektivarbeitsrecht. Ihr Schicksal ist gespannt zwischen der Privatautonomie einerseits und der Betriebsmacht andererseits. Zur Frage, ob und inwieweit Arbeitgeber und Betriebsrat über das Mittel der ablösenden Betriebsvereinbarung gemeinsam auf vertragliche Einheitsregelungen, Gesamtzusagen und betriebliche Übungen zu Lasten der Arbeitnehmer einwirken können, herrscht seit langem Uneinigkeit in Literatur und Rechtsprechung. Eine verlässliche Konkurrenznorm fehlt. In verfassungsorientierter Rechtsfortbildung ist die Vorschrift des § 77 Abs. 4 Satz 1 BetrVG rechtsdogmatisch stimmig und praktisch zielführend hin zu einem eingeschränkten Günstigkeitsprinzip fortzuentwickeln. Hingegen können weder der kollektive Günstigkeitsvergleich des Großen Senats vom 16. September 1986 noch eine umfassende ungeschriebene Betriebsvereinbarungsoffenheit, wie sie der erste Senat im Jahr 2013 nahegelegt hat, überzeugen. »The Fate of General Working Conditions«

The thesis examines the controversial admissibility of superseding works agreements in relation to contractual uniform regulations, commitments and informal company practices. A pre-restricted »Günstigkeitsprinzip« in development of law § 77 (4) sentence 1 BetrVG will be developed, while the relevant legal concept of »kollektiver Günstigkeit« is rejected and a critical response to recent trends of wide unwritten opening clauses is given.
Table of Contents
Section Title
Page
Action
Price

Vorwort

7

Inhaltsübersicht

9

Inhaltsverzeichnis

11

Abkürzungsverzeichnis

20

A. Einführung

25

I. Problemaufriss

25

II. Spezifizierung des Untersuchungsgegenstands

26

III. Methode, Gang und Ziel der Untersuchung

29

B. Die ablösende Betriebsvereinbarung – Aufarbeitung der Problematik

31

I. Begriff und Abgrenzung

31

1. Verhältnis von Betriebsvereinbarung und allgemeinen Arbeitsbedingungen

31

2. Betriebsvereinbarung als Ablösungsmittel

32

a) Ablösungswille

33

b) Merkmale der Betriebsvereinbarung

33

aa) Privatrechtlicher Kollektivvertrag

34

bb) Kompromissvertrag

34

cc) Normvertrag

37

c) Abgrenzungen

37

aa) Regelungsabrede

37

bb) Andere Mitwirkungsordnungen

38

(1) Dienstvereinbarungen

39

(2) Richtlinien

39

cc) Tarifvertrag

40

3. Allgemeine Arbeitsbedingungen als formaler Ablösungsgegenstand

40

a) Allgemeine Arbeitsbedingungen als individualrechtliche Kollektivregelung

41

aa) Individualrechtliche Regelungsform

42

bb) Kollektiver Regelungsinhalt

44

b) Fallgruppen der allgemeinen Arbeitsbedingungen

46

aa) Vertragliche Einheitsregelung

46

bb) Gesamtzusage

47

cc) Betriebliche Übung

50

c) Verhältnis zu arbeitsvertraglichenAllgemeinen Geschäftsbedingungen

53

aa) Vertragsbedingung

55

bb) Einseitige Auferlegung

55

cc) Mehrfachverwendung

56

dd) Keine Bereichsausnahme

56

d) Abgrenzungen

57

aa) Individualvereinbarung

57

bb) Kollektivverträge

58

cc) Gesetz

59

4. Materieller Ablösungsgegenstand

60

a) Betriebliche Sozialleistungen

60

b) Sonstige Regelungsinhalte

61

5. Unterschiede im Ablösungsumfang

62

a) Rechtliche oder tatsächliche Belastung

62

b) Gestufte Eingriffsintensität

63

aa) Verschlechternde Betriebsvereinbarung

63

bb) Umstrukturierende Betriebsvereinbarung

63

cc) Abschreibende Betriebsvereinbarung

64

6. Zusammenfassung

64

II. Praktischer Hintergrund

65

1. Änderungsanlass

65

a) Wirtschaftliche Faktoren

65

b) Rechtliche Rahmenbedingungen

66

c) Tatsächliche Umstände

68

2. Interessenpluralismus

68

a) Flexibilisierungsinteresse des Arbeitgebers

69

b) Bestandsschutzinteresse der Einzelarbeitnehmer

69

c) Gleichbehandlungsinteresse der Belegschaft

70

d) Ausgleichsinteresse des Betriebsrats

70

3. Zusammenfassung

71

III. Rechtlicher Hintergrund

71

1. Kollision im Mehrebenensystem

71

2. Kollision von kollektiven Regelungen

72

3. Kollision zweier Grundprinzipien – Günstigkeit versus Ablösbarkeit

72

4. Fehlende Konkurrenznorm

72

a) § 77 Abs. 4 Satz 1 BetrVG

73

b) § 613a Abs. 1 Satz 2 und 3 BGB

74

5. Zusammenfassung

76

C. Das Kollisionsproblem – Grundkonzepte

77

I. Bestandsschutz bei Betonung der Privatautonomie

77

1. Selbstbestimmung als Teil der Privatautonomie

77

a) Begriff

77

b) Rechtlicher Hintergrund

78

c) Strukturelles Ungleichgewicht

79

aa) Soziale Abhängigkeit

80

bb) Wirtschaftliche Abhängigkeit

80

cc) Relative Betrachtungsweise

81

2. Grundsatz der Vertragsbindung

81

a) Herkunft – vorrechtliches Phänomen oder Rechtsprinzip

82

b) Legitimation

82

aa) Formaler Konsensgedanke

82

bb) Materielle Richtigkeitsgewähr

83

cc) Moralischer Vertrauensgrundsatz

83

c) Grenzen

84

aa) Vertragsprinzip

84

bb) Ergänzungsfunktion staatlicher Regelungen

84

cc) Sonderbehandlung des Arbeitsverhältnisses

86

(1) Abhängigkeitsgedanke

86

(2) Dauerschuldverhältnis

86

(3) "Dritte Dimension"

88

(a) Kollektivregelungen

90

(b) Kollektivmacht

92

3. Theorie der Wirksamkeitsvoraussetzung

92

a) Hintergrund

94

b) Erste Fallgruppe – keine Beteiligungsnotwendigkeit

95

c) Zweite Fallgruppe – Beteiligungsumgehung

96

aa) Ansichten

97

bb) Differenzierte Betrachtungsweise

98

cc) Keine (Teil-)Unwirksamkeitsfolge

100

4. Zusammenfassung

102

II. Ablösbarkeit unter Anerkennungbetrieblicher Kollektivmacht

103

1. Betriebsmacht im Arbeitsrecht

103

a) Begriff

104

b) Rechtlicher Hintergrund

104

2. Zwecke der Betriebsverfassung

107

a) Schutzfunktion

108

b) Ordnungsfunktion

108

c) Flexibilisierungsfunktion

110

d) Ausgleichsfunktion

110

3. Grundsatz umfassender Regelungszuständigkeit

112

a) Aspekt der Fremdbestimmung

113

aa) Unmittelbar durch den Betriebsrat

114

bb) Mittelbar durch den Arbeitgeber

115

b) Ansichten

116

c) Belastende Maßnahmen

118

4. Schranken

122

a) Kollektiver Tatbestand

122

b) Unterscheidung von notwendiger und freiwilliger Beteiligung

124

c) Außen- und Innenschranken

125

aa) Tarifvorbehalt und -vorrang

126

bb) Zwingendes Recht

128

5. Zusammenfassung

128

D. Die bisherige Rechtsprechung – vom Ordnungs- zum Günstigkeitsprinzip

130

I. Überblick

130

1. Erster Schritt – Rechtsprechungsanfänge

130

a) Ordnungsprinzip – Urteile bis 1970

130

aa) Wesentliche Aussagen

131

bb) Kritik der Literatur

132

b) Ablösungsprinzip – Urteil vom 30. Januar 1970

132

aa) Wesentliche Aussagen

133

bb) Kritik der Literatur

134

c) Lehre von der Normsetzungsprärogative – Urteil vom 12. August 1982

135

aa) Wesentliche Aussagen

135

bb) Kritik der Literatur

137

2. Zweiter Schritt – Beschluss des Großen Senats vom 16. September 1986

139

a) Wesentliche Aussagen

140

aa) Allgemeines

140

bb) Normative Wirkung der Betriebsvereinbarung

141

cc) Individualrechtliche Regelungsform

141

dd) Geltung des Günstigkeitsprinzips

141

(1) Kollektiver Günstigkeitsvergleich

143

(2) Theorie der Wirksamkeitsvoraussetzung

144

(3) Ablehnung bisheriger Kollisionsregeln

145

ee) Weitere Abänderungsmöglichkeiten

146

(1) Betriebsvereinbarungsoffene Vertragsregelung

146

(2) Sonstiges Vertragsrecht

146

ff) Rechts- und Billigkeitskontrolle

147

b) Kritik der Literatur

147

3. Dritter Schritt – Folgeentscheidungen

149

a) Anwendungsbereich

150

b) Betriebsvereinbarungsoffenheit

151

c) Günstigkeitsvergleich

156

d) Billigkeitskontrolle

157

4. Zusammenfassung

160

II. Kritische Stellungnahme

161

1. Normative Wirkung der Betriebsvereinbarung als Ausgangspunkt

161

a) § 77 Abs. 4 Satz 1 BetrVG

161

b) Ablehnung eines ungeschriebenen Kollisionsprinzips

162

2. Einschränkung durch das Günstigkeitsprinzip

162

a) Verfassungsrechtlicher Grundsatz

163

b) Voraussetzungen

164

aa) Regelungsidentität

164

bb) Regelungswirksamkeit

166

cc) Rangverschiedenheit

166

c) Wirkungen

166

aa) Durchbrechung des Rangprinzips

167

bb) Arbeitnehmerbezogener Bestandsschutz

167

3. Kollektiver Günstigkeitsvergleich als missglückte Kompromisslösung

167

a) Rechtliche Unstimmigkeiten

168

b) Praktische Schwierigkeiten

171

aa) Vergleichsparameter

171

bb) Gestufte Ablösung

174

cc) Verschlechternde Betriebsvereinbarung

177

c) Bestätigung durch die ausweichende Rechtsprechung zur Betriebsvereinbarungsoffenheit

178

4. Zusammenfassung

179

E. Rechtsprechungswandel – Grundsatz der Betriebsvereinbarungsoffenheit

180

I. Urteil des ersten Senats vom 5. März 2013

180

1. Wesentliche Aussagen

180

a) Aufrechterhaltung des Günstigkeitsprinzips

181

b) Regelvermutung für konkludente Betriebsvereinbarungsoffenheit von AGB

181

c) Möglichkeit der betriebsvereinbarungsfesten Regelung

182

2. Kritik der Literatur

182

3. Zusammenfassung

183

II. Kritische Stellungnahme

183

1. Betriebsvereinbarungsoffenheit

184

a) Begriff

184

aa) Individualvertragliche Öffnungsklausel zugunsten späterer Betriebsvereinbarungen

185

bb) Abgrenzung

186

(1) Bezugnahmeklausel

187

(2) Widerrufsvorbehalt

188

b) Zustandekommen

189

aa) Vertragliche Vereinbarung

189

(1) Ausdrücklich

189

(2) Konkludent

190

(a) Beteiligung des Betriebsrats

192

(b) Bezugnahmeklausel

194

(c) Kollektiver Regelungscharakter

196

(d) Sonstige Überlegungen

197

(3) Stillschweigend

199

bb) Ergänzende Vertragsauslegung

200

(1) Allgemein – Regelungslücke und hypothetischer Parteiwille

201

(2) Fallgruppen

204

(a) Altregelungen

204

(b) Sonstige Überlegungen

209

2. Regelvermutung bei AGB mit kollektivem Bezug

211

a) Vorüberlegungen

212

aa) Entscheidungsgehalt

212

bb) Musterfall für die Ablösungsproblematik

214

(1) Allgemeine Geschäftsbedingungen als arbeitsvertraglicher Regelfall

215

(2) Allgemeine Geschäftsbedingungen als gesetzlich anerkanntes kollektives Gestaltungsmittel mit individualrechtlichem Charakter

215

(3) Allgemeine Geschäftsbedingungen als äußerste Grenze der vertraglichen Auslegbarkeit

215

cc) Anforderungen judikativer Rechtssicherheit

216

(1) Formelle Zuständigkeitsfragen

216

(2) Materielle Gerechtigkeitsvorstellungen

218

b) Unklarheiten

220

aa) Tatbestandsseite

220

(1) Merkmal der Allgemeinen Geschäftsbedingungen

220

(2) Merkmal des Vertragsgegenstands

221

(3) Merkmal des kollektiven Bezugs

221

(a) Inhaltliche Ausrichtung

222

(b) Kein weitergehender Systembezug

222

bb) Rechtsfolgenseite

223

(1) Reichweite der Regelmäßigkeit

223

(a) Betriebsvereinbarungsfeste Gestaltung

224

(b) Erkennbarkeit des kollektiven Bezugs

225

(2) Sachliche Reichweite der Öffnungsklausel

225

(a) Verschlechternde Ablösung

225

(b) Kollektivvertragsoffenheit

226

(3) Zeitliche Reichweite der Öffnungsklausel

227

(a) Rückwirkung

227

(b) Änderungsfolgen

227

c) Unstimmigkeiten

228

aa) Herleitung eines objektiven Rechtsgrundsatzes im Wege der Auslegung privatautonomer Willenserklärungen

228

bb) AGB-Kontrolle

229

(1) Anwendbarkeit

229

(2) Überraschungsverbot nach § 305c Abs. 1 BGB

231

(a) Inhaltlich

231

(b) Formal

231

(3) Unklarheitenregelung nach § 305c Abs. 2 BGB

232

(a) Anwendbarkeit

232

(b) Problem der Auslegungszweifel

233

(c) Maßstab des durchschnittlichen Vertragspartners

233

(d) Folge

234

(4) Transparenzgebot nach § 307 Abs. 1 Satz 2 BGB

235

(a) Anwendbarkeit

235

(b) Maßstab der Bestimmtheit

236

(c) Folge

238

(5) Angemessenheitsprüfung

239

(a) Änderungsvorbehalt nach § 308 Nr. 4 BGB

239

(b) Fiktion nach § 308 Nr. 5 BGB

241

(c) Angemessenheit nach § 307 Abs. 1 Satz 1 und Abs. 2 BGB

242

(d) Folge

244

(6) Angemessene Berücksichtigung der Besonderheiten des Arbeitsrechts nach § 310 Abs. 4 Satz 2 Halbsatz 1 BGB

246

(a) Besonderheiten des Arbeitsrechts

248

(b) Angemessene Berücksichtigung

250

(c) Folge

252

d) Verhältnis zu bisherigen Ablösungsgrundsätzen

254

aa) Kollektiver Günstigkeitsvergleich

255

bb) Konkludente Betriebsvereinbarungsoffenheit

256

3. Zusammenfassung

257

F. Neuausrichtung – eingeschränktes Günstigkeitsprinzip

259

I. Rechtsfortbildung

259

1. Methodische Grundlagen

260

a) Rechtssicherheit und -vertretbarkeit

261

b) Gesetzesübersteigernde Rechtsfortbildung

263

c) Gesetzesimmanente Rechtsfortbildung

263

2. Konkrete Ausgestaltung

264

a) Regelungslücke

264

b) Lückenschließung

266

aa) Rechtliche Aspekte – verhältnismäßiger Ausgleich von Privatautonomie und Betriebsmacht

266

(1) Verhältnis von Verfassungs- und Gesetzesrecht

267

(2) Differenzierte Privatautonomie

268

bb) Konkrete Interessenabwägung

269

(1) Exkurs – Individualvereinbarung

270

(2) Allgemeine Arbeitsbedingungen

272

(a) Ablösende Betriebsvereinbarung

272

(b) Vorausgehende Betriebsvereinbarung

275

cc) Praktische Aspekte – untaugliches individualrechtliches Änderungsinventar

277

(1) Vorsorgende Vertragsgestaltung

277

(a) Freiwilligkeitsvorbehalt

278

(b) Widerrufsvorbehalt

279

(c) Ermessensregelungen

279

(d) Teilbefristung

280

(e) Öffnungsklausel

281

(2) Änderungsvertrag

281

(3) Gemeine Gesetzeshilfen

282

(a) Direktionsrecht

282

(b) (Massen-)Änderungskündigung

283

(c) Teilkündigung

288

(d) Wegfall der Geschäftsgrundlage

288

(4) Verhältnis zur ablösenden Betriebsvereinbarung

290

c) Mittel der verfassungsorientierten Reduktion

292

3. Vorgabe de lege ferenda

294

4. Exkurs – Übertragung auf sonstige Bereiche des Kollektivarbeitsrechts

297

a) Sprecherausschussrecht

297

b) Tarifvertragsrecht

298

5. Zusammenfassung

300

II. Konsequenzen

300

1. Kollektivistischer und individualistischer Lösungsansatz

301

2. Konkrete Änderungsumsetzung

302

a) Beteiligungsmöglichkeit des Betriebsrats

302

aa) Mitbestimmung

302

bb) Mitwirkung

303

b) Inhaltsschutz

305

aa) Rechtskontrolle

305

bb) "Billigkeitskontrolle"

306

(1) Allgemein – inhaltliche Ausrichtung

307

(2) Betriebliche Altersversorgung – "Drei-Stufen-Prüfung"

309

(3) Sonstige Regelungsinhalte – Interessenabwägung

310

(4) Exkurs – Quorum

312

cc) Ermessenskontrolle bei Einigungsstellenspruch

312

c) Änderungsfolge – Regelungsersatz oder -überlagerung

313

aa) Rückblick

313

(1) Günstigkeitsprinzip

314

(2) Grundsatz der Betriebsvereinbarungsoffenheit

315

bb) Bedeutung "zwingender Geltung"

316

(1) Ansichten

316

(2) Privatautonomes Verständnis

317

(3) Schwebezustand

318

(4) Nachwirkungszeitraum

320

cc) Vorgabe de lege ferenda

320

d) Prozessuales

320

aa) Beschlussverfahren

321

(1) Verbindlichkeit

321

(2) Keine Beteiligungsnotwendigkeit

323

(3) Antragsbefugnis

324

bb) Urteilsverfahren

326

cc) Beweislast

327

(1) Grundsätze

327

(2) Indizwirkun

328

3. Zusammenfassung

329

G. Fazit

331

I. Das Schicksal allgemeiner Arbeitsbedingungengegenüber ablösenden Betriebsvereinbarungen

331

II. Thesen

333

Literaturverzeichnis

338

Sachregister

383