Cybernetics & systems theory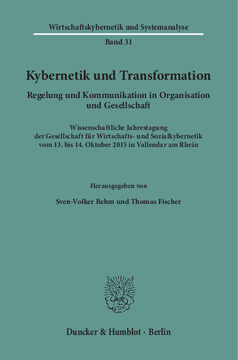 Additional Information
Book Details
ISBN

978-3-428-55193-4
978-3-428-15193-6 (print edition)

DOI

https://doi.org/10.3790/978-3-428-55193-4

Edition

1

Language

German

Pages

228

Collections

Subjects
Pricing
Institution

€ 92.00 (incl. local VAT if applicable)

Individual

€ 71.90 (incl. local VAT if applicable)
About The Author
Sven-Volker Rehm vertritt den Lehrstuhl für Wirtschaftsinformatik und Informationsmanagement an der WHU – Otto Beisheim School of Management. Er forscht zum Informations- und Innovationsmanagement in Unternehmensnetzwerken. Nach dem Diplomstudium der Technischen Kybernetik an der Universität Stuttgart erfolgte dort die Promotion zu einem Thema der Managementkybernetik, später Habilitation in Betriebswirtschaftslehre an der WHU. Lehraufträge bestehen an den Universitäten Straßburg und Stuttgart. Dr. Rehm hat mehr als 15 Jahre Erfahrung in der industriellen Gemeinschaftsforschung und war als Experte für die Europäische Kommission im Bereich Technologieintegration für industrielle Anwendungen tätig. Thomas Fischer (1946–2016) war von 1984 bis 2011 als dessen Gründer Leiter des Zentrums für Management Research der Deutschen Institute für Textil- und Faserforschung (DITF) in Denkendorf bei Stuttgart. Über 20 Jahre hatte er außerdem den Lehrstuhl für Wirtschaftsinformatik und Informationsmanagement an der WHU – Otto Beisheim School of Management inne. Gleichzeitig war er bis zum Sommer 2011 für das Fach Wirtschaftskybernetik in Forschung und Lehre in der Fakultät Konstruktions-, Produktions- und Fahrzeugtechnik der Universität Stuttgart verantwortlich. Thomas Fischer war über 16 Jahre Vorstandsvorsitzender der Gesellschaft für Wirtschafts- und Sozialkybernetik GWS e.V.
Abstract
Der Sammelband umfasst die Beiträge zur Jahrestagung der Gesellschaft für Wirtschafts- und Sozialkybernetik e.V. vom Oktober 2015. Traditionell gedacht als interdisziplinäre Plattform stand die Tagung unter dem Leitthema: Kybernetik – oder Regelung und Kommunikation in Organisation und Gesellschaft.

Die Beiträge beleuchten das Thema »Digitale Transformation« und liefern Ansätze der Kybernetik im Hinblick auf Erkenntnisse, wie die heutigen Formen und Technologien der Kommunikation Organisationen beeinflussen. Sie liefern Hinweise, wie die soziale Dimension von Wissen sowie eine ökonomisch-soziale Nutzung von Information gestaltet werden kann.

Die Wirtschafts- und Sozialkybernetik sieht sich vor der Aufgabe, neue Realitäten mit ihren vielfältig verschachtelten und interagierenden Systemen in ihrer ganzen Diversität systematisch zu beschreiben und zu modellieren. Ziel ist, Instrumente bereitzustellen, die es der Praxis erlauben, systematisch Gestaltungsoptionen zu entdecken und umzusetzen. »Cybernetics and Transformation«

The conference volume reports on the current state of management and social cybernetics research. For the context of digital transformation, research results and applications are presented from various perspectives. The contributions provide a variety of interdisciplinary insights into how today's forms and technologies of communication influence organizations and how systems can be systematically described and modeled in their entire diversity.
Table of Contents
Section Title
Page
Action
Price

Vorwort

5

Stiller Gruß

9

Inhaltsverzeichnis

11

I. Keynotes

13

Sven-Volker Rehm / Iris Junglas: Kybernetik und Digitale Transformation

15

I. Einleitung

15

II. Beispiele für durch IuK-Technologien verursachte Veränderungen

18

1. Verschwinden von IuK-Systemen: IT-Katastrophen-Management nach dem Hurrikan Katrina 2005

18

2. Erscheinen neuer sozialer Interaktionsformen: Analyse von Online-Reviews des Voice-over-IP-Services Skype

20

3. Auftreten alternativer Formen des Organisierens: IT-Consumerization

22

III. Charakterisierung von Veränderungen durch Digitale Transformation aus Systemsicht

23

IV. Fazit: Aufgaben der Kybernetik im Hinblick auf Digitale Transformation

25

Literaturverzeichnis

27

Kristina Lahl / René Vossen / Sabina Jeschke: Der Mensch und die künstliche Intelligenz. Ritualisierung und soziales Selbstverständnis in der 'Industrie 4.0'

29

I. Die Kränkung des Menschen durch die Künstliche Intelligenz

29

II. Kulturelle und soziale Herausforderungen in der Mensch-Maschine-Interaktion

31

1. Der Mensch und die Technik

31

2. Das Ritual als soziokultureller Faktor

35

3. Betwixt and between

37

4. Künstliche Intelligenz = Mensch ± X

41

III. Automatum, quo vadis?

42

Literaturverzeichnis

43

Christian Scholz: University Governance: Ein Plädoyer für System Dynamics und den universitären Korporatismus

47

I. Ausgangslage: Universitäten als Problemfall

47

II. Simulation: Auf dem Weg zur Verwissenschaftlichung

48

III. Grundlage: Bilder von Universitäten

50

IV. Modellstruktur: System Dynamics

52

V. Simulationsläufe: Zwei Gewinner

56

VI. Schock-Verhalten: Ein (knapper) Sieg

59

VII. Bewertung: Limitationen und Konsequenzen

60

VIII. Ausblick: It's just the Beginning

63

Literaturverzeichnis

64

II. Kybernetik in der Praxis

67

Thorsten Theisinger / Fabio Squillante: Systemdynamische Modelle bei der Deutschen Telekom AG – ein Beispiel für die Etablierung innovativer Prognoseansätze in einem Großkonzern

69

I. Einführung

69

1. Erfolgreicher Etablierungsprozess systemdynamischer Modelle

69

2. Ausgangssituation: Problematiken bei der Einführung eines agentenbasierten Modellansatzes

69

3. Hintergrund der Abteilung Business Analytics und wissenschaftliche Begleitung

71

II. Entwicklung und Etablierung systemdynamischer Modelle

72

1. Auf dem Weg zu System Dynamics

72

2. Roadshow

73

3. Mehrwert des systemdynamischen Ansatzes unter dem Aspekt der Etablierung im Konzern: Nachvollziehbarkeit und Identifikation

75

4. Vom Piloten zum Modell

76

III. Resümee

79

1. Status quo

79

2. Lessons learned

79

3. Fazit und Ausblick

80

Literaturverzeichnis

81

Stephan Printz et al.: Einfluss von Gruppeneffekten auf die Bewertung schwer erfassbarer Größen am Beispiel der nutzenorientierten Wirtschaftlichkeitsschätzung

83

I. Einführung

83

II. Wirtschaftlichkeitsanalyseverfahren

84

III. Das NOWS-Verfahren

85

IV. Einfluss von Gruppeneffekten im NOWS-Verfahren

90

V. Fazit und Ausblick

94

VI. Danksagung

95

Literaturverzeichnis

96

III. Kybernetische Konzepte und Organisation

99

Anja Kreidler / Meike Tilebein: Modellierung dynamischer Aspekte von Team-Diversität – Ein Methodenvergleich

101

I. Einführung

101

II. Diversität in Teams

102

III. Kategorisierung von Diversitätseffekten

103

IV. Simulation

107

V. Vergleich im Kontext Diversität in Teams

108

VI. Zusammenfassung

111

Literaturverzeichnis

113

Simeon Vogt / Meike Tilebein: Ansätze zur Bewertung organisationaler Resilienz

117

I. Resilienz im Unternehmensumfeld

117

II. Resilienz bewerten

120

1. Anforderungen

120

2. Ablauf

121

III. Methoden

122

1. Zweidimensionale Verfahren

122

2. Mathematische Verfahren

124

3. Betrachtung von Ressourcen

125

4. Kombinierte Methoden

126

IV. Diskussion

128

V. Fazit und Ausblick

129

Literaturverzeichnis

129

Louis Klein: Business Excellence

131

I. Erst Praxis dann Theorie

131

II. Die Idee der Business Excellence

132

1. Business Excellence?

132

2. Praxeologie

134

3. Integrative Perspektiven

136

III. Business Excellence Execution

137

1. Operational Excellence

137

2. Project Excellence

139

3. Governance Excellence

140

4. Organisational Excellence

142

5. Change Excellence

144

IV. Business Excellence revisited

145

Literaturverzeichnis

147

IV. Didaktik

151

Andreas Größler: Dynamiken im Triple P-Konzept – ein Simulationsmodell für die universitäre Ausbildung in nachhaltigem Management

153

I. Einführung

153

II. Hauptteil

154

1. Zielkonflikte im Triple-P-Konzept

154

2. Ein Simulationsmodell zum Erfahren der Zielkonflikte des Triple-P-Konzepts

155

3. Einsatz des Simulationsmodells in der universitären Ausbildung

158

III. Fazit und Ausblick

159

Literaturverzeichnis

160

V. System Dynamics und Märkte

161

Florian Kapmeier / Philipp Pölz: Not Seeing is Believing – How Established Premium Automotive Manufacturers Could have Better Identified Competitive Blind Spots Regarding Tesla's Rise with Qualitative System Dynamics

163

I. Tesla Motor's Rise in the US Premium Automotive Industry

163

II. Competitive Blind Spots Within the Strategic Decision Making Process

166

III. Tools for Identifiying Competitive Blind Spots?

174

IV. System Dynamics for Better Tracking Down Blind Spots

175

V. Managerial Implications of Our Findings

183

VI. Suggestions for Further Research

185

References

185

VI. Kybernetik in sozialen Systemen

193

Lana Plumanns et al.: Neigen leistungsorientierte Menschen bei negativem Feedback zu einer stärkeren Selbsterhöhung? Eine empirische Studie zur Lern- und Leistungszielorientierung

195

I. Einführung

195

II. Theoretischer Hintergrund

197

1. Zielorientierung

197

2. Feedback

201

3. Selbsterhöhende Tendenzen

202

III. Methodik

203

IV. Ergebnisse

204

1. Stärken und Einschränkungen

204

2. Fazit und Ausblick

205

Literaturverzeichnis

206

Falko Wilms: Die Systemtheorie im St. Galler Management-Modell

211

I. Einführung

211

II. Sozialkybernetik

211

1. Notation der Form

212

2. Das aktuelle St. Galler Management-Modell

215

3. Sensemaking

216

III. Fazit und Ausblick

219

Literaturverzeichnis

220

Autorenverzeichnis

223