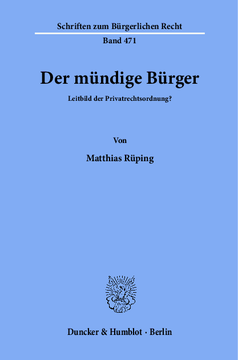 BOOK
Cite BOOK
Style
---
Rüping, M. (2017). Der mündige Bürger. Leitbild der Privatrechtsordnung?. Duncker & Humblot. https://doi.org/10.3790/978-3-428-55150-7
Rüping, Matthias. Der mündige Bürger: Leitbild der Privatrechtsordnung?. Duncker & Humblot, 2017. Book. https://doi.org/10.3790/978-3-428-55150-7
Rüping, M (2017): Der mündige Bürger: Leitbild der Privatrechtsordnung?, Duncker & Humblot, [online] https://doi.org/10.3790/978-3-428-55150-7
---
Format
---
Der mündige Bürger
Leitbild der Privatrechtsordnung?
Schriften zum Bürgerlichen Recht, Vol. 471
(2017)
Additional Information
Book Details
Publisher Name

Duncker & Humblot

ISBN

978-3-428-55150-7
978-3-428-15150-9 (print edition)

DOI

https://doi.org/10.3790/978-3-428-55150-7

Edition

1

Language

German

Pages

286

Collections

Subjects
Pricing
Institution

€ 120.00 (incl. local VAT if applicable)

Individual

€ 89.90 (incl. local VAT if applicable)
About The Author
Nach dem Studium in Freiburg, Genf und Berlin absolvierte Matthias Rüping 2012 die Erste Juristische Prüfung. Zwischen 2010 und 2013 arbeitete er im Deutschen Bundestag, zuletzt als wissenschaftlicher Mitarbeiter und Büroleiter der Bundesjustizministerin Sabine Leutheusser-Schnarrenberger. 2016 erfolgte die von der Friedrich-Naumann-Stiftung für die Freiheit mit einem Stipendium geförderte Promotion zum Dr. iur. an der Humboldt-Universität zu Berlin. Nach dem Referendariat u.a. in der außen- und sicherheitspolitischen Abteilung des Bundeskanzleramts legte er 2017 die Zweite Juristische Prüfung ab. Seit April 2017 ist er als Rechtsanwalt bei der Kanzlei BMH Bräutigam & Partner in Berlin tätig.
Abstract
Das ursprüngliche BGB war vom Leitbild des mündigen Bürgers geprägt, der eigenverantwortliche Entscheidungen trifft und deren Konsequenzen trägt. Die Abhandlung zeigt unter anderem am Beispiel des Verbraucherprivatrechts und des Wohnraummietrechts, wie jahrzehntelange rechtspolitisch motivierte Einflussnahme diese Mündigkeitsvermutung sukzessive relativiert hat. Das zeitgenössische Privatrecht basiert auf der Annahme eines schutzbedürftigen und als Verbraucher, Mieter oder Arbeitnehmer strukturell unterlegenen Bürgers. An die Stelle von dispositivem Gesetzesrecht sind zunehmend unabdingbare und durch Umgehungsverbote flankierte zwingende Inhaltsvorgaben getreten. Diese Abkehr vom Leitbild des mündigen Bürgers gerät nicht nur in Konflikt mit der politischen Projektion eines souveränen und autonomen Wahlbürgers, sondern begegnet auch gravierenden verfassungsrechtlichen und ökonomischen Bedenken.»The Responsible Citizen Model of German Private Law?«German private law used to be governed by the idea of a responsible and independent citizen who is able to make informed decisions and must carry their consequences. Over the past decades, this traditional approach to individual responsibility has essentially been replaced by the assumption of structural disparity in contractual relations and a citizen in need of constant protection. This departure from the »responsible citizen« gives rise to severe constitutional, economic and ethical concerns.
Table of Contents
Section Title
Page
Action
Price

Vorwort

5

Inhaltsverzeichnis

7

Einleitung

13

1. Teil: Das Leitbild des mündigen Bürgers und sein Stellenwert im deutschen Privatrecht

15

A. Leitbilder im Recht

15

I. Bestandsaufnahme und Definition

16

II. Funktionen rechtlicher Leitbilder: Orientierung, Rechtssicherheit, Positionierung

21

III. Zusammenfassung

23

B. Privatautonomie und Mündigkeit: Begriffe und Bezüge

24

I. Privatautonomie

24

1. Bedeutung und Gewährleistungselemente

25

2. Privatautonomie und Grundgesetz: Kollision von Grundrechtsdimensionen

27

3. Formale und materiale Privatautonomie

28

a) Formales Verständnis der Privatautonomie

30

b) Materiales Verständnis der Privatautonomie

33

c) Exkurs: Schmidt-Rimplers "Richtigkeitsgewähr des Vertragsmechanismus"

36

4. "Materialisierung des Privatrechts"

38

II. Mündigkeit und das Leitbild vom mündigen Bürger

42

1. Rechtstechnische und anthropologische Mündigkeit

43

2. Mündigkeit und Privatautonomie

45

3. Der mündige Bürger als Leitbild

49

a) Qualifizierung des Leitbildes vom mündigen Bürger

49

b) Charakteristika einer vom Leitbild des mündigen Bürgers geprägten Rechtsordnung

50

aa) Die Befolgung der abstrakten Gleichheitsvermutung und der Verzicht auf systematischen Schwächerenschutz

50

bb) Die Anerkennung gesetzlicher Dispositivität

51

cc) Die Beachtung des Vertragstreue-Grundsatzes und die Abwesenheit gerichtlicher Inhaltskontrolle

53

c) Der mündige Bürger und die "Privatrechtsgesellschaft"

54

d) Leitbild vom mündigen Bürger als sozialempirische Zustandsbeschreibung?

56

III. Zusammenfassung

56

C. Das Leitbild des mündigen Bürgers im ursprünglichen Bürgerlichen Gesetzbuch

57

I. Historische Rahmenbedingungen – Das Bürgerliche Gesetzbuch als Kind eines "liberalen Zeitgeistes" und der "Tropfen sozialistischen Öls"

58

II. Mündigkeit im ursprünglichen Bürgerlichen Gesetzbuch

63

1. Mündigkeit als "Primärstatus"

64

2. Ausnahmen von der Mündigkeit als "Sekundärstatus"

71

III. Zusammenfassung

74

D. Das Leitbild des mündigen Bürgers im heutigen Privatrecht

75

I. Verbraucherprivatrecht und wettbewerbsrechtliches Verbraucherleitbild

77

1. Die historische Herausbildung des Verbraucherprivatrechts

77

2. Verbraucherprivatrecht als gesetzliches Regelwerk

81

a) Fernabsatzverträge

81

b) Außerhalb von Geschäftsräumen geschlossene Verträge

83

c) Verbrauchsgüterkauf

85

d) Sonstige Bereiche

85

e) Zwischenergebnis: Mündigkeit im gesetzlichen Verbraucherprivatrecht

86

3. Das wettbewerbsrechtliche Verbraucherleitbild

86

4. Zusammenfassung: Verbraucherprivatrecht, Verbraucherleitbild und das Mündigkeitsprinzip

90

II. Wohnraummietrecht

93

1. Die rechtspolitische Dynamik des Wohnraummietrechts: Vom liberalen über das regulierte zum sozialen Mietrecht

94

2. Instrumente des Mieterschutzes

96

a) Vertragsbeendigung: Kündigungsschutz und Widerspruchsrecht

97

b) Vertragsgestaltung: Mietpreisregulierung

99

c) Zwangsvollstreckung: Räumungsschutz

102

d) Weitere Schutzinstrumente

104

3. Zusammenfassung: Mündigkeit im Wohnraummietrecht

104

III. Sittenwidrige Rechtsgeschäfte

105

1. Sittenwidrigkeit in den Gesetzesmaterialien des Bürgerlichen Gesetzbuchs

107

2. Der Funktionswandel des Sittenwidrigkeitsbegriffs

109

a) Angehörigenbürgschaften

109

aa) Rechtsprechung des BGH bis 1993

110

bb) Bürgschafts-Entscheidung des Bundesverfassungsgerichts von 1993

112

cc) Reaktionen auf die Bürgschafts-Entscheidung des Bundesverfassungsgerichts

115

dd) Ausweitung der Verfassungsgerichts-Rechtsprechung

116

ee) Zwischenergebnis

118

b) Sexualbezogene Leistungen

118

c) Ausweitung des Wucherschutzes über § 138 I, II BGB

120

aa) Wucherschutz über § 138 II BGB

121

bb) Wucherschutz über § 138 I BGB

122

d) Der Funktionswandel des Sittenwidrigkeitsbegriffs: Ausgleich von wirtschaftlicher Unterlegenheit als zentrales Regulierungsmotiv

123

3. Zusammenfassung: Sittenwidrigkeit als Gradmesser für die Mündigkeitsvermutung

124

IV. Zwingendes Privatrecht – die Teilaufgabe der Dispositivität

125

1. Gesetzliche Dispositivität und das Mündigkeitsprinzip

126

2. Einschränkungen der Dispositivität durch zwingendes Recht

128

a) Mietrecht

129

b) Verbraucherprivatrecht

131

c) Allgemeine Geschäftsbedingungen: Die Abweichung von "wesentlichen Grundgedanken der gesetzlichen Regelung" als Unwirksamkeitsgrund

132

d) Sonstige zwingende Vorschriften

132

3. Zusammenfassung: Zwingendes Recht als Aufweichung des Mündigkeitsprinzips

133

V. Ehe- und Minderjährigenrecht: Quantitative Ausweitung der Mündigkeitsvermutung

134

1. Eherecht: Die Rechtsstellung der (verheirateten) Frau

135

2. Minderjährigenrecht: Das Volljährigkeitsalter

140

3. Zusammenfassung: Quantitative Ausweitung der Mündigkeitsvermutung

141

VI. Weitere Rechtsgebiete

141

1. Arbeitsrecht

141

2. Recht der Allgemeinen Geschäftsbedingungen

144

3. Inhaltskontrolle von Eheverträgen

146

VII. Ergebnis: Qualitative Einschränkung und quantitative Ausweitung der Mündigkeitsvermutung

147

1. Die Befolgung der abstrakten Gleichheitsvermutung und der Verzicht auf systematischen Schwächerenschutz

148

2. Die Anerkennung gesetzlicher Dispositivität

148

3. Die Beachtung des Vertragstreue-Grundsatzes und die Abwesenheit gerichtlicher Inhaltskontrolle

149

4. Quantitative Ausweitung der Mündigkeitsvermutung

149

5. Gesamtschau

149

E. Zusammenfassung

151

2. Teil: Normative Grundlagen des Leitbildes vom mündigen Bürger: Verfassungsrecht, Ökonomie, Rechtspolitik

153

A. Verfassungsrechtliche Vorgaben – Das "Menschenbild des Grundgesetzes"

153

I. Grundgesetz und Bürgerliches Gesetzbuch: Die Bedeutung verfassungsrechtlicher Wertungen für das Privatrecht

154

II. Das Konzept eines grundgesetzlichen Menschenbilds

157

III. Analyse des Verfassungstextes

158

1. Das freiheitlich-individuelle Element

158

2. Das sozialverpflichtet-gemeinwohlorientierte Element

160

3. Abwägung zwischen den Elementen

162

4. Zwischenergebnis

166

IV. Das Menschenbild des Grundgesetzes und das privatrechtliche Leitbild vom mündigen Bürger

166

V. Ergebnis

168

B. Ökonomische Analyse – Mündigkeit und Marktversagen

170

I. Theorie des Marktversagens als Methode der ökonomischen Analyse

171

II. Die Befolgung der abstrakten Gleichheitsvermutung und der Verzicht auf systematischen Schwächerenschutz

173

1. Vorliegen eines Marktversagens

174

a) Marktversagen aufgrund von externen Effekten

174

b) Marktversagen aufgrund von Marktmacht

175

c) Marktversagen aufgrund von Informationsasymmetrie

176

d) Ergebnis

179

2. Überlegenheit einer hoheitlichen Regulierung

180

3. Ergebnis

184

III. Die Anerkennung gesetzlicher Dispositivität

185

1. Vorliegen eines Marktversagens: externe Effekte, Marktmacht, Informationsasymmetrie

185

2. Überlegenheit einer hoheitlichen Regulierung

187

3. Ergebnis

190

IV. Die Beachtung des Vertragstreue-Grundsatzes und die Abwesenheit gerichtlicher Inhaltskontrolle

191

1. Vorliegen eines Marktversagens

191

2. Überlegenheit einer hoheitlichen Regulierung

193

3. Ergebnis

195

V. Verhaltensökonomische Erkenntnisse

195

VI. Ergebnis

200

C. Rechtspolitische Implikationen – Der mündige Bürger als Postulat

201

I. Das Verhältnis der Privatrechtsordnung zum Individuum oder: Das Paternalismus-Problem

202

1. Mündigkeit als Element personaler Würde

202

2. Der schutzbedürftige Bürger als politischer Souverän: ein Wertungswiderspruch

205

3. Mündigkeit als gradueller Gewährleistungsmaßstab

207

4. Ergebnis

207

II. Mündigkeit als Förderung der Rechtssicherheit

207

III. Mündigkeit als Bedingung individueller Lerneffekte

208

IV. Sozialpolitische Intentionen: "Schutz des Schwächeren" durch das Privatrecht?

210

V. Systematische Rationalitätsdefizite als empirische Falsifizierung der Mündigkeitsvermutung?

212

1. Die Existenz systematischer Rationalitätsdefizite

213

2. Konsequenz für die Mündigkeitsvermutung

214

3. Zunehmende rechtsgeschäftliche Komplexität und steigender individueller Informationsbedarf als Erschütterungen der Mündigkeitsvermutung?

216

4. Exkurs: Der mündige Bürger als homo oeconomicus?

218

5. Ergebnis

219

VI. Ergebnis

220

D. Ergebnis: Die Bedeutung der Mündigkeitsvermutung aus verfassungsrechtlicher, ökonomischer und rechtspolitischer Perspektive

221

E. Zusammenfassung

222

Schluss: Die Rückkehr des mündigen Bürgers?

224

A. Öffentliche Subventionen als Alternative zu privatrechtlichen Inhaltsverboten

224

B. Regulierung mit Augenmaß: Wahl des "mildesten" Mittels

226

I. Inhalt: Informationspflichten, Formvorschriften, Inhaltsverbote

227

II. Geltungsmodus: Dispositivität, Flexibilität, Unabdingbarkeit

230

III. Schutzobjekt: Individualisierung und Typisierung

231

C. Ergebnis

231

Literaturverzeichnis

233

Sachverzeichnis

282