International relations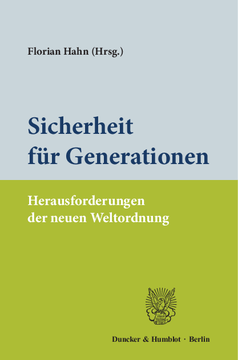 BOOK
Sicherheit für Generationen
Herausforderungen der neuen Weltordnung
Editors: Hahn, Florian
(2017)
Additional Information
Book Details
ISBN

978-3-428-55264-1
978-3-428-15264-3 (print edition)

DOI

https://doi.org/10.3790/978-3-428-55264-1

Edition

1

Language

German

Pages

111

Collections

Subjects
Pricing
Institution

€ 24.00 (incl. local VAT if applicable)

Individual

€ 17.90 (incl. local VAT if applicable)
About The Author
Florian Hahn ist E-Marketing Fachwirt (BAW). Seit 2009 ist er Mitglied des Deutschen Bundestages und seit 2014 ist er Sprecher der CSU-Landesgruppe für Auswärtiges, Verteidigung, Angelegenheiten der Europäischen Union, wirtschaftliche Zusammenarbeit und Entwicklung, Menschenrechte und Humanitäre Hilfe. Außerdem ist er Landesvorsitzender des Arbeitskreises Außen- und Sicherheitspolitik (ASP) der CSU und Mitglied des Parteivorstandes der CSU.
Abstract
Die globale Sicherheitspolitik steht vor einem fundamentalen Epochenwandel. Der Aufstieg neuer regionaler Akteure, das Wiedererstarken alter Global Player, der Rückzug der USA, der verschärfte internationale Terrorismus, asymmetrische Bedrohungen, Cyber-Attacken und hybride Kriegsformen stellen die bestehende Ordnung in Frage. Deutschland, Europa und das westliche Bündnis sind als Wertegemeinschaft und als taktgebende Ordnungsmächte herausgefordert, eine neue Sicherheitsarchitektur zu entwickeln.

Der Sammelband skizziert den Diskurs über die neue sicherheitspolitische Ausrichtung Deutschlands im Rahmen seiner Bündnisse unter der viel zitierten »Neuen deutschen Verantwortung«. Er bringt angesehene Autorinnen und Autoren aus Wissenschaft, Wirtschaft und Politik zusammen, die die bevorstehenden globalen Herausforderungen analysieren sowie Lösungsvorschläge für ein handlungsfähiges Deutschland und die Sicherheit kommender Generationen unterbreiten. »Security for Future Generations«

The anthology outlines the debate on Germany's new security policy within its international alliances under the much discussed premise of the »New German Responsibility«. Distinguished authors from science, business and politics analyze the impending global challenges as well as provide solutions strategies for a powerful and efficient Germany and the security for future generations.
Table of Contents
Section Title
Page
Action
Price

Inhaltsverzeichnis

5

Florian Hahn: Einleitung: Herausforderungen der neuen Weltordnung

7

1. Vernetzung der Akteure

8

2. Modernisierung der Bundeswehr

9

3. Stärkung der Resilienz

10

I. Die Welt im Wandel

13

Michael Stürmer: Wendezeiten – Krisenzeiten – Vorkriegszeiten

15

Eine neue Lage

15

Führungsmächte von Gestern

16

Trügerische Sicherheit

16

Eine Welt auf Autopilot

17

Der lange nukleare Frieden

17

Kein Ende der Geschichte

18

Noch ist Europa nicht verloren

18

Carlo Masala: Herausforderungen einer multipolaren Welt

21

Über Polaritäten

21

Die gegenwärtige Systemstruktur und ihre Herausforderungen

23

Fazit

25

James D. Bindenagel: Die USA: Eine Schutzmacht im Wandel?

27

Internationales Engagement dient nicht nur Amerikas Partnern

28

Militärische Zusammenarbeit ist keine Einbahnstraße

29

Die Schutzmacht im Wandel in einer gewandelten Welt

29

Saskia Hieber: Chinas globaler Gestaltungsanspruch

31

Chinas Aufstieg

32

Die sicherheitspolitische Architektur

32

Das Südchinesische Meer

33

Margarete Klein: Russland – Rückkehr als Großmacht?

37

Ausgeweiteter Instrumentenkasten

37

Legitimation durch außenpolitische Erfolge

38

Hegemonie im postsowjetischen Raum

38

Russland und die euro-atlantische Sicherheit

39

Unsicherheit im Verhältnis zu den USA

39

Wachsende Abhängigkeit von China

40

Rückkehr in den Nahen Osten

40

Herausforderung für Deutschland, die EU und die NATO

41

Reinhard Meier-Walser: Neue Regionalmächte Iran, Saudi-Arabien, Türkei

43

Der Iran im Spannungsfeld zwischen revolutionären Prinzipien und moderater Öffnung

43

Die Ölmonarchie in der Doppelkrise – Saudi-Arabiens innere Spannungen und außenpolitische Probleme

45

Die Türkei am Scheideweg – bleibt Ankara nach dem Verfassungsreferendum Partner des Westens?

47

Fazit: Drei Staaten am Scheideweg

49

II. Neue Gefahren für unsere Ordnung

51

Von Guido Steinberg: Internationaler Terrorismus

53

1. Religion, religiöse Ideologie und Terrorismus

53

2. Die Islamisten und al-Qaida

54

3. Die Salafisten des Islamischen Staates

55

4. Eskalation in Deutschland

55

5. Was tun?

56

Arne Schönbohm: Bedrohung im Cyber-Raum

57

Bedrohungslage im Cyber-Raum

58

IT-Sicherheitsgesetz und Cyber-Sicherheitsstrategie

59

Nationale Cyber-Sicherheitsbehörde BSI

59

Markus Kaiser: Hybride Bedrohungen oder der Kampf von Innen (Fake News)

61

Meinungen werden verstärkt

63

Echtzeit und virale Effekte als Gefahr

63

Mehr Medienkompetenz ist nötig

64

Maximilian Terhalle: Strategische Prioritäten

67

Der Begriff des Strategischen

67

Das Fehlen strategischer Prioritäten: Konsequenzen

69

Eine strategische Agenda

71

Benedikt Franke: Graue Nashörner und schwarze Schwäne: Sicherheitspolitische Herausforderungen jenseits der aktuellen Debatte

73

Die sicherheitspolitische Debatte ist breit – aber nicht breit genug!

73

Schwarze Schwäne: Höchst unwahrscheinliche Ereignisse, die dennoch eintreten

74

Graue Nashörner: Latente Risiken, die ignoriert werden, bis es zu spät ist

75

Wie können wir uns besser auf unbekannte und unterschätzte Risiken vorbereiten?

76

III. Weichenstellungen für die Sicherheit von morgen

79

Markus Söder: Sicherheit und solide Staatsfinanzen – Zwei Seiten derselben Medaille

81

1. Staatsaufgabe Sicherheit

81

2. Bayerische Investitionen in die Sicherheit

82

3. Der Erfolg gibt Bayern Recht

82

4. Sicherheitsausgaben sind Zukunftsinvestitionen

83

Géza Andreas von Geyr: Generationenverantwortung im Weißbuch 2016

85

Was es zu schützen gilt

85

In einer Welt in Unruhe

86

Sicherheitspolitik 4.0 – klug, vernetzt und vorausschauend

87

"Wer alleine arbeitet, addiert; wer zusammen arbeitet, multipliziert" (Arabische Weisheit)

88

Fazit

90

Holger Mey: Sicherheit durch Technologie und Innovation – Der Beitrag der Wirtschaft

93

Zur Nutzung von Technologie

93

Technologie und Sicherheit: Die militärische Dimension

94

Neue Technologien

95

Der Beitrag der Wirtschaft

95

Schlussbetrachtung

96

Markus Ferber: Was die EU für unsere Sicherheit leisten kann

97

Warum Europa?

97

Probleme und Gefahren der Zukunft

98

Vision und Ziele

98

Politische Prozesse und beteiligte Institutionen

99

Die EU als Friedensmacht

99

Klaus Naumann: Die NATO: Ein Bündnis für die Zukunft?

103

Die NATO ist das einzig funktionierende Sicherheitsorgan

104

Neue Herausforderungen für das Bündnis

104

Ein unersetzlicher Bund für beide Seiten des Atlantiks

104

Mehr europäisches Engagement ist unumgänglich

105

Zukünftige Herausforderungen

106

Thomas Silberhorn: Entwicklungspolitik als Beitrag zur Sicherheit

107

Niemanden zurücklassen

107

Rechtzeitig und entschieden handeln

108

Menschliche Sicherheit schaffen

109

Partner einbinden

110