Prison law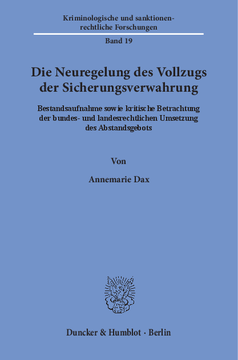 Additional Information
Book Details
ISBN

978-3-428-55160-6
978-3-428-15160-8 (print edition)

DOI

https://doi.org/10.3790/978-3-428-55160-6

Edition

1

Language

German

Pages

648

Collections

Subjects
Pricing
Institution

€ 162.00 (incl. local VAT if applicable)

Individual

€ 125.90 (incl. local VAT if applicable)
About The Author
Annemarie Dax studierte von 2004 bis 2010 Rechtswissenschaft in Tübingen und Madrid mit dem Schwerpunkt Rechtspflege in Strafsachen. Nach dem zweiten Staatsexamen im Jahre 2012, promovierte sie bei Prof. Dr. Jörg Kinzig, Direktor des Instituts für Kriminologie der Universität Tübingen. Zugleich arbeitete sie als akademische Mitarbeiterin an dessen Lehrstuhl für Kriminologie, Straf- und Sanktionenrecht. Seit 2015 ist sie als Richterin tätig.
Abstract
Ungeachtet der wissenschaftlichen Kritik baute der Gesetzgeber das Rechtsinstitut der Sicherungsverwahrung seit Beginn des 20. Jahrhunderts aus. Dem haben die Urteile des EGMR vom 17.12.2009 und des BVerfG vom 4.5.2011 ein Ende bereitet. Während der EGMR die Sicherungsverwahrung vorwiegend wegen der tatsächlichen Situation im Vollzug als Strafe i.S.d. EMRK einstufte, erklärte das BVerfG die Sicherungsverwahrung für verfassungswidrig. Grund dafür war v.a., dass der Vollzug dem Abstandsgebot nicht genügte. Die Dissertation beleuchtet die wegen der Entscheidungen notwendig gewordenen legislativen Aktivitäten auf Bundes- und Landesebene sowie die rechtlichen und tatsächlichen Entwicklungen des Sicherungsverwahrungsvollzugs. Gleichzeitig wird das Abstandsgebot auf einen kritischen Prüfstand gestellt. Die Autorin kommt zu dem Ergebnis, dass lediglich von einer geringfügigen Verbesserung der gesetzlichen und tatsächlichen Lage des Sicherungsverwahrungsvollzugs gesprochen werden kann. »Revision of the Execution of the Preventive Detention«

In 2009 the European Court of Human Rights categorized the German prevention detention as a penalty within the meaning of the EMRK. In 2011 the German Federal Constitutional Court delegalized the legal institution. The dissertation illuminates the legislative actions at the federal and state level as well as the legal and actual development of the execution of the preventive detention. At the same time the German »Abstandsgebot« is under critical review.
Table of Contents
Section Title
Page
Action
Price

Vorwort

7

Inhaltsübersicht

9

Inhaltsverzeichnis

11

Tabellen- und Abbildungsverzeichnis

19

Abkürzungsverzeichnis

21

A. Ziel der Untersuchung und rechtliche Entwicklung

31

I. Einleitung

31

1. Problemstellung und Ziel der Arbeit

31

2. Gang der Untersuchung

33

II. Rechtliche Entwicklung des Sicherungsverwahrungsvollzugs

34

1. Von den Anfängen bis zum StVollzG

35

a) Einführung der Sicherungsverwahrung durch die Nationalsozialisten im Jahr 1933

35

b) Nach dem Zweiten Weltkrieg

40

c) Nach Einführung des StVollzG

44

2. Rechtslage seit Mitte der 1990er Jahre bis zur Entscheidung des Europäischen Gerichtshofs für Menschenrechte

48

a) Entscheidungen des Bundesverfassungsgerichts zur Höchstfrist

51

b) Sachverhalt und Inhalt der Höchstdauerentscheidung vom 5.2.2004

52

c) Stellungnahme

55

aa) Grundprinzipien und Menschenwürde

55

bb) Abstandsgebot und praktische Umsetzung

57

d) Reaktionen der Rechtsprechung und des Gesetzgebers

59

3. Die Entscheidung des Europäischen Gerichtshofs für Menschenrechte vom 17.12.2009

62

a) Aufbau und Inhalt

62

b) Stellungnahme

66

aa) Autonome Begriffsbestimmung

66

bb) Bindungswirkung

68

cc) Rückwirkung und praktische Ausgestaltung

70

dd) Opferschutz und mehrpoliges Grundrechtsverhältnis

71

c) Reaktionen der Rechtsprechung

73

d) Reaktionen des Gesetzgebers

76

4. Das Urteil des Bundesverfassungsgerichts vom 4.5.2011

78

a) Sachverhalte und Entscheidungsformel

79

b) Entscheidungsgründe

81

c) Stellungnahme

84

aa) Neukonzeption und Schwierigkeiten

84

(1) Paradigmenwechsel

85

(2) Doppelmandat und praktische Umsetzungsschwierigkeiten

89

bb) Kompetenz, Gewaltenteilung und Verfassungswidrigkeit

94

cc) Opferschutz und mehrpoliges Grundrechtsverhältnis

96

B. Empirische Bestandsaufnahme des Sicherungsverwahrungsvollzugs

101

I. Zahlenmäßige Entwicklung der Sicherungsverwahrung

102

1. Zahl der Anordnungen und Anzahl der Untergebrachten

103

2. Merkmale des Vollzugs und der Verwahrten

108

a) Verweildauer und Ländervergleich

108

b) Geschlechterverteilung, Familienstand, Ausländeranteil und sonstige Belastungen

110

c) Altersstruktur

112

d) Anlasstaten

114

e) Vorstrafen und Rückfallgefahr

117

II. Vollzugsrealität

119

1. Im Dritten Reich

119

2. Nach dem Zweiten Weltkrieg

122

3. Seit Beginn des 21. Jahrhunderts

126

a) Unterbringungssituation

128

b) Lockerungspraxis

133

c) Therapeutische Betreuung und Personal

136

d) Sozialtherapie

143

e) Viktimisierungserfahrungen

145

III. Erkenntnisse zur Behandelbarkeit

146

1. Besondere Situation und Persönlichkeitsstruktur der Verwahrten

146

2. Zur Straftäterbehandlung

149

3. Zur Behandlung von Tätern mit entsprechenden kriminogenen Risikofaktoren

151

C. Abstandsgebot: Inhalt und Umsetzung durch den Bund

156

I. Entwicklung und Inhalt des Abstandsgebots

156

1. Weg zur Konkretisierung und Maßstab

156

2. Gegenüberstellung mit dem Strafvollzug

159

3. Fazit

163

II. Gesetzgebungskompetenz

166

1. Leitlinienkompetenz des Bundes und Reaktionen der Literatur

167

2. Vergleichbare Bundeskompetenzen und Konsequenzen

170

3. Fazit

173

III. Das SichVAbstUmsG: Überblick und Ablauf der Untersuchung

176

1. Inhalt des SichVAbstUmsG

176

2. Untersuchung des Bundesrechts und Erkenntnisquellen

179

IV. Vorgaben für den Sicherungsverwahrungsvollzug nach § 66 c Abs. 1 StGB

182

1. Behandlung und Betreuung nach Nr. 1

182

a) Psychiatrisierung

182

b) Therapieoptimismus und "hoffnungslos Verwahrte"

187

aa) Realität und Gesetzgebung

187

bb) Forderungen zum Umgang

191

c) Ruhestufe und Therapie bei Geeigneten

194

aa) Meinungsstreit

194

bb) Kriminologische Rechtfertigung und tatsächliche Anforderungen

196

cc) Zusammenwirken mehrerer Bedingungen bei Therapie und Motivation

198

d) Drohende Zwangsbehandlung

201

2. Unterbringung nach Nr. 2

204

a) Unterschiedliche Relevanz der Neuregelung

204

b) Ausnahmen vom Trennungsgebot aus behandlerischen Gründen

206

3. Vollzugsöffnende Maßnahmen, Entlassungsvorbereitung und nachsorgende Betreuung nach Nr. 3

209

a) Bedeutung der vollzugsöffnenden Maßnahmen

210

b) Normative Besserstellung

213

4. § 2 ThUG und Therapieunterbringung im Sicherungsverwahrungsvollzug

216

5. Fazit und Vergleich zum Strafvollzug

218

V. Vorgaben für den vorausgehenden Strafvollzug nach § 66 c Abs. 2 StGB

224

1. Sonderbehandlung und Rechtfertigung

224

2. Einbeziehung in ein vikariierendes System

227

3. Nachbesserungsbedarf aufgrund fehlender Verweise

229

4. Hervorhebung der sozialtherapeutischen Behandlung

232

VI. Absicherung der Wirksamkeit des neuen Vollzugs

233

1. Unverhältnismäßigkeit der Sicherungsverwahrung

234

a) Aussetzung zur Bewährung nach § 67 c Abs. 1 S. 1 Nr. 2 StGB und § 67 d Abs. 2 S. 2 StGB

234

b) Differenzierungen bei der Gesamtbetrachtung

237

c) Rechtsfolgen

240

d) Nachbesserungsbedarf wegen fehlender Verweise auf § 66 c Abs. 1 Nr. 2 b und Nr. 3 StGB

243

2. Umsetzung des Kontroll-, Rechtsschutz- und Unterstützungsgebots

247

a) Strafvollzugsbegleitende gerichtliche Kontrolle bei latenter Sicherungsverwahrung nach § 119 a StVollzG

247

b) Vollstreckbarkeit gerichtlicher Entscheidungen nach § 120 StVollzG

249

c) Beiordnung eines Pflichtverteidigers

251

d) Überprüfungsfrist in § 67 e StGB

253

e) Zwingende Begutachtungen

254

D. Abstandsgebot: Umsetzung durch die Länder – Interregional vergleichende Analyse

259

I. Gesetzgebungsverfahren

259

1. Föderalismusreform

259

2. Übertragung auf die SVVollzGe

262

II. Übersicht und Ablauf der Vergleichsuntersuchung

265

1. Aufbau der SVVollzGe

265

2. Methodisches Vorgehen

271

a) Notwendigkeit einer interregional vergleichenden Analyse

271

b) Beschränkung auf zentrale Themenbereiche

273

c) Ablauf der Untersuchung und Erkenntnisquellen

277

III. Grundsätze und Ziele

280

1. Bisherige Regelungen

280

2. Ziele und Aufgaben

282

a) Überblick und verwendete Begriffe (Aufgabe oder Ziel)

285

b) Gefährlichkeitsminimierung als kleinster Nenner

291

c) Schutz der Allgemeinheit

292

d) Besonderheiten des BaySvVollzG

294

3. Vollzugsgrundsätze

296

a) Überblick

296

b) Charakter als Programmsatz

297

c) Abstufung in der Ausrichtung

299

d) Angleichungs- und Öffnungsgrundsatz

300

e) Gegensteuerungsgrundsatz und besondere Zusätze einiger Länder

302

4. Stellung und Rechte der Sicherungsverwahrten

305

a) Generalklausel und rechtsstaatliche Bedenken

305

b) Besonderheiten des Nds. SVVollzG

307

c) Ordnungsklauseln der anderen SVVollzGe

308

d) Problematische Vorschriften im Zusammenhang mit Sicherheit und Ordnung

310

e) Grundsatz der Verhältnismäßigkeit

311

f) Disziplinarmaßnahmen

312

5. Umsetzung in der Praxis

316

a) Freiheit und Sicherheit

316

b) Disziplinarmaßnahmen

318

6. Fazit

319

IV. Therapeutische Ausrichtung, vollzugsöffnende Maßnahmen und Entlassungsvorbereitung sowie soziale Hilfe

322

1. Bisherige Regelungen

323

a) Betreuung und Behandlung

323

b) Lockerungen, Urlaub und Entlassungsvorbereitung sowie soziale Hilfe

324

2. Therapeutische Ausrichtung

327

a) Anspruch auf Betreuung und Behandlung

327

b) Anzubietende Maßnahmen

329

c) Konkretisierung der Behandlungsmethoden

331

d) Übergangsprozess und Unterstützungsgebot

335

e) Eingangsuntersuchung und anschließende Behandlungsuntersuchung

337

f) Vollzugs- und Eingliederungsplan

340

3. Fristenregelungen

342

a) Grundsätzliche Vorgehensweise

342

b) Fristen der Vollzugsplanung

343

c) Vorbild: Konzept JVA Brandenburg a. d. H.

345

d) Fristen der Eingliederungsplanung

347

4. Mitwirkung, Motivierung und Anreizsysteme

348

a) Mitwirkungsappell

348

b) Zusammenhang zwischen Mitwirkung und Motivierung

349

c) Sinn und Zulässigkeit eines Anreizsystems

351

d) Umsetzung des Anreizsystems

355

aa) Fehlende Konkretisierung und unabwägbare Standards

355

bb) Monetäre Anreize

357

5. Vollzugsöffnende Maßnahmen und Entlassungsvorbereitung

361

a) Anspruch

361

b) Zwingende Ausführungen

367

c) Beteiligte an der Entscheidung über die Gewährung vollzugsöffnender Maßnahmen

369

aa) Überblick

369

bb) Strafvollstreckungskammer

370

cc) Aufsichtsbehörde und Sachverständige

372

d) Vorbereitung der Entlassung

373

e) Übergangsmanagement und nachgehende Betreuung

376

6. Soziale Hilfe

378

7. Umsetzung in der Praxis

380

a) Behandlungsmaßnahmen und -setting

380

aa) Gemeinsamkeiten

381

bb) Unterschiede

384

b) Motivierung, Therapiepausen und konkrete Ausgestaltung des Anreizsystems

385

c) Vollzugsöffnende Maßnahmen

389

d) Übergangsmanagement und Nachsorge

391

8. Fazit

394

V. Beteiligung Dritter und der Untergebrachten sowie Personalsituation

396

1. Bisherige Regelungen

396

2. Kooperation mit Dritten außerhalb des Vollzugs

397

a) Grundregel und verschiedene Beteiligungsphasen

397

b) Ziele, Probleme und Änderungsvorschläge

399

3. Einbeziehung der Untergebrachten

403

4. Opferbezogene Vollzugsgestaltung

405

a) Einführung

405

b) Allgemeines Prinzip

408

c) Berücksichtigung bei vollzugsöffnenden Maßnahmen

410

d) Beschränkungen der Kommunikation

411

e) Opferinformationsrechte

412

5. Bedienstete

413

a) Personalausstattung

413

b) Belastungen und gesetzgeberische Konsequenzen

416

c) Dokumentationspflichten

418

d) Finanzielle Aspekte

420

e) Anstaltsleitung und Trennungsgebot

422

6. Umsetzung in der Praxis

423

a) Einbeziehung Dritter und Untergebrachter

423

b) Dokumentation

425

c) Personalausstattung

426

7. Fazit

430

VI. Unterbringung und Versorgung

431

1. Bisherige Regelungen

431

2. Räumlich-bauliche Unterbringung

433

a) Vergleichsmaßstab und Ausstattung

434

b) Raumgröße

441

3. Wohngruppenvollzug

444

4. Einschlusszeiten

447

5. Selbstverpflegung und (Haft-)Kosten

449

6. Umsetzung in der Praxis

452

a) Räumlich-bauliche Unterbringung

452

b) Binnendifferenzierung

458

c) Einschlusszeiten und Selbstverpflegung

459

7. Fazit

462

VII. Tagesstruktur durch Freizeit und Beschäftigung

463

1. Bisherige Regelungen

463

2. Beschäftigung

465

a) Überblick

465

b) Arbeitspflicht

466

c) Taschengeld und soziale Absicherung

469

d) Erhöhte Vergütung

471

3. Kommunikation und Besitz

472

a) Telekommunikation und Internet

472

b) Heranführung an Neue Medien

475

c) Besitz am Bsp. des Computers

477

d) Schriftwechsel und Pakete

480

4. Besuch

482

5. Umsetzung in der Praxis

485

6. Fazit

490

E. Abstandsgebot als Problemlöser? – Zusammenfassendes Fazit und Forderungen

492

I. Rechtliche Entwicklung

492

II. Tatsächliche Entwicklung

495

III. Grundsätzliche Forderungen an eine rationale Kriminalpolitik im Bereich der Sicherungsverwahrung

497

1. Rückbesinnung auf den Ultima-Ratio-Gedanken

498

2. Rückbesinnung auf empirische Erkenntnisse

501

IV. Umsetzung des "neuen" Abstandsgebots

502

1. Bundesebene

503

2. Landesebene

506

V. Problemlöser Abstandsgebot oder wirkliches Problem?

510

1. Zweifelhafte Legitimationsgrundlage

510

a) Zweispurigkeit

510

b) Sonderopfer

512

c) Gefährlichkeitsprognose

515

d) Fazit

517

2. Praktische Umsetzung

518

VI. Konsequenzen aus den Problemen des Abstandsgebots bei der Umsetzung

523

1. Eigene Sicherungsanstalten

524

2. Alternativen zum Abstandsgebot und der Sicherungsverwahrung

526

3. Fazit

529

Literaturverzeichnis

585

Quellenverzeichnis

637

Sachverzeichnis

646