Fraud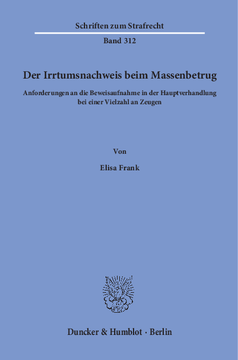 BOOK
Der Irrtumsnachweis beim Massenbetrug
Anforderungen an die Beweisaufnahme in der Hauptverhandlung bei einer Vielzahl an Zeugen
Schriften zum Strafrecht, Vol. 312
(2017)
Additional Information
Book Details
ISBN

978-3-428-55293-1
978-3-428-15293-3 (print edition)

DOI

https://doi.org/10.3790/978-3-428-55293-1

Edition

1

Language

German

Pages

374

Collections

Subjects
Pricing
Institution

€ 104.00 (incl. local VAT if applicable)

Individual

€ 79.90 (incl. local VAT if applicable)
About The Author
Elisa Frank studierte Rechtswissenschaften an der Ludwig-Maximilians-Universität in München sowie an der Università degli Studi di Verona und legte im Jahr 2015 das Erste Staatsexamen ab. Bei Prof. Dr. Matthias Krüger in München promovierte sie anschließend zum Irrtumsnachweis beim Massenbetrug. Seit Herbst 2016 absolviert sie den Vorbereitungsdienst für Rechtsreferendare im OLG-Bezirk München am Landgericht Traunstein. Das zweite Staatsexamen wird sie im Juni 2018 ablegen.
Abstract
Massenbetrugsverfahren mit bis zu hunderttausenden Getäuschten stellen den Strafprozess vor Herausforderungen: Der Irrtum als Tatbestandsmerkmal des Betrugs ist Tatfrage und erfordert grundsätzlich die Vernehmung des Getäuschten. Wie kann der Irrtumsnachweis aber gelingen, wenn eine Zeugenvernehmung eines jeden einzelnen Getäuschten schlicht unmöglich ist? In letzter Zeit hatte sich die Rechtsprechung vermehrt mit dieser strafprozessualen Gegebenheit auseinanderzusetzen. Die Frage wurde zu einem vieldiskutierten Rechtsproblem: Können die Beschränkungen des Verfahrensstoffes nach §§ 154, 154a StPO, die Bestrafung wegen versuchten statt vollendeten Delikts, die Rechtsfiguren des uneigentlichen Organisationsdelikts oder des normativ geprägten Vorstellungsbilds Lösungen bieten, die im Einklang mit strafprozessualen Verfahrensprinzipien stehen? Die Arbeit bereitet diese hochaktuelle Rechtsprechung auf, hinterfragt die aufgeworfenen Lösungsansätze kritisch und wagt einen eigenen Vorschlag. »Large-Scale Fraud Cases«

Large-scale fraud cases with up to hundreds of thousands of victims are challenging criminal proceedings: How to prove the victims' error if hearing every single one of them is literally impossible? May limiting the prosecution (§§ 154, 154a StPO), convicting only for the attempted instead of the completed offence or employing legal concepts like uneigentliches Organisationsdelikt or normativ geprägtes Vorstellungsbild offer solutions in accordance to the principles of the criminal procedure?
Table of Contents
Section Title
Page
Action
Price

Vorwort

5

Inhaltsverzeichnis

11

Abkürzungsverzeichnis

26

Einleitung

29

Teil 1: Hinführung zur verfahrensrechtlichen Problematik bei Massenverfahren

33

1. Kapitel: Begriff des Massenbetrugsverfahrens

33

A. Abhängigkeit von der Deliktsart

33

B. Massenhafte Anzahl der mutmaßlich Irrenden

33

C. Verhältnis zum Begriff der Serienstraftat

34

2. Kapitel: Verfahrensprinzipien der Beweisaufnahme

35

A. Ziel, Aufgabe und Grenzen des Strafverfahrens

35

B. Verhältnis vom Strafrecht zum Strafprozessrecht

36

C. Eine umfassende Beweisaufnahme fordernde Verfahrensprinzipien

38

I. Amtsaufklärungspflicht

38

II. Beweiswürdigungsgrundsatz

39

III. Unmittelbarkeitsgrundsatz

40

IV. Konfrontationsrecht

42

D. Den Umfang der Beweisaufnahme einschränkende Verfahrensprinzipien

44

I. Effektivität und Effizienz der Strafrechtspflege

44

II. Prozessökonomie

45

III. Beschleunigungsgrundsatz

47

E. Interessen des Angeklagten

48

F. Zusammenfassung

48

Teil 2: Ausgangsüberlegungen zum Irrtumsnachweis beim Massenbetrug

49

1. Kapitel: Der Betrugstatbestand

49

A. Rechtsgut

51

B. Täuschungsmerkmal

51

I. Ausdrückliche Täuschung

52

II. Konkludente Täuschung

53

1. Faktisch-normativer Mischansatz der herrschenden Meinung

53

2. Faktisch-normative Ansätze in der Literatur

55

a) Bung

55

b) Jahn und Maier

56

c) Kasiske

56

d) Vogel

57

3. Rein normative Ansätze in der Literatur

57

a) Frisch

57

b) Gauger

57

c) Kindhäuser

58

d) Kubiciel

58

e) Lackner

59

f) Pawlik

59

g) Seelmann

59

h) Wittig

60

4. Normativierungstendenzen in der Rechtsprechung

60

a) Insertionsoffertenbetrug

60

b) Sportwettbetrug

60

5. Normativismus als Unter- und Obergrenze

62

a) Konkreter oder objektiver Empfängerhorizont

63

b) Tatsächliche oder objektivierte Erwartungen der Verkehrsteilnehmer

65

c) Normativierung als Ober- und Untergrenze

66

aa) Normativierung als Obergrenze

66

bb) Normativierung als Untergrenze

67

6. Stellungnahme

67

III. Täuschung durch Unterlassen

68

IV. Abgrenzungen

69

C. Irrtumsmerkmal

70

I. Irrtum

71

II. Intensität der Fehlvorstellung

71

1. Ignorantia facti

71

2. Sachgedankliches Mitbewusstsein

72

3. Opfermitverantwortung

73

a) Zweifel

74

b) Leichtgläubigkeit

74

4. Einfluss des europarechtlichen Verbraucherleitbildes

75

III. Normativierung und Feststellung des Irrtumsmerkmals

77

1. Faktischer Ansatz der herrschenden Meinung

77

2. Normative Ansätze in der Literatur

78

a) Frisch

78

b) Kubiciel

79

c) Naucke

79

d) Pawlik

79

3. Zusammenfassende Stellungnahme

80

D. Konkurrenzen

81

I. Tateinheit bei Handlungseinheit

82

1. Tateinheit bei Handlung im natürlichen Sinn und bei natürlicher Handlungseinheit

82

a) Handlung im natürlichen Sinn vs. natürliche Handlungseinheit

82

b) Eine konkurrenzlose Gesetzesverletzung vs. gleichartige Tateinheit

84

c) Einheitstheorie vs. Mehrheitstheorie

87

2. Tateinheit wegen rechtlicher Handlungseinheit beim uneigentlichen Organisationsdelikt

88

II. Tatmehrheit bei Handlungsmehrheit

88

III. Überblicksschema

88

E. Strafzumessung

89

I. Absorptions- oder Asperationsprinzip

89

II. Regelbeispiele für einen besonders schweren Fall des Betrugs

90

1. Gewerbsmäßigkeit, § 263 III 2 Nr. 1 Var. 1 StGB

90

2. Schadenshöhe, § 263 III 2 Nr. 2 Var. 1 StGB

91

3. Anzahl der Geschädigten, § 263 III 2 Nr. 2 Var. 2 StGB

91

III. Unbenannter besonders schwerer Fall

92

IV. Strafzumessung, § 46 II StGB

93

2. Kapitel: Fallgruppen des Massenbetrugs

94

A. Abrechnungen im Gesundheitsbereich

94

I. Fall 1: BGH, Urt. v. 05.12.2002–3 StR 161/02

95

II. Fall 2: BGH, Urt. v. 22.08.2006–1 StR 547/05

95

III. Fall 3: BGH, Urt. v. 10.12.2014–5 StR 405/13

96

IV. Fall 4: BGH, Urt. v. 12.02.2015–2 StR 109/14

96

B. Geltendmachung von unbegründeten oder überhöhten Forderungen

97

I. Fall 5: BGH, Beschl. v. 09.06.2009 und Urt. v. 17.07.2009 – 5 StR 394/08

97

II. Fall 6: BGH, Beschl. v. 06.02.2013 – 1 StR 263/12

98

III. Fall 7: BGH, Urt. v. 22.05.2014 – 4 StR 430/13

98

IV. Fall 8: BGH, Beschl. v. 03.02.2015 – 3 StR 544/14

100

C. Abschluss von nachteiligen oder wirtschaftlich sinnlosen Verträgen

100

I. Fall 9: BGH, Beschl. v. 31.01.2012 – 3 StR 285/11

101

II. Fall 10: BGH, Beschl. v. 15.10.2013 – 3 StR 154/13

101

III. Fall 11: BGH, Beschl. v. 04.09.2014 – 1 StR 314/14

101

IV. Fall 12: BGH, Beschl. v. 01.10.2015 – 3 StR 102/15

102

D. Kostenfallen

102

I. Fall 13: BGH, Urt. v. 05.03.2014 – 2 StR 616/12

103

II. Fall 14: BGH, Urt. v. 27.03.2014 – 3 StR 342/13

103

E. Nicht funktionierende Geschäftsmodelle

104

I. Fall 15: BGH, Urt. v. 19.11.2015 – 4 StR 115/15

104

II. Fall 16: LG Düsseldorf, Urt. v. 31.07.2014 – 14 KLs – 130 Js 44/09–10/12

105

F. Weitere Fälle

105

I. Fall 17: BGH, Urt. v. 22.11.2013 – 3 StR 162/13

105

II. Fall 18: BGH, Beschl. v. 17.06.2014 – 2 StR 658/13

106

3. Kapitel: Strukturmerkmale des Massenbetrugs

107

A. Anzahl der Irrenden

107

B. Täuschung mithilfe von Telekommunikation

109

C. Geringer Individualvermögensschaden, großer Gesamtschaden

110

D. Konkurrenzen

110

E. Strafzumessung

111

F. Bandenbetrug und Organisierte Kriminalität

112

G. Zusammenfassung

113

Teil 3: Lösungsansätze

114

1. Kapitel: Die Beschränkung des Verfahrensstoffs

116

A. Rechtsprechungsübersicht

116

B. Absehen von der Strafverfolgung gemäß § 154 StPO bzw. Beschränkung der Strafverfolgung gemäß § 154a StPO

117

I. Eine oder mehrere prozessuale Taten

117

1. Mehrere prozessuale Taten, § 154 StPO

117

2. Eine prozessuale Tat, § 154a StPO

118

II. Keine Wesentlichkeit der einzustellenden Taten, §§ 154 I Nr. 1, 154a I 1 Nr. 1 StPO

118

1. Bezugspunkt: Rechtsfolgenminus bzgl. der gesamten Rechtsfolge

119

2. Anwendung bei Massenbetrugsfällen

120

III. Kein Urteil in angemessener Frist, §§ 154 I Nr. 2, 154a I 2 i.V.m. § 154 I Nr. 2 StPO

121

C. Bewertung und Ergebnis

122

2. Kapitel: Die Bestrafung wegen Versuchs statt Vollendung

124

A. Rechtsprechungsübersicht

124

I. Praxis der Instanzgerichte und Reaktionen des ersten, zweiten und dritten Senats

125

1. Fall 6: BGH, Beschl. v. 06.02.2013 – 1 StR 263/12

125

2. Fall 17: BGH, Urt. v. 22.11.2013 – 3 StR 162/13

125

3. Fall 13: BGH, Urt. v. 05.03.2014 – 2 StR 616/12

126

4. Fall 11: BGH, Beschl. v. 04.09.2014 – 1 StR 314/14

126

5. Fall 8: BGH, Beschl. v. 03.02.2015 – 3 StR 544/14

128

II. Vorgehen des ersten und vierten Strafsenats in der Revisionsinstanz

128

1. BGH, Beschl. v. 22.01.2013 – 1 StR 416/12

128

2. Fall 7: BGH, Urt. v. 22.05.2014 – 4 StR 430/13

129

III. Zusammenfassung

130

B. Materiell-rechtlich: Irrtum als subjektives Merkmal im Tatentschluss

131

I. Erleichterter Nachweis des Irrtums im Tatentschluss als subjektive Tätervorstellung

132

1. Feststellung des Tatentschlusses durch Geständnis des Angeklagten

132

2. Feststellung des Tatentschlusses durch Indizien

133

II. Strafzumessung

133

1. Ablehnung der fakultativen Strafmilderung, § 23 II StGB

133

2. Besonders gesteigertes Handlungsunrecht

134

3. Strafzumessung in der Revisionsinstanz

134

III. Zusammenfassung

135

C. Prozessual: Beschränkung der Strafverfolgung auf den Versuch

135

I. Bestrafung des Versuchsdelikts in dubio pro reo

135

1. Anwendung des Zweifelssatzes beim Stufenverhältnis

135

2. Überspannte Anforderungen an Beweiswürdigung

136

II. Teileinstellung bei mehreren Taten, § 154 I Nr. 1, II StPO

137

III. Beschränkung der Strafverfolgung auf die Versuchsstrafbarkeit nach § 154a StPO

137

IV. Beschränkung der Strafverfolgung auf die Versuchsstrafbarkeit nach § 154a StPO analog

138

D. Bewertung

139

I. Positive Aspekte

139

II. Kritik

140

1. Zur Versuchsstrafbarkeit infolge der Anwendung des Zweifelssatzes

140

a) Amtsaufklärungspflicht

140

b) Beweiswürdigungsgrundsatz

140

c) Zusammenfassung

142

2. Zur Beschränkung der Strafverfolgung auf die Versuchsstrafbarkeit nach § 154a StPO

142

a) Einstellungsgegenstand

143

aa) Abtrennbare Teile

143

bb) Einzelne von mehreren Gesetzesverletzungen

143

cc) Zwischenergebnis

144

b) Keine Wesentlichkeit der einzustellenden Taten, § 154a I 1 Nr. 1 StPO

144

c) Kein Urteil in angemessener Frist, § 154a I 2 i.V.m. § 154 I Nr. 2 StPO

144

d) Zusammenfassung

145

3. Zur Verfolgungsbeschränkung auf die Versuchsstrafbarkeit gemäß § 154a StPO analog

145

a) Analogieverbot

146

aa) Analogieverbot im Strafverfahrensrecht

146

bb) Analogie in bonam partem

146

cc) Analogie bei Ausnahmevorschriften

147

b) Stellungnahme

147

III. Zusammenfassung

148

E. Ergebnis

148

3. Kapitel: Das uneigentliche Organisationsdelikt

149

A. Materiell-rechtlich: Uneigentliches Organisationsdelikt

149

I. Rechtsprechungsübersicht

149

1. Fall 9: BGH, Beschl. v. 31.01.2012 – 3 StR 285/11

149

2. Fall 6: BGH, Beschl. v. 06.02.2013 – 1 StR 263/12

150

3. Fall 10: BGH, Beschl. v. 15.10.2013 – 3 StR 154/13

150

4. Fall 14: BGH, Urt. v. 27.03.2014 – 3 StR 342/13

150

5. Fall 7: BGH, Urt. v. 22.05.2014 – 4 StR 430/13

150

6. Fall 11: BGH, Beschl. v. 04.09.2014 – 1 StR 314/14

151

7. Fall 15: BGH, Urt. v. 19.11.2015 – 4 StR 115/15

151

8. Fall 16: LG Düsseldorf, Urt. v. 31.07.2014 – 14 KLs – 130 Js 44/09–10/12

151

II. Uneigentliches Organisationsdelikt

152

1. Geschäftsbetrieb

153

2. Tatbeiträge

155

a) Aufbau, Aufrechterhaltung und Ablauf

155

b) Keine eigenhändige Deliktsbegehung und keine individuellen, nur eine Tat fördernde Tatbeiträge

156

c) Zusammenhang mit der mittelbaren Täterschaft kraft Organisationsherrschaft

157

3. Erfordernis einer Beteiligungskonstellation

158

a) Allgemeine Konkurrenzlehre bei mehreren Beteiligten

158

b) Grundsätzliche Erforderlichkeit des Nachweises der Haupttat für Bestrafung des mittelbaren Täters/Mittäters/Teilnehmers

159

c) Rechtsprechung zum uneigentlichen Organisationsdelikt

159

aa) Unbekannt gebliebene unmittelbare Täter oder Tatmittler

160

bb) Wechselseitige Anwendung bei allen Beteiligten

160

cc) Keine Beteiligungskonstellation beim unmittelbaren Täter

160

dd) Zwischenergebnis

162

d) Rechtsprechung zum uneigentlichen Organisationsdelikt beim Massenbetrug

162

aa) Tateinheit bei allen Beteiligten

162

(1) Fall 6: BGH, Beschl. v. 06.02.2013 – 1 StR 263/12

162

(2) Fall 14: BGH, Urt. v. 27.03.2014 – 3 StR 342/13

163

(3) Fall 7: BGH, Urt. v. 22.05.2014 – 4 StR 430/13

163

(4) Fall 11: BGH, Beschl. v. 04.09.2014 – 1 StR 314/14

164

(5) Fall 16: LG Düsseldorf, Urt. v. 31.07.2014 – 14 KLs – 130 Js 44/09–10/12 –, juris

164

bb) Tateinheit beim Alleintäter

165

(1) Fall 9: BGH, Beschl. v. 31.01.2012 – 3 StR 285/11

165

(2) Fall 10: BGH, Beschl. v. 15.10.2013 – 3 StR 154/13

165

cc) Ergebnis

166

4. Materiell-rechtliche Rechtsfolgen des uneigentlichen Organisationsdelikts

167

a) Konkurrenzen

167

aa) Tatbestandliche vs. rechtliche Handlungseinheit (sui generis)

167

bb) Tateinheit

168

b) Strafzumessung

169

B. Prozessual: Beweiserleichterungen über die Konkurrenzen

170

I. Bestimmung der Konkurrenzen anhand der Feststellbarkeit der Einzelakte

170

II. Keine konkrete Feststellung der Einzeldelikte

171

III. Auswirkungen auf den Irrtumsnachweis

173

C. Bewertung

173

I. Positive Aspekte

174

II. Kritik

174

1. Schuldprinzip und Unschuldsvermutung

174

a) Folgen des Verzichts auf eine Beteiligungskonstellation

175

aa) Beim unmittelbaren Täter

176

(1) Verschiebung der Tathandlung

176

(2) Drohende faktische Ersetzung einer etwaigen mittelbaren Täterschaft

177

bb) Bei Mittätern

179

cc) Bei Teilnehmern

180

b) Bestimmung der Konkurrenzen anhand der konkret feststellbaren Einzeldelikte

180

c) Konsequenz: Bestrafung nicht nachweisbarer Delikte

181

d) Zusammenfassung

182

2. Ablehnung des uneigentlichen Organisationsdelikts wegen Ähnlichkeit zur abgeschafften Rechtsfigur der fortgesetzten Tat

182

a) Früher vertretene konkurrenzrechtliche Rechtsfiguren

184

b) Abgeschaffte Rechtsfigur der fortgesetzten Handlung

186

aa) Frühere Rechtsprechung zur fortgesetzten Tat

186

bb) Aufgabe der Rechtsprechung durch BGHSt 40, 138

187

cc) Reaktionen in der Wissenschaft und Vorschläge zur Substitution

189

(1) Fortgesetzte Handlung

190

(2) Natürliche Handlungseinheit

190

(3) Juristische Handlungseinheit

190

(4) Institutionalisiertes System

191

(5) Fortgesetzte Handlungseinheit

192

(6) Finale Handlungseinheit

192

(7) Tatmehrheit

192

c) Zusammenhänge der beiden Rechtsfiguren

193

aa) Ausgangsproblem

193

bb) Anwendungsbereich

195

(1) Gleichartigkeit des verletzten Rechtsguts

195

(2) Unterschiedliche Rechtsgutsträger

195

(3) Tathandlung: Vollständige Tatbestandsverwirklichung vs. Zurechnung

195

(4) Gleichartigkeit der Begehungsweise

196

(5) Räumlich-zeitlicher Zusammenhang

196

(6) Vorsatz

196

cc) Rechtsfolgen

197

dd) Ergebnis

198

d) Gründe der Abschaffung auch beim uneigentlichen Organisationsdelikt

198

e) Rechtfertigung aus Gründen der Praktikabilität und Prozessökonomie

199

f) Fazit

201

III. Zusammenfassung

202

D. Ergebnis

202

4. Kapitel: Das normativ geprägte Vorstellungsbild

204

A. Rechtsprechungsübersicht

204

I. Fall 1: BGH, Urt. v. 05.12.2002 – 3 StR 161/02

204

II. Fall 2: BGH, Urt. v. 22.08.2006 – 1 StR 547/05

205

III. Fall 5: BGH, Urt. v. 17.07.2009 und Beschl. v. 09.06.2009 – 5 StR 394/08

206

IV. Fall 6: BGH, Beschl. v. 06.02.2013 – 1 StR 263/12

206

V. Fall 17: BGH, Urt. v. 22.11.2013 – 3 StR 162/13

207

VI. Fall 14: BGH, Urt. v. 27.03.2014 – 3 StR 342/13

208

VII. Fall 7: BGH, Urt. v. 22.05.2014 – 4 StR 430/13

209

VIII. Fall 18: BGH, Beschl. v. 17.06.2014 – 2 StR 658/13

209

IX. Fall 11: BGH, Beschl. v. 04.09.2014 – 1 StR 314/14

210

X. Fall 4: BGH, Urt. v. 12.02.2015 – 2 StR 109/14

211

XI. Fall 12: BGH, Beschl. v. 01.10.2015 – 3 StR 102/15

211

XII. Fall 15: BGH, Urt. v. 19.11.2015 – 4 StR 115/15

212

XIII. Fall 16: LG Düsseldorf, Urt. v. 31.07.2014 – 14 KLs – 130 Js 44/09–10/12

212

B. Materiell-rechtlich: Normativierung der Tatbestandsmerkmale

213

I. Normativierung des Täuschungsmerkmals

213

1. Rechtsprechungsübersicht

213

a) Fall 5: BGH, Beschl. v. 09.06.2009 – 5 StR 394/08

213

b) Fall 14: BGH, Urt. v. 27.03.2014 – 3 StR 342/13

214

c) Fall 7: BGH, Urt. v. 22.05.2014 – 4 StR 430/13

216

d) Fall 3: BGH, Urt. v. 10.12.2014 – 5 StR 405/13

217

e) Fall 4: BGH, Urt. v. 12.02.2015 – 2 StR 109/14

217

2. Der objektive Empfängerhorizont

218

II. Normativierung des Irrtumsmerkmals

218

1. Rechtsprechungsentwicklung

218

a) Standardisierte, auf massenhafte Erledigung ausgerichtete Abrechnungsverfahren

218

b) Normativ geprägtes Vorstellungsbild

219

c) Verzicht auf Benennung des normativ geprägten Vorstellungsbilds

220

d) Normativ geprägtes Vorstellungsbild ohne Massenbetrug

220

2. Begriff und Voraussetzungen

221

a) Einfachheit des Vorgangs

221

b) Massenhaftigkeit des Vorgangs

222

c) Keine individuelle Motivation zur Leistung

223

d) Prägende Umstände

224

3. Zusammenhang mit dem sachgedanklichen Mitbewusstsein

225

4. Irrtumsausschluss wegen Nachlässigkeit des Getäuschten

226

5. Normativierung des Irrtumsmerkmals durch die Einbeziehung des normativ geprägten Vorstellungsbilds

227

6. Zwischenergebnis

228

C. Prozessual: Beweiserleichterungen durch Indizienschluss

228

I. Indizienschluss vom Irrtum des einen auf den Irrtum des anderen

230

II. Schätzung einer Irrtumsquote

231

1. Fall 6: BGH, Beschl. v. 06.02.2013 – 1 StR 263/12

232

2. Fall 14: BGH, Urt. v. 27.03.2014 – 3 StR 342/13

232

III. Indizienschluss vom Geständnis des Angeklagten auf den Irrtum der Verfügenden

233

1. Ansicht des zweiten, dritten und vierten Senats

234

2. Ansicht des ersten und mittlerweile dritten Senats

235

a) Besonderheiten der Verweisungskette

237

aa) Dreiecksbetrug

238

bb) Arbeitsteilig tätige Unternehmen

238

cc) Massenhaftigkeit auf Seite der Verfügenden

240

b) Abweichende Sachverhaltskonstellation bei BGH, Beschl. v. 04.09.2014 – 1 StR 314/14

241

c) Relevanz der Unterschiede

241

IV. Indizienschluss von äußeren Umständen auf den Irrtum der Verfügenden

241

V. Indizienschluss auf die Kausalität zwischen Irrtum und Vermögensverfügung

243

VI. Zusammenfassung

243

1. Divergierende Rechtsprechung

244

2. Vorlagepflicht

245

D. Bewertung

246

I. Positive Aspekte

247

II. Kritik

248

1. Analogieverbot

248

a) Erkennbarkeit der Norm

248

b) Überschreitung der Wortlautgrenze

250

aa) Keine Wortlautüberschreitung beim Täuschungsmerkmal

251

bb) Wortlautüberschreitung beim Irrtumsmerkmal wegen der Irrelevanz der tatsächlichen individuellen Vorstellung

252

(1) Verständnis des zweiten, dritten, vierten und fünften Senats

254

(2) Verständnis des ersten und mittlerweile zweiten und dritten Senats

255

c) Verstoß gegen das Verschleifungsverbot durch Vermengung und Rückbezug der Tatbestandsmerkmale

256

aa) Verschleifungs- oder Entgrenzungsverbot des Bundesverfassungsgerichts

256

bb) Vermengung der Tatbestandsmerkmale Täuschung und Irrtum

257

cc) Verstoß gegen das Verschleifungsverbot

258

2. Amtsaufklärungsgrundsatz

259

a) Zeuge als vorzugswürdiges, weil sachnächstes Beweismittel

260

b) Vergleich mit anderen Möglichkeiten des Umgangs mit Beweisschwierigkeiten

262

aa) Rechtsprechung zur Feststellung eines Mindestgesamtschadens

262

(1) Schätzung der Höhe des Vermögensschadens

262

(2) Ähnlichkeit zum Irrtumsnachweis beim Massenbetrug

263

(3) Unterschiede zum Irrtumsnachweis beim Massenbetrug

263

bb) Rechtsprechung zur Feststellung einer Mindestanzahl von Einzeltaten

265

(1) Feststellung einer Mindestanzahl der Einzeltaten im Sexualstrafrecht

265

(2) Feststellung einer Mindestanzahl der Einzeltaten im Wirtschaftsstrafrecht

266

(3) Kritik in der Literatur

267

(4) Ähnlichkeiten zum Irrtumsnachweis beim Massenbetrug

270

(5) Unterschiede zum Irrtumsnachweis beim Massenbetrug

270

cc) Zusammenhang mit der abgeschafften Rechtsfigur des Fortsetzungszusammenhangs

271

dd) Zusammenfassung

271

c) Entbehrlichkeit der weiteren Beweisaufnahme zum selben Beweisthema

272

aa) Meinungsstand zur Beweisantizipation im Rahmen der Amtsaufklärungspflicht

272

bb) Auswirkung auf den Irrtumsnachweis beim Massenbetrug

274

d) Unzureichende Aufklärung

275

aa) Hinsichtlich des Indizienschlusses aufgrund Zeugenvernehmungen pars pro toto

276

bb) Hinsichtlich der Schätzung einer Irrtumsquote

276

cc) Hinsichtlich des Indizienschlusses ohne Zeugenvernehmungen

277

dd) Denkbare Ausnahme: Massenhafter und standardisierter Charakter des Verfügungsgeschäfts

278

(1) Gleichheit der Täuschungshandlungen

278

(2) Massenhafter und standardisierter Charakter des Verfügungsgeschäfts

278

(a) Massenhaftigkeit des Verfügungsgeschäfts

279

(b) Standardisierung des Verfügungsgeschäfts

279

(3) Anwendung der Kriterien

279

(4) Ausreichende Aufklärung

280

ee) Vereinbarkeit mit dem Bundesverfassungsgericht

280

3. Beweiswürdigungsgrundsatz

282

a) Keine tragfähige Beweisgrundlage

282

aa) Beweiswürdigung von Indizien

282

bb) Indizienschluss beim Irrtumsnachweis

283

b) Ungenaue, pauschale Feststellungen

284

aa) Fall 5: BGH, Beschl. v. 09.06.2009 – 5 StR 394/08

284

bb) Fall 14: BGH, Urt. v. 27.03.2014 – 3 StR 342/13

285

cc) Massenhaftigkeit auf wessen Seite

286

c) Anscheinsbeweis und Beweislastumkehr

287

aa) Anscheinsbeweis beim Irrtumsnachweis

287

(1) Schluss von der erfolgten Vermögensverfügung auf den Irrtum

287

(2) Schluss von der Täuschung auf den Irrtum

288

bb) Beweislastumkehr

288

d) Zweifelsgrundsatz

290

4. Unmittelbarkeitsgrundsatz

291

E. Ergebnis

291

5. Kapitel: Die Verlesung von Fragebögen

293

A. Rechtsprechungsübersicht

293

B. Einsatz von Fragebögen

294

I. Einführung der im Ermittlungsverfahren ausgefüllten Fragebögen in die Hauptverhandlung

294

1. Erstellung im Ermittlungsverfahren

294

a) Schriftlichkeit

294

b) Freier Sachbericht

294

c) Erscheinenspflicht

295

2. Einführung in die Hauptverhandlung

295

a) Verlesung

296

aa) Verlesung als Ausnahme vom Unmittelbarkeitsgrundsatz

296

(1) Existenz oder Höhe eines Vermögensschadens, § 251 I Nr. 3 StPO

297

(2) Unerreichbarkeit, § 251 I Nr. 2 StPO

297

(3) Zustimmung der Verfahrensbeteiligten, § 251 I Nr. 1 StPO

298

bb) Einführung im Selbstleseverfahren

298

b) Vernehmung eines Ermittlungsbeamten

299

aa) Vernehmung eines Ermittlungsbeamten über die statistische Auswertung der Fragebogenaktion

299

bb) Vernehmung eines Ermittlungsbeamten über den Inhalt der beantworteten Fragebögen

299

II. Erstmaliger Einsatz von Fragebögen im Hauptverfahren

300

C. Bewertung

300

I. Vorteile der Vorgehensweise

301

II. Nachteile der Vorgehensweise

301

1. Zustimmungserfordernis

301

2. Freier Bericht

301

3. Durchsetzbarkeit

302

III. Vereinbarkeit mit den Verfahrensprinzipien

302

1. Unmittelbarkeitsgrundsatz

303

2. Amtsaufklärungsgrundsatz

304

3. Beweiswürdigungsgrundsatz

304

4. Konfrontationsrecht

305

D. Ergebnis

306

6. Kapitel: Die Vorschläge de lege ferenda

307

A. Einführung eines neuen Straftatbestands in Form eines Eignungsdelikts (Trüg)

307

B. Erstreckung der Beschränkung der Strafverfolgung auf den Versuch in § 154a StPO (Krell)

308

7. Kapitel: Die Restriktionen im Beweisantragsrecht

310

A. Rechtsprechungsübersicht

311

I. Fall 5: BGH, Urt. v. 17.07.2009 – 5 StR 394/08

311

II. Fall 6: BGH, Beschl. v. 06.02.2013 – 1 StR 263/12

311

III. Fall 10: BGH, Beschl. v. 15.10.2013 – 3 StR 154/13

311

IV. Fall 11: BGH, Beschl. v. 04.09.2014 – 1 StR 314/14

312

V. Fall 8: BGH, Beschl. v. 03.02.2015 – 3 StR 544/14

313

B. Gründe für die Ablehnung des Beweisantrages

313

I. Ablehnung als bloßer Beweisermittlungsantrag

313

II. Ablehnung wegen Bedeutungslosigkeit

314

III. Ablehnung wegen Erwiesenheit

316

IV. Ablehnung wegen Unerreichbarkeit

316

V. Ablehnung wegen Verschleppungsabsicht

318

VI. Ablehnung wegen Wahrunterstellung

319

C. Bewertung

319

8. Kapitel: Der eigene Vorschlag: Die Kombinationslösung

321

A. Anwendungsvoraussetzungen

322

I. Anforderungen an die Beschaffenheit der Täuschung

322

II. Anforderungen an die Beschaffenheit des Irrtums

322

III. Ausreichende Verbundenheit der Einzeldelikte durch einheitliches Strafverfahren

323

IV. Ermittlungstechnische Ausnahmesituation beim Massenverfahren

323

B. Erster Baustein: Fragebögen

324

I. Inhaltliche Anforderungen an den Fragebogen

324

1. Vielzahl von Antwortmöglichkeiten

325

2. Keine Suggestion

325

3. Kein freier Bericht

325

II. Praktische Umsetzung

326

1. Online-Fragebögen

326

2. Kein Zwang zur Ausfüllung

327

3. Auswertung

327

III. Einführung in die Hauptverhandlung

328

1. De lege lata

328

a) Verlesung

328

b) Vernehmung des Sachbearbeiters

329

2. De lege ferenda

329

a) Das Krügersche Modell

330

b) AE Beweisaufnahme

331

aa) Aufgabe des materiellen Unmittelbarkeitsgrundsatzes

332

bb) Ersetzung einer Vernehmung, § 250 AE

333

cc) Rangfolge der Beweismittel, § 251 AE

333

dd) Verlesung von Schriftstücken, § 249 AE

334

ee) Bedeutung hinsichtlich der Einführung der beantworteten Fragebögen

335

c) Kleine Lösung durch § 251 I Nr. 4 StPO-E

336

IV. Mitwirkung des Beschuldigten oder seines Verteidigers

336

1. Zwecks Gewährleistung des Konfrontationsrechts

337

2. Möglichkeiten der Ausgestaltung

338

a) De lege lata

338

b) AE-Beweisaufnahme

339

aa) Staatsanwaltschaftliche und polizeiliche Beschuldigtenvernehmung, § 163a Ia AE

339

bb) Verletzung des Konfrontationsrechts, § 253 AE

341

c) Kleine Lösung durch § 69 III 2 StPO-E

343

V. Zusammenfassung

343

C. Zweiter Baustein: Zeugenvernehmungen pars pro toto in der Hauptverhandlung

344

I. Erforderliche Stichprobengröße

345

II. Repräsentative Auswahl

345

III. Vertikale Kongruenz der Aussagen

346

D. Umgang mit den Ergebnissen

346

I. Übereinstimmende Aussagen als Ziel

346

II. Vorgehen bei Nichterreichen der erforderlichen Übereinstimmung

347

III. Vorgehen bei Erreichen der erforderlichen Übereinstimmung

347

E. Beweisantragsrecht

347

F. Vereinbarkeit mit den Verfahrensprinzipien

349

I. Analogieverbot

349

II. Amtsaufklärungsgrundsatz

349

III. Beweiswürdigungsgrundsatz

350

1. Quantität durch Fragebögen

350

2. Qualität durch Zeugenvernehmungen

351

IV. Unmittelbarkeitsgrundsatz

351

V. Konfrontationsrecht

352

VI. Effektive Strafverfolgung, Beschleunigungsgrundsatz, Verfahrensökonomie

352

G. Praxistauglichkeit

353

H. Zusammenfassung

354

Fazit

355

Literaturverzeichnis

360

Sachwortregister

372