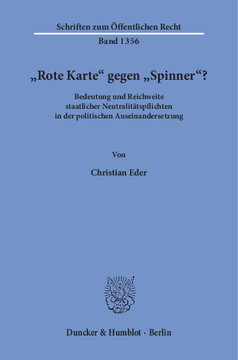 BOOK
Cite BOOK
Style
---
Eder, C. (2017). »Rote Karte« gegen »Spinner«?. Bedeutung und Reichweite staatlicher Neutralitätspflichten in der politischen Auseinandersetzung. Duncker & Humblot. https://doi.org/10.3790/978-3-428-55281-8
Eder, Christian. »Rote Karte« gegen »Spinner«?: Bedeutung und Reichweite staatlicher Neutralitätspflichten in der politischen Auseinandersetzung. Duncker & Humblot, 2017. Book. https://doi.org/10.3790/978-3-428-55281-8
Eder, C (2017): »Rote Karte« gegen »Spinner«?: Bedeutung und Reichweite staatlicher Neutralitätspflichten in der politischen Auseinandersetzung, Duncker & Humblot, [online] https://doi.org/10.3790/978-3-428-55281-8
---
Format
---
»Rote Karte« gegen »Spinner«?
Bedeutung und Reichweite staatlicher Neutralitätspflichten in der politischen Auseinandersetzung
Schriften zum Öffentlichen Recht, Vol. 1356
(2017)
Additional Information
Book Details
Publisher Name

Duncker & Humblot

ISBN

978-3-428-55281-8
978-3-428-15281-0 (print edition)

DOI

https://doi.org/10.3790/978-3-428-55281-8

Edition

1

Language

German

Pages

216

Collections

Subjects
Pricing
Institution

€ 100.00 (incl. local VAT if applicable)

Individual

€ 74.90 (incl. local VAT if applicable)
About The Author
Christian Eder studierte als Stipendiat der Hanns-Seidel-Stiftung Rechtswissenschaften an der Ludwig-Maximilians-Universität München (LMU) und absolvierte währenddessen u.a. ein Praktikum beim Europäischen Parlament in Brüssel. Anschließend arbeitete er an seiner Dissertation, die von Prof. Dr. Jens Kersten betreut wurde, und war im Examinatorium der Juristischen Fakultät der LMU sowie in einer internationalen Wirtschaftskanzlei als wissenschaftlicher Mitarbeiter beschäftigt. Er ist Wirtschaftsmediator und absolviert derzeit sein Referendariat am Oberlandesgericht München, in dessen Rahmen er auch im Dezernat von Prof. Dr. Peter M. Huber am Bundesverfassungsgericht tätig sein wird.
Abstract
Die Arbeit beleuchtet die Neutralitätspflichten, die den Bundespräsidenten und die Mitglieder der Bundesregierung in der Auseinandersetzung mit politischen Parteien treffen. Ausgehend von den aktuellen Entscheidungen des Bundesverfassungsgerichts hinsichtlich der Äußerungsbefugnisse von Staatsorganen im politischen Diskurs entwickelt der Autor drei Anknüpfungspunkte für eine Neutralitätspflicht: Erstens die parteipolitische Neutralität als allgemeines Rechts- und Verfassungsprinzip, zweitens die Freiheit der Wahl und drittens die verfassungsmäßigen Rechte politischer Parteien. Auf dieser Grundlage kommt er zu dem Ergebnis, dass das Grundgesetz – entgegen der Auffassung des Bundesverfassungsgerichts – die untersuchten Staatsorgane gleichermaßen an die Neutralitätspflicht gebunden sieht. Schließlich zeigt der Autor die unter den dargestellten rechtlichen Rahmenbedingungen verbleibenden Handlungsmöglichkeiten der Staatsorgane auf und schlägt so die Brücke zur Verfassungspraxis.»›Red Card‹ against ›Weirdos‹?«The thesis examines the duties of political neutrality the German Constitution imposes on the Federal President and the Government. Based on recent rulings by the Federal Constitutional Court, the dissertation identifies several constitutional foundations for the state's duty of neutrality and concludes that both, the President and the Government, are obliged to exercise restraint against political parties. Finally, the thesis points out the in so far remaining scopes of actions for the state authorities.
Table of Contents
Section Title
Page
Action
Price

Vorwort

7

Inhaltsverzeichnis

9

Abkürzungsverzeichnis

15

A. Einleitung

17

B. Staatliche Neutralitätspflichten als aktuelle verfassungsrechtliche Problematik

20

I. "Spinner"-Entscheidung

20

II. Exkurs: Weitere Äußerungen Joachim Gaucks

22

III. "Schwesig"-Entscheidung

23

IV. "Wanka"-Entscheidung

24

V. Landesverfassungsgerichtliche Entscheidungen

25

1. "Dreyer"-Entscheidung

25

2. "Commerçon"-Entscheidung

26

3. "Taubert"-Entscheidung

27

4. "Ramelow"-Entscheidung

28

5. "Lauinger"-Entscheidung

30

C. Das Prinzip staatlicher Neutralität im Kontext parteipolitischer Auseinandersetzungen

32

I. Parteipolitische Neutralität als Rechts- und Verfassungsprinzip

32

1. Der Begriff der Neutralität

32

2. Ausprägungen des Neutralitätsgebots im geltenden Recht

33

3. Parteipolitische Neutralität im verfassungsrechtlichen Kontext

34

a) Grundwerte des Staates

35

b) Konkrete politische Gestaltung

37

4. Neutralität als Rechtspflicht

38

II. Die Freiheit der Wahl

39

1. Wahlen als Legitimationsbasis

39

2. Inhalt des Prinzips freier Wahlen

40

III. Verfassungsmäßige Rechte politischer Parteien

42

1. Funktionale Stellung der Parteien im Grundgesetz

43

a) Historischer Hintergrund

43

b) Die Rolle politischer Parteien in der Bundesrepublik

44

(1) Parteien als zentraler Bestandteil der Verfassungsordnung

44

(2) Parteien als Mittler zwischen Volk und Staat

45

(a) Unterscheidbarkeit staatlicher und gesellschaftlicher Willensbildung

45

(b) Parteien als staatsnaher Teil der Gesellschaft

46

(c) Parteien als Bindeglieder

47

(3) Parteien als Förderer der aktiven Teilnahme am Willensbildungsprozess

47

(4) Parteien als Integrationsfaktoren

48

(5) Anforderungen an die innere Struktur

48

2. Sedes materiae der Parteirechte

48

a) Rechtsnatur des Art. 21 GG

49

(1) Art. 21 GG als Grundrecht

49

(2) Art. 21 GG als Bestandsgarantie mit subjektiver Komponente

50

b) Grundrechte politischer Parteien

51

3. Gewährleistungen des Art. 21 GG

51

a) Gründungsfreiheit

52

b) Betätigungsfreiheit

52

(1) Programmfreiheit

53

(2) Wettbewerbsfreiheit

54

c) Gleichheit

54

(1) Verfassungsrechtliche Verortung

55

(2) Inhaltliche Ausgestaltung

56

d) Ausstrahlung auf die Grundrechte der Parteien

57

(1) Generelle Bedeutung für den Grundrechtsschutz

58

(2) Keine Differenzierung zu Wahlkampfzeiten

59

(3) Potential der Beeinflussung des Volkes als Gradmesser für die Intensität der Ausstrahlungswirkung

61

IV. Die Begründung der parteipolitischen Neutralität von Staatsorganen

62

D. Adressaten der Neutralitätspflicht

63

I. Der Bundespräsident als Adressat der Neutralitätspflicht

64

1. Aufgaben und Funktionen des Bundespräsidenten

64

a) Stellung des Bundespräsidenten im Verfassungsgefüge

64

b) Die Wahl des Bundespräsidenten

67

(1) Die Bundesversammlung als den Parteieinfluss verringerndes Organ

68

(a) Faktischer Einfluss der Parteien

68

(b) Reduktion des Parteieinflusses

69

(2) Exkurs: Der Vorschlag einer Direktwahl des Bundespräsidenten

69

c) Verfassungsmäßige Aufgaben des Bundespräsidenten

70

(1) Historischer Hintergrund

71

(2) Geschriebene Kompetenzen

72

(a) Aufgaben mit Entscheidungsbefugnissen

72

(aa) Befugnisse in der dritten Phase der Wahl des Bundeskanzlers

73

(bb) Befugnisse bei gescheiterter Vertrauensfrage

74

(cc) Geschäftsführende Bundesregierung

75

(dd) Gänzlich ungebundene Entscheidungskompetenzen

76

(b) Reserveaufgaben

76

(c) Kontrollaufgaben und Legalitätsreserve

77

(aa) Vorschlag zur Wahl des Bundeskanzlers

78

(bb) Ernennung der Bundesminister

79

(cc) Genehmigung der Geschäftsordnung der Bundesregierung

79

(dd) Abschluss völkerrechtlicher Verträge

80

(ee) Ausfertigung und Verkündung von Bundesgesetzen

80

(ff) Ernennungen nach Art. 60 Abs. 1 GG

82

(d) Beurkundungsaufgaben

83

(e) Gegenzeichnungspflicht

83

(3) Ungeschriebene Aufgaben

85

(a) Repräsentation

85

(b) Integration

86

(aa) Pluralismus als desintegrierender Faktor

87

(bb) Politische Dimensionen des Präsidentenamtes

87

(cc) Der Bundespräsident als unabhängiges Integrationsorgan

88

(c) Klassische Prärogativrechte

90

(4) Rolle des Bundespräsidenten nach dem Grundgesetz

91

d) Bedeutung der Verfassungstradition

91

e) Theorien zur Beschreibung der Funktionen des Bundespräsidenten

92

(1) Der Bundespräsident als "Staatsnotar"

93

(2) Der Bundespräsident als "pouvoir neutre"

93

(3) Der Bundespräsident als "Hüter der Verfassung"

96

(4) Der Bundespräsident als "Kustos"

98

2. Maßstab der Neutralitätspflicht des Bundespräsidenten

100

a) Konsequenzen aus der funktionalen Stellung

100

(1) Verfassungsmäßige Aufgaben und Funktionen

100

(2) Wahlverfahren

104

(3) Voraussetzungen der Präsidentenanklage nach Art. 61 GG

104

(4) Moralisches Vertrauen in den Bundespräsidenten

105

b) Keine Absenkung des Maßstabs

107

(1) Fehlender Wettbewerb mit politischen Parteien

107

(2) Geringe Mittelausstattung

108

(3) Prägung des Amtes durch die Person

108

c) Inkohärenzen in der Rechtsprechung des Bundesverfassungsgerichts

109

(1) Inkohärenzen in der "Spinner"-Entscheidung

110

(2) Widersprüche zu anderen Entscheidungen

111

(a) Die Entscheidung zur Bundesversammlung

112

(b) Die "Schwesig"-Entscheidung

113

3. Der Bundespräsident als parteipolitisch neutraler "Kustos"

115

II. Die Bundesregierung als Adressatin der Neutralitätspflicht

116

1. Funktionale Stellung der Bundesregierung

117

a) Verfassungsmäßige Aufgaben der Bundesregierung

117

(1) Geschriebene Kompetenzen

117

(a) Zuständigkeiten des Bundeskanzlers

118

(aa) Intraorgankompetenzen

118

(bb) Interorgankompetenzen

120

(b) Beispielhafte Zuständigkeiten einzelner Bundesminister

121

(c) Zuständigkeiten des gesamten Kabinetts

121

(aa) Rechtsetzung und Gesetzesvollzug

121

(bb) Auswärtige Gewalt

122

(cc) Krisenbewältigung

123

(dd) Beteiligung und Information

124

(2) Ungeschriebene Aufgabenzuweisungen

124

(a) Initiativaufgaben

124

(b) Planungsaufgaben

125

(c) Informationstätigkeit

125

b) Stellung der Bundesregierung im Verfassungsgefüge

126

(1) Politisches Leitorgan

127

(2) Verwaltungsorgan

129

c) Die Bundesregierung zwischen Parteipolitik und Staatshandeln

130

2. Maßstab der Neutralitätspflicht der Bundesregierung

130

a) Konsequenzen aus der funktionalen Stellung

130

(1) Parteipolitische Verpflichtungen der Bundesregierung

131

(2) Pflichten der parteipolitischen Zurückhaltung

132

b) Die Bundesregierung als Ergebnis parteipolitischer Auseinandersetzungen

132

c) Wettbewerb mit den Parteien

134

d) Umfängliche Mittelausstattung

134

e) Geringe persönliche Amtsausfüllungsmöglichkeiten

135

f) Fachliches Vertrauen in die Bundesregierung

135

3. Die Bundesregierung als parteipolitisch neutrales Staatsorgan

136

III. Strikte parteipolitische Neutralität als Pflicht für den Bundespräsidenten und die Bundesregierung

138

E. Wirkungsmöglichkeiten

139

I. Nicht rechtfertigbare Äußerungen

139

II. Einzelne Wirkungsmöglichkeiten

140

1. Das Handeln als Privatperson

140

a) Existenz einer höchstpersönlichen und einer parteipolitischen Sphäre

141

(1) Kernbereich privater Lebensgestaltung

141

(2) Parteipolitische Sphäre

143

b) Sonderstellung des Bundespräsidenten

143

c) Bestimmung der aktiven Sphäre

144

(1) Fälle klarer Zuordnung mittels Typisierungen

144

(2) Zweifelsfälle

145

(a) Grundsatz des parteipolitischen Handelns

145

(b) Grundsatz des staatlichen Handelns

146

d) Bedeutung des Kontextes einer politischen Äußerung

147

e) Verbleibende Pflichten des "parteipolitischen Organs"

148

2. Zulässige Öffentlichkeitsarbeit

150

a) Öffentlichkeitsarbeit und Informationstätigkeit

150

b) Sonderstellung des Bundespräsidenten

150

c) Bedeutung und Gebotenheit staatlicher Öffentlichkeitsarbeit

151

d) Voraussetzungen zulässiger Öffentlichkeitsarbeit

152

(1) Vorliegen einer staatlichen Aufgabe und Zuständigkeit

152

(a) Keine Notwendigkeit zur Einzelfallermächtigung

152

(b) Aufgabeneröffnung

154

(c) Einhaltung der Zuständigkeitsgrenzen

155

(aa) Verbandskompetenz

156

(bb) Organkompetenz

156

(2) Sachlichkeit

157

(3) Verhältnismäßigkeit

158

(4) Grenzen zulässiger Öffentlichkeitsarbeit im Hinblick auf Wahlen

160

e) Abgrenzung von parteipolitischer Einflussnahme und zulässiger Öffentlichkeitsarbeit

161

3. Vertretung des gesellschaftlichen Konsenses oder Teilnahme des Staatsorgans am politischen Diskurs

162

4. "Wehrhafte Demokratie" und Staatsschutz

163

a) Reichweite und Inhalt der "wehrhaften Demokratie"

163

(1) Schutzauftrag des Grundgesetzes

163

(2) Inhaltliche Ausgestaltung

165

(a) Schutz der freiheitlichen demokratischen Grundordnung

165

(b) Bestandsschutz der Bundesrepublik Deutschland

166

b) "Wehrhafte Demokratie" und parteipolitische Äußerungen

167

(1) Anwendungsbereich

167

(2) Bedeutung und Reichweite des "Parteienprivilegs"

168

(a) Objektiver Maßstab

168

(b) Begriff des "Parteienprivilegs"

171

(c) Erstreckung des "Parteienprivilegs" auf parteipolitische Äußerungen

172

(aa) Keine bloße Willkürkontrolle

174

(bb) Rechtfertigungsbedürftigkeit mittelbar-faktischer Grundrechtsbeeinträchtigungen

175

(cc) Bedeutung politischer Parteien

175

(dd) Parteiverbot als Präventivmaßnahme

177

(ee) Gebotenheit eines weiten Verständnisses des "Parteienprivilegs"

177

(d) Pflicht zur Stellung eines Verbotsantrags

178

5. Antinationalsozialistisches Sonderrecht

179

a) Eigenes Auftreten der Partei

179

b) Öffentliche Ordnung

180

c) Das Grundgesetz als Gegenentwurf zur nationalsozialistischen Schreckensherrschaft

181

F. Zusammenfassung

185

I. Begründung der Neutralitätspflicht

185

II. Der Bundespräsident als Adressat der Neutralitätspflicht

188

III. Die Bundesregierung als Adressatin der Neutralitätspflicht

190

IV. Handlungsmöglichkeiten

192

V. Ausblick

196

Literaturverzeichnis

197

Sachwortverzeichnis

214