Social & political philosophy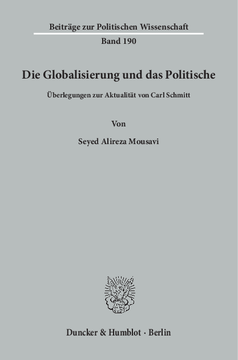 Additional Information
Book Details
ISBN

978-3-428-55285-6
978-3-428-15285-8 (print edition)

DOI

https://doi.org/10.3790/978-3-428-55285-6

Edition

1

Language

German

Pages

285

Collections

Subjects
Pricing
Institution

€ 104.00 (incl. local VAT if applicable)

Individual

€ 79.90 (incl. local VAT if applicable)
About The Author
Seyed Alireza Mousavi, geboren im Iran, studierte Politikwissenschaft in seiner Heimat, wo er sein Bachelor- und Masterstudium abschloss. Er promovierte an der Friedrich-Schiller-Universität Jena. Mousavi hat bei der ersten Ausgabe des Journals Carl-Schmitt-Studien mitgewirkt, in der sein Aufsatz mit dem Titel »Staatsbewusstsein und schiitischer Islam: Die Analyse Ayatollah Ruhollah Chomeinis politischer Gedanken im Kontext von Carl Schmitts Konzeptionen« veröffentlicht wurde. Er unterrichtete am Institut für Politikwissenschaft an der Universität Jena im Sommersemester 2015 »Politische Philosophie im schiitischen Islam« und im Wintersemester 2016 »Die Politische Theorie von Carl Schmitt«.
Abstract
»Globalization and the Political«

The focus of this research is the investigation of Carl Schmitt's intention in his political ideas. This work structures Schmitt's ideas into four categories – namely, political philosophy, political theology, jurisprudence, and international relations – in order that Schmitt's intention in his works, out of which a coherent pattern does not necessarily arise, might be crystallized. This thesis argues that Schmitt was a forerunner of globalization critics. Die Untersuchung zu Carl Schmitts Intention in seinem politischen Denken steht – mit methodischem Bezug auf die Cambridge School – im Mittelpunkt der vorliegenden Forschungsarbeit. Die Arbeit strukturiert Schmitts Gedankengut in die vier Kategorien Politische Philosophie, Politische Theologie, Staatswissenschaft und Internationale Beziehungen. Die Arbeit stellt die These auf, dass Schmitt als ein Vorläufer der Globalisierungskritiker gesehen werden kann, welcher die Entmachtung der Staatssouveränität in der globalen Welt hinterfragt. Mit dem Begriff Globalisierung ist in diesem Zusammenhang die Demokratisierung des Rechtsverfahrens in der Innenpolitik und die Verrechtlichung des Naturzustandes zwischen den Staaten in der Außenpolitik gemeint, aus der im Habermasschen Sinne die Weltgesellschaft entsteht.
Table of Contents
Section Title
Page
Action
Price

Vorwort

5

Inhaltsverzeichnis

7

A. Einleitung

9

B. Carl Schmitt und die Hinterfragung der Politikwissenschaft

21

I. Die Frage nach der modernen Politikwissenschaft

21

1. Die wissenschaftliche Arbeit bei Max Weber

21

2. Carl Schmitt und die wertfreie Wissenschaft

28

II. Der Begriff des Politischen

44

1. Das dem Staat vorausgehende Politische

44

2. Unterscheidung zwischen parteipolitischen und politischen Orientierungen

55

III. Pluralismus- und Liberalismuskritik

59

1. Harold J. Laski und der Pluralismus

59

2. Der über anderen Assoziationen stehende Staat

64

3. Carl Schmitt und der Anti-Liberalismus

69

C. Politische Theologie und der Prozess der Säkularisierung

74

I. Politische Theologie

74

1. Romantik und Okkasionalismus

74

2. Romantik zwischen dem totalen Staat und Liberalismus

83

3. Was ist Politische Theologie?

87

4. Carl Schmitt zwischen Theokratie und Postmoderne

93

5. Katholizismus und Politische Form

98

II. Monotheismus und Reichstheologie

100

1. Politische Theologie und Trinitätslehre

100

2. Reichstheologie im NS-Regime

103

3. Disjunktion von Theologie und Politik

106

III. Säkularisierungsprozess der Neuzeit

111

1. Carl Löwith und die Frage nach der Entstehung des Fortschrittsdenkens

111

2. Hans Blumenberg und die Selbstbehauptung der Neuzeit

116

3. Legitimität der Neuzeit; Kontroverse zwischen Carl Schmitt und Hans Blumenberg

119

D. Die aus dem politischen Willen hervorgehende Jurisprudenz

127

I. Der moderne Staat

127

1. Leviathan

127

2. Der Schmittsche Staat

134

II. Legalität und Legitimität

137

1. Das der Macht vorausgehende Recht

137

2. Legalität vs. Legitimität in der Weimarer Republik

145

3. Die Kontroverse zwischen Carl Schmitt, Jürgen Habermas und Hans Kelsen

153

III. Verfassungslehre

163

1. Verfassung als politische Tat

163

2. Das Verhältnis zwischen politischer Entscheidung und Grundrecht

170

IV. Menschheitsdemokratie vs. Massendemokratie

174

1. Demokratie und Homogenität

174

2. Parlamentarismuskritik

180

E. Das Gleichgewicht der Mächte als Aufhalter der Globalität

186

I. Nomos vs. Universalismus

186

1. Immanuel Kant und das Völkerrecht

186

2. Das Gleichgewicht als Prinzip der internationalen Beziehungen

193

3. Hans Kelsen und die Lehre von den Grundrechten des Völkerrechts

204

II. Großraum als Alternative der globalen Welt

210

1. Entpolitisierung der Welt

210

2. Katechon als Aufhalter der Welteinheit

213

3. Die konkrete völkerrechtliche Ordnung

216

III. Feindlichkeit und Menschenrechte

224

1. Die wirkliche und absolute Feindseligkeit

224

2. Die Weltgesellschaft und die Menschenrechte; Carl Schmitt vs. Jürgen Habermas

231

IV. Das Problem des Bürgerkriegs

240

1. Bürgerkrieg im globalen Zeitalter

240

2. Theorie des Partisanen

243

F. Globalisierungskritik in den Kategorien von Carl Schmitts Gedankengut

247

I. Die Entmächtigung des Nationalstaats

247

1. Die Demokratisierung des Rechtsverfahrens

247

2. Der Kampf gegen den neutralen Staat

251

II. Die Verrechtlichung der zwischenstaatlichen Beziehungen

254

1. Die supranationalen Institutionen und die Menschenrechte

254

2. Der Kampf gegen Menschenrechte

260

Fazit

264

Literaturverzeichnis

268

Personenregister

282

Sachregister

283