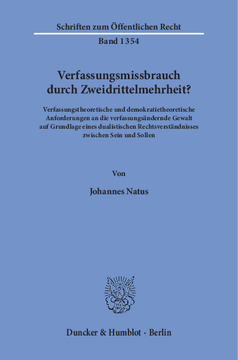 BOOK
Cite BOOK
Style
---
Natus, J. (2017). Verfassungsmissbrauch durch Zweidrittelmehrheit?. Verfassungstheoretische und demokratietheoretische Anforderungen an die verfassungsändernde Gewalt auf Grundlage eines dualistischen Rechtsverständnisses zwischen Sein und Sollen. Duncker & Humblot. https://doi.org/10.3790/978-3-428-55219-1
Natus, Johannes. Verfassungsmissbrauch durch Zweidrittelmehrheit?: Verfassungstheoretische und demokratietheoretische Anforderungen an die verfassungsändernde Gewalt auf Grundlage eines dualistischen Rechtsverständnisses zwischen Sein und Sollen. Duncker & Humblot, 2017. Book. https://doi.org/10.3790/978-3-428-55219-1
Natus, J (2017): Verfassungsmissbrauch durch Zweidrittelmehrheit?: Verfassungstheoretische und demokratietheoretische Anforderungen an die verfassungsändernde Gewalt auf Grundlage eines dualistischen Rechtsverständnisses zwischen Sein und Sollen, Duncker & Humblot, [online] https://doi.org/10.3790/978-3-428-55219-1
---
Format
---
Verfassungsmissbrauch durch Zweidrittelmehrheit?
Verfassungstheoretische und demokratietheoretische Anforderungen an die verfassungsändernde Gewalt auf Grundlage eines dualistischen Rechtsverständnisses zwischen Sein und Sollen
Schriften zum Öffentlichen Recht, Vol. 1354
(2017)
Additional Information
Book Details
Publisher Name

Duncker & Humblot

ISBN

978-3-428-55219-1
978-3-428-15219-3 (print edition)

DOI

https://doi.org/10.3790/978-3-428-55219-1

Edition

1

Language

German

Pages

294

Collections

Subjects
Pricing
Institution

€ 106.00 (incl. local VAT if applicable)

Individual

€ 79.90 (incl. local VAT if applicable)
About The Author
Johannes Natus studierte deutsches Recht (Schwerpunkt: Völker- und Europarecht) sowie anglo-amerikanisches Recht (FFA) an der Universität Trier. Nach dem Ersten juristischen Staatsexamen im Jahr 2012 arbeitete er als wissenschaftlicher Mitarbeiter von 2013 bis 2016 am Institut für Rechtpolitik an der Universität Trier bei Prof. Dr. Thomas Raab, Prof. Dr. Gerhard Robbers sowie Prof. Dr. Alexander Proelß. Seine dortige Tätigkeit umfasste die Organisation und Gestaltung von Tagungen und Vorträgen sowie Forschung und Lehre insbesondere im Öffentlichen Recht. Seit Mai 2016 ist Johannes Natus Rechtsreferendar am OLG Koblenz mit Stationen unter anderem in Trier, Speyer und Tel Aviv.
Abstract
Die Arbeit geht der Frage nach, wie und durch wen das Grundgesetz und Verfassungsrecht im Allgemeinen geändert werden können. Der Untersuchung liegt die Grundperspektive: »Wie müsste es sein?« nicht: »Wie ist es (nach Art. 79 GG)?«, zugrunde. Dazu wird ein Verfassungsverständnis entwickelt, dessen theoretische und philosophische Wurzeln über Kelsen und Schmitt bis in die Vertragstheorien der Neuzeit reichen. Daraus zieht der Autor Konsequenzen für die Begriffe Volkssouveränität und Demokratie. Er untersucht, wie der Stufenbau der Rechtsordnung zustande kommt, was dem Recht seine Legitimation und seinen spezifischen Rang verleiht und in welchem Verhältnis das Mehrheits- und Demokratieprinzip zum Begriff des Rechts an sich stehen. Daraus ergeben sich Anforderungen an die Kompetenz zur Verfassungsgebung und -änderung, an denen die durch das Grundgesetz positivierte Praxis kritisch gemessen wird. Das kontroverse Ergebnis: Die Normierung in Art. 79 GG genügt den verfassungs- und demokratietheoretischen Anforderungen nur bedingt.»Misuse of Constitution by a Two-Thirds Majority?«The exploration considers the question, whether constitutional law can be amended in the way laid down by Art. 79 Grundgesetz and if there are any non-normative and non-normable requirements. For that purpose, the author derives a fundamental understanding of constitutional law by discussing issues such as, inter alia, legal positivism, popular sovereignty and democracy. As a result, the study frames constitutional-theoretical and democratic-theoretical requirements which the Grundgesetz, the German Constitution, meets only to a limited extent.
Table of Contents
Section Title
Page
Action
Price

Vorwort

5

Inhaltsverzeichnis

7

Einleitung

15

Kapitel 1: Recht

24

A. Die äußere Betrachtung: Recht als Kategorie

25

I. Die Norm

27

1. Der Dualismus von Sein und Sollen

28

2. Die Natur schafft Fakten, der Mensch Normen

29

3. Die Absage an das Naturrecht

33

II. Der Zwang als Ausdruck spezifischer Legitimität

33

1. Zwang und Strafe

35

2. Recht und Moral

37

3. Zwang inwieweit Teil der Norm?

40

III. Rechtserzeugung und Geltungsgrund

41

1. Begründung, Rechtfertigung und Legitimität des Zwangs

41

2. Die Bedeutung von Wirksamkeit und Geltung

44

B. Die innere Betrachtung: Recht als Inhalt von Normen, Normen als Inhalt von Recht

46

I. Recht und Wert

46

II. Rechtsnorm und Rechtssatz

50

C. Die Person als Bezugspunkt allen Rechts

52

D. Die Koordinationsordnung als primitive Form des Rechts

53

E. Zwischenergebnis

54

Kapitel 2: Die Rechtsordnung

56

A. Die Charakteristika der Rechtsordnung

56

B. Der Stufenbau der Rechtsordnung

58

I. Die Hierarchie der Normgeber

59

II. Keine Hierarchie der Normen

60

III. Das Fehlerkalkül

64

C. Die Einheit der Rechtsordnung und der Charakter der Kollisionsregeln

66

I. Der Normkonflikt

67

II. Lex superior derogat legi inferiori

68

III. Lex posterior derogat legi priori

70

IV. Lex specialis derogat legi generali

70

V. Verbleibender Raum für Normkonflikte und deren Lösung

72

D. Zwischenergebnis

76

Kapitel 3: Die Spitze der staatlichen Rechtsordnung: Der Souverän

77

A. Die Notwendigkeit eines souveränen Willens an der Spitze der Rechtsordnung

79

I. Keine Geltung des Mehrheitsprinzips

80

II. Das Volk im Konsens als verfassunggebende Gewalt?

82

III. Ein Grundkonsens als Begründung des Souverän?

83

IV. Zwischenergebnis

84

B. Die Vertragstheorie

85

I. Thomas Hobbes

86

II. John Locke

88

III. Jean-Jacques Rousseau

90

IV. Bewertung der Vertragstheorien

92

C. Die Identifikationstheorie

94

I. Die Identifikationstheorie als Gesellschafts-"Vertrag" der Moderne

95

II. Das Wesen der Identifikation

97

III. Identifikation als Voraussetzung elementarer Staatlichkeit

101

IV. Das Problem der tatsächlichen Identifikation

102

V. Identifikation als permanenter Prozess

104

VI. Das spezifisch Nicht-Normative am Identifikationsmodell

104

VII. Zusammenfassung

106

D. Der Gemeinwille

107

I. Die Natur des Gemeinwillens

108

II. Der Gemeinwille in der Praxis

110

III. Bedeutung und Tragweite des Konzepts eines Gemeinwillens als Souverän

112

E. Zwischenergebnis

113

Kapitel 4: Verfassung und Verfassungsrecht

117

A. Keine Determiniertheit von Verfassungsrecht

118

B. Formelle und materielle Abgrenzungskriterien

119

I. Die formelle Abgrenzung

120

1. Verfassungsdokument

120

2. Erhöhte Geltungskraft

121

3. Erhöhte Bestandskraft

122

II. Die materielle Abgrenzung

124

1. Bestimmte inhaltliche Kategorien

124

2. Bestimmte konkrete Inhalte

127

C. Eigener formeller und materieller Verfassungsbegriff

127

I. Verfassung im materiellen Sinne

128

II. Verfassung im formellen Sinne

130

III. Zusammenfassung

131

D. Materielles Verfassungsrecht und Gewohnheitsrecht

131

I. Jellinek und die normative Kraft des Faktischen

132

II. Mögliche Geltungsgründe des "Gewohnheitsrechts"

133

1. Bloßes Vertragsrecht

133

2. Positive Einsetzung als rechtsetzender Tatbestand

134

3. Nicht-normative Regeln des Seins

134

4. Rechtsetzung durch den Volksgeist – die historische Rechtsschule

135

III. Zwischenergebnis

136

E. Recht und Sprache – Parallelen zwischen zwei Kulturgütern

137

F. Zwischenergebnis

140

Kapitel 5: Verfassung und Volk

141

A. Das Volk vor oder über der Verfassung

141

B. Das Volk nach oder in der Verfassung

143

C. Zwischenergebnis

145

Kapitel 6: Verfassung und Staat

147

A. Der Staat als Völkerrechtssubjekt

147

I. Der Staat als Verkörperung des Ganzen

147

II. Souveränität nach innen und außen

148

III. Die Analogie zum Menschen

150

IV. Die Identität des Staates

151

V. Entstehung und Untergang von Staaten

151

B. Der Staat im staatsrechtlichen Sinne

154

I. Staatlichkeit als das durch die Rechtsordnung Vergemeinschaftete

154

II. Staatlichkeit als Gegensatz zu Privatheit

155

III. Gemeinwohlverpflichtung alles Staatlichen

156

C. Folgerung

157

Kapitel 7: Recht und Demokratie

159

A. Demokratie als Herrschaft des Volkes

159

I. Demokratie als normatives Prinzip

160

II. Streit um Begrifflichkeiten?

163

III. Demokratische Legitimation

165

1. Kopplung allen Rechts an den Willen des Volkes

166

2. Gleichwertigkeit aller Stimmen

167

IV. Der Dualismus von rechtlicher und demokratischer Legitimation

168

V. Repräsentation und Parlamentarismus

170

B. Das Majoritätsprinzip

174

I. Grundlagen des Mehrheitsprinzips

174

II. Die einfache Mehrheit als Wesensmerkmal der Demokratie – "demokratische Legitimität"

180

III. Bedeutung der relativen Mehrheit

187

IV. Legitimitätsmittlung und Legitimitätsstufen

190

C. Zwischenergebnis

190

Kapitel 8: Die internationale Dimension – Die Europäische Union als Rechtsordnung?

191

A. Der völkerrechtliche Hintergrund

191

B. Umriss der Problematik

193

C. Legitimation des EU-Rechts

194

I. Allgemeines zum Verhältnis von EU-Recht und nationalem Recht

194

II. Die Legitimation des Primärrechts

195

III. Die Legitimation des Sekundärrechts

197

D. Konsequenz für die Frage der Rechtsordnung – die no-demos-These

200

E. Keine (Bürger-)Verfassung auf völkerrechtlichem Fundament

204

F. Probleme der Demokratisierung der EU – Ausdruck des nicht vorhandenen europäischen Volkes

204

G. Das Prinzip der begrenzten Einzelermächtigung – Ausdruck der einzelstaatlichen Souveränität

208

H. Zwischenergebnis

209

Kapitel 9: Die Änderung der Verfassung (abstrakt)

211

A. Mögliche Objekte einer Änderung

211

I. Austausch der verfassunggebenden Gewalt

211

II. Austausch oder Änderung der Verfassung im materiellen Sinne

212

III. Änderung lediglich der Verfassung im formellen Sinne

213

IV. Gegenstand weiterer Betrachtung

214

B. Die Begriffe: Verfassunggebung und Verfassungsänderung

214

I. Verfassungsänderung gleich Verfassunggebung

214

II. Die Möglichkeit der Delegierung einer Änderungskompetenz

215

1. Normale delegierte Kompetenz

216

2. Deklaratorischer Hinweis auf die eigene Änderungskompetenz

216

3. Konstitutive Reglung der eigenen Kompetenz?

217

4. Echte Änderungskompetenz

217

5. Bewertung

217

C. Begriffliche Alternativen für "Verfassunggebung" und "Verfassungsänderung"

221

D. Zwischenergebnis

222

Kapitel 10: Die Rechtsordnung des Grundgesetzes

223

A. Das Grundgesetz zwischen Verfassung im materiellen Sinne und Verfassung im formellen Sinne

223

B. Der materielle Verfassungsgehalt des Grundgesetzes

226

I. Befund einzelner Gewährleistungen

227

1. Menschenwürde

228

2. Demokratieprinzip

229

3. Rechtsstaatsprinzip

229

4. Gewaltenteilung

230

5. Grundrechte

231

6. Sozialstaatsprinzip bzw. Solidaritätsgedanke

231

7. Föderalismus-/Bundesstaatsprinzip

231

8. Gesetzgebungsverfahren

232

9. Verfahren der Verfassungsänderung

232

II. Art. 79 Abs. 3 GG selbst?

233

C. Die Setzung des materiellen Verfassungsrechts

235

D. Die Legitimation des formellen Verfassungsrechts

235

I. Legitimation aus eigener Kraft

236

1. Die "verfassungsändernde Gewalt"

237

2. Das Ur-Grundgesetz

238

II. Anforderungen des materielle Verfassungsrechts

239

1. Ablehnung des Art. 79 Abs. 1, 2 GG als konstitutive Bestimmung

239

2. Das Demokratieprinzip als konstitutive Bestimmung

240

III. Anwendung auf die Genese des Grundgesetzes

245

1. Ausarbeitung und Annahme durch den Parlamentarischen Rat

246

2. Annahme durch die westdeutschen Länder

248

3. Ausfertigung durch den Parlamentarischen Rat und Inkrafttreten

250

4. Nachträgliche Legitimation durch Bundestagswahl und Verfassungskonsens

251

IV. Anwendung auf die "verfassungsändernde Gewalt"

252

1. Das Problem der Zweidrittelmehrheit

252

2. Subjektiver Tatbestand des Organs

253

V. Ergebnis zur rechtlichen Legitimation des formellen Verfassungsrechts

255

E. Das Verhältnis von formellem Verfassungsrecht und einfachem Parlamentsrecht

256

I. Die Legitimation des einfachen Rechts aus der Verfassung im formellen Sinne

257

II. Die zwei gesetzgebenden Funktionen des Bundestages

258

F. Das einfache Parlamentsrecht und die Rechtsverordnung

260

Kapitel 11: Der Dualismus von rechtlicher und demokratischer Legitimität in der Rechtsordnung des Grundgesetzes

261

A. Die demokratische Legitimität des Verfassungsrechts im materiellen Sinne

262

B. Das Verfassungsrecht im formellen Sinne

262

I. Das Ur-Grundgesetz

262

II. Art. 79-Recht

263

III. Bewertung

264

C. Das einfache Parlamentsrecht

265

D. Die Rechtsverordnung

266

E. Das Verhältnis von formellem Verfassungsrecht und einfachem Parlamentsrecht

266

I. Geltungsvorrang bei gleicher demokratischer Legitimität

266

II. Tatsächlicher und vermeintlicher Zusammenhang von Legitimation, erhöhter Geltungskraft und erhöhter Bestandskraft

267

F. Ergebnis

272

Fazit und Ausblick

274

A. Der Charakter des formellen Verfassungsrechts

274

B. Grenzen der Änderung des Verfassungsrechts

274

C. Optionen

275

I. Volksentscheid

276

II. Volksversammlung (als zur Verfassungsänderung gewähltes Organ)

277

III. Doppelte Parlamentsmehrheit

278

Zusammenfassende Thesen

280

Literaturverzeichnis

282

Sachwortverzeichnis

291