Constitution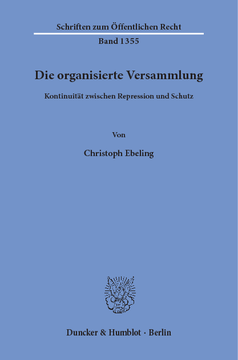 Additional Information
Book Details
ISBN

978-3-428-54937-5
978-3-428-14937-7 (print edition)

DOI

https://doi.org/10.3790/978-3-428-54937-5

Edition

1

Language

German

Pages

313

Collections

Subjects
Pricing
Institution

€ 92.00 (incl. local VAT if applicable)

Individual

€ 71.90 (incl. local VAT if applicable)
About The Author
Christoph Ebeling; Studium an der Universität Bielefeld. Dort von 2011 bis 2016 wissenschaftlicher Mitarbeiter am Lehrstuhl für Öffentliches Recht, Staatslehre und Verfassungsgeschichte (Prof. Dr. Christoph Gusy). Forschungsschwerpunkte im Bereich des Rechts der öffentlichen sowie der zivilen Sicherheit. Mitarbeit an zahlreichen Veröffentlichungen und Gutachten. Lehrtätigkeit u.a. im besonderen Verwaltungsrecht und Verwaltungsprozessrecht. Seit 2015 Rechtsreferendar am Oberlandesgericht Hamm.
Abstract
Versammlungsgeschehen und Versammlungsrecht haben sich zu jeder Zeit wechselseitig beeinflusst und gemeinsam verschiedene Phasen und Erscheinungsformen durchlaufen, dabei jedoch eine beeindruckende Kontinuität bewahrt. Diese zeigt sich wesentlich an der Idee der organisierten Versammlung, also der Anknüpfung der Versammlungsgesetzgebung an die Vorstellung einer Versammlung als Zusammenspiel von Versammlungsveranstalter bzw. Versammlungsleiter und Versammlungsteilnehmern. Die Arbeit untersucht die Versammlungsgesetzgebung von ihren historischen Ausgangspunkten bis zu den jüngsten Landesversammlungsgesetzen. Dabei wird aufgezeigt, dass sich die Anknüpfung an die Idee der organisierten Versammlung von einem zunächst rein repressiven Instrument zu einem wichtigen Element des Grundrechtsschutzes gewandelt hat, dem auch vor dem Hintergrund aktueller Fragen, wie etwa der Etablierung neuer Versammlungsformen und dem Einsatz von mobilen Massenkommunikationsmitteln im Zusammenhang mit Versammlungen, weiter große Bedeutung zukommt. »Organised Assembly«

The legislation of many states regarding freedom of assembly is based on the idea of organised assembly. In accordance with such legislation, an assembly consists of an organiser or leader, and participants in the assembly. This doctoral thesis will investigate the origins and development of this model in legislation and jurisprudence, and ask what its significance is today – for the protection of fundamental rights, for example.
Table of Contents
Section Title
Page
Action
Price

Vorwort

5

Inhaltsverzeichnis

7

Abkürzungsverzeichnis

12

Kapitel 1: Die Organisationsidee

15

A. Einleitung

15

B. Ausgangspunkt: Die Idee der organisierten Versammlung im VersG

16

I. Die Regelungssystematik des VersG

16

II. An die Organisationsidee anknüpfende Normen im VersG

18

1. Versammlungsfreiheit

18

2. Einladung

18

3. Störungsverbot

19

4. Verbots- und Auflösungsgründe

20

5. Pflicht des Veranstalters zur Bestellung eines Leiters

20

6. Rechte und Pflichten des Leiters

21

7. Straf- und Ordnungswidrigkeitsvorschriften

23

8. Zusammenfassung

24

C. Forschungsfragen: Die Idee der organisierten Versammlung im Versammlungsrecht

25

I. Ursprung und Entwicklung der Organisationsidee

25

II. Bedeutung der Organisationsidee

26

III. Zukunft der Organisationsidee

26

Kapitel 2: Ursprung und Entwicklung der Organisationsidee

27

A. Vom Mittelalter zur Französischen Revolution

29

I. Der Augsburger Reichsabschied von 1555

30

II. Das Preußische Allgemeine Landrecht von 1794

33

III. Die preußische Tumultverordnung von 1798

36

IV. Versammlungsorganisation in der Literatur

39

V. Zwischenergebnis

43

B. Restauration und Vormärz

44

I. Ausgangsbedingungen der Normsetzung

44

II. Die "Zehn Artikel" von 1832

46

III. Die preußische Tumultverordnung von 1835

49

IV. Versammlungsorganisation in der Literatur

51

V. Zwischenergebnis

54

C. Märzrevolution und Reaktion

55

I. Die Entwicklung in Preußen

55

1. Ausgangsbedingungen der Normsetzung

55

2. Die Beratungen der preußischen II. Kammer zur VO 1849

63

3. Die preußische Verordnung von 1849

70

4. Die Beratungen der preußischen Kammern zur Verfassungsrevision

74

5. Die Beratungen der preußischen Kammern zur VO 1850

78

6. Die preußische Verordnung von 1850

84

7. Zwischenergebnis

87

II. Der Entwurf eines Vereinsgesetzes der Erfurter Union von 1850

88

III. Das Bundesvereinsgesetz von 1854

91

IV. Folgen für die weitere Entwicklung des Versammlungsrechts

92

1. Verein und Versammlung

92

2. Politisierung der Versammlungsfreiheit und der Versammlungsgesetze

93

3. Entmilitarisierung und Entkriminalisierung des Versammlungsrechts

97

V. Versammlungsorganisation in Rechtsprechung und Literatur

100

VI. Zwischenergebnis

103

D. Über die Reichsgründung zum RVG

103

I. Ausgangsbedingungen der Normsetzung

104

II. Die Landesversammlungsgesetze

109

III. Das RVG

113

IV. Die Entstehung des RVG

116

1. Das Sozialistengesetz 1878

117

2. Vom Rickert'schen Entwurf von 1896 zum Entwurf der XIII. Kommission

118

3. Vom Regierungsentwurf 1907 zum Entwurf der XIV. Kommission

120

4. Die Beratungen des Reichstags zum RVG

123

5. Entstehung und Inhalt des RVG in Literatur und Rechtsprechung

126

V. Zwischenergebnis

129

E. Zwischen Revolution und Notverordnung

130

I. Versammlungsrecht zwischen Krieg und Revolution

131

II. Der Aufruf des Rates der Volksbeauftragten

132

III. Die Weimarer Reichsverfassung

136

IV. Versammlungen als Kampfmittel

140

1. Das Republikschutzgesetz von 1922

141

2. Polizeilicher Versammlungsschutz

143

3. Strafrechtlicher Versammlungsschutz

146

V. Die Praxis der Notverordnungen und die Auflösung der Republik

148

1. Die Notverordnungen der Präsidialkabinette

148

2. Das Ende der Republik

153

VI. Zwischenergebnis

155

F. "Verwaltungsrecht besteht"? – Das Versammlungsgesetz 1953

156

I. Versammlungsrechtliche Regelungen der Befreier

156

II. Erste versammlungsrechtliche Regelungen der Länder

158

III. Das VersG von 1953

160

IV. Die Entstehung des VersG

160

1. Beratungen zum GG

160

2. Beratungen zum VersG

165

a) Vom ersten Entwurf des BMI zum Regierungsentwurf

165

b) Der Regierungsentwurf und seine Behandlung im Bundestag

168

aa) Der Regierungsentwurf

168

bb) Die Beratungen im Bundestag

174

V. Zwischenergebnis

181

G. Spontan, kooperativ, groß

183

I. Ohne Anmeldung oder Erlaubnis, aber mit Anzeige?!

186

II. Kooperation zwischen Pflicht und Obliegenheit

192

III. Keine, viele, einer? Großversammlungen und die Veranstalterfrage

198

IV. Störungsverbot

203

V. Zwischenergebnis

205

H. Musterentwürfe und Landesgesetze

206

I. Die Musterentwürfe

207

1. Entwurf der Bund-Länder-Arbeitsgruppe

207

2. Entwurf der GdP

211

3. Entwurf des Arbeitskreises Versammlungsrecht

214

II. Die Landesversammlungsgesetze

220

1. Bayerisches Versammlungsgesetz

220

2. Landesversammlungsgesetz Sachsen-Anhalt

223

3. Sächsisches Versammlungsgesetz

225

4. Niedersächsisches Versammlungsgesetz

226

5. Versammlungsfreiheitsgesetz für das Land Schleswig-Holstein

229

III. Zwischenergebnis

230

Kapitel 3: Bedeutung der Organisationsidee

231

A. Grundgesetzlicher Versammlungsbegriff und Organisationsidee

231

I. Versammlungskonzepte und Versammlungsbegriffe

231

1. Der verfassungsrechtliche Versammlungsbegriff

231

a) Liberale Auslegung

233

b) Demokratisch-funktionalisierende Auslegung

235

2. Der Versammlungsbegriff des VersG

240

3. Die Versammlungsbegriffe der Landesgesetze und Musterentwürfe

244

II. Organisation als Begriffsnotwendigkeit?

245

1. Rechtshistorische Betrachtung

246

2. Rechtsvergleichende Betrachtung

248

3. Auslegung der Versammlungsgesetze

249

4. Auslegung des Grundgesetzes

251

5. Organisation als Abgrenzung zur Ansammlung

253

III. Organisationsgrundrecht

253

B. Organisationsidee und Ordnungsvorschriften

254

I. Wandel und Bedeutung der Ordnungsvorschriften

255

1. Wandel der Zentralgestalt

256

2. Von Verhinderung zu Ermöglichung

256

3. Aspekte der Bedeutung des Vorhandenseins einer Zentralgestalt

257

a) Schutz der Vorbereitungsphase einer Versammlung

257

b) Kooperation

257

c) Versammlungsleiter als Ansprechpartner für die Teilnehmer

259

d) Grundrechtsausgleich innerhalb der Versammlung

259

e) Minderheitenschutz

261

f) Ausgleich mit Interessen Dritter und der Allgemeinheit

263

g) Gefahrenprognose und Unfriedlichkeit

266

II. Rechtfertigung der Ordnungsvorschriften

267

Kapitel 4: Zukunft der Organisationsidee

270

A. Neuere Handlungs- und Versammlungsformen

271

I. Flash- und Smartmob

271

II. Critical Mass

272

1. Critical Mass und StVO

273

2. Critical Mass als Versammlung

276

III. Schwärme und kollektives Individualverhalten

278

IV. Zwischenergebnis

283

B. Mobile Massenkommunikation und Organisation

284

I. Organisation in der Vorbereitungsphase von Versammlungen

284

II. Organisation in der Durchführungsphase von Versammlungen

285

1. Behörde und Teilnehmer

285

2. Teilnehmerkommunikation

286

3. Zentralgestalt und Teilnehmer

287

III. Zwischenergebnis

290

Kapitel 5: Ergebnis

292

Literaturverzeichnis

295

Personen- und Sachverzeichnis

307