Administrative jurisdiction & public administration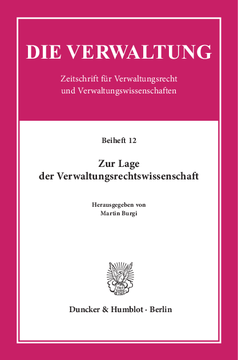 Additional Information
Book Details
ISBN

978-3-428-55324-2
978-3-428-15324-4 (print edition)

DOI

https://doi.org/10.3790/978-3-428-55324-2

Edition

1

Language

German

Pages

210

Collections

Subjects
Pricing
Institution

€ 80.00 (incl. local VAT if applicable)

Individual

€ 62.90 (incl. local VAT if applicable)
About The Author
Martin Burgi, 1998 Habilitation an der Universität Konstanz; Juli 1999 Ernennung zum Universitätsprofessor für Öffentliches Recht und Europarecht an der Ruhr-Universität Bochum. Seit Oktober 2012 Inhaber des Lehrstuhls für Öffentliches Recht, Wirtschaftsverwaltungsrecht, Umwelt- und Sozialrecht und Direktor der Forschungsstelle für Vergaberecht und Verwaltungskooperationen an der LMU München. Geschäftsführender Herausgeber der Zeitschrift »Die Verwaltung«. Seit 2007 Visiting Professor an der George Washington University Law School, Washington D.C. Von Januar 2014 bis Januar 2016 Vorsitzender der Vereinigung der Deutschen Staatsrechtslehrer.
Abstract
Vor welchen Herausforderungen steht die Wissenschaft vom Verwaltungsrecht in Gegenwart und Zukunft? Auf der Suche nach Antworten haben die Herausgeber der Zeitschrift »Die Verwaltung« einen Kreis von Nachwuchswissenschaftlerinnen und -wissenschaftlern zu einem Symposium versammelt. Die dort von den Herausgebern gehaltenen Vorträge sind in diesem Sammelband veröffentlicht. Dies geschieht mit dem Ziel, bestehende Diskurse weiterzuführen und neue Diskussionen möglichst unbefangen anstoßen zu können. Einen Schwerpunkt bildet die Auseinandersetzung mit den methodischen und inhaltlichen Aspekten in einer Zeit, in der sich verschiedene Disziplinen der Rechtswissenschaft um Selbstreflexion bemühen. In der Summe ergeben sich zahlreiche Einblicke in Forschungsthemen und -inhalte. Auch der Blick in benachbarte Disziplinen und ausländische Rechtsordnungen kommt nicht zu kurz. »On the State of Administrative Law Research«

What are the current and future challenges for research on administrative law? In search for answers to this question, the editors of the journal »Die Verwaltung« invited young administrative law scholars to join them for a symposium in Würzburg. The presentations held by the editors during the symposium are published in this volume.
Table of Contents
Section Title
Page
Action
Price

Vorwort

5

Inhaltsverzeichnis

7

I. Herausforderungen und Perspektiven

9

Friedrich Schoch, Verwaltungsrechtswissenschaft zwischen Theorie und Praxis

11

I. Herausforderung: Theorie versus Dogmatik

11

1. Grundkonflikt im rechtswissenschaftlichen Diskurs

11

2. Widerstreitende Konzepte zum Öffentlichen Recht

12

3. Anschlussfähigkeit der deutschen Rechtswissenschaft

13

II. Alternative: Disziplinäre Relevanz versus disziplinäre Belanglosigkeit

14

1. Rechtswissenschaft als Jurisprudenz

14

2. Kreation disziplinärer Belanglosigkeit

14

3. Exkurs: Unerheblichkeit von Disziplinen in Nachbarwissenschaften

16

III. Konzept: Stärkung einer aufgeklärten Rechtsdogmatik

17

1. Verständnis von Rechtsdogmatik

17

2. Aufgabe von Rechtsdogmatik

20

3. Rezeption des Realbereichs durch Rechtsdogmatik

21

4. Transferleistung von Rechtsdogmatik

24

IV. Ertrag: Leistungsfähigkeit moderner Rechtsdogmatik

25

1. Norminterne Systembildung

26

2. Rezeption europarechtlicher Direktiven

27

3. Verarbeitung informellen Verwaltungshandelns

29

V. Perspektive: Gestaltung des Rechtskulturwandels

30

Abstract

32

Administrative Law between Theory and Practice

32

Martin Burgi, Intradisziplinarität und Interdisziplinarität als Perspektiven der Verwaltungsrechtswissenschaft

33

I. Forcierter Übergang zur (zweiten) Phase einer probleminduzierten Öffnung der Verwaltungsrechtswissenschaft

33

II. Bedeutungsgehalte und Dimensionen

35

1. Verwaltungsrechtswissenschaft als im Kern dogmatische Disziplin

35

2. Dimensionen und Effekte der Öffnung: Drei Stufen

37

3. Intradisziplinarität: Die Verwaltung und ihr Recht als Themen anderer Teildisziplinen der Rechtswissenschaft (mit Fokus auf das Privatrecht)

39

4. Interdisziplinarität: Die Verwaltung und ihr Recht als Themen anderer Disziplinen (mit Fokus auf die Politikwissenschaft)

40

III. Struktureller Rahmen

43

1. Inhaltliche Aspekte

43

2. Personell-institutionelle Aspekte

45

3. Zwischenergebnis

47

IV. Rechtlich induzierte Öffnung

47

1. Verbund von Öffentlichem Recht und Privatrecht

47

2. Politikwissenschaftliches Wissen im Verwaltungsrecht

51

V. Öffnung als wissenschaftliche Option

52

1. Gegenüber in der anderen Disziplin bzw. Teildisziplin bereits bearbeiteten Problemstellungen

52

2. Vorschläge für künftige, gemeinsam formulierte Problemlösungsaufträge

57

VI. Fazit: außer man tut es

61

Abstract

61

Intradisciplinarity and Interdisciplinarity as a Perspective of Administrative Law Scholarship

61

II. Die "Neue Verwaltungsrechtswissenschaft" – Problem oder Lösung?

63

Michael Fehling, Die "neue Verwaltungsrechtswissenschaft" – Problem oder Lösung

65

I. Zwischen inhaltlicher Neuausrichtung und Wissenschaftsmarketing

65

II. Charakteristika der neuen Verwaltungsrechtswissenschaft im Spiegel der Kritik

66

III. Scheinprobleme und reale Probleme

71

1. Mythen

71

2. Einzelne Problembereiche und offene Fragen

79

IV. Entwicklungsperspektiven

91

1. Loslösung von zeitgebundenen Entstehungsbedingungen mit Übergang zu einer breiteren Innovationsperspektive

91

2. Weitere Ausdifferenzierung des Steuerungsansatzes

94

3. Erweiterung des Horizonts für Interdisziplinarität

98

V. Fazit

100

Abstract

101

The "New Administrative Law Scholarship" – problem or solution

101

Innovation by Canonisation?

101

Klaus Ferdinand Gärditz, Die "Neue Verwaltungsrechtswissenschaft" – Alter Wein in neuen Schläuchen?

105

I. Konzeptionelle Grundanliegen

106

II. Die Dialektik verwaltungsrechtswissenschaftlicher Reformdiskurse

110

1. Reform I: Die Ablösung der alten Verwaltungslehren – ein wissenschaftliches Modernisierungsprojekt

111

2. Reform II: Reformrhetorik im NS-Verwaltungsrecht

113

3. Reform III: Vom Siegeszug der Rechtsdogmatik im Schatten der Konstitutionalisierung

120

4. Reform IV: "Neue Verwaltungsrechtswissenschaft" als Renaissance-Bewegung

123

III. Der Mehrwert der "Neuen Verwaltungsrechtswissenschaft"

125

1. Eine realistischere Perspektive auf das Verwaltungsrecht?

126

2. Wissenschaftliche Verwaltungsrechtspolitik als neues Erkenntnisziel?

131

3. Eine interdisziplinäre Perspektive auf das Verwaltungsrecht?

133

4. "Neue Verwaltungsrechtswissenschaft" als Impulsgeber für bessere Dogmatik und Theoretisierung im Verwaltungsrecht

141

IV. Bilanz: Kein Paradigmenwechsel

143

Abstract

145

The "New Administrative Law Scholarship" ‒ Old Wine in new Cafes?

145

III. Historische und rechtsvergleichende Vergewisserung

147

Stefan Fisch, Verwaltungskulturen als "geronnene Geschichte"

149

I. Begegnung von nationalen Verwaltungskulturen in grenzüberschreitender Zusammenarbeit heute

150

II. Gleichartige Situationen in unterschiedlichen Organisationskulturen zwischen 1880 und 1944

154

1. Bismarcks vorsichtiger Versuch, Arbeitsleistungen zu quantifizieren (1880)

155

2. Mit rabiatem Antisemitismus gegen "Überorganisation" (1933)

157

3. "Kein Durcheinander" ‒ Stilles Einverständnis von Berater und Beratenem (1944)

159

III. Folgerungen

162

Abstract

163

Administrative cultures as a "clotted history"

163

Social and Historical Sciences

163

Matthias Ruffert, Rechtsvergleichung als Perspektivenerweiterung

165

I. Einleitung

165

II. Rechtsvergleichung als Bereicherung von Verwaltungsrecht und Verwaltungsrechtswissenschaft

167

1. Umbrüche im praktischen Bedarf

167

2. Wegweiser aus theoretischen Sackgassen

169

III. Referenzgebiete

170

1. Referenzgebiete und Verwaltungsrechtsvergleichung

170

2. Regulierungsrecht

171

3. Verselbständigte Verwaltungseinheiten

172

4. Bürger und Verbände im Verwaltungsprozeß

172

5. Verfahrensrecht

173

6. Konstitutionalisierung

174

IV. Forschungsperspektiven

174

Abstract

176

Comparative Law as a Perspective Extension

176

Reorientation‌(s) for Administrative Law and Administrative Law Science

176

IV. Abschluss

177

Helmuth Schulze-Fielitz, Rezensierte (Verwaltungs-)‌Rechtswissenschaft

179

I. Problemstellung: Krise des juristischen Rezensionswesens?

179

II. Funktionen (verwaltungs-)‌rechtswissenschaftlicher Rezensionen

180

1. Ausgangsfrage und Prämissen

180

2. Selektive Information

181

3. Kritische Bewertung der Forschungsqualität

182

4. Perspektivenvielfalt und innerdisziplinäre Kommunikation

182

5. Synthetisierung der Wissenschaftsentwicklung

183

6. Individueller Erkenntnisgewinn

184

III. Schwächen der gegenwärtigen Rezensionskultur

185

1. Niedergang?

185

2. Erklärungen

186

3. Rezensionspolitische Therapien

188

IV. Qualitätsmaßstäbe für Rezensionen

192

1. Funktionsgerechtigkeit

192

2. Besonders: Sammelbände und Festschriften

193

3. Besonders: Kommentare, Hand- und Lehrbücher

194

V. Ethik des Rezensierens

195

1. Obliegenheiten

196

2. Inkompatibilitäten

197

3. Pluralismusgebote

198

4. Vollständigkeit der Lektüre?

199

5. Fairnessgebote

200

6. Duldungspflichten

202

VI. Fazit: Rezensionsqualität als Symptom

203

Abstract

203

Recognized (administrative) Jurisprudence

203

Teilnehmerverzeichnis

205

Personen- und Sachverzeichnis

207