Political structure & processes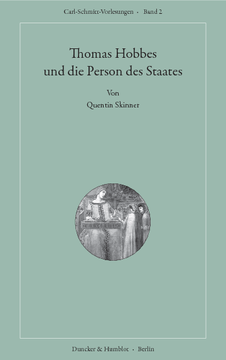 BOOK
Thomas Hobbes und die Person des Staates
Aus dem Englischen übersetzt von Christian Neumeier
Carl-Schmitt-Vorlesungen, Vol. 2
(2017)
Additional Information
Book Details
ISBN

978-3-428-55295-5
978-3-428-15295-7 (print edition)

DOI

https://doi.org/10.3790/978-3-428-55295-5

Edition

1

Language

German

Pages

68

Collections

Subjects
Pricing
Institution

€ 24.00 (incl. local VAT if applicable)

Individual

€ 17.90 (incl. local VAT if applicable)
About The Author
Quentin Skinner gehört zu den renommiertesten Historikern der Gegenwart. Seine Untersuchungen zu Thomas Hobbes, Machiavelli, zur politischen Theorie der frühen Neuzeit, zur Geschichte des Liberalismus haben ebenso Epoche gemacht wie seine methodische Neubegründung der politischen Ideengeschichte. Quentin Skinner war bis 2008 Regius Professor of History und Professor of Political Science an der Universität Cambridge und lehrt seither an der Queen Mary Universität London. Er ist Ehrendoktor der Universität Oxford und zahlreicher weiterer Universitäten.
Abstract
Was bezeichnet der Begriff Staat und brauchen wir ihn heute noch als einen Ordnungsbegriff der politischen Theorie? Quentin Skinner geht dieser Frage in der zweiten Carl-Schmitt-Vorlesung nach, um zwei verbreitete Missverständnisse aus der Welt zu schaffen. Der Staat ist weder mit der Regierung gleichzusetzen noch ist er historisch obsolet geworden. Skinner analysiert zu diesem Zweck die erste und zugleich berühmteste Theorie der Unterscheidung von Staat und Regierung: Thomas Hobbes' Vorstellung des Staates als einer eigenen Person, die von Herrschern wie Beherrschten gleichermaßen unterschieden werden muss. Sie baut auf einer neuen Theorie politischer Repräsentation auf. Repräsentation ist danach nicht als Verhältnis von Ur- und Abbild zu denken, sondern als Autorisation des Souveräns durch die Subjekte. Skinner untersucht darüber hinaus die Rezeption von Hobbes' Theorie bei Pufendorf, Vattel und Blackstone und ihre vernichtende Kritik durch die Utilitaristen. »Thomas Hobbes and the Person of the State«

What do we mean when we refer to the state? Is the state a concept political theorists still need to concern themselves with today? Quentin Skinner explores these questions in the second Carl Schmitt Lecture to elucidate a common misunderstanding. When we talk about states, we do not simply mean governments. Skinner analyses the first and to the present day most famous theory to make such a claim: Thomes Hobbes' concept of the state as a person, distinct from both rulers and ruled.
Table of Contents
Section Title
Page
Action
Price

Vorbemerkung

5

Hinweis zur Übersetzung

6

Inhaltsverzeichnis

7

1. Zur Unterscheidung von Staat und Regierung

9

2. Die neoliberale Legende vom Ende der Staatlichkeit

10

3. Die Theorie der Staatsperson bei Thomas Hobbes

14

4. Die parlamentarische Theorie virtueller Repräsentation

17

5. Hobbes über politische Repräsentation

26

6. Samuel Pufendorf liest Hobbes

42

7. Völkerrechtliche Implikationen: Emer de Vattel

51

8. Rückkehr ins Common Law: William Blackstone

54

9. Der utilitaristische Angriff auf die Person des Staates

55

10. Noch einmal: Zur kategorialen Unterscheidung von Staat und Regierung

58

Bibliographie

61