Environment law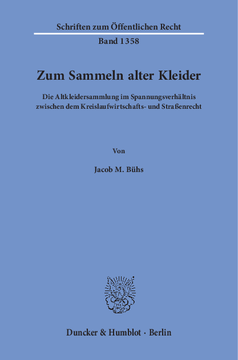 BOOK
Zum Sammeln alter Kleider
Die Altkleidersammlung im Spannungsverhältnis zwischen dem Kreislaufwirtschafts- und Straßenrecht
Schriften zum Öffentlichen Recht, Vol. 1358
(2017)
Additional Information
Book Details
ISBN

978-3-428-55306-8
978-3-428-15306-0 (print edition)

DOI

https://doi.org/10.3790/978-3-428-55306-8

Edition

1

Language

German

Pages

238

Collections

Subjects
Pricing
Institution

€ 86.00 (incl. local VAT if applicable)

Individual

€ 67.90 (incl. local VAT if applicable)
About The Author
Jacob M. Bühs studierte an der Universität Bremen sowie an der Humboldt-Universität zu Berlin Rechtswissenschaften. Sein Referendariat absolvierte er in Berlin (Kammergericht). Seit Februar 2016 ist der Richter auf Probe – seit Oktober 2017 am Verwaltungsgericht Berlin tätig.
Abstract
Wer hat den ersten Zugriff auf Alttextilien – die öffentlich-rechtlichen Entsorgungsträger oder die privaten Sammlungsunternehmen? Die Arbeit versucht diese Frage insbesondere unter Beachtung des Kreislaufwirtschafts- und Straßenrechts im Einzelfall zu beantworten. Hierbei stellt sich regelmäßig das Problem, ob im Rahmen von abfallrechtlichen Entscheidungen auch straßenrechtliche Belange zu berücksichtigen sind – und umgekehrt. Hierzu untersucht der Autor die wesentlichen Rechtsgrundlagen des Kreislaufwirtschaftsgesetzes wie die einschlägigen Vorschriften der jeweiligen Landestraßengesetze in entsprechender Weise. Daneben zeichnet er die Entstehungsgeschichte der hier maßgeblichen Vorschriften des Kreislaufwirtschaftsgesetzes nach und prüft deren Vereinbarkeit mit dem Grundgesetz wie dem Unionsrecht. »About Collection Old Clothing«

Who has got the first claim on old clothing? Is it the public disposal authority or commercial enterprises? This paper discusses this issue in regard to the german recycling and the german road law. The following question arises: Do road law requirements matter when it comes to rulings on Recycling – and vice versa? To come to a conclusion, the author analyses the relevant legal basis respectively.
Table of Contents
Section Title
Page
Action
Price

Vorwort

7

Inhaltsverzeichnis

9

Einleitung: Fragestellung und Gang der Untersuchung

15

I. Fragestellung

16

II. Gang der Untersuchung

18

Kapitel 1: Die alte Rechtslage

20

A. Die Rechtslage vor dem Altpapier-Urteil

23

I. Alttextilien als Abfall i.S.d. § 3 KrW-/AbfG

23

II. Die Überlassungspflichten und ihre Ausnahmen

25

1. Die Überlassungspflicht

25

2. Eigenverwertung als Ausnahme

26

3. Die Ausnahmen in § 13 Abs. 3 KrW-/AbfG

29

a) Die Ausnahme für die gemeinnützige Altkleidersammlung

30

aa) Begriff der gemeinnützigen Sammlung

31

bb) Ordnungsgemäße und schadlose Verwertung

33

(1) Ordnungsgemäße Verwertung

33

(2) Schadlose Verwertung

34

b) Die Ausnahme für die gewerbliche Altkleidersammlung

35

aa) Begriff der gewerblichen Sammlung

35

bb) Nachweis der ordnungsgemäßen und schadlosen Verwertung

36

cc) Entgegenstehende überwiegende öffentliche Interessen

37

(1) Fiskalische Interessen

39

(2) Funktionsfähigkeit

40

(3) Konsequenz für die Altkleidersammlung

42

III. Eingriffsbefugnisse

43

B. Die Rechtslage nach dem Altpapier-Urteil des BVerwG

44

I. Drittbeauftragung im Rahmen von § 13 Abs. 1 S. 1 KrW-/AbfG

45

II. Gewerbliche Sammlung

45

III. Entgegenstehende öffentliche Interessen

46

IV. Kein Verstoß gegen höherrangiges Recht

47

C. Resümee zu Kapitel 1

48

Kapitel 2: Die Entstehungsgeschichte des Kreislaufwirtschaftsgesetzes

51

A. Die europäischen Vorgaben

52

I. Der neue Abfallbegriff

53

II. Entlassung aus dem Abfallrechtsregime

54

III. Abfallhierarchie

55

B. Die nationale Umsetzung

55

I. Die Fachebene: Das innere Gesetzgebungsverfahren

56

1. Der Arbeitsentwurf

56

a) Teil 1: Die entsprechende Umsetzung der AbfRRL

57

b) Teil 2: Die Reaktion auf die Altpapier-Rechtsprechung

57

aa) Zu den Ausnahmen der Überlassungspflicht

58

(1) Klarstellung: Keine Drittbeauftragung bei Eigenverwertung

58

(2) Konkretisierung: Das entgegenstehende öffentliche Interesse

59

bb) Erweiterung der Anzeigepflicht

61

cc) Neue Eingriffsbefugnisse

62

2. Der Referentenentwurf

63

a) Begriffsbestimmung

63

b) Anzeigepflicht, Auflagen etc. und Untersagung

65

II. Die politische Ebene: Das förmliche Gesetzgebungsverfahren

66

1. Der Gesetzesentwurf der Bundesregierung

66

a) Änderung der Konkretisierung und Rückausnahme

67

b) Einführung einer Mindestdauer

67

c) Vertrauensschutzregelung

68

2. Die Reaktionen

69

a) Die Stellungnahme des Bundesrates

69

b) Die Stellungnahme der EU-Kommission

71

c) Die Stellungnahmen im Rahmen der Sachverständigenanhörung

72

d) Die Stellungnahmen in der Rechtsprechung

74

3. Die Beschlussempfehlung des Umweltausschusses

75

a) Kollisionsklausel

76

b) Rückausnahme

77

4. Die Einigung im Vermittlungsausschuss

79

C. Resümee zu Kapitel 2

80

Kapitel 3: Die Rechtslage nach dem KrWG

83

A. Alttextilien als Abfall

83

B. Die Überlassungspflicht und ihre Ausnahmen

85

I. Die Überlassungspflicht

86

II. Eigenverwertung als Ausnahme

86

III. Die Ausnahmen in § 17 Abs. 2 KrWG

86

1. Die Ausnahme für die gemeinnützige Altkleidersammlung

87

a) Begriff der gemeinnützigen Sammlung

87

b) Ordnungsgemäße und schadlose Verwertung

88

aa) Ordnungsgemäße Verwertung

88

(1) Gesetzessystematik

89

(2) Sinn und Zweck

90

bb) Schadlose Verwertung

92

2. Die Ausnahme für die gewerblichen Sammlungen

92

a) Begriff der gewerblichen Sammlung

94

b) Kein überwiegendes entgegenstehendes öffentliches Interesse

95

aa) Grundsystematik

96

bb) Gefährdung der Funktionsfähigkeit

96

(1) Haushaltsnahe Erfassung und Verwertung

99

(2) Diskriminierungsfreie und transparente Vergabe

100

(a) Die Fallgruppen

100

(b) Dienstleistungskonzession

102

(aa) Dienstleistungskonzession als Vergabe

104

(bb) Bezogen auf Altkleidersammler

105

cc) Die Rückausnahme

105

3. Das Anzeigeverfahren

107

a) Art des Anzeigeverfahrens

107

aa) § 14 Abs. 1 GewO

108

bb) § 14 VersG

109

cc) Gegenüberstellung

109

b) Gesetzesadressat

111

c) Zuständige Behörde

112

d) Umfang der Anzeige

115

C. Eingriffsbefugnisse

117

I. Maßnahmen nach § 18 Abs. 5 S. 1 KrWG

117

II. Die Untersagungsverfügung nach § 18 Abs. 5 S. 2 KrWG

118

1. Die Untersagung nach § 18 Abs. 5 S. 2, 1. Alt KrWG

119

a) Unzuverlässigkeit bei Verstoß gegen die Straßengesetze

122

b) Unzuverlässigkeit wegen Vortäuschens von Gemeinnützigkeit

123

c) Unzuverlässigkeit wegen unvollständiger Anzeige

124

2. Adressatenpflichtigkeit

126

III. Mindestdauer nach § 18 Abs. 6 KrWG

127

IV. Vertrauensschutz nach § 18 Abs. 7 KrWG

129

D. Resümee zu Kapitel 3

130

Kapitel 4: Die Rechtslage nach dem Straßenrecht

132

A. Nutzung einer öffentlichen Straße

133

I. Gemeingebrauch und Sondernutzung

134

II. Altkleidercontainer als Sondernutzung

135

III. Gesetzesadressat

136

B. Anspruch auf Sondernutzungsgenehmigung

136

I. Berücksichtigungsfähige Belange

137

II. Belange der Kreislaufwirtschaft berücksichtigungsfähig?

138

1. Faktischer Einfluss des Straßenrechts

139

a) Faktischer Bodenentzug

139

aa) Keine Verlängerung bzw. Neuausstellung

140

bb) Existenzbedrohung

141

b) Abfallrechtliche Bewertung offensichtlich

143

2. Entsorgung "aus einer Hand"

144

3. Straßenbild als straßen- und kreislaufwirtschaftlicher Belang

145

a) Straßenbild als Belang der Kreislaufwirtschaft

145

b) Straßenbild als straßenrechtlicher Bezug

147

4. Kreislaufwirtschaftliche Belange in Berlin, Hamburg und Bremen

148

a) § 11 Abs. 2 BerlStrG (Berlin)

148

b) § 19 Abs. 1 Nr. 3 HWG (Hamburg)

149

c) § 18 Abs. 4 BremLStrG (Bremen)

149

5. Gemeinnützigkeit als straßen- und kreislaufwirtschaftlicher Belang

150

6. Fiskalische Gründe

151

C. Nebenbestimmungen

151

I. Befristung und Widerrufsvorbehalt

151

II. Bedingungen und Auflagen

152

III. Ausnahme in Schleswig-Holstein

153

D. Beseitigung

154

I. Allgemeine Rechtmäßigkeitsanforderung

154

1. Hinreichende Bestimmtheit

155

2. Adressat

156

II. Tatbestandliche Anforderungen

157

1. Nutzung ohne die erforderliche Erlaubnis (1. Alt)

157

2. Anforderungen der (öffentlichen) Sicherheit und Ordnung (2. Alt)

158

E. Konzentrationswirkung

159

I. Konzentrationswirkung nach dem Straßenverkehrsrecht

160

1. Konsequenzen

160

2. Voraussetzungen

161

II. Konzentrationswirkung nach dem öffentlichen Baurecht

163

F. Resümee zu Kapitel 4

164

Kapitel 5: Vereinbarkeit mit höherrangigem Recht

166

A. Die Überlassungspflichten bzw. deren Ausnahmen

166

I. Vereinbarkeit mit dem Verfassungsrecht

167

1. Vereinbarkeit mit Art. 14 GG hinsichtlich der Altkleiderbesitzer

167

2. Die Vereinbarkeit mit Art. 12 GG hinsichtlich der Sammler

169

a) Eingriff in den Schutzbereich

170

b) Verfassungsrechtliche Rechtfertigung

171

aa) Jeder vernünftige Grund des Gemeinwohls

172

bb) Verhältnismäßigkeit

172

(1) Insbesondere: Erforderlichkeit

173

(2) Insbesondere: Angemessenheit

173

(a) Kommunale Selbstverwaltung (Art. 28 Abs. 2 GG)

174

(b) Umweltschutz (Art. 20a GG)

176

(c) Zwischenergebnis (Angemessenheit)

179

II. Vereinbarkeit mit dem Unionsrecht

180

1. Eingriff in die Warenverkehrsfreiheit

181

a) Mengenmäßige Ausfuhrbeschränkung

181

b) Mengenmäßige Einfuhrbeschränkung

182

2. Wettbewerbsfreiheit

183

a) Öffentliches Unternehmen

184

b) Keine dem Art. 102 AEUV widersprechende Maßnahme

185

aa) Marktbeherrschende Stellung

185

bb) Missbrauchstatbestand

186

(1) Rechtssache Höfner & Elser

186

(2) Rechtssache Dusseldorp

187

3. Rechtfertigung

188

a) Sekundärrechtlicher Rechtfertigungsgrund

189

b) Cassis-de-Dijon-Rechtsprechung

190

c) Rechtfertigung nach Art. 106 Abs. 2 AEUV

191

aa) Dienstleistung von allgemeinem wirtschaftlichem Interesse

191

bb) Verhinderung und Verhältnismäßigkeit

192

(1) Wirtschaftlich ausgewogene Bedingungen

193

(2) Planungs- und Organisationsverantwortung

193

(a) Hochwertigkeit

194

(b) Gebührenstabilität

195

(c) Vergabe

195

(3) Rückausnahme

199

B. Die Anzeigepflicht bzw. deren Vorgaben

200

C. Resümee zu Kapitel 5

202

Schluss: Ergebnisse und Ausblick

204

I. Gesamtbetrachtung

204

II. Ausblick

205

1. Die "Altkleider-Urteile" des BVerwG

205

2. Entscheidung des EuGH

206

3. Eingriffe des Gesetzgebers

206

III. Wesentliche Ergebnisse der einzelnen Kapitel

206

Literaturverzeichnis

209

Stichwortverzeichnis

235