Criminal justice law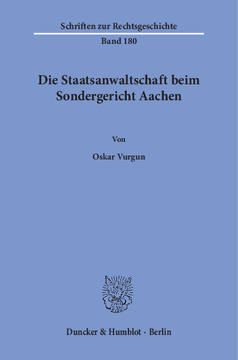 Additional Information
Book Details
ISBN

978-3-428-55182-8
978-3-428-15182-0 (print edition)

DOI

https://doi.org/10.3790/978-3-428-55182-8

Edition

1

Language

German

Pages

619

Collections

Subjects
Pricing
Institution

€ 150.00 (incl. local VAT if applicable)

Individual

€ 116.90 (incl. local VAT if applicable)
About The Author
Der Autor studierte Rechtswissenschaften an der Rheinischen Friedrich-Wilhelms-Universität zu Bonn und der Paris-Lodron-Universität zu Salzburg. Seine Dissertation legte er mit der Benotung »sehr gut« ab. Nach dem juristischen Vorbereitungsdienst am Landgericht Bonn arbeitet er im öffentlichen Dienst im Ressort für Inneres.
Abstract
»The Department of Public Prosecution at the Special Court in Aachen«

The role of the department of public prosecution during the Nazi-Regime as well as the question of its political instrumentalisation are building the key element of the study. Awarded with several prices, the study examines the relevance of the department within the public administration and its practice. A complete evaluation of recorded documents validates the empirical results of the work. Gegenstand der Arbeit bilden Bedeutung und Tätigkeitspraxis der Staatsanwaltschaft im nationalsozialistischen Machtgefüge unter dem Gesichtspunkt einer politischen Instrumentalisierung. Die Frage nach einem abstrakt normierten Steuerungswillen des NS-Regimes wird in einen örtlich konkreten Kontext implementiert, wobei die Staatsanwaltschaft zentrales Strukturelement der Untersuchung bildet. Als Lokalstudie ausgekleidet wird neben reichsweiten Entwicklungen die Staatsanwaltschaft beim Sondergericht Aachen beleuchtet, um Kontinuitäten und Diskontinuitäten zwischen überregionalen und regionalen Entwicklungen herauszuarbeiten. Neben der Rolle im Justizverwaltungsgefüge werden Ermittlungs-, Anklage-, Vollstreckungs- und Gnadenpraxis im Lichte sogenannter »Kriegsgesetzgebung« sowie unterschiedlicher Personengruppen gewürdigt. Eine statistische Vollauswertung überlieferter Verfahrens- und Verwaltungsakten dient als empirisches Fundament zur statistischen Validierung gefundener Ergebnisse.

Die Arbeit wurde mit dem Irma Rosenberg-Preis für die Erforschung der Geschichte des Nationalsozialismus sowie mit dem Helmut A. Crous-Geschichtspreis der Region Aachen ausgezeichnet.
Table of Contents
Section Title
Page
Action
Price

Widmung

5

Geleitwort

7

Vorwort

9

Inhaltsübersicht

11

Inhaltsverzeichnis

13

Tabellenverzeichnis

21

Abbildungverzeichnis

25

Abkürzungsverzeichnis

27

A. Einleitung

31

I. Ziel und methodischer Ansatz der Untersuchung

33

II. Forschungsstand

34

III. Forschungsfragen

39

IV. Gang der Darstellung

39

V. Quellenlage und Quellenwert

40

B. Die Staatsanwaltschaft beim Sondergericht Aachen und ihre Rolle im Justizverwaltungsapparat

45

I. Rechtliche und tatsächliche Rahmenbedingungen der staatsanwaltschaftlichen Arbeitspraxis am Standort Aachen

45

1. Rechtliche Rahmenbedingungen

45

a) Nationalsozialistische Rechtsideologie

45

aa) Das Führerprinzip

45

bb) Das Prinzip der Volksgemeinschaft

47

b) Die intendierte Stellung der Staatsanwaltschaft im NS-Regime

50

c) Grundlagen nationalsozialistischer Gesetzgebung

52

aa) Formelle Gesetzgebung

52

bb) Materielle Gesetzgebung

56

2. Faktische Rahmenbedingungen

57

a) Die fingierte "Justizkrise" – Gründe, Urheber und Auswirkungen

57

b) Der Einfluss des Krieges auf den Standort Aachen

61

aa) Eckdaten zum Kriegsverlauf in Aachen

61

bb) Bedeutung des Krieges für die Behördenorganisation

63

cc) Der Kriegseinfluss auf die Bevölkerung und Konsequenzen für die Arbeit der Staatsanwaltschaft

67

(1) Kriegsbedingte Zerstörungen

67

(2) Versorgungslage

70

(3) Das Zusammenleben mit ausländischen und jüdischen Menschen

72

c) Die staatsanwaltschaftliche Wirkungsstätte: Das Sondergericht Aachen

74

aa) Die Entwicklung der Sondergerichtsbarkeit bis 1933

74

bb) Errichtung und Personal des Sondergerichts Aachen

77

cc) Überlieferter Geschäftsanfall

78

II. Die strafrechtliche Gesetzgebung und ihre Bedeutung für die Staatsanwaltschaft

79

1. Die Gesetzgebung auf dem Gebiet des materiellen Strafrechts

80

2. Die Gesetzgebung auf dem Gebiet des formellen Strafrechts

82

a) Abschaffung des Analogieverbots

82

b) Gerichtliche Voruntersuchung

84

c) Durchbrechung des Legalitätsprinzips

85

d) Weitere Änderungen im Rahmen des Ermittlungsverfahrens

89

e) Zugang zum Sondergericht durch Wahlzuständigkeit

91

f) Besondere Rechtsmittel – der außerordentliche Einspruch

97

aa) Entstehung, Anwendungsbereich und abstrakte Relevanz

97

bb) Konkrete Relevanz des außerordentlichen Einspruchs für die staatsanwaltschaft Aachen

100

cc) Schlussfolgerung

108

g) Besondere Rechtsmittel – die Nichtigkeitsbeschwerde

110

aa) Entstehung, Anwendungsbereich und abstrakte Relevanz

110

bb) Konkrete Relevanz der Nichtigkeitsbeschwerde für die Staatsanwaltschaft Aachen

115

(1) Die Fälle erwogener Nichtigkeitsbeschwerden

116

(a) Fall 1

116

(b) Fall 2

119

(c) Fall 3

121

(2) Die Fälle angeregter Nichtigkeitsbeschwerden

122

(a) Fall 4

122

(b) Fall 5

124

(c) Fall 6

126

(3) Die Fälle eingelegter Nichtigkeitsbeschwerden

128

(a) Fall 7

128

(b) Fall 8

130

(4) Die Fälle erfolgreicher Nichtigkeitsbeschwerden

132

(a) Fall 9

132

(b) Fall 10

134

(c) Fall 11

136

(d) Fall 12

137

(e) Fall 13

139

(f) Fall 14

141

(g) Fall 15

144

(h) Fall 16

146

cc) Schlussfolgerung

148

h) Strafvollstreckung und Begnadigung

156

3. Schlussfolgerung

157

III. Die Personalpflege auf Reichsebene und ihre Umsetzung und Auswirkung bei der Staatsanwaltschaft Aachen

159

1. Personalpflege auf Reichsebene: Personelle "Reinigung" der Justizverwaltung und Personalpolitik im NS-Regime

161

a) Die Reformation des Beamtenapparates und ihre gesetzlichen Grundlagen

161

b) Einwirkungen der NSDAP auf dem Personalsektor – der Staatsanwalt zwischen Staatstreue und Parteitreue

164

c) Die Mitgliedschaft in der Partei als Voraussetzung für die Beamtenlaufbahn

170

2. Die Umsetzung der Personalpflege auf Bezirksebene: Aufbau und Akteure der Staatsanwaltschaft Aachen

173

a) Einordnung und Aufbau der Staatsanwaltschaft Aachen im Gefüge der Justizverwaltung

173

b) Die Akteure der Staatsanwaltschaft Aachen und ihre politische Instrumentalisierung

175

aa) Die Definition des Begriffs der "politischen Selbstinstrumentalisierung"

176

bb) Die Akteure der Staatsanwaltschaft Aachen

179

(1) LOStA Karl Friedrich Hans Führer

179

(a) Tätigkeitsprofil und Parteiaktivität

179

(b) Relevanz der staatsanwaltlichen Tätigkeit vor dem Sondergericht

183

(2) EStA Carl Ackermann

188

(a) Tätigkeitsprofil und Parteiaktivität

188

(b) Relevanz der staatsanwaltlichen Tätigkeit vor dem Sondergericht

191

(3) Dezernatsleiter für Sondergerichtssachen: StA Dr. Konrad Bruno Höher

195

(a) Tätigkeitsprofil und Parteiaktivität

195

(b) Relevanz der staatsanwaltlichen Tätigkeit vor dem Sondergericht

197

(4) StA Rolf Venator

202

(a) Tätigkeitsprofil und Parteiaktivität

202

(b) Relevanz der staatsanwaltlichen Tätigkeit vor dem Sondergericht

203

(5) StA Dr. Gerhard Marx

205

(a) Tätigkeitsprofil und Parteiaktivität

205

(b) Relevanz der staatsanwaltlichen Tätigkeit vor dem Sondergericht

207

(6) StA Hans Wickmann

210

(a) Tätigkeitsprofil und Parteiaktivität

210

(b) Relevanz der staatsanwaltlichen Tätigkeit vor dem Sondergericht

212

(7) StA Paul Friedrich Wilhelm Zimmerath

215

(a) Tätigkeitsprofil und Parteiaktivität

215

(b) Relevanz der staatsanwaltlichen Tätigkeit vor dem Sondergericht

217

c) Schlussfolgerung

224

3. Schlussfolgerung

228

IV. Die vorgesetzten Dienstbehörden der Staatsanwaltschaft Aachen – Akteure und Lenkungsinstrumente

231

1. Die oberste Justizbehörde: Das Reichsjustizministerium in Berlin

234

a) Behördlicher Aufbau und sachliche Zuständigkeit

234

b) Relevante Akteure

236

aa) Staatssekretär Dr. Dr. hc Franz Schlegelberger

236

bb) Reichsminister Dr. Otto Georg Thierack

240

cc) Staatssekretär Dr. Roland Freisler

244

dd) Staatssekretär Dr. Curt Ferdinand Rothenberger

247

ee) Staatssekretär Herbert Klemm

249

ff) Ministerialrat Karl Günther Joel

250

c) Die ministeriellen Lenkungsinstrumente und ihre Bedeutung für die Staatsanwaltschaft Aachen

250

aa) Mitteilungs- und Berichtspflichten an das Reichsjustizministerium

250

bb) Verpflichtung zur Erstattung politischer Lageberichte

258

cc) Einzelweisungen des Reichsjustizministeriums an die Staatsanwaltschaft Aachen

262

dd) Weitere Arten von Verwaltungsbestimmungen mit Bindungswirkung für die Staatsanwaltschaft – Richtlinien, Rundverfügungen und Allgemeinverfügungen

269

ee) Besprechungen und Tagungen

273

2. Die Generalstaatsanwaltschaft Köln – Bindeglied zwischen ­Reichsjustizministerium und Staatsanwaltschaft Aachen

275

a) Stellung und sachliche Zuständigkeit

275

b) Relevante Akteure

277

aa) OStA Dr. Dr. Otto Osterkamp

277

bb) GStA Willy Rahmel

279

cc) Sonderreferent bei der Generalstaatsanwaltschaft: EStA Arnold

282

c) Lenkungsinstrumente auf Provinzialebene und ihre Bedeutung für die Staatsanwaltschaft Aachen

283

aa) Berichts- und Mitteilungspflichten an den Generalstaatsanwalt

283

bb) Politische Lageberichte an die Generalstaatsanwaltschaft

284

cc) Einzelweisungen der Generalstaatsanwaltschaft

288

3. Schlussfolgerung

290

C. Die Ermittlungs-, Anklage-, Vollstreckungs- und Gnadenpraxis der Staatsanwaltschaft Aachen, dargestellt anhand der Verfahrensakten der Staatsanwaltschaft beim Sondergericht Aachen

294

I. Ermittlungs- und Anklagepraxis

294

1. Die Ermittlungs- und Anklagepraxis im Lichte \nder jeweiligen Deliktsgruppen

295

a) Delikte nach dem Heimtückegesetz (HG)

295

aa) Anwendungsbereich

295

(1) § 1 HG

296

(2) § 2 HG

297

cc) Ermittlungsspezifische Besonderheiten

301

dd) Der Erfolg der Anklagepraxis, gemessen anhand der Gegenüberstellung von beantragtem und verhängtem Strafmaß

305

b) Delikte nach der Kriegswirtschaftsverordnung (KrWVO)

305

aa) Anwendungsbereich

305

(1) § 1 Abs. 1 KrWVO

306

(2) Sonstiger Anwendungsbereich der KrWVO

313

bb) Ermittlungsspezifische Besonderheiten

314

cc) Anklagespezifische Besonderheiten

315

dd) Der Erfolg der Anklagepraxis, gemessen anhand der Gegenüberstellung von beantragtem und verhängtem Strafmaß

317

c) Delikte nach der Volksschädlingsverordnung (VVO)

318

aa) Anwendungsbereich

318

(1) Systematische Einordnung der §§ 2 und 4 VVO

320

(2) Anwendungsbereich des § 2 VVO

324

(a) Taugliche "Grunddelikte"

324

(b) Ausnutzung von Fliegerabwehrmaßnahmen

325

(c) Voraussetzung des Tätertypen als ungeschriebenes Tatbestandsmerkmal

330

(3) § 4 VVO

334

(a) Die "sonstige Straftat" als "Grunddelikt"

334

(b) Die Ausnutzung "außergewöhnlicher Verhältnisse"

336

(c) Die Verwerflichkeitsklausel

339

bb) Anklagespezifische Besonderheiten

342

cc) Der Erfolg der Anklagepraxis, gemessen anhand der Gegenüberstellung von beantragtem Strafmaß und Schuldspruch

343

d) Delikte nach der Rundfunkverordnung (RundfunkVO)

344

aa) Anwendungsbereich

344

(1) § 1 RundfunkVO

345

(2) § 2 RundfunkVO

347

bb) Ermittlungsspezifische Besonderheiten

350

cc) Anklagespezifische Besonderheiten

353

dd) Der Erfolg der Anklagepraxis, gemessen anhand der Gegenüberstellung von beantragtem Strafmaß und Schuldspruch

354

2. Die Ermittlungs- und Anklagepraxis im Lichte unterschiedlicher Personengruppen

355

a) Die Ermittlungspraxis gegen den Sonderreferenten der Generalstaatsanwaltschaft

355

b) Ermittlungs- und Anklagepraxis gegen Angehörige der NSDAP

357

aa) Verfahren gegen führende Persönlichkeiten der NSDAP auf Provinzialebene

357

bb) Verfahren gegen sonstige Angehörige der NSDAP

362

c) Verfahrenspraxis gegen Ausländer

368

3. Verfahrenspraxis bei Todesurteilen

374

a) Der Fall Raymond D.

379

aa) Täterprofil

379

bb) Sachverhalt

379

cc) Spruchpraxis

380

dd) Anklagepraxis und sonstiges Tätigwerden der Staatsanwaltschaft

380

b) Der Fall Josef K.

382

aa) Täterprofil

382

bb) Sachverhalt

383

cc) Spruchpraxis

383

dd) Anklagepraxis und sonstiges Tätigwerden der Staatsanwaltschaft

384

c) Der Fall Wilhelm M.

386

aa) Täterprofil

386

bb) Sachverhalt

387

cc) Spruchpraxis

387

dd) Anklagepraxis und sonstiges Tätigwerden der Staatsanwaltschaft

388

d) Der Fall Philipp L.

390

aa) Täterprofil

390

bb) Sachverhalt

390

cc) Spruchpraxis

391

dd) Anklagepraxis und sonstiges Tätigwerden der Staatsanwaltschaft

392

e) Der Fall Hubert B.

393

aa) Täterprofil

393

bb) Sachverhalt

394

cc) Spruchpraxis

395

dd) Anklagepraxis und sonstiges Tätigwerden der Staatsanwaltschaft

396

f) Der Fall Wilhelm O.

397

aa) Täterprofil

397

bb) Sachverhalt

398

cc) Spruchpraxis

398

dd) Anklagepraxis und sonstiges Tätigwerden der Staatsanwaltschaft

400

g) Der Fall Heinrich W.

402

aa) Täterprofil

402

bb) Sachverhalt

402

cc) Spruchpraxis

403

dd) Anklagepraxis und sonstiges Tätigwerden der Staatsanwaltschaft

404

h) Der Fall Hans K.

405

aa) Täterprofil

405

bb) Sachverhalt

406

cc) Spruchpraxis

407

dd) Anklagepraxis und sonstiges Tätigwerden der Staatsanwaltschaft

407

i) Der Fall Paul S.

411

aa) Täterprofil

411

bb) Sachverhalt

412

cc) Spruchpraxis

413

dd) Anklagepraxis und sonstiges Tätigwerden der Staatsanwaltschaft

415

j) Der Fall Wilhelm L., Albert L., Heinrich H. und Karl S.

420

aa) Täterprofile

420

bb) Sachverhalt

421

cc) Spruchpraxis

421

dd) Anklagepraxis und sonstiges Tätigwerden der Staatsanwaltschaft

422

k) Der Fall Mathias P.

423

aa) Täterprofil

423

bb) Sachverhalt

424

cc) Spruchpraxis

424

dd) Anklagepraxis und sonstiges Tätigwerden der Staatsanwaltschaft

425

5. Auswirkungen der VereinfachungsVO vom 29. Mai 1943 für die Ermittlungs- und Anklagepraxis

426

6. Fachärztliche Begutachtungen des Geisteszustandes

427

a) Voraussetzungen und staatsanwaltschaftliche Intention

428

b) Aufbau und inhaltliche Ausgestaltung der Gutachten

429

c) Prozessuale Relevanz und Bindungswirkung der Gutachten

431

7. Verfahrenseinstellungen, Verwarnungen und Freisprechungsanträge – Motive und Ursachen

434

8. Schlussfolgerungen

438

II. Strafvollstreckungs- und Gnadenpraxis

447

1. Grundlagen zum Strafvollzug

447

a) Ideologische Grundlagen des Strafvollzugs seit der Machtübernahme

447

b) Zielrichtungen und normative Entwicklung des Strafvollzugs von der Weimarer Republik bis zur Strafvollzugsordnung vom 22. Juli 1940

449

aa) Reichsratsgrundsätze vom 7. Juni 1923

449

bb) Strafvollzugsordnung vom 14. Mai 1934

450

cc) Strafvollzugsordnung vom 22. Juli 1940

452

2. Vollstreckungspraxis bei Urteilen des Sondergerichts Aachen

454

a) Aufgaben der Staatsanwaltschaft als Strafvollstreckungsbehörde

454

b) Vollstreckungsorte

457

c) Durchführung und Statistik

458

aa) Geldstrafen

458

bb) Freiheitsstrafen

459

(1) Gefängnisstrafen

459

(2) Zuchthausstrafen

460

(3) Lagervollzug

461

cc) Vollstreckung von Todesstrafen

463

(1) Rechtliche und tatsächliche Rahmenbedingungen

463

(2) Konkreter Verfahrensablauf

467

3. Gnadenpraxis der Staatsanwaltschaft Aachen

471

a) Normative Rahmenbedingungen des Gnadenverfahrens

471

b) Umsetzung durch die Staatsanwaltschaft Aachen

474

aa) Bedingte Strafaussetzung

474

(1) Privilegierte Personen- und Berufsgruppen

475

(2) Auflagen und Bedingungen

478

bb) "Bewährung an der Front"

478

cc) Bedeutung von Stellungnahmen der NSDAP

480

dd) Gnadenpraxis in Zahlen

481

4. Schlussfolgerung

483

III. Weitere Entwicklung der Staatsanwaltschaft

486

1. Kriegsverlauf und Konsequenzen für die Staatsanwaltschaft

486

2. Zukunft der Staatsanwälte nach Kriegsende

487

3. Vorwürfe in der Nachkriegszeit

495

D. Zusammenfassung

499

Anhang

504

Literaturverzeichnis

595

Quellenverzeichnis

611

Stichwortverzeichnis

616