Company & business offences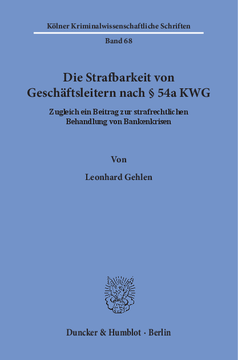 Additional Information
Book Details
ISBN

978-3-428-55236-8
978-3-428-15236-0 (print edition)

DOI

https://doi.org/10.3790/978-3-428-55236-8

Edition

1

Language

German

Pages

426

Collections

Subjects
Pricing
Institution

€ 126.00 (incl. local VAT if applicable)

Individual

€ 98.90 (incl. local VAT if applicable)
About The Author
Leonhard Gehlen, LL.M., studierte Rechtswissenschaften in Köln und an der Université Paris 1 (Panthéon-Sorbonne). Während des Studiums sowie der Promotion arbeitete er an der Universität zu Köln am Lehrstuhl für Bürgerliches Recht, Handels- und Gesellschaftsrecht, Arbeitsrecht und Europäische Privatrechtsentwicklung (Prof. Dr. Dr. h.c. Dauner-Lieb). Bei Herrn Prof. Dr. Dr. h.c. Michael Kubiciel promovierte Leonhard Gehlen mit einer wirtschaftsstrafrechtlichen Arbeit. Nach Abschluss des Referendariats mit Stationen in einer internationalen Großkanzlei sowie an der Deutschen Botschaft in London ist er nun Richter in Köln. Seine Dissertation wurde mit dem Promotionspreis 2017 für Strafrecht der Rechtwissenschaftlichen Fakultät der Universität zu Köln ausgezeichnet.
Abstract
Die Empörung über das Geschäftsgebaren zahlreicher Finanzakteure war groß, als vor rund zehn Jahren das Ausmaß der Finanzkrise deutlich wurde. Nennenswerte Verurteilungen blieben im Nachgang der Krise jedoch aus. Der Gesetzgeber führte das unter anderem auf eine Lücke im geltenden Strafrecht zurück und schuf in Reaktion auf eine solche § 54a KWG. Doch stellt diese neue Strafvorschrift eine sinnvolle Ergänzung des vorhandenen Normenbestandes dar?

Zur Beantwortung dieser Frage leuchtet die Arbeit zunächst die volkswirtschaftlichen und strafrechtlichen Hintergründe aus, die zur Schaffung des § 54a KWG geführt haben. Anschließend wird die neue Strafnorm erstmals umfassend dogmatisch gedeutet. Sie wirft eine Fülle teils rechtsgebietsübergreifender Fragen auf, welche auch über die einzelne Norm hinaus von Relevanz sind. Die Arbeit bezieht schließlich Stellung dazu, was das Strafrecht allgemein und § 54a KWG im Besonderen mit Blick auf künftige Bankenkrisen leisten kann. Dabei werden auch Möglichkeiten jenseits des geltenden Rechts ausgelotet.

Die Dissertation wurde mit dem Promotionspreis 2017 für Strafrecht der Rechtwissenschaftlichen Fakultät der Universität zu Köln ausgezeichnet. »The Criminal Liability of Directors According to Article 54a of the German Banking Act«

The global financial crisis caused public indignation regarding the business practices of numerous financial actors, but criminal convictions remained an exception. In the aftermath of the crisis, the German legislator added § 54a of the German Banking Act (KWG) to the existing criminal law to facilitate prosecution of comparable cases in the future.

The present publication first sheds light upon the economic and legal background of § 54a KWG, before examining this new criminal provision comprehensively. This examination raises a number of questions, some of which extend to other fields of law and are of relevance beyond the specific provision. The publication eventually comments on what criminal law in general and § 54a KWG in specific can accomplish with regard to future banking crises. Options beyond the existing law are discussed in this context as well.
Table of Contents
Section Title
Page
Action
Price

Vorwort

5

Inhaltsübersicht

7

Inhaltsverzeichnis

11

Abkürzungsverzeichnis

21

Einleitung

27

Gang der Untersuchung

31

Kapitel 1: Regelungshintergrund des § 54a KWG

33

A. Die Finanzkrise und ihre strafrechtliche Aufarbeitung

33

I. Die Finanzkrise – Ursachen, Verlauf, Verantwortlichkeiten

33

1. Ursachen der Finanzkrise

33

a) Massenhafte Kreditvergabe auf dem US-Markt

34

aa) Liquiditätsschwemme infolge US-amerikanischer Niedrigzinspolitik

34

bb) Non-recourse loans, Anreizstrukturen und Überbeleihung

35

cc) Eigenheim für alle – Bonität als untergeordnetes Kriterium der Kreditvergabe

36

dd) Zwischenergebnis

37

b) Verbriefungen und die Brücke über den Atlantik

38

aa) Verbriefung und Strukturierung

38

bb) Vermeintliche Transparenz und Sicherheit durch Ratings

43

cc) Fristentransformationsmodelle und deutsche (Landes-)‌Banken

45

dd) Verbriefungsmarkt als Motor weiterer Kreditvergaben

47

ee) Zwischenergebnis

48

c) Aufsichts- und Aufsichtsrechtsversagen

49

d) Zwischenergebnis

52

2. Verlauf der Finanzkrise

52

a) Platzen der US-Immobilienblase

52

b) Vertrauensverlust und gescheiterte Fristentransformationen

53

c) Banken weltweit in Schwierigkeiten

54

d) Lehman Brothers

55

e) Kosten der Bankenrettung

55

f) Zwischenergebnis

57

3. Systemfehler und individuelle Verantwortlichkeit

57

a) Finanzkrise als Ergebnis eines anonymen Systemfehlers?

58

b) Finanzkrise als von Menschenhand verursachte Krise?

60

c) Frage der Gewichtung, nicht der Exklusivität

60

II. Die Aufarbeitung der Finanzkrise durch die deutsche Strafjustiz

63

1. Vorüberlegung: Marktwirtschaft und staatliche Einflussnahme

64

a) Intensität staatlicher Einflussnahme auf die Wirtschaft im Wandel der Zeit

64

b) Was gerade Strafrecht im wirtschaftlichen Kontext leisten kann und soll

66

aa) Strafrecht als klassisches Mittel der Repression

66

bb) Strafrecht als ein Mittel der Prävention

67

(1) Strafrecht als in Konkurrenz stehendes, expandierendes Mittel der Prävention

67

(2) Praktische Auswirkungen expandierenden Strafrechts

70

cc) Zwischenergebnis

71

c) Was Strafrecht nicht leisten kann

72

d) Zwischenergebnis

72

2. Abgeschlossene und laufende Strafverfahren – eine Auswahl

73

a) HSH Nordbank AG

73

b) LBBW

75

c) Hypo Real Estate Holding AG

76

d) IKB Deutsche Industriebank AG

77

e) BayernLB

78

3. Weitgehende Ergebnislosigkeit trotz Empörung und hohen Aufwands

78

B. Etwaige Lückenhaftigkeit des geltenden Strafrechts

80

I. Strukturelle Unzulänglichkeiten der existierenden Straftatbestände

81

1. Untreue, § 266 StGB

82

a) § 266 StGB als akzessorischer, restriktiv anzuwendender Straftatbestand

84

aa) Akzessorietät und tatbestandliche Weite des § 266 StGB

85

(1) Überschreiten des Unternehmensgegenstandes

86

(2) Eingehen übermäßiger, gegebenenfalls existenzgefährdender Risiken

87

(3) Versäumnisse im Bereich des Risikomanagements

93

(4) Zwischenergebnis

95

bb) Verfassungsrechtliches Gebot einschränkender Auslegung

96

(1) Vorgaben des Bundesverfassungsgerichts und verbleibende Unsicherheiten

96

(2) Bedeutung für den Bankensektor

99

cc) Zwischenergebnis

100

b) § 266 StGB als Verletzungsdelikt

101

aa) Feststellung des Vermögensnachteils

101

bb) Nachweisschwierigkeiten und Verschleifungsverbot

106

cc) Mittelbare Kausalität und Unmittelbarkeit des Vermögensnachteils

107

dd) Zwischenergebnis

108

c) § 266 StGB als Vorsatzdelikt

109

aa) Besondere Anforderungen an den Vorsatznachweis?

109

bb) Bezugspunkte und offene Fragen des Untreuevorsatzes

110

(1) Vorsatz bezüglich des Pflichtenverstoßes

110

(2) Vorsatz bezüglich des Vermögensnachteils

111

cc) Untreuevorsatz und Finanzkrise

112

dd) Zwischenergebnis

117

d) § 266 StGB als rein vermögensschützende Norm

118

aa) Begrenzung möglicher Tatverhalten

118

bb) Begrenzter Unwertgehalt

123

e) Zwischenergebnis

124

2. Bankrott, § 283 StGB

125

a) § 283 StGB als gläubiger-‍, ggf. kollektivrechtsgüterschützende Norm

126

aa) Kollektivrechtsgüterschutz durch § 283 StGB?

127

bb) Gefährdung der Stabilität des Finanzsystems als Strafzumessungsaspekt?

128

cc) Zwischenergebnis

130

b) § 283 Abs. 2 StGB als Pönalisierung einer Krisenverursachung

130

aa) Tatverhalten der Bankrotthandlung

131

(1) § 283 Abs. 1 Nr. 2 StGB

131

(a) Verlust- und Spekulationsgeschäft

132

(b) Geschäfte entgegen den Anforderungen ordnungsgemäßen Wirtschaftens

135

(2) § 283 Abs. 1 Nr. 8 StGB

137

bb) Herbeiführen einer Unternehmenskrise

138

cc) Flexibilität durch Fahrlässigkeitsvarianten

142

c) § 283 Abs. 6 StGB und staatliche Bankenrettungen – ein Problemfall

144

aa) Staatliche Bankenrettung als faktisches Privileg für gewisse Bankverantwortliche

144

bb) § 283 Abs. 6 StGB als unüberwindbare Hürde de lege lata

145

d) Zwischenergebnis

148

3. Anzeigepflichtverletzung, § 55 KWG

149

4. Bilanzdelikte

150

5. Zwischenergebnis

151

II. Kapitulation des Strafrechts vor der Komplexität der Finanzbranche?

152

C. Zwischenergebnis

154

Kapitel 2: Untersuchung des § 54a KWG

156

A. Gesetzgebungsverfahren

156

B. Intendierter Rechtsgüterschutz

157

I. Sicherung der anvertrauten Vermögensinteressen

158

II. Schutz der ordnungsgemäßen Durchführung der Bankgeschäfte

160

III. Schutz der Stabilität des Finanzsystems

161

IV. Vermeidung von Nachteilen für die Gesamtwirtschaft

163

V. Zwischenergebnis

164

C. Tatbestand

164

I. Adressatenkreis

165

1. § 54a KWG als Sonderdelikt für Geschäftsleiter

165

2. Bedeutung der Systemrelevanz des Instituts für den Adressatenkreis?

166

a) Keine Einschränkung durch den Wortlaut

166

b) Ausgemachte Unstimmigkeiten und Vorschlag einer teleologischen Reduktion

166

c) Der schillernde Begriff der Systemrelevanz

167

d) Keine teleologische Reduktion des Adressatenkreises

174

aa) Voraussetzungen einer teleologischen Reduktion

175

bb) Gesetzgeberischer Wille bezüglich des Adressatenkreises

175

(1) Ziele des § 54a KWG laut Gesetzesbegründung

175

(2) Systemrelevanz in der Gesetzesbegründung

176

(3) Anhaltspunkte außerhalb der Gesetzesbegründung

179

cc) Zwischenergebnis

180

3. Zwischenergebnis zum Adressatenkreis

181

II. Tatverhalten

181

1. Verwaltungsrechtsakzessorischer § 54a Abs. 1 KWG

181

a) Erhebung in Gesetzesrang weitgehend bereits zuvor bestehender Risikomanagementpflichten

182

b) Bestimmtheitserfordernis und prinzipienorientiertes Aufsichtsrecht – ein Spannungsfeld

184

aa) Verwaltungsrechtsakzessorietät als Einfallstor für unbestimmte Rechtsbegriffe

184

bb) Anforderungen an die Bestimmtheit eines Strafgesetzes

186

cc) § 25c Abs. 4a, Abs. 4b S. 2 KWG als prinzipienorientiertes Aufsichtsrecht

188

dd) Unbestimmtheit der Vorgaben in § 25c Abs. 4a, Abs. 4b S. 2 KWG

191

ee) Zwischenergebnis

194

c) Verhaltensumschreibung des "nicht Sorge tragen"

195

aa) "Nicht Sorge tragen" als Unterlassen

195

bb) "Nicht Sorge tragen" keine Pflicht zur Erfolgsabwendung

196

cc) "Nicht Sorge tragen" als Förderung der Bestimmtheit des § 54a Abs. 1 KWG?

198

dd) Zwischenergebnis

199

2. Ergänzung durch den verwaltungsaktsakzessorischen § 54a Abs. 3 KWG

199

a) Dogmatische Einordnung des § 54a Abs. 3 KWG

200

aa) § 54a Abs. 3 KWG als Strafausschließungsgrund?

200

bb) § 54a Abs. 3 KWG als objektive Bedingung der Strafbarkeit?

201

cc) § 54a Abs. 3 KWG als Teil des objektiven Tatbestandes

202

b) § 54a Abs. 3 KWG und das Verfassungsrecht

204

aa) Etwaige Förderung der Bestimmtheit durch § 54a Abs. 3 KWG

204

(1) Fortbestehende Unbestimmtheit des Tatbestandes trotz § 54a Abs. 3 KWG?

205

(2) Ausräumung der Bestimmtheitsbedenken durch § 54a Abs. 3 KWG?

205

(3) Bestimmtheit allein hinsichtlich Straffreiheit genügt nicht Art. 103 Abs. 2 GG

206

bb) Zwischenschaltung der BaFin und Gesetzesvorbehalt

208

(1) § 54a Abs. 3 KWG als verwaltungsaktsakzessorischer Blanketttatbestand

208

(2) Verwaltungsaktsakzessorisches Strafrecht und Gesetzlichkeitsprinzip

210

(3) Wahrung des Gesetzesvorbehaltes durch § 54a Abs. 3 KWG

213

cc) Zwischenergebnis

215

c) § 54a Abs. 3 KWG und das Verwaltungsrecht

215

aa) Informationsgewinnung als Voraussetzung behördlichen Handelns

216

bb) Rechtmäßigkeitsvoraussetzungen einer Anordnung nach § 25c Abs. 4c KWG

217

(1) Formelle Rechtmäßigkeitsvoraussetzungen

217

(2) Materielle Rechtmäßigkeitsvoraussetzungen

218

cc) Etwaige Auswirkungen der Rechtswidrigkeit einer Anordnung der BaFin

219

(1) Wortlaut des § 54a Abs. 3 KWG – Vollziehbarkeit der Anordnung

219

(2) Rechtswidrige Verwaltungsakte im verwaltungsaktsakzessorischen Strafrecht

220

(3) Limitierte Verwaltungsaktsakzessorietät des § 54a KWG

223

(a) Materiell rechtswidrige Anordnung der BaFin mangels Verstoßes gegen § 25c Abs. 4a, Abs. 4b S. 2 KWG

224

(b) Rechtswidrige Anordnung der BaFin aus anderen Gründen

224

(4) Bedenkliche Konsequenzen der zweigliedrigen Tatbestandsstruktur des § 54a KWG

227

(5) Zwischenergebnis

227

d) § 54a Abs. 3 KWG und der Einheitliche Aufsichtsmechanismus (SSM)

228

aa) SSM – eine Zäsur in der Architektur der Bankenaufsicht

228

bb) Bedeutung des SSM für § 54a KWG

231

cc) Der EZB durch den SSM übertragene Aufgaben

232

dd) Richtlinienbezug des § 25c Abs. 4a‒4c KWG – ein Grenzfall

233

(1) Argumente gegen eine Richtlinienumsetzung

233

(2) Argumente für eine Richtlinienumsetzung

235

(a) Richtlinienbezug der Vorgaben in § 25c Abs. 4a, Abs. 4b S. 2 KWG

235

(b) Richtlinienbezug des § 25c Abs. 4c KWG und Anordnungsbefugnis der EZB

237

(3) Zwischenergebnis

238

ee) Auswirkungen bei Annahme einer Richtlinienumsetzung

238

(1) Folgen für § 54a KWG im Falle einer Anordnungsbefugnis der EZB

239

(2) Fortbestehende Anordnungsbefugnis der BaFin gemäß § 25c Abs. 4c KWG?

240

(a) Aufforderung der BaFin durch die EZB über Art. 9 Abs. 1 UAbs. 3 SSM-VO?

241

(b) Anordnungsverlangen der EZB an die BaFin über Art. 18 Abs. 5 UAbs. 1 SSM-VO?

242

(c) "Teilzuständigkeit" der BaFin für strafrechtlichen Teil der Anordnung?

244

(3) Zwischenergebnis

245

ff) Auswirkungen bei Verneinung einer Richtlinienumsetzung

245

gg) Zwischenergebnis

246

e) Zwischenergebnis zu § 54a Abs. 3 KWG

248

3. Relevanz interner Zuständigkeitsverteilungen

248

a) Begriffsklärung: Gesamtverantwortung und Ressortverteilung

249

b) Unbeachtlichkeit interner Zuständigkeitsverteilungen laut Regierungsentwurf

251

aa) Wortlaut und Entwurfsbegründung

252

bb) Geäußerte verfassungsrechtliche und praktische Bedenken

252

c) Änderungen gegenüber dem Regierungsentwurf

254

aa) Wortlautänderungen und Einfügung des § 54a Abs. 3 KWG

254

bb) Bisherige Folgerungen aus den Änderungen

255

d) Beachtlichkeit interner Zuständigkeitsverteilungen in verabschiedeter Fassung

256

aa) Vorzugswürdigkeit einer Beachtlichkeit

256

bb) Möglichkeit der Annahme einer Beachtlichkeit de lege lata

258

e) Die Verhaltensanforderungen im Einzelnen

260

f) Zwischenergebnis

262

III. Taterfolg

263

1. Begriff und Feststellung der Bestandsgefährdung

263

a) Rechtslage bei Schaffung des § 54a KWG

264

aa) Der Begriff der Bestandsgefährdung gem. §§ 48b, 48o KWG a.F.

264

bb) Bestimmtheitsbedenken

265

cc) Bedeutung einer Beurteilung durch die BaFin gemäß § 48b Abs. 3 KWG a.F.

268

dd) Bedeutung der Vermutungen des § 48b Abs. 1 S. 2 KWG a.F.

268

ee) Zwischenergebnis

270

b) Auswirkungen neuer Sanierungs- und Abwicklungsregeln seit dem 1.1.2015

271

aa) Sanierungs- und Abwicklungsregeln im Wandel – SRM, BRRD, SAG

271

bb) Wegfall der §§ 48b, 48o KWG a.F. und Schaffung des SAG

272

cc) Herkunft und Entwicklung der §§ 48b, 48o KWG a.F. sowie der Neuregelungen im SAG

273

dd) Erfordernis einer strafrechtsautonomen Begriffsbestimmung in § 54a KWG

274

ee) Fortbestehende Schwierigkeiten unter Geltung des Art. 18 SRM-VO

279

c) Zwischenergebnis

280

2. § 54a KWG zwischen abstraktem und konkretem Gefährdungsdelikt?

281

a) Bestandsgefahr als konkrete Gefahr

281

b) § 54a KWG als abstraktes Gefährdungsdelikt laut Gesetzgeber

282

c) § 54a KWG als Kombination aus konkretem und abstraktem Gefährdungsdelikt?

283

d) § 54a KWG als rein konkretes Gefährdungsdelikt

284

e) § 54a KWG als (Gefährdungs-)‌Erfolgsdelikt

286

f) Zwischenergebnis

287

IV. Kausalzusammenhang zwischen Tatverhalten und Taterfolg

287

1. Anforderungen an die Kausalität nach § 54a Abs. 1 und Abs. 3 KWG

288

2. Nachweisschwierigkeiten derart mittelbarer Kausalbeziehungen

289

3. Erleichterung des Kausalitätsnachweises?

292

4. Verhältnis der Kausalitätsbeziehungen aus § 54a Abs. 1 und Abs. 3 KWG

295

5. Zwischenergebnis

300

V. Vorsatz und Fahrlässigkeit

300

1. Vorsätzlicher Verstoß gegen Risikomanagementpflichten

301

2. Vorsätzliches oder fahrlässiges Herbeiführen der Bestandsgefährdung

302

a) Vorsätzliches Herbeiführen der Bestandsgefährdung, § 54a Abs. 1, Abs. 3 KWG

302

b) Vorsatz-Fahrlässigkeits-Kombination, § 54a Abs. 2 KWG

305

aa) Fahrlässiges Herbeiführen der Bestandsgefährdung

305

bb) Vorzugswürdigkeit einer Beschränkung auf Leichtfertigkeit

306

cc) § 54a Abs. 2 KWG – Drastische Erweiterung der Strafbarkeit oder überflüssige Vorschrift?

307

dd) § 54a Abs. 2 KWG als strafrechtsdogmatisches Novum?

310

3. Zwischenergebnis

311

D. Eignung des Tatbestandes hinsichtlich des angestrebten Rechtsgüterschutzes

311

I. Rechtsgüterschutz bei unterstellter Tatbestandsverwirklichung

312

II. Schutz des Bankenaufsichtswesens nach Einfügung des § 54a Abs. 3 KWG?

315

III. Zwischenergebnis

316

E. Rechtsfolgen

317

I. Angemessenheit des Strafrahmens

317

II. Strafzumessungsaspekte

320

1. Auswirkungen der Bestandsgefahr

320

2. Pflichtenkreis des Täters vor Erlass der Anordnung

321

F. Teilnahme

321

G. Verhältnis zu §§ 266, 283 StGB

323

I. Verhältnis zur Untreue

323

1. Konkurrenzverhältnis

324

2. Verdrängungswirkungen des § 54a KWG gegenüber § 266 StGB?

327

3. Hilfreiche Rückwirkungen des § 54a KWG auf den Untreuenachweis?

328

II. Verhältnis zum Bankrott

329

H. Zu erwartende Praxisrelevanz – Repression, Prävention oder reine Symbolik?

331

I. Eignung des § 54a KWG zu repressiven Zwecken?

331

1. Aufsichtsrechtliche Alternativen zu einer Anordnung nach § 25c Abs. 4c KWG

332

2. Befolgung der Anordnung

334

3. Einstellungen und Verständigungen

334

4. Zwischenergebnis

335

II. Eignung des § 54a KWG zu präventiven Zwecken

336

1. Negative Generalprävention durch § 54a KWG

337

2. Anordnungsbefolgung zur Vermeidung von Ermittlungs- und Strafverfahren

338

3. Zwischenergebnis

341

III. § 54a KWG als symbolisches Strafrecht?

341

I. Schlussbetrachtungen

343

I. § 54a KWG als Beispiel für Grenzen der Sinnhaftigkeit verwaltungsakzessorischer Straftatbestände

343

1. Berechenbarkeit des Strafrechts und Hochfrequenz-Reform der Bankenregulierung – ein erstes Spannungsfeld

345

2. Nationales Strafrecht und Europäisierung der Bankenregulierung – ein zweites Spannungsfeld

347

3. Zwischenergebnis

349

II. § 54a Abs. 3 KWG und die Rolle der BaFin

350

1. Befolgung der Anordnung als safe harbour aus strafrechtlicher Sicht

350

2. Bedenkliche Aufrüstung der Aufsichtsbehörde – § 54a KWG als Zweckverfehlung des Strafrechts

351

III. § 54a KWG als dem Gesetzgeber gelegene funktionierende Fehlkonstruktion

355

J. Zusammenfassung der Untersuchung des § 54a KWG in Thesen

356

Kapitel 3: Perspektiven de lege ferenda

363

A. Begrenzte Möglichkeiten einer Anknüpfung an die Verletzung von Risikomanagementpflichten

363

I. Risikomanagementpflichten als Bezugspunkt des § 54a KWG

363

II. Beibehaltung der Anknüpfung an die Verletzung von Risikomanagementpflichten?

365

1. Vorteile durch Streichung des § 54a Abs. 1 KWG?

365

2. Vorteile durch Verzicht auf einen Taterfolg?

366

3. Zwischenergebnis

368

B. Erweiterte Möglichkeiten einer Anknüpfung an die Geschäftstätigkeit

368

I. Der naheliegende Rückgriff auf das Bankrottstrafrecht

368

II. Fortbestehende Privilegierung der Verantwortlichen systemrelevanter Banken

369

1. Versuche einer Zurückdrängung impliziter Staatsgarantien

370

2. Fortbestehende Privilegierung anderen Ursprungs

374

III. Notwendigkeit einer Vorverlagerung des Taterfolges gegenüber § 283 Abs. 2 StGB

375

1. Anknüpfung an die Abwendung des Gangs in die reguläre Insolvenz?

376

2. Anknüpfung an die Bestandsgefährdung

377

3. Systemrelevanz als Rechtfertigung einer vorverlagerten Strafbarkeit

378

4. Bestandsgefährdung und Systemrelevanz: Bekannte Schwierigkeiten, alternativer Lösungsansatz

380

IV. Weitere Leitlinien für einen zu schaffenden Straftatbestand

384

1. Geschäftstätigkeit als Anknüpfung für das Tatverhalten

384

2. Adressatenkreis

386

3. Vorsatz- und Fahrlässigkeitsvariante

387

4. Strafrahmen

388

5. Verortung im KWG

389

V. Zwischenergebnis

389

C. Abhängigkeit des Anpassungsbedarfs im Strafrecht von vorgefundenen äußeren Bedingungen

390

Schluss

394

Literaturverzeichnis

401

Sachverzeichnis

420