International law: international disputes & civil procedure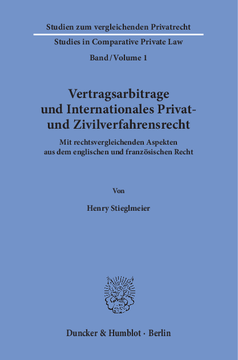 Additional Information
Book Details
ISBN

978-3-428-55298-6
978-3-428-15298-8 (print edition)

DOI

https://doi.org/10.3790/978-3-428-55298-6

Edition

1

Language

German

Pages

256

Collections

Subjects
Pricing
Institution

€ 92.00 (incl. local VAT if applicable)

Individual

€ 71.90 (incl. local VAT if applicable)
About The Author
Henry Stieglmeier studierte Rechtswissenschaften in Potsdam und Montpellier. Nach dem ersten juristischen Staatsexamen im Jahr 2013 war er bis 2015 als wissenschaftlicher Mitarbeiter am Lehrstuhl für Internationales Privat- und Zivilverfahrensrecht an der Universität Potsdam tätig. Nach dem Referendariat am Kammergericht folgte im Jahr 2017 das zweite juristische Staatsexamen sowie die Promotion durch die Universität Potsdam. Seitdem ist er als Anwalt in einer internationalen Kanzlei tätig.
Abstract
Den Inhalt eines Vertrags müssen die Parteien nicht selbst, sie können ihn kraft der ihnen zugewiesenen Privatautonomie durch einen Dritten vervollständigen oder anpassen lassen. Dieser Mechanismus lässt sich zu einer alternativen Streitbeilegungsmethode ausbauen, der »Vertragsarbitrage«. Der Begriff Vertragsarbitrage umfasst die in der Praxis weit verbreiteten »Schiedsgutachten« und »Dispute Adjudication Boards«, ist aber umfassender zu verstehen. Die Bezeichnung soll aufzeigen, dass neben der im Prozessrecht geregelten Schiedsgerichtsbarkeit eine im materiellem Recht verwurzelte alternative Streitbeilegungsmethode existiert, die ebenfalls zu verbindlichen Entscheidungen führt.

Über die Untersuchung des deutschen Rechts hinaus wird die Ausgestaltung von Vertragsarbitrageverfahren im englischen und französischem Recht untersucht. Die so nachgewiesenen Unterschiede der Rechtsordnungen führen zu der sodann untersuchten Frage des anwendbaren Rechts. »Contractual Arbitration and the Conflict of Laws«

The term »Contractual Arbitration« is a generic term for different kind of dispute resolution methods which all rely on the principle to give a third person the right to change or to complement a contract of the parties (e.g. Adjudication). The term points out the existence of an alternative dispute resolution method in substantive law that leads to binding decisions of a third person. Moreover, Contractual arbitration is examined in German, English, French and private international law.
Table of Contents
Section Title
Page
Action
Price

Vorwort

7

Inhaltsverzeichnis

11

Abkürzungsverzeichnis

18

Einleitung

23

1. Kapitel: Vertragsarbitrage im deutschen Recht

26

A. Rechtshistorische Aspekte

26

I. Entwicklung im römischen Recht

26

II. Entwicklung im mittelalterlichen Recht

28

B. Rechtsgrundlage und Begriffsbestimmung der Vertragsarbitrage

30

I. Privatautonomie als Grundlage einer schuldrechtlich bindenden Drittentscheidung

31

II. Bestimmtheitsgebot und offener Dissens

34

III. §§ 317ff. BGB und das Schiedsgutachten

35

1. Originärer Anwendungsbereich der §§ 317ff. BGB

36

a) Einigungslücke als Voraussetzung von § 317ff. BGB

36

b) § 319 Abs. 1 S. 2 BGB im Gefüge der §§ 317ff. BGB

37

c) § 319 Abs. 2 BGB im Gefüge der §§ 317ff. BGB

37

d) Terminologie des § 318 Abs. 1 BGB

38

2. Fallgruppen des Schiedsgutachtens

38

a) Schiedsgutachten im weiteren Sinne

39

aa) Rechtsbegründende Schiedsgutachten

39

bb) Rechtsabändernde Schiedsgutachten

40

b) Schiedsgutachten im engeren Sinne

40

aa) Rechtsklärendes Schiedsgutachten

41

bb) Tatsachenfeststellendes Schiedsgutachten

41

3. Kritik an der Unterteilung des Schiedsgutachtens in Fallgruppen

41

a) Kritik an der direkten Anwendung der §§ 317ff. BGB auf die Unterfallgruppe der rechtsabändernden Schiedsgutachten

42

aa) Schiedsgutachten im weiteren Sinne unter Beachtung des originären Anwendungsbereichs der §§ 317ff. BGB

42

bb) Schiedsgutachten im weiteren Sinne als Vertragsergänzung

43

cc) Rechtsabänderne Schiedsgutachten als Anpassungsvertrag

43

b) Sinnhaftigkeit der Unterteilung des Schiedsgutachtens in Fallgruppen

44

4. Unschärfe des Schiedsgutachtenbegriffs und Begriffsbestimmung

46

IV. Weitere Verfahren auf Basis einer schuldrechtlich bindenden Drittentscheidung

47

1. Qualitätsarbitrage

48

2. Adjudikation und Dispute Adjudication Boards

50

3. § 18 Abs. 4 VOB/B

52

4. § 84 VVG

53

V. Begriff und Umfang der Vertragsarbitrage

54

1. Differenzierung der schuldrechtlich bindenden Drittentscheidungsverfahren

55

2. Notwendigkeit eines neuen Oberbegriffs

56

3. Vorschlag des Begriffs der Vertragsarbitrage als Oberbegriff

57

4. Definition und möglicher Umfang einer Vertragsarbitrage

58

VI. Analoge Anwendung der §§ 317ff. BGB auf die Vertragsarbitrage

59

2. Kapitel: Ausgewählte Probleme der Vertragsarbitrage im deutschen Recht

63

A. Bindungswirkung der Vertragsarbitrageentscheidung

63

I. Prozessrechtliche Theorie

64

II. Materiell-rechtliche Theorie

66

III. Diskurs des Meinungsstands und Streitentscheid

67

1. Begrenzung der freien richterlichen Beweiswürdigung

67

2. Verbot materiell-rechtlicher Tatsachenfeststellungen

68

3. Verzögerte Fälligkeit des Anspruchs

69

4. Analoge Anwendung der §§ 1025ff. ZPO

70

5. Argumente aus Sicht der Konstruktion einer Vertragsarbitrage

71

6. Zwischenergebnis

72

IV. Dogmatische Funktionsweise der Vertragsarbitrage

72

B. Grenzen der Bindungswirkung der Vertragsarbitrageentscheidung

74

I. Zeitpunkt der Bindungswirkung

75

II. Materielle Entscheidungs- und Überprüfungsmaßstäbe

76

1. Maßstäbe im Einzelnen

76

a) Freies Belieben

76

b) Freies Ermessen

77

c) Billiges Ermessen

77

d) Offenbare Unbilligkeit

79

e) Offenbare Unrichtigkeit

80

aa) Diskurs zur Notwendigkeit einer Unterscheidung zwischen offenbarer Unbilligkeit und offenbarer Unrichtigkeit

80

bb) Praktikabilität des Maßstabes der offenbaren Unrichtigkeit

81

cc) Anwendbarkeit einer Billigkeitsentscheidung außerhalb der rechtsbegründenden Entscheidungen

83

f) Gebundene Entscheidung

84

2. Verhältnis des Entscheidungsmaßstabs zum Überprüfungsmaßstab

84

III. Kompetenz des Obmanns

86

IV. Begründungspflicht

87

V. Prozessrechtliche Überprüfungsmaßstäbe

88

1. Unabhängigkeit und Unparteilichkeit des Dritten

89

2. Gewährung rechtlichen Gehörs

92

3. Diskurs des Meinungsstands und Lösungsansatz

93

a) Diskurs zur Unabhängigkeit und Unparteilichkeit des Dritten

93

b) Diskurs zum rechtlichen Gehör

95

c) Lösungsansatz unter Berücksichtigung der Vertragsgerechtigkeit

96

aa) Vertragsgerechtigkeit und Vertragsarbitrage

96

bb) Prozedurale Gerechtigkeitsvorstellungen in der Vertragsarbitrage

99

cc) Gebot der Gleichbehandlung

101

dd) Weitere Argumente für die Annahme eines Gleichheitsgebots

103

C. Richterliche Ersatzbestimmung gemäß § 319 Abs. 1 S. 2 BGB

104

I. Anwendungsbereich von § 319 Abs. 1 S. 2 BGB

104

II. Regelungsgehalt von § 319 Abs. 1 S. 2 BGB

106

1. Ersetzungsbefugnis bei rechtsbegründenden Entscheidungen und bei rechtsändernden, feststellenden sowie deklatorischen Entscheidungen

106

2. Diskurs zur Ersetzungsbefugnis und Praxis der Gerichte

107

3. Zwischenergebnis

108

III. Qualifikation der richterlichen Ersatzbestimmung

108

D. Durchsetzbarkeit der Vertragsarbitragevereinbarung

109

I. Pactum de non petendo als materiell-rechtliche Einrede oder als prozessrechtlicher Klageverzicht

110

II. Analoge Anwendbarkeit von § 1032 ZPO

112

E. Abgrenzung der Vertragsarbitrage von der Schiedsgerichtsbarkeit

112

I. Beantwortung strittiger Rechtsfragen als Abgrenzungskriterium

113

II. Abstellen auf einzelne Tatbestandselemente

115

III. Beachtung des Parteiwillens als Abgrenzungskriterium

116

F. Zusammenfassung und Ergebnis zum deutschen Recht

118

3. Kapitel: Aspekte aus dem englischen und französischen Recht

122

A. Englisches Recht

122

I. Grundlagen

122

1. Expert Determination

124

2. Adjudication

126

a) Definition

126

b) Entwicklung

127

c) HGCRA 1996

128

aa) Verhältnis Modellvertrag zu individuellen Vereinbarungen

129

bb) Dispute

130

3. Differenzierung von gesetzlicher und vertraglicher Adjudication und Expert Determination

131

a) Differenzierung von gesetzlicher Adjudication und individuell vereinbarter Adjudication

131

b) Differenzierung von gesetzlicher Adjudication und Expert Determination

132

II. Qualifikation der Bindungswirkung der Expert Determination und Adjudication

133

III. Grenzen der Bindungswirkung

134

1. Fraud und Mistake

134

2. Zuständigkeit (Jurisdiction)

136

3. Natural Justice

137

a) Unabhängigkeit des Richters (Bias)

138

b) Recht auf Gehör

138

c) Anwendbarkeit der Natural justice auf die Adjudication

139

aa) Entwicklung in der Rechtsprechung

140

bb) Eindämmung der Regeln der Natural Justice

142

d) Anwendbarkeit der Natural Justice auf die Expert Determination

143

IV. Folgen einer ungültigen oder nicht erfolgten Entscheidung

144

V. Durchsetzbarkeit der Vereinbarung einer Expert Determination oder Adjudication

146

VI. Abgrenzung der Expert Determination und Adjudication von der Schiedsgerichtsbarkeit (Arbitration)

147

1. Arenson v Arenson

148

2. Abgrenzung der Adjudication im Besonderen

150

VII. Zusammenfassung und Ergebnis zum englischen Recht

150

B. Französisches Recht

151

I. Grundlagen

152

1. Begrifflichkeiten

153

2. Gemeinsamkeiten und Unterschiede zwischen Art. 1592 C. civ. und Ar‍t. 1843-‍4 C. civ.

154

a) Methodenwahl

154

b) Abgrenzung von Art. 1592 und Art. 1843-4 C. civ.

156

II. Qualifikation der Bindungswirkung der expertise irrévocable

159

III. Gerichtliche Überprüfungsmaßstäbe

160

1. Materiell-rechtlicher Überprüfungsmaßstab

160

2. Prozessrechtliche Überprüfungsmaßstäbe

162

a) Unabhängigkeit und Unparteilichkeit des Dritten

162

b) Rechtliches Gehör

163

IV. Folgen einer ungültigen oder nicht erfolgten Entscheidung

164

V. Durchsetzbarkeit der Vereinbarung einer expertise irrévocable

165

VI. Abgrenzung der expertise irrévocable von der Schiedsgerichtsbarkeit

166

1. Rechtsprechung zum Umfang einer arbitrage contractuelle

167

2. Voraussetzungen der Schiedsgerichtsbarkeit

168

a) Streit (litige)

169

b) Richterliche Befugnis (mission juridictionnelle)

169

3. Bevorzugung der Schiedsgerichtsbarkeit

171

4. Diskurs zur Theorie einer arbitrage contractuelle

172

VII. Zusammenfassung und Ergebnis zum französischen Recht

173

C. Rechtsvergleichende Analyse

174

I. Akzeptanz

174

II. Grenzen der Bindungswirkung

175

III. Folgen einer ungültigen oder nicht erfolgten Entscheidung

176

IV. Durchsetzbarkeit der Vertragsarbitragevereinbarung

176

V. Abgrenzung zur Schiedsgerichtsbarkeit

177

4. Kapitel: Vertragsarbitrage im Internationalen Privat- und Zivilverfahrensrecht

178

A. Vorüberlegungen

178

I. Internationalisierung der Vertragsarbitrage

178

II. Betrachtungsperspektive

179

III. Gang der Untersuchung

180

B. Materiell-rechtliche Wirksamkeit der Vertragsarbitrageentscheidung

181

I. Existenz eines Vertragsarbitragesitzes

181

II. Selbständige Anknüpfung

183

1. Entscheidung des RG zu einer Qualitätsarbitrage in Baden

183

2. Objektive Anknüpfung gemäß Art. 4 Abs. 2 Rom I-VO

184

3. Engste Verbindung gemäß Art. 4 Abs. 4 Rom I-VO

185

a) Gewöhnlicher Aufenthalt des Obmanns

185

b) Tagungsort der Kommission

185

c) Zwischenergebnis

186

III. Akzessorische Anknüpfung

186

1. Vertragsarbitrage als angelehntes Rechtsinstitut

187

2. Akzessorietät der Frage der materiell-rechtlichen Wirksamkeit der Vertragsarbitrageentscheidung

188

3. Qualifikation schuldrechtlicher Verträge

189

4. Umfang der Frage der materiell-rechtlichen Wirksamkeit der Vertragsarbitrageentscheidung

190

IV. Rechtswahl der Parteien

191

V. Wahl eines anationalen Rechts

192

C. Hilfe der Gerichte bei der Durchführung der Vertragsarbitrage

193

I. Kollisionsrechtlicher Grundsatz der lex fori

194

II. Qualifikation der richterlichen Ersetzungsbefugnis

196

III. Universelle Anwendbarkeit von § 319 Abs. 1 S. 2, 1. Halbs. BGB

196

D. Durchsetzbarkeit der Vertragsarbitragevereinbarung

197

I. Entscheidung des BG zu Klausel 20 eines FIDIC Vertrags

198

1. Sachverhalt

198

2. Streitgegenstand

198

3. Sachentscheidung des BG

199

II. Pactum de non petendo als Prozessvertrag

200

III. Das auf den Prozessvertrag anwendbare Recht

200

IV. Das auf das pactum de non petendo anwendbare Recht

201

V. Parallelwertung im deutschen Recht zur BG-Entscheidung

201

1. Vorliegen einer Rechtswahl

202

2. Keine Rechtswahl der Parteien

202

E. Vertragsarbitrage und das CISG

203

F. Abgrenzung der internationalen Vertragsarbitrage von der internationalen Schiedsgerichtsbarkeit

205

I. Anwendbarkeit des UNÜ auf die Vertragsarbitrage

205

1. Entscheidung des BGH zur lodo di arbitratio irrituale

206

2. Anwendungsbereich des UNÜ

206

a) Sinn und Zweck des UNÜ unter Berücksichtigung der Entstehungsgeschichte

207

b) Berücksichtigung des Wortlauts des UNÜ

208

aa) Schiedsspruch im Sinne von Art. I UNÜ

209

bb) Bindende Wirkung des Schiedsspruchs

210

(1) Diskurs über die Auslegung des Worts "verbindlich"

210

(2) Zwischenergebnis

211

(3) Berücksichtigung des Ziels der Abschaffung der Doppelexequatur

211

3. Anwendbarkeit des UNÜ auf die arbitrato irrituale im Besonderen

213

a) Herausgearbeitete Vorgehensweise

213

b) Meinungsstand zur Entscheidung des BGH zur arbitratio irrituale

214

c) Diskurs zur Entscheidung des BGH zur arbitratio irrituale

214

4. Anwendbarkeit des UNÜ auf die Vertragsarbitrage im Allgemeinen

216

II. Abgrenzung der Vertragsarbitrage außerhalb des UNÜ

216

1. Grundlagen

217

2. Schiedsspruch im Sinne von § 1061 ZPO

217

3. Bezeichnung des Verfahrens einer Organisation oder die Nennung einer Usance

218

G. Für den Obmann anwendbares Recht

219

I. Problemaufriss

219

II. Stand der Diskussion

220

III. Problemlage aus dem Blickwinkel des Gerichts

222

1. Beachtung auf Ebene des IPR

222

2. Beachtung auf Ebene des Sachrechts

223

a) Datumtheorie

223

b) Die vom Obmann und dem Gericht zu beachtenden Daten

224

c) Grenzen und ergänzende Überlegungen

225

H. Ordre public

226

I. Vorüberlegungen

226

II. Materieller ordre public

226

III. Verstoß gegen Verfahrensgrundsätze als ordre public Verstoß

227

I. Internationale Zuständigkeit

228

I. Internationale Zuständigkeit nach der Brüssel Ia-VO

228

1. Berücksichtigung der Verfahrensinteressen

228

2. Einwand der Prozessökonomie

229

II. Internationale Zuständigkeit nach der ZPO

229

J. Zusammenfassung und Ergebnis zum Internationalen Privat- und Verfahrensrecht

230

Literaturverzeichnis

233

Sachwortregister

253