Political ideologies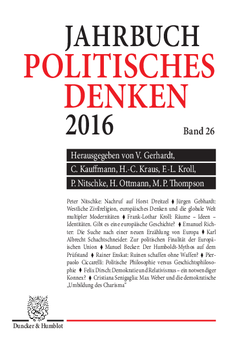 BOOK
Cite BOOK
Style
---
Gerhardt, V., Kauffmann, C., Kraus, H., Kroll, F., Nitschke, P., Ottmann, H., Thompson, M. (Eds.) (2017). Politisches Denken. Jahrbuch 2016. Duncker & Humblot. https://doi.org/10.3790/978-3-428-55144-6
Gerhardt, Volker; Kauffmann, Clemens; Kraus, Hans-Christof; Kroll, Frank-Lothar; Nitschke, Peter; Ottmann, Henning and Thompson, Martyn P.. Politisches Denken. Jahrbuch 2016. Duncker & Humblot, 2017. Book. https://doi.org/10.3790/978-3-428-55144-6
Gerhardt, V, Kauffmann, C, Kraus, H, Kroll, F, Nitschke, P, Ottmann, H, Thompson, M (eds.) (2017): Politisches Denken. Jahrbuch 2016, Duncker & Humblot, [online] https://doi.org/10.3790/978-3-428-55144-6
---
Format
---
Politisches Denken. Jahrbuch 2016
Editors: Gerhardt, Volker | Kauffmann, Clemens | Kraus, Hans-Christof | Kroll, Frank-Lothar | Nitschke, Peter | Ottmann, Henning | Thompson, Martyn P.
Politisches Denken. Jahrbuch, Vol. 26
(2017)
Additional Information
Book Details
ISBN

978-3-428-55144-6
978-3-428-15144-8 (print edition)

DOI

https://doi.org/10.3790/978-3-428-55144-6

Edition

1

Language

German

Pages

248

Collections

Subjects
Pricing
Institution

€ 120.00 (incl. local VAT if applicable)

Individual

€ 89.90 (incl. local VAT if applicable)
About The Author
Hans-Christof Kraus studierte Geschichte, Germanistik und Philosophie an der Georg-August-Universität zu Göttingen. 1992 Promotion im Fach Mittlere und Neuere Geschichte. Berufliche Tätigkeit und akademische Lehre an verschiedenen Forschungsinstitutionen und Hochschulen, u.a. in Berlin, München, Speyer, Stuttgart, Jena. 2002 Habilitation für das Fach Neuere und Neueste Geschichte an der Ludwig-Maximilians-Universität München. Seit 2007 Ordinarius und Lehrstuhlinhaber für Neuere und Neueste Geschichte an der Universität Passau. Mitglied u.a. der Historischen Kommission bei der Bayerischen Akademie der Wissenschaften, der Kommission für die Geschichte des Parlamentarismus und der politischen Parteien, der Historischen Kommission zu Berlin, der Preußischen Historischen Kommission.Frank-Lothar Kroll studierte Geschichte, Kunstgeschichte, Germanistik, Philosophie und Religionswissenschaften in Bonn und Köln. 1987 Promotion; 1992 Präsident der Werner Bergengruen-Gesellschaft e.V.; 1995 Habilitation in Erlangen; 1996 Louis Ferdinand Preis des Preußeninstituts; Professurvertretungen an den Universitäten Erlangen und Dresden; 2000 Professurvertretung und spätere Berufung auf die Professur für Neuere und Neueste Geschichte / Europäische Geschichte des 19. und 20. Jahrhunderts an der TU Chemnitz. Seit 2006 Vorsitzender der Preußischen Historischen Kommission und seit 2011 1. Vorsitzender der Prinz-Albert-Gesellschaft e.V.; u.a. Mitglied im Wissenschaftlichen Beirat des Instituts für Zeitgeschichte München, der Forschungsgemeinschaft 20. Juli 1944 e.V. und der Ranke-Gesellschaft.Peter Nitschke, Dr. phil. habil., Studium der Neueren Geschichte, der Philosophie und der Politikwissenschaft an der Universität Münster (1981–89). Preisträger der Bayerischen Akademie der Wissenschaften, hist.-philos. Klasse (1989). Habilitationsstipendiat der Fritz Thyssen Stiftung (1990–93), Gastprofessuren in Münster, Essen und am Kulturwissenschaftlichen Institut (1994–97). Universitätsprofessor für Wissenschaft von der Politik an der Universität Vechta seit 1997, Gründungsdirektor des Instituts für Sozialwissenschaften (2000), Vizepräsident für Forschung und Nachwuchsförderung (2002–04), Geschäftsführer der Deutschen Gesellschaft zur Erforschung des Politischen Denkens (DGEPD) seit 2007. Forschungsschwerpunkte in der Politischen Theorie und Ideengeschichte, der Europapolitik und der Globalisierung. Martyn P. Thompson is Associate Professor and Senior Political Theorist in the Department of Political Science. His main fields of interest are the history of political thought since the Renaissance, literature and politics, and contemporary German political philosophy. Professor Thompson has two doctorates, the first from the London School of Economics, the second (the Habilitation) from Tuebingen University. He has been a faculty member in the universities of London, Cambridge and Tuebingen. His honors include a Fellow Commonership at Churchill College, Cambridge University; Fellowships at the Huntington Library and the William Andrews Clark Library in California; and honorary life membership of the R.G. Collingwood Society. Professor Thompson founded the Deutsche Gesellschaft zur Erforschung des politischen Denkens in 1989. He was President of the International Conference for the Study of Political Thought from 1995 to 2002 and he was President of the Michael Oakeshott Association from 2008 to 2010.
Abstract
Das »Jahrbuch Politisches Denken« 2016 ist von der Kontroverse geprägt. Ein aktueller Schwerpunkt diskutiert die Grundlagen und den Stand des europäischen Integrationsprozesses. Frank-Lothar Kroll legt die historischen und geopolitischen Fundamente frei, auf denen ein europäisches Denken Fuß gefaßt hat. Jürgen Gebhardt macht darauf aufmerksam, dass eine Europäische Union sich nur dann sinnvoll selbst verstehen kann, wenn sie sich als Teil der Konstruktion des »Westens« in transatlantischer Perspektive begreift. Karl A. Schachtschneider formuliert eine fundamentale Kritik am Integrationsprozess der Europäischen Union aus der Perspektive des Staatsrechtslehrers. Diese Kritik kann mit Emanuel Richter als eines jener »neuen Narrative« eingeordnet werden, das als solches zur Demokratisierung der EU gehört.Kontrovers geht es auch in den weiteren Beiträgen zu, wenn Manuel Becker den »Mythos Humboldt« auf den Prüfstand stellt, wenn Rainer Enskat pointiert gegen die derzeitige Hochschulpolitik polemisiert und Felix Dirsch die Wertgrundlagen der Demokratie untersucht. Hinzu kommen die beachtenswerten Interpretationen, die die Italiener Cristiana Senigaglia und Pierpaolo Ciccarelli zu den deutschen Denkern Max Weber, Edmund Husserl und Leo Strauss vorlegen.Die Buchkritiken, die den Band 26 abrunden, behandeln neue Publikationen von und über Lothar Fritze, Raul Heimann, Otfried Höffe, Christoph Hübner, Aurel Kolnai, Wolfgang Neugebauer, Samuel Salzborn und Carl Schmitt.The $aJahrbuch Politisches Denken$z (»Yearbook of Political Thought«) has been appearing since 1991 in collaboration with the Deutsche Gesellschaft zur Erforschung des Politischen Denkens or German Society for Research into Political Thought (DGEPD). In keeping with the aims of the Society, the Yearbook promotes interdisciplinary scholarly research on political thought internationally and in its entire breadth, as well as exchange between political thought and practical politics.All manuscripts submitted must go through an anonymous review process. Manuscripts should not exceed 50,000 characters in length. Please submit your manuscripts (in English or German) to the editorial board.Editorial Board address: Prof. Dr. Clemens Kauffmann, Friedrich-Alexander-Universität Erlangen-Nürnberg, Lehrstuhl für Politische Philosophie und Ideengeschichte, Kochstr. 4/21, 91054 Erlangen. Email: Clemens.Kauffmann@fau.deThe main topic of volume 26 comprises the basic principles and current status of the process of European integration. The subject is presented from the differing standpoints of the historian, the teacher of public law and political theory. Other articles provide a critical examination of the »myth of Humboldt«, offer a polemic against current higher education policy in Germany, and discuss the basic values of democracy. In two further contributions, Italian authors consider German theorists such as Max Weber, Edmund Husserl and Leo Strauss.The book reviews that round out the volume deal with new publications by and about Lothar Fritze, Raul Heimann, Otfried Höffe, Christoph Hübner, Aurel Kolnai, Wolfgang Neugebauer, Samuel Salzborn, and Carl Schmitt.
Table of Contents
Section Title
Page
Action
Price

Inhaltsverzeichnis

5

Editorial

7

Peter Nitschke: Nachruf auf Horst Dreitzel (6. April 1931–18. März 2016)

9

I. Europa denken

11

Jürgen Gebhardt: Westliche Zivilreligion, europäisches Denken und die globale Welt multipler Modernitäten

13

Abstract

13

I.

13

II.

14

III.

18

IV.

21

V.

24

Literatur

25

Frank-Lothar Kroll: Räume – Ideen – Identitäten: Gibt es eine europäische Geschichte?

29

I.

30

II.

41

III.

51

Emanuel Richter: Die Suche nach einer neuen Erzählung von Europa. Politische und demokratische Potentiale

55

Abstract

55

I. Einleitung: Der Mangel an Demokratie in der europäischen Integration

55

II. Vier europäische Narrative

58

III. Konkurrierende Narrative und ihre demokratietheoretische Bewertung

69

IV. Fazit

74

Literatur

76

Karl Albrecht Schachtschneider: Zur politischen Finalität der Europäischen Union

81

Abstract

81

I. Integrationsziele der Gründungsverträge

81

II. Freiheit und Recht – Demokratie, Rechtsstaat und Sozialstaat

82

III. Unitarischer oder staatenbündischer Bundesstaat

85

IV. Europäische Union – funktional unitarischer, legitimatorisch staatenbündischer Bundesstaat

87

V. Umgestaltung der Wirtschaftsordnung durch die Europäische Union

88

VI. Begriff Europa

93

VII. Für den staatenbündischen Bundesstaat Europas

95

Literatur

98

II. Aufsätze

101

Manuel Becker. Der Humboldt-Mythos auf dem Prüfstand. Wilhelm von Humboldt als Theoretiker und Praktiker von Bildungs- und Hochschulpolitik

103

Abstract

103

I. Wilhelm von Humboldt als Bildungstheoretiker

104

1. Anthropologische und bildungstheoretische Grundbestimmungen

104

2. Politische Schlussfolgerungen: Die Rolle des Staates

107

3. Die Entfaltung eines neuen Universitätsideals

109

II. Wilhelm von Humboldt als Bildungspolitiker

111

III. Der nationale und internationale Einfluss von Humboldts Reformen

115

IV. Fazit

120

Literaturverzeichnis

122

Quellen

122

Literatur

122

Rainer Enskat: Ruinen schaffen ohne Waffen? Zu den politischen Widerfahrnissen der Geisteswissenschaften und der Autonomie der Universität

127

I.

127

II.

129

III.

133

Literatur

134

Pierpaolo Ciccarelli: Politische Philosophie versus Geschichtsphilosophie. Leo Strauss' Interpretation von Husserls "Philosophie als strenge Wissenschaft"

135

Abstract

135

II.

142

III.

146

IV.

149

Literatur

152

Felix Dirsch: Demokratie und Relativismus – ein notwendiger Konnex?

155

I. Diktatur des Relativismus? Von der Kritik eines postmodernen Lebensgefühls zur Zeitdiagnose des demokratischen Wahrheitsfundaments

155

II. Antirelativismus in der Demokratietheorie der frühen Neuzeit: Rousseau und Tocqueville

161

III. Beispiele relativistischer Demokratiebestimmung im 20. Jahrhundert: Gustav Radbruch und Hans Kelsen

168

IV. Das Grundgesetz der Bundesrepublik – relativistisch oder antirelativistisch?

175

V. Resümee

178

Literatur

179

Cristiana Senigaglia: Max Weber und die demokratische "Umbildung des Charisma"

187

Abstract

187

I. Prämisse

187

II. Die Bedeutung des Charisma

189

III. Die internen Schwachstellen des Charisma

193

1. Die Tendenz zur Institutionalisierung

193

2. Die Zuverlässigkeitsforderung

193

3. Die Nachfolgerfrage

194

IV. Umdeutung des Charisma und Demokratie

195

V. Die objektive Bedingung: der Pluralismus

198

VI. Die subjektive Bedingung: die Sachlichkeit

200

VII. Die prozedurale Bedingung: Die Bindung an Normen und Institutionen

203

VIII. Die relationale Bedingung: Die Interaktion mit der Öffentlichkeit

205

IX. Fazit

206

Literatur

207

III. Rezensionsessay

209

Von Hans-Christof Kraus: Neues von und über Carl Schmitt

211

IV. Rezensionen

217

Neugebauer, Wolfgang, Otto Hintze. Denkräume und Sozialwelten eines Historikers in der Globalisierung 1861–1940 (Ewald Grothe)

219

Höffe, Otfried, Geschichte des politischen Denkens. Zwölf Porträts und acht Miniaturen (Clemens Kauffmann)

225

Salzborn, Samuel, Kampf der Ideen. Die Geschichte politischer Ideen im Kontext (Peter Nitschke)

230

Fritze, Lothar, Kritik des moralischen Universalismus. Über das Recht auf Selbstbehauptung in der Flüchtlingskrise (Friedrich Pohlmann)

232

Hübner, Christoph, Die Rechtskatholiken, die Zentrumspartei und die katholische Kirche in Deutschland bis zum Reichskonkordat von 1933. Ein Beitrag zur Geschichte des Scheiterns der Weimarer Republik (Markus Schubert)

234

Heimann, Raul, Die Frage nach Gerechtigkeit. Platons Politeia I und die Gerechtigkeitstheorien von Aristoteles, Hobbes und Nietzsche (Dennis Stammer)

238

Kolnai, Aurel, Der Krieg gegen den Westen. Herausgegeben und eingeleitet von Wolfgang Bialas (Rolf Zimmermann)

241

Autorenverzeichnis

247