Constitution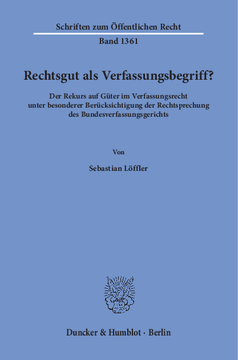 BOOK
Cite BOOK
Style
---
Löffler, S. (2017). Rechtsgut als Verfassungsbegriff?. Der Rekurs auf Güter im Verfassungsrecht unter besonderer Berücksichtigung der Rechtsprechung des Bundesverfassungsgerichts. Duncker & Humblot. https://doi.org/10.3790/978-3-428-55101-9
Löffler, Sebastian. Rechtsgut als Verfassungsbegriff?: Der Rekurs auf Güter im Verfassungsrecht unter besonderer Berücksichtigung der Rechtsprechung des Bundesverfassungsgerichts. Duncker & Humblot, 2017. Book. https://doi.org/10.3790/978-3-428-55101-9
Löffler, S (2017): Rechtsgut als Verfassungsbegriff?: Der Rekurs auf Güter im Verfassungsrecht unter besonderer Berücksichtigung der Rechtsprechung des Bundesverfassungsgerichts, Duncker & Humblot, [online] https://doi.org/10.3790/978-3-428-55101-9
---
Format
---
Rechtsgut als Verfassungsbegriff?
Der Rekurs auf Güter im Verfassungsrecht unter besonderer Berücksichtigung der Rechtsprechung des Bundesverfassungsgerichts
Schriften zum Öffentlichen Recht, Vol. 1361
(2017)
Additional Information
Book Details
ISBN

978-3-428-55101-9
978-3-428-15101-1 (print edition)

DOI

https://doi.org/10.3790/978-3-428-55101-9

Edition

1

Language

German

Pages

234

Collections

Subjects
Pricing
Institution

€ 92.00 (incl. local VAT if applicable)

Individual

€ 69.90 (incl. local VAT if applicable)
About The Author
Sebastian Löffler war nach rechtswissenschaftlichem Studium in Würzburg und Caen (Normandie) von 2008 bis 2012 wissenschaftlicher Mitarbeiter bei Prof. Dr. Horst Dreier in Würzburg. Den juristischen Vorbereitungsdienst absolvierte er 2012 bis 2014 im Land Berlin mit Aufenthalten in Karlsruhe und London. Ab 2015 war er Richter auf Probe am Verwaltungsgericht München. Seit 2016 ist er Notarassessor in Bayern.
Abstract
Weithin geläufig ist die Formulierung, das Strafrecht diene dem Rechtsgüterschutz. Die Untersuchung des Strafrechts unter dieser Prämisse hat eine lange und vielfältige Tradition. Vergleichbare Traditionslinien finden sich für den Rechtsgutsbegriff im Verfassungsrecht nicht. Ziel der Arbeit war, seine Bedeutung im und für das Verfassungsrecht zu beleuchten, maßgeblich auf Grundlage der Senatsentscheidungen des Bundesverfassungsgerichts. Deren Auswertung zeigt eine bemerkenswerte Breite der Verwendung. Als Rechtsgüter erscheinen insbesondere grundrechtlich Geschütztes einerseits und Gesichtspunkte der Grundrechtseinschränkung andererseits. Dabei kann letztlich alles, was legitimes Ziel staatlichen Handelns sein kann, auch als Rechtsgut bezeichnet werden. In diesem Befund bildet sich ab, dass im demokratischen Verfassungsstaat für den Gesetzgeber ein weiter Spielraum der zulässigen Zielsetzungen besteht. Beschränkungen betreffen eher einzusetzende Mittel oder die Zweck-Mittel-Relation.»Legal Goods as a Concept in Constitutional Law?«In German Law it is common to describe Criminal Punishment's purpose as the protection of Legal Goods. The long tradition of the concept of Legal Goods in Criminal Law finds no counterpart in Constitutional Law. This dissertation undertakes a study of the concept in Constitutional Law, focused on the case law of the Federal Constitutional Court. Its results display a great variety of objects referenced as Legal Goods and a substiantial margin accorded to the legislator in recognizing such Goods.
Table of Contents
Section Title
Page
Action
Price

Vorwort

5

Inhaltsübersicht

7

Inhaltsverzeichnis

9

Einleitung: Rechtsgut als juristischer Begriff

15

I. Rechtsgüter im Strafrecht und im Verfassungsrecht

15

II. Zur Spezifizierung der Fragestellung

19

III. Gang der Untersuchung

21

1. Teil: Güterbegriffe und Rechtsgüterbegriff

23

A. Güterbegriffe außerhalb des Rechts

23

I. Philosophie: Gegenstand des Strebens

23

1. Substantivische, adjektivische und adverbiale Verwendung

24

2. Moralischer und außermoralischer Gebrauch

25

3. Dissoziation begrifflicher und normativer Fragen

27

4. Grenzbereich zur Ökonomie: Güterverteilung

27

II. Wirtschaftswissenschaft: Mittel der Bedürfnisbefriedigung

27

1. Inferiorität und Verwandtschaft von Gütern

28

2. Privatgut, Gemeinschaftsgut, Klubgut und Allmende

29

3. Verschiedenheit rechtlicher und ökonomischer Perspektive

30

B. Güter im positiven Recht

31

I. Schutz von Rechtsordnung und Rechtsgütern im Polizeirecht

32

II. Rechtsgüter im Bürgerlichen Gesetzbuch

34

1. Rechtsgüter im BGB der Schuldrechtsreform

34

2. Die herkömmliche Terminologie zu § 823 Abs. 1 BGB

35

3. Kein scharf konturierter Begriff im Bürgerlichen Recht

36

C. Insbesondere: Rechtsgüter im Strafrecht

37

I. Elemente zur Begriffsgeschichte

37

1. Birnbaum: Schutz von Gütern, nicht von Rechten

38

a) Die Feuerbachsche Rechtsverletzungslehre

38

b) Sprachliche, logische und dogmatische Kritik

41

c) Ablehnung des individualistischen Kontraktualismus

43

2. Verbrechen, Rechtsgut und Interesse bei Binding und von Liszt

46

a) Bindings kollektivistisches Rechtsgut des Gesetzgebers

47

b) von Liszts Akzentverschiebung zum Lebensgut

50

c) Ausgangspunkt bei Interesse oder Anerkennungsakt

52

3. Rechtsgut und ratio legis: neukantianische Strafrechtslehre

54

a) Neukantianismus in Philosophie und Rechtswissenschaft

54

b) Rechtsgut zwischen Tatbestand und Rechtswert

55

c) Normsatz- und Weltanschauungsrelativität des Rechtsguts

58

4. Liberalismus als Vorwurf im Nationalsozialismus

59

a) Widerspruch zu Weltanschauung und Methode?

59

b) Verteidigung der ideologischen Kompatibilität

62

c) Inhaltliche Offenheit des Rechtsgutskonzepts

64

5. Liberalität als Vorzug bis in die Gegenwart

65

a) Liberalität unter anderen Vorzeichen

65

b) Rechtsgutslehren der 1970er Jahre

67

6. Zusammenfassung: politischer Inhalt und wechselnder Fokus

70

a) Explizite und implizite Rezeption außerrechtlicher Wertung

70

b) Wertkriterium, Wertungssubjekt und Wertungsakt

71

II. Gegenwart: Dogmatischer und strafrechtstheoretischer Aspekt

73

1. Vielfalt der Definitionen und Charakterisierungen

73

2. Zwei Grundvarianten

75

III. Strafrechtsdogmatische Variante

77

1. Rechtsgutsorientierte Auslegung in der Literatur

77

2. Rechtsgüter in der Rechtsprechung

79

3. Praxis ohne Definitionsprobleme

80

IV. Strafrechtstheoretische Variante

81

1. Rechtsgutsdiskussion als Legitimationsdiskussion

81

2. Beispiel personale Rechtsgutslehre

84

D. Fazit: Offenheit des Rechtsgutsbegriffs

87

I. Trennung von Begriff und Bewertung

87

II. Rechtsgüter als rechtlich relevante Ziele

88

III. Geltungsindifferenz

89

IV. Folgen für die weitere Untersuchung

89

2. Teil: Rechtsgüter in der Rechtsprechung des Bundesverfassungsgerichts

91

A. Rahmen der Analyse

91

I. Gebrauch des Rechtsgutsbegriffs als Ausgangspunkt

91

II. Auswahl und Einschränkung des Materials

92

III. Drei Hauptkonstellationen

94

B. Rechtsgut und Strafe

97

I. Häufige Erwähnung

97

II. Geringer verfassungsrechtlicher Gehalt

100

C. Grundrechtlich geschützte Rechtsgüter

101

I. Schutzpflichten: De-Relationierung

102

II. Rechtsgüter der einzelnen Grundrechte

104

1. Kanonisierung: allgemeines Persönlichkeitsrecht

104

2. Weiche Hierarchisierung: Schutzgüter des Art. 2 Abs. 2 GG

105

3. Hoher Rang: Schutzgut des Art. 4 GG

107

4. Wertung: Schutzgüter des Art. 5 Abs. 1 GG

107

5. Kunst als kommunikationsbezogenes Schutzgut

108

6. Schutzgüter des Art. 6 GG: Ehe und Familie

108

7. Schutzgut und Inhalt der Vereinigungs- und Parteienfreiheit

109

8. Schutzgut und Inhalt des Art. 12 GG

110

9. Schutzgut des Art. 13 GG: Wohnung

111

10. Schutzgüter des Art. 14 GG: vermögenswerte Güter

111

11. Anspruch auf politisches Asyl: Rechtsgutsgefahr

113

12. Zusammenfassung

113

III. Strukturen grundrechtlicher Rechtsgüter

114

1. Rechtsgüter auf verschiedenen Ebenen der Begründung

114

a) Unspezifischer Gebrauch

114

b) Spezifischer Gebrauch: subsumtionsnähere Ebene

116

c) Sonderfall Eigentumsgüter

117

2. Schutzgut und grundrechtlicher Schutzbereich

118

a) Grundrecht und Grundrechtsgut

118

b) Gesamt- und Teilschutzgut

120

c) Schutzbereich und Inhalt als Schutzgutskonkretisierung

122

3. Institutionell-kollektive Seite der Rechtsgüter

123

a) Allgemeinheit und Singularität auf begrifflicher Ebene

124

b) Formales Verständnis der Institutionalisierung

125

c) Prozessuale und mediale Abbildung

127

d) Unspezifizität des begrifflich institutionellen Aspekts

127

4. Betonung der Singularität als Sonderfall

128

a) Nur prozessuale Bedeutung der Singularität als solcher

128

b) Lebensschutz: Singularität als Allgemeines

129

c) Keine Identität mit subjektiver Berechtigung

129

5. Institutionell-individuelle Verschränkungen

130

6. Gleiche Rechtsgüter auf verschiedener Normebene?

131

D. Rechtsgüter und Grundrechtseinschränkung

132

I. Einschränkung von Freiheitsrechten mit Vorbehalt

133

1. Schranken von Rechten aus Art. 2 Abs. 1 GG

133

2. Einschränkung der persönlichen Freiheit

134

3. Regelung des Rechts der Kriegsdienstverweigerung

134

4. Schranken der Rechte aus Art. 5 Abs. 1 GG

136

a) Vielfalt der Güter der allgemeinen Gesetze

136

b) Freiheitliche demokratische Grundordnung

138

5. Schranken der Versammlungsfreiheit

138

6. Schranken der Vereinigungsfreiheit

139

7. Schranken der Rechte aus Art. 10 GG

140

8. Einschränkungen von Art. 12 GG

141

a) Güter in der Drei-Stufen-Lehre

142

b) Rechtsgüter und Gemeinschaftsgüter

142

c) Textbezug und funktionale Begründung

144

d) Politikabhängige und absolute Gemeinschaftsgüter

145

9. Eingriff in das Eigentum, Inhaltsregelung

146

10. Zusammenfassung

147

II. Einschränkung von Freiheitsrechten ohne Vorbehalt

147

1. Schranken der Religionsfreiheit aus Art. 4 Abs. 1 u. 2 GG

147

2. Schranken der Rechte aus Art. 5 Abs. 3 GG

148

3. Schranken der Koalitionsfreiheit aus Art. 9 Abs. 3 GG

149

4. Zusammenfassung

150

III. Andere Beschränkungen in Grundrechten

150

1. Rechtfertigung von Ungleichbehandlung

150

2. Rechtsgüter und Verfahrensgrundrechte

151

3. Abstrakt zur Grundrechtseinschränkung

152

4. Zusammenfassung

153

IV. Strukturen der Rechtfertigungsgüter

153

1. Nähe der Güter zum Verfassungstext

153

2. Bezug zwischen Grundrechts- und Rechtfertigungsgut

155

3. Rechtfertigungsgüter als Gemeinschaftsgüter

156

a) Allgemeinheit der Güter und Drittwirkungskonstellation

156

b) Grundrechtsträger Träger des Rechtfertigungsguts?

157

c) Komponenten der freiheitlichen Grundordnung

157

E. Rechtsgüter in weiteren Konstellationen

158

I. Freiheit und Gleichheit des Mandats

158

II. Gefahrenabwehr und Genehmigungsrecht

159

III. Einschätzungs- und Entscheidungsspielraum

159

IV. Rechtsgüter in Art. 72 Abs. 2 GG

160

V. Prozessual: Weitergeltung und einstweiliger Rechtsschutz

161

VI. Zusammenfassung

161

F. Verwandte Begriffe

162

I. Rechtsgut und (Gemeinschafts-, Rechts-)Wert

162

II. Gemeinschaftsgüter und Erwägungen des Gemeinwohls

164

III. Rechtsgut und Gemeinwohlbelang

167

IV. Gemeinschaftsgut und Gemeinschaftsinteresse

168

V. Ergebnis: keine erheblichen Unterschiede im Gebrauch

170

G. Güter als Objekt von Schutz und Streben

170

H.  Zusammenfassung: Güter in der Verfassungsrechtsprechung

173

3. Teil: Güterrekonstruktion als Verfassungsproblem?

177

A. Das Subjekt der Zwecksetzung

177

B. Zielsetzung und Zielerkenntnis

179

I. Gesetzeszweck als zentraler Ort der Kritik am Inzest-Beschluss

179

1. Sondervotum: wirkliche Zwecksetzung, Zweckklarheit

180

2. Rekonstruktion des Standpunkts der Senatsmehrheit

184

3. Keine fundamentale Differenz

187

II. Unterschiedliche Zweckermittlung durch die Senate?

187

III. Kein Vorrang normtext-externer Zweckerkenntnisquellen

189

1. Methode der Zweckrekonstruktion als Kern des Problems

189

2. Begründungspflicht und normtext-externe Erkenntnisquellen

190

3. Untergesetzliche Akte und der Vorrang empirischer Zwecke

194

a) Zweckkontrolle untergesetzlicher Rechtssetzung

195

b) Zweckverfolgung und Ermessensfehler

196

c) Zweckverfolgung in planerischen Abwägungsvorgängen

197

d) Zwischenbefund: tatsächlicher Zweck als Bezugspunkt

197

e) Fehlende Vergleichbarkeit

198

4. Fazit: Kein Vorrang des Normtext-Externen

200

C. Zwecksetzung durch Rechtssetzung

200

I. "Objektives" und "subjektives" Auslegungsziel

200

II. "Objektive" Zweckermittlung adäquat

202

Schluss: Das Gut im Grenzbereich rechtlicher Normativität

204

Zentrale Thesen

209

Literaturverzeichnis

213

Personen- und Sachverzeichnis

231