Fraud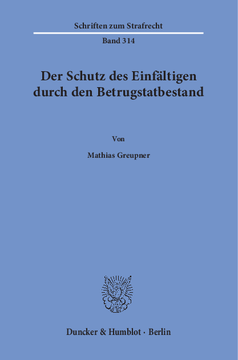 Additional Information
Book Details
ISBN

978-3-428-55289-4
978-3-428-15289-6 (print edition)

DOI

https://doi.org/10.3790/978-3-428-55289-4

Edition

1

Language

German

Pages

241

Collections

Subjects
Pricing
Institution

€ 86.00 (incl. local VAT if applicable)

Individual

€ 67.90 (incl. local VAT if applicable)
About The Author
Mathias Greupner studierte Rechtswissenschaften an der Universität Bayreuth. Nach seinem Zweiten Juristischen Staatsexamen im Jahr 2011 arbeitete er ebendort als wissenschaftlicher Mitarbeiter an den Lehrstühlen von Prof. Dr. Christian Jäger und Prof. Dr. Nina Nestler. Seit 2015 ist Mathias Greupner als Rechtsanwalt in einer internationalen Wirtschaftskanzlei in den Bereichen Kartellrecht und Compliance tätig.
Abstract
Es gibt Sachverhaltskonstellationen, in denen die Anwendung des Betrugstatbestands fragwürdig erscheint, weil das Opfer außergewöhnlich leichtgläubig war oder sich besonders fahrlässig verhalten hat. Hierzu zählen beispielsweise sogenannte Abo-Fallen im Internet, rechnungsähnliche Angebotsschreiben, aber auch übertreibende Aussagen im Bereich der Publikumswerbung. Die Arbeit untersucht, ob und inwieweit das von der herrschenden Meinung vertretene Dogma, dass auch besonders leichtgläubige und sorglose Opfer durch den Tatbestand des Betruges geschützt seien, angesichts bestehender unionsrechtlicher Einflüsse noch aufrechterhalten werden kann. Dabei geht die Arbeit auch darauf ein, wie sich das unionsrechtliche Leitbild vom durchschnittlich informierten, aufmerksamen und verständigen Durchschnittsverbraucher in den Betrugstatbestand integrieren lässt. »The Protection of Credulous Individuals through the Criminal Offence of Fraud«

In Germany, there is a controversy whether the offence of fraud, Sec. 263 of the German Criminal Code, can be applied in cases where the victim was extremely credulous or negligent, particularly with respect to so called subscription traps, invoice-like offer letters, etc. The study analyses relevant opinions in German literature and case law and investigates possible implications of the EU-law principle of the reasonably well-informed, reasonably observant and circumspect average consumer.
Table of Contents
Section Title
Page
Action
Price

Vorwort

5

Inhaltsverzeichnis

7

Einleitung

13

Kapitel 1: Der Schutzumfang des Betrugstatbestands nach der herrschenden Meinung

15

A. Die Abgrenzung der erlaubten Geschäftstüchtigkeit vom strafbaren Betrug

15

B. Keine Auswirkungen mitwirkenden Opferverhaltens

17

C. Phänotypik

19

I. Betrug durch Behauptung wahrer Tatsachen

20

1. Behindertenwerkstatt-Fall

22

2. Schuldenregulierungsfall

25

3. Betrug durch rechnungsähnliche Angebotsschreiben

26

a) Behandlung rechnungsähnlicher Angebotsschreiben in der Rechtsprechung

30

aa) BGH Beschl. v. 27.02.1979 – 5 StR 805 / 78

30

bb) OLG Frankfurt a. M. Beschl. v. 17.08.1994 – 2 Ws 129 / 94

31

cc) LG Frankfurt a. M. Beschl. v. 1.10.1999 – 5 / 29 Qs 19 / 99

32

dd) BGH Urt. v. 26.04.2001 – 4 StR 439 / 00

33

ee) BGH Urt. v. 04.12.2003 – 5 StR 308 / 03

35

ff) Auswertung und Kritik

37

b) Die Behandlung rechnungsähnlicher Angebotsschreiben in der Literatur

42

aa) Faktisches Täuschungsverständnis

44

bb) Unterscheidung nach der Geschäftserfahrenheit der Empfänger

47

cc) Normatives Täuschungsverständnis

48

(1) Inanspruchnahme besonderen Vertrauens

49

(2) Enttäuschung von Kontinuitätserwartungen

51

4. Betrug durch Kosten- und Abofallen im Internet

53

a) Einführung in die Problematik

53

b) LG Frankfurt a. M. Beschl. v. 5.3.2009 – 5 / 27 Kls 3330 Js 212484 / 07 KLs – 12 / 08

57

c) OLG Frankfurt a. M. Beschl. v. 17.12.2010 – 1 Ws 29 / 09

61

d) BGH Urt. v. 05.03.2014 – 2 StR 616 / 12

65

5. Ping-Anrufe

66

a) Konkludente Täuschung über ein inhaltliches Kommunikationsverlangen

67

b) Planmäßiges Ausnutzen einer inhaltlich wahren Erklärung

69

c) Täuschung über die Herkunft des Anrufs

71

d) Täuschung durch Unterlassen

73

e) Täuschung über die Höhe der Rückrufkosten

74

f) Täuschung über einen erfolglosen Anrufversuch

76

II. Übertreibende Anpreisungen und marktschreierische Reklame

76

III. Fälle aus dem Bereich des Aberglaubens und des Okkultismus

84

1. Sirius-Fall (BGHSt 32, 38)

84

2. Teufelsaustreibungsfall (LG Mannheim NJW 1993, 1488)

86

3. Auswertung

87

D. Berücksichtigung der Mitverantwortung des Opfers auf der Rechtsfolgenseite

88

E. Der Schutz des Einfältigen im Zusammenhang mit den Täuschungsformen des Betruges

91

I. Der Schutz des Einfältigen im Zusammenhang mit ausdrücklichen Täuschungen

92

II. Der Schutz des Einfältigen im Zusammenhang mit konkludenten Täuschungen

93

III. Der Schutz des Einfältigen im Zusammenhang mit der Täuschung durch Unterlassen

95

Kapitel 2: Viktimodogmatik

97

A. Restriktion des Täuschungsmerkmals

98

I. Erhöhte Anforderungen an die Qualität des Täuschungsmittels

99

II. Der Missbrauch berechtigten Vertrauens

100

III. Einschränkung durch das Kriterium der objektiven Täuschungseignung

103

IV. Einschränkung durch die Abgrenzung von Verantwortungsbereichen anhand von Solidaritätspflichten des Täters

104

V. Eingrenzung des Täuschungsmerkmals anhand des Tatsachenbegriffs

107

B. Tatbestandliche Restriktionen über das Irrtumsmerkmal

109

I. Irrtum bei Zweifeln des Verfügenden

110

II. Abschichtung nach dem Grad der Wahrscheinlichkeit

111

III. Verneinung des Irrtums bei konkreten Zweifeln

112

IV. Ausschluss des Irrtums bei mitwirkendem Opferverschulden

114

C. Einschränkungen durch den Kausalzusammenhang zwischen Täuschung und Irrtum

116

D. Einschränkungen über die objektive Zurechnung

119

I. Schutzzweck der Norm

119

II. Eigenverantwortliche Selbstgefährdung

122

E. Viktimodogmatische Einschränkungen des Schadensmerkmals

123

I. Ausschluss des Schadens aufgrund Opfermitverschuldens

123

II. Verkauf von Illusionen

125

F. Lösungsansätze außerhalb des Tatbestands

127

Kapitel 3: Der Schutz des Einfältigen vor dem Hintergrund unionsrechtlicher Vorgaben

130

A. Der Einfluss des Europarechts auf das nationale Strafrecht

131

I. Rechtsquellen des Unionsrechts

131

II. Verhältnis des nationalen Strafrechts zum Recht der Europäischen Union

133

B. Der Einfluss des Europarechts auf den Betrugstatbestand

137

I. Einflussmöglichkeiten primärrechtlicher Vorschriften des Unionsrechts auf den Betrugstatbestand

137

1. Warenverkehrsfreiheit, Art. 28 ff., 34 ff. AEUV

138

2. Dienstleistungsfreiheit, Art. 57 ff. AEUV

140

II. Einflussmöglichkeiten sekundärrechtlicher Vorschriften des Unionsrechts auf den Betrugstatbestand

142

1. RL 2006 / 114 / EG

142

2. RL 2005 / 29 / EG

142

a) Vollharmonisierende Wirkung der RL 2005 / 29 / EG

144

b) Anwendungsbereich der RL 2005 / 29 / EG

145

C. Das unionsrechtliche Verbraucherleitbild

147

I. Die Entwicklung des unionsrechtlichen Verbraucherleitbilds durch den EuGH

147

1. Die Entscheidungen "Cassis de Dijon", "Rau" und "Bocksbeutel"

147

2. Die Entscheidung "Pall / Dahlhausen"

148

3. Die Entscheidung "GB-Inno-BM"

149

4. Die Entscheidung "Clinique"

149

5. Die Entscheidung "Mars"

150

6. Die Entscheidung "Gut Springenheide"

151

7. Die Entscheidung "Sektkellerei Kessler"

152

8. Die Entscheidung "d'arbo naturrein"

152

9. Weitere Präzisierung des Verbraucherleitbilds in den Entscheidungen "Lidl / Vierzon" und "Konsumentenombudsmannen / Ving Sverige"

153

10. Einschränkungen des Leitbilds vom durchschnittlich informierten, aufmerksamen und verständigen Durchschnittsverbraucher

154

a) Die Entscheidung "Lloyd"

154

b) Die Entscheidung "Lifting Creme"

155

c) Die Entscheidungen "Buet" und "Graffione"

156

11. Zusammenfassung

157

II. Das Verbraucherleitbild der RL 2005 / 29 / EG

158

D. Rezeption des unionsrechtlichen Verbraucherleitbilds im Gesetz gegen den unlauteren Wettbewerb (UWG) und in der wettbewerbsrechtlichen Rechtsprechung des BGH

163

E. Die Auffassungen in Rechtsprechung und Literatur

165

I. Keine Verpflichtung zur Übernahme des unionsrechtlichen Verbraucherleitbilds aus Gründen des Rechtsgüterschutzes

165

II. BGH Urt. v. 05.03.2014 – 2 StR 616 / 12

172

III. Keine Verpflichtung zur Übernahme des unionsrechtlichen Verbraucherleitbilds wegen überwiegender Rechte der betroffenen Personenkreise

176

IV. Kein Erfordernis zur generellen Übernahme des unionsrechtlichen Verbraucherleitbilds wegen fehlender praktischer Auswirkungen

178

F. Implementierung der unionsrechtlichen Vorgaben in den Betrugstatbestand

181

I. Nichtanwendung des Betrugstatbestands

183

II. Normative Auslegung des Täuschungs- \nbzw. Irrtumsmerkmals

185

1. Normative Auslegung des Täuschungsmerkmals

185

2. Normative Auslegung des Irrtumsmerkmals

186

III. Unionsrechtliche Grundfreiheiten als Rechtfertigungsgründe

187

IV. Implementierung des unionsrechtlichen Verbraucherleitbilds über bestehende normative Elemente des Betrugstatbestands

189

1. Implementierung unionsrechtlicher Vorgaben im Bereich konkludenter Täuschungen

190

2. Implementierung der unionsrechtlichen Vorgaben im Bereich ausdrücklicher Täuschungen

192

a) Die Figur der objektiven Erfolgszurechnung

193

b) Die objektive Zurechnung beim Betrug

194

c) Der Ausschluss der Zurechenbarkeit zwischen Täuschung und Irrtum bei unionsrechtlicher Gestattung der fraglichen Verhaltensweisen

196

G. Zersplitterung des Täuschungsschutzstandards

198

I. Sektorale Differenzierung

200

II. Einführung einer betrugsstrafrechtlichen Sonderdogmatik für den Bereich der Publikumswerbung

203

III. Einheitliche Auslegung des Betrugstatbestands

207

Kapitel 4: Anwendung einer unionsrechtskonformen Auslegung auf die genannten Fallgruppen

209

A. Konkludente Täuschungen

210

I. Täuschung durch Behauptung wahrer Tatsachen

210

II. Rechnungsähnliche Angebotsschreiben

211

III. Abofallen

214

IV. Ping-Anrufe

216

B. Ausdrückliche Täuschungen

218

I. Übertreibende Werbeaussagen

218

II. Aberglauben und Okkultismus

220

Zusammenfassung und Fazit

222

Literaturverzeichnis

225

Stichwortverzeichnis

238