Religious law & concordats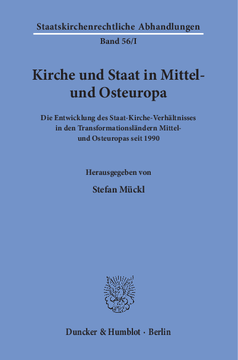 Additional Information
Book Details
ISBN

978-3-428-55314-3
978-3-428-15314-5 (print edition)

DOI

https://doi.org/10.3790/978-3-428-55314-3

Edition

1

Language

German

Pages

265

Collections

Subjects
Pricing
Institution

€ 80.00 (incl. local VAT if applicable)

Individual

€ 62.90 (incl. local VAT if applicable)
About The Author
Stefan Mückl studierte von 1991 bis 1995 Rechtswissenschaft in Passau und Freiburg. Ablegung des Ersten Staatsexamens in Freiburg (1995) und des Zweiten Staatsexamens in Stuttgart (1999). Promotion zum Dr. iur. an der Rechtswissenschaftlichen Fakultät der Albert-Ludwigs-Universität Freiburg 1998, Habilitation an der gleichen Fakultät 2005. Venia für Deutsches und Ausländisches Öffentliches Recht, Kirchenrecht und Europarecht. Lehrtätigkeit in Freiburg, Speyer und Göttingen. 2008–2013 Studium der Theologie und des kanonischen Rechts in Rom. Empfang der Priesterweihe 2013. Seit 2013 Professor für kanonisches Recht an der Fakultät für Kirchenrecht der Päpstlichen Universität Santa Croce in Rom.
Abstract
Die »Wende« in Mittel- und Osteuropa hat in allen Staaten des ehemals kommunistischen Machtbereichs nicht nur zu großen politischen, gesellschaftlichen und sozialen Umbruchprozessen geführt, sondern auch eine Neudefinition des Verhältnisses von Kirche und Staat erforderlich gemacht. Auch gut ein Vierteljahrhundert nach dieser »Wende« stellen sich die Beziehungen zwischen Staat und Kirche in Mittel- und Osteuropa sehr unterschiedlich dar: Teilweise gibt es formelle Abkommen zwischen Staat und Kirche, teilweise wird unreflektiert an vorkommunistische Verhältnisse angeknüpft; es gibt Beispiele fruchtbarer Kooperation zwischen Staat und Kirche, aber auch Beispiele für anhaltende Konflikte. Weiterhin spielen auch die jeweiligen historischen, religionssoziologischen und aktuellen politischen Kontexte eine große Rolle.

Der Band untersucht in exemplarischer Analyse die Situation in einzelnen besonders signifikanten Staaten und arbeitet Forschungslinien für künftige vertiefende Studien heraus. »Church and State in Central and Eastern Europe«

The epochal change of 1989–90 in the states of Central and Eastern Europe brought about a fundamental change in the relationship between church and state. This volume, containing the contributions of an international experts' conference held in February 2016, aims to reflect the current situation in selected but significant Central and Eastern European countries and at the same time to analyse emerging developments for the future elaboration of this relationship.
Table of Contents
Section Title
Page
Action
Price

Vorwort

5

Inhaltsverzeichnis

7

I. Grundlagen

9

Nikola Eterović: Recht und Religion in europäischer Perspektive

11

Stefan Mückl: Perspektiven der Staat-Kirche-Beziehungen in Mittel- und Osteuropa 25 Jahre nach der Wende

35

II. Überwiegend katholisch geprägte Länder

53

Marcin Stebelski: Selected Issues of Application of the Law on Religioues Denominations in Courts in Poland from a Constitutional Perspective

55

Josip Baloban: Das Verhältnis zwischen Staat und Kirche in Kroatien

77

Vygantas Malinauskas, Kaunas: The Role of Accepted Concept of Justice in Shaping Church-State Relations in Lithuania

103

III. Überwiegend orthodox geprägte Länder

115

Cyril Hovorun: Church-State Relations in the Russian Church

117

Anargyros Anapliotis: Die Bedeutung der Staatsgrenzen und die Theorie des "Kanonischen Terrorismus" aus der Sicht der Patriarchate von Rußland und Serbien

125

Aleksandar Raković: State-Church Relations in the Zepublic of Serbia (2000–2015)

141

IV. Länder mit einer religiösen Vielfalt

163

Balázs Schanda, Budapest: Kirche und Staat in Ungarn

165

Emanuel Tavala: Romania, between Tradition and Transition

189

V. Länder mit einer weitgehendreligionslosen Gesellschaft

217

Damián Němec: Kirche und Staat in Mittel- und Osteuropa seit 1990: Die Tschechische Republik

219

Ringo Ringvee: Church-State Relationship in Estonia since 1990

241

Stichwortverzeichnis

253

Personenverzeichnis

259

Autorenverzeichnis

264