Criminal procedure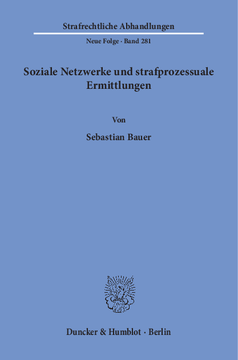 Additional Information
Book Details
ISBN

978-3-428-55235-1
978-3-428-15235-3 (print edition)

DOI

https://doi.org/10.3790/978-3-428-55235-1

Edition

1

Language

German

Pages

407

Collections

Subjects
Pricing
Institution

€ 104.00 (incl. local VAT if applicable)

Individual

€ 79.90 (incl. local VAT if applicable)
About The Author
Sebastian Bauer studierte Rechtswissenschaften an der Bucerius Law School in Hamburg und an der University of Oxford. Seit Februar 2016 absolviert er das Referendariat beim Kammergericht Berlin mit Stationen bei einer internationalen Großkanzlei und beim Deutschen Generalkonsulat in New York.
Abstract
Soziale Netzwerke zählen zu den meistgenutzten Kommunikationsdiensten des Internets und sind unlängst in den Fokus der Strafverfolgungsbehörden gerückt. Die Arbeit hat es sich zum Ziel gesetzt, de lege lata und de lege ferenda die rechtlichen Herausforderungen zu bewältigen, welche soziale Netzwerke verfassungs- und strafprozessrechtlich aufwerfen. Der Zugriff auf öffentlich zugängliche Daten, verdeckte Ermittlungen und der Zugriff auf nichtöffentlich zugängliche Daten bilden den Kern dieser Abhandlung. Das Interesse an einer effektiven Strafverfolgung steht der Freiheitssphäre der Bürger dabei in einem Spannungsverhältnis gegenüber, welches diese Arbeit zu reduzieren versucht. Der Schwerpunkt liegt auf den Anforderungen, welche das Recht auf informationelle Selbstbestimmung, das IT-Grundrecht und das Fernmeldegeheimnis an strafprozessuale Ermächtigungsgrundlagen stellen, sowie auf der Vereinbarkeit von verdeckten Ermittlungen mit der Selbstbelastungsfreiheit. Soweit die StPO keine hinreichenden Ermächtigungsgrundlagen für derartige Ermittlungen enthält, erarbeitet der Autor entsprechende Gesetzentwürfe. »Social Networking Services and Criminal Investigations«

Social networking services have recently come under scrutiny by prosecuting authorities. This thesis' aim is to meet the challenges – de lege lata and de lege ferenda – that social networking services raise with regard to German constitutional law and German criminal procedural law. The focus is on access to public and non-public data, as well as undercover investigations by prosecuting authorities.
Table of Contents
Section Title
Page
Action
Price

Widmung

5

Vorwort

7

Inhaltsverzeichnis

9

Abkürzungsverzeichnis

16

Einleitung

21

Ziel und Gang der Untersuchung

22

A. Grundlagen zu Ermittlungen in sozialen Netzwerken

26

I. Soziale Netzwerke – Begriffsklärung und Grundfunktionen

26

1. Begriffsklärung: Web 2.0, soziale Medien und soziale Netzwerke

26

a) Web 2.0 und soziale Medien

26

b) Soziale Netzwerke

28

2. Grundfunktionen

31

a) Profilerstellung

31

b) Kommunikationsfunktionen

32

c) Veranstaltungsmanagement

34

d) Suchfunktionen

34

e) Konsequenzen der Grundfunktionen für den Untersuchungsgegenstand

35

3. Entwicklung sozialer Netzwerke

36

4. Zahlen und Fakten zur Nutzung sozialer Netzwerke

37

5. Ergebnis

39

II. Technische Grundlagen zu sozialen Netzwerken

39

1. Akteure

40

2. Datenübertragung im Internet

41

3. Adressierung im Internet

42

4. Soziale Netzwerke

43

a) Architektur

43

b) Datenübertragung

44

c) Verschlüsselung

46

III. Soziale Netzwerke als Informationsquellen für die Strafverfolgungsbehörden

47

1. Ermittlungsauftrag

47

2. Nutzung sozialer Netzwerke zu Ermittlungen und aktuelle Forschungsprojekte

47

a) Kleine Anfrage an den Bundestag zur Nutzung sozialer Netzwerke zu Fahndungszwecken

49

b) Kleine Anfrage an den Hamburger Senat zur Nutzung sozialer Netzwerke zu Fahndungszwecken

49

c) Erkenntnisse aus der NSA-Affäre für Ermittlungen in sozialen Netzwerken

50

d) Aktuelle Forschungsprojekte

52

3. Besonderheiten bei Ermittlungen in sozialen Netzwerken

54

a) Daten mit Wissen des Nutzers

54

b) Daten ohne Wissen des Nutzers

55

aa) Daten aus netzwerkinternem Verhalten

55

bb) Daten aus netzwerkexternem Verhalten

57

c) Zwischenergebnis

58

4. Beweiseinführung und Beweiswert

58

5. Internationale Durchsetzung

61

6. Ergebnis

64

IV. Folgerungen für den Umfang der Untersuchung

64

B. Verfassungsrechtliche Anforderungen an strafprozessuale Ermächtigungsgrundlagen

65

I. Vorbehalt des Gesetzes und grundrechtliche Gesetzesvorbehalte

66

1. Grundrechtliche Gesetzesvorbehalte

66

2. Allgemeiner Vorbehalt des Gesetzes

67

II. Gebot der Normenklarheit und -bestimmtheit

69

1. Herleitung und Funktionen

70

2. Bestimmtheitsanforderungen

72

a) Heimliche Ermittlungsmaßnahmen

73

b) Einsatz technischer Mittel

75

c) Generalklauseln

77

III. Analogieverbot für strafprozessuale Ermittlungsmaßnahmen

78

1. Rechtsprechung und Literatur

79

2. Ableitung eines Analogieverbotes aus dem Vorbehalt des Gesetzes bzw. den grundrechtlichen Gesetzesvorbehalten

81

3. Folgerungen für ein Analogieverbot im Strafprozessrecht

84

4. Abgrenzung von Auslegung und Analogie

85

IV. Verhältnismäßigkeitsgrundsatz

87

1. Verhältnismäßigkeitsgrundsatz und Gesetzgebung

87

a) Legitimes Ziel und Geeignetheit

89

b) Erforderlichkeit

90

c) Angemessenheit

91

2. Verhältnismäßigkeit der Einzelfallmaßnahme

94

C. Zugriff auf öffentlich zugängliche Daten

98

I. Grundrechtlicher Schutz

99

1. Fernmeldegeheimnis

99

a) Abgrenzung von Massen- und Individualkommunikation

101

aa) Zugangssicherungen

101

bb) Autorisierung

102

b) Schutz der Netzwerköffentlichkeit in sozialen Netzwerken

104

2. Recht auf informationelle Selbstbestimmung

105

3. Grundrecht auf Gewährleistung der Vertraulichkeit und Integrität informationstechnischer Systeme

108

II. Eingriff

109

1. Öffentlichkeitsbezug als Eingriffsausschluss

110

2. Bagatellvorbehalt

113

3. Grundrechtsverzicht

114

a) Verzichtserklärung

115

b) Freiwilligkeit

117

c) Reichweite

119

4. Zwischenergebnis

121

III. Ermächtigungsgrundlage

121

1. Anwendungsbereich der Generalermittlungsklausel

121

2. Eingriffsintensität der Online-Streife

124

a) Persönlichkeitsrelevanz der betroffenen Daten

124

aa) Abgrenzung zwischen öffentlichen und privaten Bereichen

125

(1) Inhaltliche Bestimmung der allgemeinen Zugänglichkeit

126

(2) Übertragung auf soziale Netzwerke

129

(3) Zwischenergebnis

131

bb) Schutz der Privatheit in der Netzwerköffentlichkeit

131

(1) Ausforschungspotential

133

(2) Berechtigte Privatheitserwartung

134

(3) Zwischenergebnis

139

b) Heimlichkeit

140

c) Einsatz technischer Mittel

144

IV. Zwischenergebnis

146

D. Verdeckte Ermittlungen

147

I. Grundrechtlicher Schutz

148

1. Fernmeldegeheimnis

148

2. Grundrecht auf Gewährleistung der Vertraulichkeit und Integrität informationstechnischer Systeme

154

3. Recht auf informationelle Selbstbestimmung

155

a) Restriktives Schutzbereichsverständnis

155

aa) Verdeckte Identitätsübernahme

157

bb) Nutzung fiktiver Identitäten

159

(1) Identitätskontrolle durch den Betreiber

160

(2) Identitätskontrolle durch den Nutzer

161

(a) Äußere Umstände

162

(b) Innere Umstände

163

b) Weites Schutzbereichsverständnis

164

c) Zwischenergebnis

167

II. Ermächtigungsgrundlagen

167

1. Verdeckte Ermittlungen und Selbstbelastungsfreiheit

168

a) Anknüpfungspunkt Selbstbelastungsfreiheit bzw. \nRecht auf ein faires Verfahren

169

aa) Rechtsprechung des EGMR

169

bb) Rechtsprechung des BGH

171

b) Direkte bzw. entsprechende Anwendung des § 136 I 2 StPO \nbzw. des § 136a I StPO

173

aa) Täuschung als Umgehung des Schweigerechts

174

bb) Täuschung als verbotene Vernehmungsmethode

176

c) Der gebotene Täuschungsschutz der Selbstbelastungsfreiheit

178

aa) "Zwangsgleichheit" von Täuschungen

179

bb) Täuschungen als Zurechnungsproblem

182

d) Folgen für verdeckte Ermittlungen in sozialen Netzwerken

186

2. §§ 110a ff. StPO

188

a) Abgrenzung zum NoeP

188

b) Virtueller verdeckter Ermittler in sozialen Netzwerken

190

aa) Legende

192

(1) Aufbau einer fiktiven virtuellen Identität

192

(2) Verdeckte Identitätsübernahme

195

bb) Befugnisse

196

c) Zwischenergebnis

198

3. §§ 161 I 1, 163 I 2 StPO

198

a) Vernehmungsähnliche Befragungen

199

b) Verdeckte Kommunikation

200

c) Verdeckte Freundschaftsanfrage

204

aa) Eingriffsintensität

204

bb) Strafbarkeit nach § 202a StGB

205

d) Verdeckte Identitätsübernahme

208

III. Zwischenergebnis

209

IV. Gesetzgebungsvorschlag

209

1. Maßstäbe

209

2. Gesetzentwurf

212

E. Zugriff auf nichtöffentlich zugängliche Daten

214

I. Inhaltsdaten

215

1. E-Mail

218

a) Grundrechtlicher Schutz

219

aa) Fernmeldegeheimnis

220

(1) Online-Entwurfsphase

222

(2) Endspeicherung beim Provider

224

(3) Zwischenergebnis

228

bb) Grundrecht auf Gewährleistung der Vertraulichkeit und Integrität informationstechnischer Systeme

228

cc) Konkurrenzen

232

b) Ermächtigungsgrundlagen

235

aa) Rechtsprechung

235

bb) Schrifttum

238

2. Soziale Netzwerke

239

a) Grundrechtlicher Schutz

239

aa) Fernmeldegeheimnis

240

(1) Nachrichten und Chatinhalte

240

(2) Weitere Kommunikationsinhalte

241

(a) Massen- oder Individualkommunikation?

242

(b) Fehlender Kommunikationsvorgang?

244

(3) Zwischenergebnis

245

bb) Grundrecht auf Gewährleistung der Vertraulichkeit und Integrität informationstechnischer Systeme

245

b) Ermächtigungsgrundlagen

246

aa) §§ 94 ff. StPO

246

(1) Anwendungsbereich

246

(a) Gegenstand

247

(aa) Wortlaut

247

(bb) Historie

248

(cc) Systematik

248

(dd) Telos

250

(ee) Zwischenergebnis

251

(b) Sicherstellung

251

(aa) \x07Unkörperliche Sicherstellung und \nkörperliches Gegenstandsverständnis

252

(bb) \x07Unkörperliche Sicherstellung und \nunkörperliches Gegenstandsverständnis

254

(c) Zwischenergebnis

256

(2) Ermächtigungsgrundlage für Eingriffe in das Fernmeldegeheimnis

256

(a) Eingriffsintensität

256

(aa) Offenheit der Maßnahme

256

(bb) Einmaliger und punktueller Zugriff

258

(cc) Selbstschutzmöglichkeiten

259

(dd) Zwischenergebnis

261

(b) Normenklarheit und -bestimmtheit

261

(aa) Anlass und Zweck

261

(bb) Umfang und Grenzen

264

(c) Verhältnismäßigkeit

267

(aa) Eingriffsschwellen

268

(bb) Verfahrensregeln

270

(3) Zwischenergebnis

273

bb) §§ 99 ff. StPO

274

(1) Direkte Anwendung

274

(2) Analoge Anwendung

277

(3) Zwischenergebnis

281

cc) §§ 100a ff. StPO

281

(1) Anwendungsbereich

281

(a) Telekommunikation

281

(aa) Technisch-dynamisches Begriffsverständnis

282

(bb) Kenntnisnahme-Theorie

284

(cc) Entwicklungsoffener Telekommunikationsbegriff

285

(b) Überwachung und Aufzeichnung

286

(c) Soziale Netzwerke als Anordnungsgegner i. S. d. § 100a III StPO

288

(d) Soziale Netzwerke als Adressat des § 100b III 1 StPO

289

(aa) \x07Soziale Netzwerke als Telekommunikationsdienst \ni. S. d. § 100b III 1 StPO

289

(bb) Anwendbares Datenschutzrecht bei sozialen Netzwerken

292

(e) Überwachung mit eigenen Mitteln der Strafverfolgungsbehörden

295

(f) Zwischenergebnis

296

(2) Ermächtigungsgrundlage für Eingriffe in das Fernmeldegeheimnis

297

(a) Anordnungsvoraussetzungen

298

(b) Grenzen

299

(c) Verfahrenssicherungen

301

(d) Kernbereichsschutz

303

(3) \x07Ermächtigungsgrundlage für Eingriffe in \ndas Grundrecht auf Gewährleistung der Vertraulichkeit und \nIntegrität informationstechnischer Systeme

307

(a) Anlasstaten

308

(aa) Heimlicher Zugriff mit Infiltration

308

(bb) Heimlicher Zugriff ohne Infiltration

311

(b) Verfahrenssicherungen

313

(c) Kernbereichsschutz

314

(4) Zwischenergebnis

316

(5) Gesetzgebungsvorschlag

316

(a) Maßstäbe

317

(b) Gesetzentwurf

321

dd) § 110 III StPO

325

(1) Accounts sozialer Netzwerke als Speichermedien i. S. d. § 110 III StPO

327

(2) Gefahr des Beweismittelverlustes

331

(3) Offenheit der Maßnahme

332

(4) Zwischenergebnis

334

3. Zwischenergebnis zum Zugriff auf Inhaltsdaten

334

II. Bestandsdaten

335

1. Zugriff auf Bestandsdaten

336

a) § 100j StPO

337

b) §§ 161 I 1, 163 I 2 StPO

338

c) §§ 94 ff. StPO

342

2. Gesetzgebungsvorschlag

342

a) Maßstäbe

343

b) Gesetzentwurf

343

III. Verkehrsdaten

344

1. § 100g StPO

345

2. §§ 100a ff. StPO

349

3. Zwischenergebnis

349

IV. Nutzungsdaten

349

1. Grundrechtlicher Schutz

352

a) Fernmeldegeheimnis

352

b) Grundrecht auf Gewährleistung der Vertraulichkeit und Integrität informationstechnischer Systeme

355

2. Ermächtigungsgrundlagen

357

a) §§ 161 I 1, 163 I 2 StPO

358

b) §§ 94 ff. StPO

360

c) § 100g StPO und § 100j StPO

361

d) §§ 100a ff. StPO

362

3. Gesetzgebungsvorschlag

365

a) Maßstäbe

366

b) Gesetzentwurf

369

F. Gesamtergebnis und Schlussbemerkung

371

I. Gesamtergebnis

372

II. Schlussbemerkung

375

Literaturverzeichnis

377

Internet-Adressen

403

Sachwortverzeichnis

404