European history: medieval period, middle ages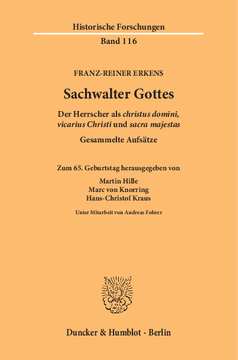 Additional Information
Book Details
ISBN

978-3-428-55222-1
978-3-428-15222-3 (print edition)

DOI

https://doi.org/10.3790/978-3-428-55222-1

Edition

1

Language

German

Pages

567

Collections

Subjects
Pricing
Institution

€ 138.00 (incl. local VAT if applicable)

Individual

€ 107.90 (incl. local VAT if applicable)
About The Author
Prof. Dr. Martin Hille lehrt Neuere und Neueste Geschichte sowie vergleichende Landesgeschichte an den Universitäten Passau und Regensburg. Promotion an der Universität München 1994 über die ländliche Sozialgeschichte Südbayerns im Dreißigjährigen Krieg. 2008 Habilitation an der Universität Passau mit einer Studie über Weltbild und Stimmungsprofil altgläubiger Chronisten im Reformationsjahrhundert. Forschungsschwerpunkte bilden neben der Sozial-, Kommunikations-, Mentalitäts- und Geistesgeschichte des konfessionellen Zeitalters die politische Architekturgeschichte des Barockzeitalters sowie die politische Kulturgeschichte des 20. Jahrhunderts. PD Dr. Marc von Knorring studierte Geschichte und Germanistik in Passau und Bonn. 2006 veröffentlichte er seine Dissertation »Die Hochstiftspolitik des Passauer Bischofs Wolfgang von Salm (1541–1555)«, 2014 seine Habilitationsschrift »Die Wilhelminische Zeit in der Diskussion. Autobiographische Epochencharakterisierungen 1918–1939 und ihr zeitgenössischer Kontext«. Derzeit arbeitet er als Akademischer Oberrat am Lehrstuhl für Neuere und Neueste Geschichte der Universität Passau. Seine Forschungsschwerpunkte liegen im Bereich der internationalen Geschichte des 19. und 20. Jahrhunderts: Monarchien im Wandel, Etiketteliteratur als Medium und Quelle, Lebenserinnerungen und Biographie. Hans-Christof Kraus studierte Geschichte, Germanistik und Philosophie an der Georg-August-Universität zu Göttingen. 1992 Promotion im Fach Mittlere und Neuere Geschichte. Berufliche Tätigkeit und akademische Lehre an verschiedenen Forschungsinstitutionen und Hochschulen, u.a. in Berlin, München, Speyer, Stuttgart, Jena. 2002 Habilitation für das Fach Neuere und Neueste Geschichte an der Ludwig-Maximilians-Universität München. Seit 2007 Ordinarius und Lehrstuhlinhaber für Neuere und Neueste Geschichte an der Universität Passau. Mitglied u.a. der Historischen Kommission bei der Bayerischen Akademie der Wissenschaften, der Kommission für die Geschichte des Parlamentarismus und der politischen Parteien, der Historischen Kommission zu Berlin, der Preußischen Historischen Kommission.
Abstract
Ein zentrales Forschungsfeld des an der Universität Passau lehrenden Mediävisten Franz-Reiner Erkens bildet die sakrale Dimension des Königtums in den Nachfolgestaaten des Weströmischen Reiches. Als Festgabe zum 65. Geburtstag vereint dieser Band erstmals 16 wegweisende Fallstudien und Essays, die seit 1998 in verschiedenen Fachzeitschriften, Lexika und Sammelbänden erschienen sind. Neben dem Glauben an den heilbringenden Charakter des Königtums und dessen Legitimation aus einem besonderen Nahverhältnis zu Gott thematisiert das Buch die dazugehörigen Ideen, Herrschaftszeichen und Zeremonien. Außerdem werden die Ursprünge und Kernelemente sakraler Herrschaft in transepochaler, transkultureller und interdisziplinärer Perspektive beleuchtet. Den roten Faden bildet die Rezeption antik-alttestamentlicher Herrschaftsideen durch das Karolingerreich sowie deren Weitervermittlung an die nachfolgenden Regna bis in die Neuzeit. »Advocate of God«

The main research of the University of Passau medievalist Franz-Reiner Erkens focuses on sacred kingship in the Latin middle ages. The volume contains 16 essays discussing the popular faith on the salvific presence of the monarch and its close affinity to god from a historical and anthropological approach. Stressing on the key role of the Carolingian Empire as a receptor and mediator of antique and biblical ideas of kingship the author traces the path from the middle ages to the present.
Table of Contents
Section Title
Page
Action
Price

Vorwort

5

Inhaltsverzeichnis

7

Abkürzungen und Siglen

9

I. Grundlegendes

11

Herrschersakralität. Ein Essai

13

Sakrale Elemente des Königtums

31

I. Nahverhältnis zum Numinosen

34

II. Sazerdotalität

38

III. Königsheil

42

IV. Sakrale Zeichen und Symbole

53

V. Ergebnisse und Ausblick

56

Reflexionen über das sakrale Königtum germanischer Herrschaftsverbände

59

I

61

II

62

III

65

Sakral legitimierte Herrschaft im Wechsel der Zeiten und Räume. Versuch eines Überblicks

69

I

73

II

83

III

90

1. Wandlungen

90

2. Analogien

93

3. Beeinflussungen

94

4. Unabhängigkeit

94

IV

95

II. Religiöse Herrschaftslegitimierung im frühen Mittelalter

97

Der Herrscher als gotes drút. Zur Sakralität des ungesalbten ostfränkischen Königs

99

I

102

II

104

III

111

IV

125

V

132

Konrad I. als christus domini

137

Frommer Mönchskönig, sakraler Christusvikar und heiliger Kaiser: Heinrich II.

157

Gebildete Höflinge und ungebildeter König: Gedanken über den Hof Konrads II.

169

Der pia Dei ordinatione rex und die Krise sakral legitimierter Königsherrschaft in spätsalisch-frühstaufischer Zeit

199

III. Das sakrale Reich

233

Anmerkungen über die Sakralität des Reiches im späteren Mittelalter

235

IV. Religiöse Herrschaftslegitimierung im späteren Mittelalter

253

Vicarius Christi – sacratissimus legislator – sacra majestas. Religiöse Herrschaftslegitimierung im Mittelalter

255

Sol iusticie und regis regum vicarius. Ludwig der Bayer als ,Priester der Gerechtigkeit'

301

Herrscher- und Herrschaftsidee nach herrschaftstheoretischen Äußerungen des 14. Jahrhunderts

327

I

329

II

337

III

352

Heißer Sommer, geistliche Gewänder und königliche Siegel: Von der Herrschersakralität im späten Mittelalter

359

Anhang

372

Thronfolge und Herrschersakralität in England, Frankreich und im Reich während des späteren Mittelalters: Aspekte einer Korrelation

375

I. Herrschersakralität nach dem Investiturstreit: Fortentwicklung und Ausdifferenzierung

377

II. Sakralität durch Salbung: Die Herrscherweihe als Übergang in einen eigenen Stand

384

1. Gottesvikariat und religiöse Verantwortung: Entfaltung der Tradition

384

2. Verdichtung und Intensivierung der Herrschersakralität in England und Frankreich

405

3. Bedeutung und Wirkung der Salbung in England und Frankreich

414

4. Weihe und Wahl, Salbung und Krönung im Reich

432

III. Sakralität durch Herkunft

441

IV. Thronfolge und Sakralität – ein Resümee

460

'Gesalbt zu königlichem Wesenˋ. Zur Bedeutung der spätmittelalterlichen Herrscherweihe

465

V. Überblick und Ausblick

483

Konvergenz und Divergenz politischer und religiöser Herrschaft zwischen Spätantike und Neuzeit

485

Konvergenz

487

Umschwung

493

Divergenz

494

Außereuropäische Verhältnisse

506

Vom "magischen Kitt" der Monarchie. Ein Essai über die longue durée und das allmähliche Verblassen\rreligiöser Herrschaftsbezüge

511

Schriftenverzeichnis

547

1. Edition

547

2. Monographien

547

3. Aufsätze und Beiträge zu Sammelwerken und Lexika

547

4. (Mit)‌Herausgeberschaften

557

Register

559