Religious law & concordats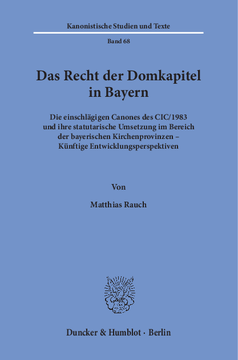 BOOK
Das Recht der Domkapitel in Bayern
Die einschlägigen Canones des CIC/1983 und ihre statutarische Umsetzung im Bereich der bayerischen Kirchenprovinzen – Künftige Entwicklungsperspektiven
Kanonistische Studien und Texte, Vol. 68
(2017)
Additional Information
Book Details
ISBN

978-3-428-55272-6
978-3-428-15272-8 (print edition)

DOI

https://doi.org/10.3790/978-3-428-55272-6

Edition

1

Language

German

Pages

356

Collections

Subjects
Pricing
Institution

€ 92.00 (incl. local VAT if applicable)

Individual

€ 71.90 (incl. local VAT if applicable)
About The Author
Matthias Rauch, Studium der Katholischen Fachtheologie in Regensburg und Graz, Abschluss im Jahr 2013 mit einer Diplomarbeit im Fach Kirchenrecht. Anschließend bis 2017 Universitätsassistent am Institut für Kanonisches Recht der Katholisch-Theologischen Fakultät der Karl-Franzens-Universität Graz. Promotion zum Dr. theol. im Wintersemester 2016/17. Seit 2015 ist er als Vizekanzler im Bischöflichen Ordinariat Graz-Seckau nun auch in der kirchlichen Rechtspraxis tätig.
Abstract
Das Rechtsinstitut der Kanonikerkapitel hat in Leben und Verfassung der Kirche eine lange Tradition. Dies zeigt ein kurzer rechtsgeschichtlicher Überblick über Werden und Wandel der Domkapitel. Das Buch stellt dann die geltende allgemeinkirchliche Rechtslage anhand der einschlägigen Normen des CIC/1983 detailliert dar und untersucht deren Umsetzung und spezifische Weiterführung in den Diözesen Bayerns. Die Statuten der Domkapitel von München, Augsburg, Passau und Regensburg (Kirchenprovinz München und Freising), Bamberg, Eichstätt, Speyer und Würzburg (Kirchenprovinz Bamberg) werden verglichen und einander gegenübergestellt, um die Eigenart und das Selbstverständnis der Kapitel sowie deren Gemeinsamkeiten und Unterschiede deutlich zu machen. Schließlich folgen Überlegungen für künftige Statutenentwicklungen. Ein Anhang dokumentiert die Statutentexte mit Stand vom September 2014, welche der Untersuchung zu Grunde liegen, aber in dieser Fassung zum Großteil nicht publiziert worden sind. »Cathedral Chapters in Bavaria and their Juridical Order«

Although the cathedral chapter is a very ancient institution, it still enjoys a high importance these days, like in the governance of the Bavarian dioceses. This book presents the 1983 Code's common church law in detail. Furthermore its actual implementation and specific continuation in the statutes of the cathedral chapters in the Bavarian dioceses is analysed by comparing and juxtaposing these texts, which can be found in an appendix. Lastly considerations on future changes complete the study.
Table of Contents
Section Title
Page
Action
Price

Vorwort

5

Inhaltsverzeichnis

7

Abkürzungsverzeichnis

13

A. Einleitung und Forschungsstand

19

B. Rechtsgeschichtliche Entwicklungsgänge

23

I. Frühe Klerikergemeinschaften und erste Regeln

23

II. Wachsender Einfluss der Kathedralkapitel

25

III. Reformen, Säkularisation und Reorganisation

27

IV. Zweites Vatikanisches Konzil und nachkonziliare Gesetzgebung

31

V. Zusammenfassung

34

C. Kanonikerkapitel im CIC

36

I. Charakteristika des Codex Iuris Canonici von 1983

36

1. Entstehung und Grundzüge des CIC/1983

36

2. Verhältnis zu den anderen Rechtsquellen

41

II. Rechtssystematische Einordnung der Normen zu den Kanonikern

44

III. Terminologische Klärungen

46

IV. Kollegialer Charakter der Kapitel und Rechtspersönlichkeit

47

V. Errichtung, Änderung und Aufhebung von Kapiteln

50

VI. Aufgaben der Kapitel

51

1. Liturgische Aufgaben

51

2. Allgemeine Aufgaben des Kathedralkapitels

54

3. Domkapitel und Konsultorenkollegium

57

4. Vom Diözesanbischof übertragene Aufgaben

60

5. Tätigkeiten des Kollegiatkapitels

62

VII. Eigene Statuten

63

1. Autonomes Satzungsrecht

64

2. Beschlussfassung

66

3. Billigung

67

4. Änderung und Aufhebung

69

5. Inhalt der Kapitelsstatuten

70

a) Verfassung des Kapitels selbst

71

b) Zahl der Kanoniker

72

c) Rechte und Pflichten des Kapitels

73

d) Rechte und Pflichten der einzelnen Kanoniker

73

e) Sitzungen

74

f) Rechtsgeschäfte

75

g) Einkünfte

76

h) Insignien

78

i) Weitere Regelungsfelder

81

6. Ämter im Kapitel

81

a) Vorsteher des Kapitels

82

b) Weitere Ämter

83

c) Dem Kapitel zugeordnete Personen

84

d) Bußkanoniker

86

7. Übertragung der Kanonikate

88

8. Eignungserfordernisse

90

9. Ausscheiden aus dem Kapitel

91

10. Kapitel und Pfarrei

92

VIII. Zusammenfassung

95

D. Statuten der bayerischen Domkapitel

97

I. Geschichtliche Entwicklungen

97

II. Geltende Statuten der bayerischen Domkapitel

100

III. Titel, Präambel und Aufbau

101

IV. Allgemeine Bestimmungen und Grundlagen

103

1. Verfassung und Zweck

103

2. Rechtliche Grundlagen

104

V. Mitgliedschaft

109

1. Zahl und Art der Mitglieder

109

2. Eignungsvoraussetzungen

110

3. Berufung und Besetzung

111

4. Institution und Installation

113

5. Ausscheiden

116

VI. Willensbildung

120

1. Kapitelssitzungen

120

2. Beschlussfähigkeit und Mehrheiten bei Sachbeschlüssen

123

3. Wahlen und Abstimmungen zu Personenvorschlägen

126

VII. Aufgaben des Domkapitels

127

1. Liturgische Aufgaben

127

a) Feierliche Gottesdienste in der Kathedralkirche

129

b) Regelmäßige Kapitelsgottesdienste

130

c) Gemeinschaftliches Chorgebet

131

2. Aufgaben in der Diözesanverwaltung

133

a) Mitwirkung bei der Bischofsbestellung

133

b) Aufgaben des Konsultorenkollegiums

134

c) Weitere Tätigkeiten und Gremien

137

VIII. Rechte und Pflichten der Mitglieder

139

1. Rangfolge

139

2. Rechte der einzelnen Mitglieder

142

a) Besoldung

142

b) Dienstwohnung

145

c) Domherrenkleidung

147

d) Urlaubsanspruch

150

3. Pflichten der einzelnen Mitglieder

151

a) Lebenswandel

151

b) Amtsführung und Verantwortlichkeit

152

c) Befreiung von Pflichten

153

d) Residenzpflicht

154

e) Verschwiegenheit

154

f) Testamentspflicht

155

IX. Ämter und Dienste

156

1. Dompropst

157

a) Ernennung

157

b) Präzedenz und Repräsentationsaufgaben

158

c) Dompropst als Vorsitzender

159

d) Aufteilung der Funktionen

160

e) Vertretungsregelungen

161

2. Domdekan

161

a) Bestellung

162

b) Domdekan als Vorsitzender bzw. Sitzungsleiter

162

c) Weitere Aufgaben

163

3. Kapitelssekretär

164

a) Bestellung und Amtszeit

164

b) Aufgaben

165

4. Summus Custos

166

a) Bestellung und Amtszeit

166

b) Aufgaben

167

5. Kapitelsökonom/Kämmerer

169

a) Bestellung und Amtszeit

170

b) Aufgaben

171

6. Bußkanoniker

173

a) Bestellung und Amtszeit

173

b) Aufgaben

174

7. Dompfarrer

174

8. Bibliothekar

175

X. Personen in Beziehung zum Domkapitel

175

1. Domvikare

176

a) Bestellung und Ausscheiden

176

b) Aufgaben

179

c) Rechte und Pflichten

180

2. Mitglieder im Ruhestand

184

a) Eintritt in den Ruhestand

184

b) Rechte und Pflichten

185

3. Ehrenmitglieder

188

a) Bestellung und Zahl

188

b) Ehrenrechte

190

4. Sonstige Dienste

190

a) Domzeremoniar

191

b) Domkapellmeister und Domorganist

191

c) Administrator der Domkapitel'schen Verwaltung

191

XI. Dom und Dompfarrei

192

1. Eigentum und finanzielle Fragen

192

2. Stiftungen

194

3. Dompfarrer

196

4. Dompfarrei

197

XII. Besondere Anlässe

198

1. Vakanz des bischöflichen Stuhls

198

2. Ableben und Begräbnis des Bischofs

201

3. Beisetzung der Dignitäre, Kanoniker und Domvikare

202

XIII. Schlussbestimmungen

205

1. Beschlussfassung

205

2. Bestätigung

208

3. Zusätze

208

4. Anhänge und Ordnungen

209

XIV. Zusammenfassung

210

XV. Charakteristika der bayerischen Domkapitel

213

E. Ausblick

215

I. Regelmäßige Überprüfung und Überarbeitung

215

II. Verwaltungstätigkeit, Gottesdienst und Seelsorge

216

III. Notwendige Kompetenzabgrenzungen

217

IV. Domkapitulare und Diözesanleitung

219

V. Bildung eines eigenen Profils

220

Quellen- und Literaturverzeichnis

221

I. Rechtsquellen

221

1. Quellensammlungen

221

2. Kapitelsstatuten

221

3. Weitere kirchliche Rechtsquellen

222

4. Konkordatsrecht

225

5. Staatliches Recht

226

II. Literatur

227

Sachverzeichnis

353

Statutentexte

246

I. Statuten des Domkapitels des Bistums Augsburg

246

II. Metropolitankapitel zu Bamberg. Statut

260

III. Statut des Domkapitels Eichstätt

273

IV. Satzung des Metropolitankapitels München

286

V. Statuten des Domkapitels zum heiligen Stephan Passau

299

VI. Statuten der Domkirchenstiftung zu Passau

313

VII. Statuten des Domkapitels des Bistums Regensburg

315

VIII. Statuten des Domkapitels zu Speyer

328

IX. Statuten des Domkapitels Würzburg

340