Criminal law: procedure & offences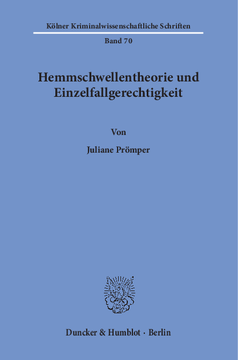 Additional Information
Book Details
ISBN

978-3-428-55259-7
978-3-428-15259-9 (print edition)

DOI

https://doi.org/10.3790/978-3-428-55259-7

Edition

1

Language

German

Pages

220

Collections

Subjects
Pricing
Institution

€ 92.00 (incl. local VAT if applicable)

Individual

€ 71.90 (incl. local VAT if applicable)
About The Author
Juliane Prömper studierte von 2008 bis 2013 Rechtswissenschaften an der Universität zu Köln. Von 2010 bis 2013 arbeitete sie begleitend als studentische Hilfskraft bei Görg Insolvenzverwaltung Partnerschaft von Rechtsanwälten. Nachdem sie 2013 die Erste Juristischen Staatsprüfung beim Justizprüfungsamt des Oberlandesgerichts Köln ablegte, begann sie mit der Anfertigung ihrer Dissertation unter der Betreuung von Professor Dr. Dr. h.c. Michael Kubiciel am Institut für Strafrecht und Strafprozessrecht der Universität zu Köln. Gleichzeitig war die Autorin von 2013 bis 2016 als wissenschaftliche Mitarbeiterin dort tätig. Seit Februar 2016 ist sie Rechtsreferendarin am Landgericht Köln.
Abstract
Die Rechtsprechung des BGH zur Tötungshemmschwelle existiert seit den frühen 1980er Jahren. Danach liegt der Tötungsvorsatz bei gefährlichen Gewalthandlungen zwar nahe, es bedürfe wegen der hohen Hemmschwelle vor der Tötung eines Menschen jedoch einer besonderen Abwägung aller Umstände des Einzelfalls. In den letzten Jahren rückten einige Senate des BGH von dieser Rechtsprechung ab, ohne sie ganz aufzugeben. Die Autorin wertet die Rechtsprechung der vergangenen dreißig Jahre aus und setzt sich kritisch mit den rechtlichen, psychologischen und straftheoretischen Hintergründen dieser Rechtsprechung auseinander. Sie kommt zu dem Ergebnis, dass primäres Ziel der »Hemmschwellentheorie« die Erreichung bestimmter Ergebnisse ist. Da der Vorsatz zur Ermöglichung einzelfallangemessener Ergebnisse jedoch nicht das geeignete Merkmal ist, diskutiert sie anschließend andere Möglichkeiten zur Einzelfallabwägung innerhalb der Schuld und Strafzumessung. »The Theory of Killing Inhibition Threshold and Individual Case Assessment«

The author examines the jurisprudence of the German Federal Court of Justice on the killing inhibition threshold of the past thirty years and critically evaluates its background relating to law, psychology and reasons for punishment. Subsequently, she discusses other options for individual case consideration and the possibility of punishing individual cases within the element of guilt and individualized sentencing.
Table of Contents
Section Title
Page
Action
Price

Vorwort

7

Inhaltsverzeichnis

9

A. Einleitung

13

I. Das Bedürfnis nach Einzelfallgerechtigkeit

13

II. Einzelfallgerechtigkeit durch die Hemmschwellentheorie?

14

III. Gang der Untersuchung

15

B. Die Tötungshemmschwelle – Einordnung

18

I. Abgrenzung von dolus eventualis und bewusster Fahrlässigkeit

18

II. Die Kernpunkte der "Hemmschwellentheorie"

19

C. Entwicklung der Rechtsprechung

23

I. Entstehung und bisherige Anwendung der Hemmschwellentheorie

23

1. Ursprung

23

2. Alkohol, Drogen und Affekt

24

3. Kindstötung

30

4. Rechtsextremer Hintergrund

32

5. Tödliche Krankheiten

33

6. Unterlassen

34

7. Fazit

36

II. Neuere Entwicklungen

38

III. Fazit

47

D. Rechtfertigung der Hemmschwellentheorie

51

I. Existenz einer besonderen Hemmschwelle

51

1. Psychologischer Nachweis einer Tötungshemmung

52

a) Psychoanalyse

52

b) Evolutionstheorien

53

c) Sozialpsychologische Theorien

55

d) Lerntheorie

56

e) Gehorsam

59

f) Sozialpädagogische Ansichten

60

g) Biologische Faktoren

60

h) Umwelt- bzw. Umfeldeinflüsse

64

i) Zwischenfazit

67

2. Mögliche Gründe für die Herabsetzung der Tötungshemmung

67

a) Affekt

67

aa) Vorliegen eines Affekts

67

bb) Einfluss auf den Vorsatz

70

b) Alkoholisierung/Handeln unter Drogeneinfluss

74

aa) Begünstigung von Aggressionen durch Alkohol und andere Drogen

74

bb) Einfluss auf den Vorsatz

76

c) Medien/Computerspiele

77

aa) Einfluss auf das Gewaltverhalten

77

bb) Studien zu Tötungsdelikten

82

cc) Bedeutung für die Hemmschwellentheorie

85

d) Gruppen

86

aa) Risky shift

86

bb) Deindividuation

87

cc) Theorie des realistischen Gruppenkonflikts

88

dd) Theorie der relativen Deprivation

89

ee) Theorie der sozialen Identität

89

ff) Selbstkategorisierungstheorie

90

gg) Dehumanisierung

90

hh) Befolgung von Anweisungen

91

ii) Vorurteile

92

e) Fazit

93

II. Straftheoretische Einordnung

96

1. Entwicklung der Rechtsprechung und ihr zeitgeschichtlicher Hintergrund

96

2. Straftheorie und Hemmschwelle

98

a) Absolute Straftheorien

98

b) Der Vergeltungsgedanke und die Hemmschwellentheorie

99

c) Relative Straftheorien

100

aa) Negative Generalprävention

100

(1) Negative Generalprävention und Hemmschwellentheorie

101

(2) Kritik

102

bb) Positive Generalprävention

105

(1) Positive Generalprävention und Hemmschwellentheorie

105

(2) Kritik

107

cc) Spezialprävention

108

(1) Spezialprävention und Hemmschwellentheorie

108

(2) Kritik

110

d) Neuere Ansätze

111

aa) Die Vereinigungslehren

111

(1) Vereinigungslehre und Hemmschwellentheorie

112

(2) Kritik

113

bb) Kommunikationstheoretischer Ansatz

114

(1) Die Theorie

114

(2) Strafe als kommunikativer Akt und Hemmschwellentheorie

114

cc) Orientierung am Opferinteresse

115

(1) Die Theorie

115

(2) Opferinteressen und Hemmschwellentheorie

116

e) Fazit

116

III. Verfassungsgemäßheit

117

1. Gleichbehandlungsgrundsatz

117

2. Allgemeines Persönlichkeitsrecht

120

a) Vorliegen einer Verletzung

120

b) Anspruch auf eine bestimmte Strafe

123

3. Postmortaler Persönlichkeitsschutz

124

4. Fazit

126

E. Andere Wege zur Ermöglichung von Einzelfallgerechtigkeit

127

I. Ausschließliche Berücksichtigung der mildernden Kriterien über §§ 20, 21 StGB

127

1. Zusammenhang von Vorsatz und Schuld

127

2. Schuldvorwurf bei Intoxikation

129

3. Schuldvorwurf bei Affekt

131

4. Tötungshemmschwelle in der Schuld

133

5. Vorzugswürdigere Wege zur Ermöglichung von Einzelfallgerechtigkeit

135

a) Berücksichtigung des Vorverschuldens

136

aa) actio libera in causa

136

bb) Weitere Möglichkeiten zur Berücksichtigung des Vorverhaltens

139

b) Erweiterung des Anwendungsbereichs der §§ 20, 21 StGB

144

c) Weitere Erwägungen

146

6. Fazit

147

II. Umfassende Einzelfallabwägung mittels eines minder schweren Falles

149

1. Einzelfallgerechtigkeit anhand der aktuellen Regelung des § 213 StGB

149

a) Verhältnis zu § 211 StGB

150

b) Verhältnis zu anderen Strafmilderungsgründen, insbesondere zu § 21 StGB

152

c) Erste Alternative

154

d) Zweite Alternative

158

e) Kindstötung

160

f) In dubio pro reo in Kombination mit § 213 StGB

161

2. Änderung des § 213 StGB

162

a) Tatbestandsmodelle

162

b) Regelbeispielslösungen

163

c) Weitere Vorschläge

164

d) Fazit

165

e) Eigener Vorschlag eines minder schweren Falls der Tötung

166

3. Fazit

168

III. Weitere Möglichkeiten im Rahmen der Strafzumessung

169

1. Berücksichtigung der Strafzwecke

170

a) Spielraumtheorie

170

b) Stellenwerttheorie

171

c) Tatproportionalität

172

2. Strafzumessungsschuld

172

a) Gesinnung des Täters und aufgewendeter Wille

173

b) Ziele und Beweggründe

176

c) Täterpersönlichkeit

177

d) Tatausführung

178

e) Das Maß der Pflichtwidrigkeit

179

f) Vorstrafen

180

g) Sonstiges Vorverhalten

182

h) Nachtatverhalten

183

i) Mitverursachung unterhalb der Schwelle des § 213 StGB

183

j) Straferwartung bei einschlägigen Tötungsdelikten

184

aa) Regelfall

184

bb) Verhinderung einer lebenslangen Freiheitsstrafe

187

k) Sonstige Aspekte

188

3. In dubio pro reo

189

4. Fazit

191

F. Schlussbetrachtung

193

Literaturverzeichnis

196

Sachverzeichnis

218