Entertainment & media law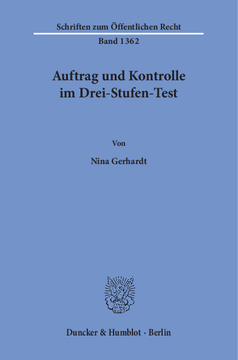 BOOK
Auftrag und Kontrolle im Drei-Stufen-Test. Eine Analyse der Drei-Stufen-Testverfahren für die Bestandsangebote der Telemedien öffentlich-rechtlicher Rundfunkanstalten
vor dem Hintergrund gemeinschaftsrechtlicher Vorgaben zur Auftragspräzisierung und Auftragskontrolle unter besonderer Berücksichtigung des Verbots presseähnlicher Angebote ohne Sendungsbezug
Schriften zum Öffentlichen Recht, Vol. 1362
(2017)
Additional Information
Book Details
ISBN

978-3-428-55100-2
978-3-428-15100-4 (print edition)

DOI

https://doi.org/10.3790/978-3-428-55100-2

Edition

1

Language

German

Pages

268

Collections

Subjects
Pricing
Institution

€ 92.00 (incl. local VAT if applicable)

Individual

€ 71.90 (incl. local VAT if applicable)
About The Author
Nach einer Ausbildung zur Verlagskauffrau im Verlag der Frankfurter Rundschau studierte Nina Gerhardt Rechtswissenschaften in Heidelberg und Montpellier. Den juristischen Vorbereitungsdienst absolvierte sie am OLG Düsseldorf (mit Stationen bei Orth Kluth Rechtsanwälte, Deutsches Konsulat Miami und UNIDROIT, Rom). Danach war sie als Referentin Medienpolitik beim Bundesverband Deutscher Zeitungsverleger e.V. tätig. Seit 2013 ist sie Leiterin Medienpolitik und Kommunikation bei RTL Radio Deutschland. Sie promovierte an der Universität Rostock bei Prof. Dr. Hubertus Gersdorf. An der Hochschule für Musik und Theater in Hamburg lehrt sie im Fachgebiet Medienpolitik und ist Mitglied des Vorstands im Verband Privater Rundfunk und Telemedien e.V.
Abstract
Die Diskussion um einen zeitgemäßen Auftrag für Onlinedienste öffentlich-rechtlicher Rundfunkanstalten reißt nicht ab. Die Frage, ob das Angebot von ARD und ZDF im Internet mit europäischem Recht vereinbar und damit wettbewerbskonform ist, wurde von der EU-Kommission im Rahmen eines Beihilfeverfahrens geprüft. Deutschland musste daraufhin seine rundfunkrechtliche Beauftragung für Telemedien anpassen. Eine zentrale Festlegung ist hier der Drei-Stufen-Test, den die internen Aufsichtsgremien von ARD und ZDF in der Folge für die bestehenden Onlinedienste durchzuführen hatten.

Die Autorin beschäftigt sich mit der Umsetzung des Testverfahrens und untersucht die Konformität mit den Vorgaben der EU-Kommission sowie das deutsche Aufsichtssystem durch Rundfunkgremien. Hier werden erhebliche Defizite festgestellt, im Besonderen bei der Bewertung von digitalen Textangeboten im Wettbewerbsverhältnis zur Presse. Der Streit um »presseähnliche Angebote« führte zu einer Wettbewerbsklage von Zeitungsverlagen gegen die Tagesschau-App der ARD, die über den Instanzenweg beleuchtet wird. »The Remit of Public Service Broadcasters and its Supervision in the Three-Stage-Test«

The publication is devoted to the debate about online offers of public service broadcasters in Germany. The question whether the internet services of the stations ARD and ZDF are fully permitted is answered by means of European and German law. Herefore the focus is on the so called three-stage-test introduced as a regulatory requirement in 2009 and the supervision of public service broadcasters in Germany. A further focus is on digital text offerings from ARD and ZDF in competition with the press.
Table of Contents
Section Title
Page
Action
Price

Vorwort

7

Inhaltsverzeichnis

9

Abkürzungsverzeichnis

16

Kapitel 1: Einleitung und Gang der Untersuchung

19

Kapitel 2: Notwendigkeit einer neuen Rundfunkordnung

23

A. Internet und Telemediendienste

23

I. Nachrichtennutzung im Internet

24

II. Angebotsentwicklung digitaler Dienste klassischer Mediengattungen

25

1. Entwicklung von Presseangeboten im Netz

25

2. Entwicklung der Onlinepräsenz privater Rundfunkveranstalter

26

3. Entwicklung des öffentlich-rechtlichen Onlineengagements

26

III. Wettbewerbssituation bei digitalen Diensten

27

1. Probleme der Inhaltefinanzierung von Onlinemedien

28

a) Unzureichende Vertriebserlöse im Internet

28

b) Wettbewerb um die werberelevante Aufmerksamkeit

29

2. Neue Wettbewerber auf digitalen Märkten

30

B. Verfassungsrechtlicher Rahmen

32

I. Ordnungsmodelle von Rundfunk und Presse

32

II. Ausgestaltungsvorbehalt des Gesetzgebers

33

III. Grundversorgungsauftrag des öffentlich-rechtlichen Rundfunks

34

IV. Bestands- und Entwicklungsgarantie des öffentlich-rechtlichen Rundfunks

35

V. Staatsfreiheit und Programmautonomie des öffentlich-rechtlichen Rundfunks

35

VI. Bedeutung für neue Angebotsformen

36

C. Erfordernis einer rechtlichen Anpassung des Auftrags

37

D. Ausgestaltung des öffentlich-rechtlichen Auftrags im digitalen Zeitalter

37

I. Vierter Rundfunkänderungsstaatsvertrag

38

1. Die Zuordnung von Onlinediensten zum Funktionsauftrag

39

a) Rundfunkfreiheit und Entwicklungsgarantie als mögliche Ermächtigung

39

b) Fehlende Ermächtigung mangels expliziter gesetzlicher Grundlage

40

2. Erfordernis weiterreichender gesetzlicher Klärung

41

II. Siebter Rundfunkänderungsstaatsvertrag

41

III. Neunter Rundfunkänderungsstaatsvertrag

43

Kapitel 3: Der Weg zum Auftrag für neue Dienste im 12. RÄStV

45

A. Beschwerden bei der Europäischen Kommission

45

I. Möglicher Verstoß gegen Art. 107 AEUV

46

1. Rundfunkfinanzierung als staatliche Beihilfe i.S.d. Art. 106, 107 AEUV

46

2. Amsterdamer Protokoll

47

3. Einordnung der deutschen Rundfunkgebühr als staatliche Beihilfe

48

4. Ausnahmeregelung nach Artikel 106 Abs. 2 AEUV

49

5. Rundfunkmitteilungen aus den Jahren 2001 und 2009

50

6. Reichweite der Kommissionszuständigkeit

51

II. Verlauf des deutschen Beihilfeverfahrens

51

III. Entscheidung der EU-Kommission vom 24. April 2007

55

IV. Anforderungen laut Entscheidung der EU-Kommission vom 24. April 2007

56

1. Drei-Stufen-Test

56

2. Gesetzliche Auftragspräzisierung und Schranken

57

3. Bewertung der Zusagen Deutschlands durch die EU-Kommission

58

B. Umsetzungsvollzug mit dem 12. RÄStV

59

Kapitel 4: Neue Regelungen zur Auftragspräzisierung im 12. RÄStV

61

A. Onlineauftrag mit gesetzlichen Schranken

61

B. Telemedienauftrag nach § 11 d Abs. 1 RStV

62

I. Quantitative und qualitative Schranken nach § 11 d Abs. 2 und 5 RStV

63

1. Sendungsbezug

63

2. Verweildauerfristen

64

3. Verbot presseähnlicher Angebote ohne Sendungsbezug

65

a) Digitale textbasierte Angebote der Presse

65

b) Digitale textbasierte Angebote des öffentlich-rechtlichen Rundfunks

67

c) Aufeinandertreffen unterschiedlicher Freiheitsregime

68

d) Zulässigkeit öffentlich-rechtlicher Lesemedien

69

e) Rechtsprechung des Bundesverfassungsgerichts zu Druckwerken

69

f) Lesemedien im Lichte der Bestands- und Entwicklungsgarantie

71

g) Festlegungen im Zwölften Rundfunkänderungsstaatsvertrag

73

(1) Entwurfsfassung vom 31. Januar 2008

74

(2) Entwurfsfassung vom 26. März 2008

74

(3) Arbeitsentwurf vom 04. Juni 2008

75

(4) Finaler Arbeitsentwurf vom 12. Juni 2008

75

4. Verbot flächendeckender lokaler Berichterstattung

76

5. Unzulässigkeit angekaufter Produktionen auf Abruf

77

6. Negativliste öffentlich-rechtlicher Telemedien

77

C. Drei-Stufen-Test gemäß § 11 f RStV

78

Kapitel 5: Drei-Stufen-Test für Telemedien des öffentlich-rechtlichen Rundfunks

80

A. Konzeption des Prüfverfahrens

80

I. Vorschläge im Vorfeld der gesetzlichen Festlegung

80

II. Gesetzliche Verankerung des Drei-Stufen-Tests

82

III. Aufgreifschwelle neues oder verändertes Angebot

83

IV. Bestandstests für alle bestehenden Angebote

85

V. Angebotsbegriff

88

VI. Zuständiges Gremium

88

1. Interne Struktur der Aufsichtsinstanz

89

2. Gremien als Vertreter der Allgemeinheit

89

a) Struktur und Aufgaben des ZDF-Fernsehrats

89

b) Struktur und Aufgaben der ARD-Gremien am Beispiel des WDR

91

3. Organisationsstrukturen und Auftragskontrolle

92

a) Ausführungen in der Kommissionsentscheidung

92

b) Ausführungen in der Rundfunkmitteilung der EU-Kommission

93

c) Strukturelle Problematik der Auftragskontrolle im Drei-Stufen-Test

95

(1) Möglicher Interessen- und Loyalitätskonflikt

95

(2) Laiengremium statt Fachaufsicht

96

d) Konsequenzen interner Organisationsstrukturen für die Auftragskontrolle

98

B. Festlegung des Verfahrensablaufs durch den deutschen Gesetzgeber

99

I. Vorlage eines Telemedienkonzepts

99

II. Prüfschritte

100

1. Inwieweit entspricht das Angebot dem Funktionsauftrag? (Stufe 1)

100

a) Bedürfnisermittlung der Gesellschaft

101

b) Auftragsrelevanz

102

2. Wie groß ist der Beitrag zum publizistischen Wettbewerb? (Stufe 2)

102

a) Der Begriff des publizistischen Wettbewerbs

103

b) Quantität und Qualität der vorhandenen und frei zugänglichen Angebote

103

(1) Quantität der vorhandenen Angebote

103

(2) Freie Zugänglichkeit der Angebote

104

(3) Qualität der vorhandenen Angebote

105

(a) Qualitätskriterien zur Bestimmung des publizistischen Nutzens

105

(b) Meinungsbildende Funktion

106

(c) Kommunikativer Mehrwert und Marktversagen

107

c) Marktliche Auswirkungen

110

d) Balancing

112

e) Begrenzungsfunktion der Abwägungsentscheidung

112

3. Wie hoch ist der erforderliche Finanzaufwand? (Stufe 3)

113

III. Entscheidung und Bekanntmachung der Entscheidung

115

IV. Rechtsaufsichtliche Genehmigung und Veröffentlichung

116

V. Rechtsschutzmöglichkeit Dritter

116

Kapitel 6: Einhaltung der EU-Vorgaben durch die konkrete Gremienkontrolle

118

A. Ergebnisse der Bestandstestverfahren der ARD-Sender und des ZDF

118

B. Materielle Auftragskontrolle

121

I. Erfordernis der präzisen Auftragsbestimmung nach EU-Recht

121

II. Mögliche Kollision mit dem Verfassungsrecht

122

III. Inhaltliche Auftragskontrolle im Drei-Stufen-Test

125

1. Sendungsbezug

126

a) Gesetzliches Erfordernis des Sendungsbezugs

126

b) Ausnahmen vom Erfordernis des Sendungsbezugs

127

c) Überführung des Bestands als nichtsendungsbezogene Telemedien

128

d) Mögliche Unbeachtlichkeit gesetzlicher Erfordernisse

129

2. Verbot presseähnlicher Angebote ohne Sendungsbezug

131

a) Diskussion um den Rechtsbegriff

132

b) Vorgehen der Gremien bei der Bestimmung der Presseähnlichkeit

132

(1) Der Begriff der Presseähnlichkeit

134

(a) Legaldefinition des § 2 Abs. 2 Nr. 20 RStV

135

(b) Elektronische Ausgaben von Printmedien

135

(c) Journalistisch-redaktionelle Angebote (Gestaltung und Inhalt)

136

(d) Charakteristika der Gestaltung und des Inhalts

136

(2) Festlegung der Vergleichsgröße in den Beschlussbegründungen

137

(a) Merkmal der Textlastigkeit

140

(b) Bewertung der Festlegung durch die Gremien

143

(c) Angebotsbegriff

144

(d) Bewertung der Bestimmung des Angebotsbegriffs

146

c) Bewertung der Bestimmung der Presseähnlichkeit durch die Gremien

149

d) Auslegung der Presseähnlichkeit durch das Gutachten von Papier/Schröder

151

e) Kritische Würdigung des Gutachtens in der Rechtsliteratur

152

f) Ergebnisse der Gremien zu Sendungsbezug und Presseähnlichkeit

157

(1) Bedeutung der Vorgehensweise und der Ergebnisse

158

(2) Konsequenzen der Vorgehensweise

159

g) Wettbewerbsklage als Resultat der Ergebnisse zur Presseähnlichkeit

159

(1) Vortrag der Klägerinnen

161

(a) Nichtsendungsbezogenes presseähnliches Angebot

161

(b) Wettbewerbsrelevante Verbotsnorm

161

(2) Erwiderung der Beklagten

162

(3) Erste mündliche Verhandlung

163

(4) Einigungsgespräche im Vorfeld des Urteilsspruchs

163

(5) Einlassungen des Gerichts vor dem Urteil

164

(6) Urteil vom 27. September 2012

165

(a) Urteilsgründe

166

(aa) Presseähnlichkeitsschranke als Marktverhaltensregel

166

(bb) Gerichtliche Überprüfbarkeit trotz Drei-Stufen-Test

166

(cc) Erforderlicher Sendungsbezug

167

(dd) Beurteilung der Presseähnlichkeit

168

(ee) Gesamtangebot als Beurteilungsmaßstab

170

(b) Bewertung der Urteilsgründe

170

(aa) Amtliche Begründung als maßgebliches Auslegungskriterium

170

(bb) Funktionale Auslegung als sachgerechtes Kriterium

170

(cc) Gesamtangebot kein sachgerechtes Abgrenzungskriterium

172

(dd) Reichweite des Urteils nicht unbedeutend

172

(c) Bedeutung für die Drei-Stufen-Test-Ergebnisse

173

(d) Bedeutung für Bezahlschranken der Verlage

174

(7) Berufungsurteil des OLG Köln vom 20.12.2013

175

(8) Revisionsurteil des Bundesgerichtshofs vom 30.04.2015

176

(9) Zweites Urteil des OLG Köln vom 30.09.2016

178

h) Ergebnis der Prüfung von Sendungsbezug und Presseähnlichkeit

179

3. Verbot flächendeckender lokaler Berichterstattung

181

a) Mögliche verfassungsrechtliche Einschränkung der Norm

182

b) Auslegung durch die Rundfunkanstalten

183

c) Ergebnis der Prüfung zu flächendeckender lokaler Berichterstattung

185

4. Verbote der Negativliste

185

a) Verbote bei nichtsendungsbezogenen Angebotsformaten

187

b) Ergebnis der Prüfung von Angebotsformen der Negativliste

188

IV. Ergebnis zur materiellen Auftragskontrolle

189

C. Beurteilung der Telemedienkonzepte als Prüfgrundlage der Gremien

190

I. Erforderlichkeit der präzisen Angebotsbeschreibung

190

II. Beschreibungen und Begründungen in den Bestandstestverfahren

192

III. Mögliche Konsequenzen pauschaler Beschreibungen

194

1. Gefahr der widerrechtlichen Ausweitung des Angebots

194

2. Beurteilung durch Dritte erschwert

195

IV. Ergebnis zur Beurteilung der Telemedienkonzepte

196

D. Stellungnahmerecht Dritter

196

I. Ausgestaltung des Stellungnahmerechts im Rundfunkstaatsvertrag

197

1. Angemessenheit des Stellungnahmezeitraums für Dritte

197

2. Zeitpunkt der Berücksichtigung des Stellungnahmevortrags

199

3. Gehör Dritter nach dem Stellungnahmezeitraum

199

II. Ergebnis zum Stellungnahmerecht Dritter

200

E. Durchführung der Abwägungsentscheidung auf der 2. Prüfstufe

200

I. Gutachten zur Ermittlung der marktlichen Auswirkungen

201

1. Auswahl und Unabhängigkeit der Gutachter

201

2. Ergebnisse der Gutachten

203

3. Kritik an den Gutachtenstandards

204

4. Kritik an der Methodenvielfalt

204

5. Fehlende Ex-Ante-Betrachtung des Marktes

209

II. Durchführung von Balancing und Bewertung des publizistischen Mehrwerts

212

1. Ausgewogenheit der Abwägungsentscheidung

213

2. Berücksichtigung von Kosten- und Werbefreiheit

215

a) Kostenfreiheit im Rahmen freier Zugänglichkeit des Angebots

215

b) Werbefreiheit des Angebots

217

3. Festlegung und Nachprüfbarkeit von Qualitätskriterien

220

III. Ergebnis zur Durchführung der Abwägungsentscheidung auf der 2. Prüfstufe

223

F. Beachtung von Transparenzerfordernissen

224

I. Interaktion mit der Öffentlichkeit als Kriterium für Transparenz

226

1. Mitteilungen der Gremien zur Information der Öffentlichkeit

226

2. Veröffentlichung entscheidungsrelevanter Dokumente

227

3. Offenlegung der Auswahl der Verfahrensbegleiter

229

4. Abgabe von Verschwiegenheitserklärungen

231

II. Sicherstellung interner Transparenz in Bezug auf die Arbeit des Plenums

232

III. Ergebnis zur Beachtung von Transparenzerfordernissen

235

Kapitel 7: Praktikabilität und Gesetzeskonformität der Bestandstestverfahren

236

Kapitel 8: Zusammenfassung und Ergebnisse der Untersuchung in Thesen

240

Literaturverzeichnis

247

Sachwortverzeichnis

264