Arbitration, mediation & alternative dispute resolution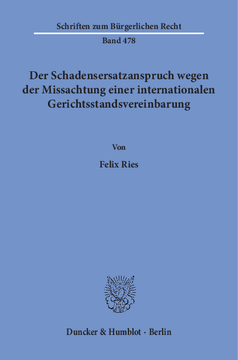 Additional Information
Book Details
ISBN

978-3-428-55348-8
978-3-428-15348-0 (print edition)

DOI

https://doi.org/10.3790/978-3-428-55348-8

Edition

1

Language

German

Pages

315

Collections

Subjects
Pricing
Institution

€ 104.00 (incl. local VAT if applicable)

Individual

€ 79.90 (incl. local VAT if applicable)
About The Author
Felix Ries, Studium der Rechtswissenschaften in Tübingen und Aix-en-Provence (Abschluss: Maîtrise en droit 2011), studentische und wissenschaftliche Hilfskraft an der Universität Tübingen, erstes Staatsexamen 2013, Referendariat im Landgerichtsbezirk Marburg mit Stationen in Wirtschaftskanzleien in Frankfurt a.M. und San Francisco, zweites Staatsexamen 2015, seit 2016 Rechtsanwalt in einer Wirtschaftskanzlei in Frankfurt a.M., Promotion 2017.
Abstract
Felix Ries geht der Frage nach, ob und in welchem Umfang die Missachtung einer internationalen Gerichtsstandsvereinbarung zum Schadensersatz verpflichtet. Während die Diskussion um diesen Schadenersatzanspruch in Deutschland erst in den letzten Jahren begonnen hat, existiert sie in den angloamerikanischen Rechtsordnungen bereits seit Jahrzehnten. Dabei untersucht der Autor sowohl außervertragliche als auch vertragliche Schadensersatzansprüche wegen der Missachtung einer Gerichtsstandsvereinbarung. Ferner sichert er die gewonnenen Erkenntnisse auch durch einen Überblick über den Schadensersatzanspruch wegen der Missachtung einer Schieds-, Mediations- und Rechtswahlvereinbarung ab. Schwerpunkt der Untersuchung ist die Vereinbarkeit des Schadensersatzanspruchs mit der EuGVVO. Daneben betrachtet der Autor aber auch die Vereinbarkeit des Schadensersatzanspruchs mit dem Luganer Parallelübereinkommen und dem Haager Gerichtsstandsübereinkommen. »Damages for Disregard of an International Choice-of-Court Agreement«

Felix Ries analyzes the question whether disregard of an international choice-of-court agreement can result in liability for damages. The author examines contractual and extra-contractual damages and concludes his analysis with an overview over damage claims for disregard of an arbitration, mediation or choice-of-law clause. The focus of this analysis is the compatibility of the damage claim for disregard of an international choice-of-court agreement with the Brussels I regulation.
Table of Contents
Section Title
Page
Action
Price

Vorwort

8

Inhaltsverzeichnis

10

Einleitung

16

A. Einführung

16

B. Fragestellung

18

C. Gang und Methodik der Untersuchung

20

1. Teil: Abgrenzung der Prozessverträge

23

A. Gerichtsstandsvereinbarung

23

B. Schiedsvereinbarungen

26

C. Mediationsvereinbarungen

30

D. Rechtswahlvereinbarungen

34

E. Ergebnis

37

2. Teil: Außervertraglicher Schadensersatz wegen der Missachtung einer internationalen ­Gerichtsstandsvereinbarung

38

A. § 826 BGB

39

I. Die Entscheidung des RG von 1938

40

II. Die neuere Rechtsprechung

42

III. Rechtsvergleichender Überblick

44

IV. Anwendung auf Gerichtsstandsvereinbarungen

46

V. Zwischenergebnis

51

B. § 823 Abs. 1 BGB

51

I. Gewerbebetrieb

52

II. Das right not to be sued abroad

54

III. Zwischenergebnis

57

C. § 823 Abs. 2 BGB

57

D. Ergebnis

60

3. Teil: Vertraglicher Schadensersatz wegen der Missachtung einer internationalen Gerichtsstandsvereinbarung

62

A. Gerichtsstandsvereinbarungen nach der EuGVVO

62

I. Reichweite des Schadensersatzanspruchs

62

1. Anwendungsbereich der EuGVVO

62

2. Abgrenzung zu anderen Regelungsregimen

65

3. Wirksame Gerichtsstandsvereinbarungen nach Art. 25 EuGVVO

69

a) Formelle Wirksamkeit

70

b) Materielle Wirksamkeit

72

4. Die Ausschließlichkeit der Gerichtsstandsvereinbarung

75

5. Gläubiger und Schuldner des Schadensersatzanspruchs

78

6. Rügelose Einlassung

82

7. Zwischenergebnis

83

II. Schuldverhältnis

84

1. Materiellrechtliche Verpflichtungen aus Gerichtsstandsvereinbarungen

84

2. Der Primäranspruch

91

3. Gerichtsstandsvereinbarungen und ausschließliche Zuständigkeiten

96

4. Argumente für den Schadensersatzanspruchs

98

5. Auslegung der Willenserklärungen

102

a) Ausdrückliche Vereinbarungen

103

b) Konkludente Vereinbarungen

103

c) Einschränkungen bei der Auslegung

106

d) Zwischenergebnis

108

6. Die Rechtsprechung in anderen Ländern

108

a) Vereinigtes Königreich

108

b) Australien

113

c) USA

115

d) Spanien

118

e) Zwischenergebnis

119

7. Das Prinzip des gegenseitigen Vertrauens

121

a) Rechtshängigkeit der Klage vor dem forum derogatum

123

b) Das forum derogatum erklärt sich für unzuständig

124

c) Das forum derogatum erklärt sich für zuständig Zwischenergebnis

126

d) Das forum derogatum entscheidet nicht über die Gerichtsstandsvereinbarung

129

e) Zwischenergebnis

130

8. Die Anerkennung des Urteils des forum derogatum

131

9. Die Rechtskraft des Urteils des forum derogatum

132

a) Die Rechtskraft der Zuständigkeitsentscheidung

134

b) Die Rechtskraft des Sachurteils

135

c) Die Rechtskraft der Kostenentscheidung

135

d) Zwischenergebnis

138

10. Zwischenergebnis

138

III. Pflichtverletzung

140

1. Die pflichtwidrige Klage

140

a) Missverständnisse und Unkenntnis

141

b) Prozessaufrechnung und Widerklage

143

2. Das Verhalten des forum derogatum

147

a) Art. 31 Abs. 2 EuGVVO

147

b) Art. 25 Abs. 1 Satz 1 HS 2 EuGVVO

154

3. Zwischenergebnis

157

IV. Vertretenmüssen

158

1. Die BGH-Rechtsprechung

159

2. Rechtsvergleichender Überblick

162

3. Modifizierung von § 276 Abs. 1 Satz 1 BGB

163

4. Darlegungs- und Beweislast

167

5. Zwischenergebnis

167

V. Schaden

168

1. Außergerichtliche Kosten

168

2. Verzögerungs- und Zinsschäden

171

3. Zwischenergebnis

173

VI. Das auf den Schadensersatzanspruch anwendbare Recht

173

1. Die lex fori

174

2. Die lex causae des Hauptvertrags

175

3. Die lex fori prorogati

177

4. Das Statut der Gerichtsstandsvereinbarung

179

5. Zwischenergebnis

180

VII. Die Zuständigkeit für die Schadensersatzklage

180

VIII. Alternative Absicherungsmöglichkeiten

182

1. Vereinbarung eines Kostenerstattungsanspruchs

183

a) Vereinbarkeit mit der EuGVVO

184

b) Vereinbarung in AGB

187

c) Anwendbares Recht

191

2. Vereinbarung einer Vertragsstrafe

191

3. Zwischenergebnis

194

IX. Ergebnis

195

B. Internationale Gerichtsstandsvereinbarungen außerhalb der EuGVVO

197

I. Reichweite des Schadensersatzanspruchs

197

1. Anwendungsbereich des LugÜ

198

2. Anwendungsbereich des HGÜ

201

3. Anwendungsbereich des autonomen Rechts

203

4. Zwischenergebnis

205

II. Wirksame Gerichtsstandsvereinbarungen

206

1. LugÜ

206

2. HGÜ

208

3. Autonomes Recht

211

4. Zwischenergebnis

214

III. Schuldverhältnis

215

1. LugÜ

216

2. HGÜ

220

3. Autonomes Recht

223

4. Zwischenergebnis

226

IV. Pflichtverletzung

227

1. Prozessaufrechnung und Widerklage

227

2. Das Verhalten des forum derogatum

231

a) LugÜ

232

b) Außerhalb von Abkommen

235

c) Abredewidrige Klagen in den USA nach derzeitigem Recht

237

d) Änderungen durch das HGÜ

244

3. Zwischenergebnis

252

V. Schaden

253

1. Prozessurteil des forum derogatum

254

2. Sachurteil des forum derogatum zugunsten des Beklagten

255

3. Sachurteil des forum derogatum zugunsten des Klägers

256

4. Zwischenergebnis

260

VI. Alternative Absicherungsmöglichkeiten

261

VII. Ergebnis

263

4. Teil: Schadensersatz wegen der Missachtung vergleichbarer Verträge

265

A. Schiedsvereinbarung

265

I. Reichweite des Schadensersatzanspruchs

266

II. Schuldverhältnis

267

III. Schaden

274

IV. Alternative Absicherungsmöglichkeiten

275

V. Zwischenergebnis

275

B. Mediationsvereinbarung

276

I. Reichweite des Schadensersatzanspruchs

277

II. Schuldverhältnis

278

III. Alternative Absicherungsmöglichkeiten

282

IV. Zwischenergebnis

283

C. Rechtswahlvereinbarung

283

I. Reichweite des Schadensersatzanspruchs

284

II. Schuldverhältnis

285

III. Zwischenergebnis

287

D. Ergebnis

287

Abschließende Betrachtung

289

A. Zusammenstellung der wesentlichen Ergebnisse

289

B. Ausblick

291

Literaturverzeichnis

293

Sachwortverzeichnis

312