Legal history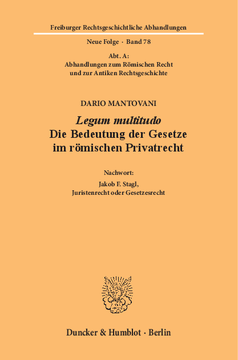 BOOK
Legum multitudo
Die Bedeutung der Gesetze im römischen Privatrecht. Aus dem Italienischen übersetzt von Ulrike Babusiaux. Nachwort: Jakob F. Stagl, Juristenrecht oder Gesetzesrecht. (Abt. A: Abhandlungen zum Römischen Recht und zur Antiken Rechtsgeschichte)
Freiburger Rechtsgeschichtliche Abhandlungen. N. F., Vol. 78
(2018)
Additional Information
Book Details
ISBN

978-3-428-55265-8
978-3-428-15265-0 (print edition)

DOI

https://doi.org/10.3790/978-3-428-55265-8

Edition

1

Language

German

Pages

140

Collections

Subjects
Pricing
Institution

€ 70.00 (incl. local VAT if applicable)

Individual

€ 53.90 (incl. local VAT if applicable)
About The Author
Dario Mantovani ist Ordinarius für Römisches Recht an der Universität Pavia und Direktor des »Centro studi e ricerche sui diritti antichi« (Cedant). Er koordiniert den Master in »Lingua del diritto« und ist Herausgeber der Geschichte der Universität Pavia. Seit 2014 leitet er das ERC-Projekt (Advanced Grant 2013) »REDHIS. Rediscovering the hidden structure. A new appreciation of Juristic texts and Patterns of Thought in Late Antiquity«. Er ist Mitherausgeber der Zeitschrift »Athenaeum« und an verschiedenen maßgeblichen internationalen Forschungsprojekten zur römischen Rechtsgeschichte beteiligt. Ferner ist er korrespondierendes Mitglied der Académie des Inscriptions et Belles Lettres, Paris. Ulrike Babusiaux ist seit 2009 Professorin für Römisches Recht, Privatrecht und Rechtsvergleichung an der Universität Zürich. Sie ist Mitherausgeberin des Handbuchs des Römischen Privatrechts und seit 2017 Mitherausgeberin der Savigny-Zeitschrift für Rechtsgeschichte (romanistische Abteilung). Ihre Forschungsinteressen im römischen Recht betreffen das Prozessrecht, Methodenfragen der römischen Jurisprudenz und das Erbrecht. Daneben arbeitet sie zu Fragen der europäischen Rechtsangleichung sowie zur Privatrechtsvergleichung (Deutschland, Frankreich, Schweiz).
Abstract
Das römische Recht gilt als Juristenrecht; dieses Paradigma wurde durch Giovanni Rotondi und Fritz Schulz zu Beginn des 20. Jahrhunderts begründet. In seiner 2012 auf Italienisch erschienenen Studie hat Dario Mantovani (Pavia) dieses Paradigma in Frage gestellt. Seine Argumentation baut dabei sowohl auf der römischen Selbstsicht als auch auf der für die heutige Forschung greifbaren Überlieferung auf und untersucht abschließend die geistesgeschichtlichen Grundlagen, welche die These von der Gesetzeslosigkeit prägten. Um die Aufmerksamkeit für Mantovanis Überlegungen zu verstärken, hat es Ulrike Babusiaux (Zürich) unternommen, den Text ins Deutsche zu übertragen. Neben dieser Übersetzung enthält der Band einen Nachtrag Mantovanis sowie eine aktualisierte Besprechung des Beitrags durch Jakob Stagl (Santiago de Chile). Das Buch bietet damit ein Kompendium zum Stand der Frage und soll dadurch neue Forschungsperspektiven eröffnen. »Legum multitudo«

According to a paradigm established by Giovanni Rotondi and Fritz Schulz at the beginning of the 20th century, Roman private law is not determined by statutes (leges) but rather by the legal doctrine and jurisprudence. As shown by Dario Mantovani in 2012, there are strong arguments against this thesis as it appears to have as its premise that in private law matters social mores are the primary source of law. Ulrike Babusiaux translated Mantovani's reasoning to German in order to promote a wider discussion of his ground-breaking insights.
Table of Contents
Section Title
Page
Action
Price

Vorwort

5

Inhalt

9

I. Thema und Methode der Untersuchung

11

II. Die Masse der leges publicae aus Sicht der Zeitgenossen

16

III. Die von Rotondi individualisierten leges publicae des Privatrechts und die Auswahl der Informationen in den Quellen

32

IV. Eine Bestandsaufnahme der namentlich in juristischen und literarischen Quellen zitierten leges publicae des Privatrechts

39

V. Die leges publicae in den Werken der Juristen

72

VI. Leges publicae und interpretatio der Juristen

75

VII. Geschichte der Historiographie: Die leges publicae und das römische Privatrecht zwischen römischem Recht, allgemeiner Rechtslehre und Rechtssoziologie

85

Epilog

98

Addendum: Zur Kritik Gianni Santuccis

100

1. Argumentorum inopia

100

2. Zu Santuccis Umgang mit den Quellen zur legum multitudo

102

3. Von Santucci nicht gewürdigte Ergebnisse des Hauptteils

108

Nachwort: Juristenrecht oder Gesetzesrecht?

110

1. Das Volk des Rechts

110

2. Die Delegifizierungsthese Mantovanis

113

3. Die perspektivische Verkürzung unserer Sicht der Römer

116

4. Das Volk der Gesetze

123

Literaturverzeichnis

124

Quellenverzeichnis

134