Constitution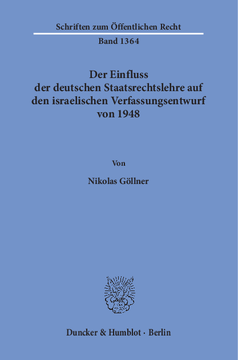 Additional Information
Book Details
ISBN

978-3-428-55305-1
978-3-428-15305-3 (print edition)

DOI

https://doi.org/10.3790/978-3-428-55305-1

Edition

1

Language

German

Pages

121

Collections

Subjects
Pricing
Institution

€ 58.00 (incl. local VAT if applicable)

Individual

€ 44.90 (incl. local VAT if applicable)
About The Author
Nikolas Göllner studierte zunächst von 2007 bis 2009 Philosophie, Vergleichende Religionswissenschaften, Jüdische Studien und Klassische Philologie. Im Jahr 2009 nahm er das Studium der Rechtswissenschaften auf, das er 2014 mit dem ersten Staatsexamen abschloss. Von 2014 bis 2016 war er Wissenschaftlicher Mitarbeiter bei Prof. Dr. Rainer Schröder am Lehrstuhl für Neuere Rechtsgeschichte an der Humboldt-Universität zu Berlin. Im Jahr 2017 erfolgte die Promotion an der rechtswissenschaftlichen Fakultät der Humboldt-Universität zu Berlin bei Prof. Dr. Volker Neumann.
Abstract
Diese Studie geht der Frage nach, inwiefern die israelische Verfassung in ihren Anfängen einem Einfluss des deutschen Staats- und Verfassungsrechts ausgesetzt war. Ausgangspunkt der Untersuchung ist der israelische Verfassungsentwurf von 1948. Die Frage nach einem möglichen deutschen Einfluss auf die israelische Verfassung ist hierzulande bisher nur im Rahmen der Carl Schmitt-Rezeption aufgeworfen worden. Auch in Israel findet sich hierzu noch kaum Sekundärliteratur. Die Untersuchung des Entwurfs zeigt aber, dass die Protagonisten der Staatsgründung Einflüssen des deutschen Staatsrechts ausgesetzt waren. Dieser Befund erhärtet sich vor allem mit Blick auf den Autor des Entwurfs: Leo Kohn studierte Rechtswissenschaften in Deutschland und promovierte bei Richard Thoma über die Verfassung des Irischen Freistaats. Die Nähe zur deutschen Staatsrechtlehre der Weimarer Republik lässt sich auch in weiten Teilen für den Entwurf nachweisen, der als ein früher Kulminationspunkt des israelischen Verfassungsdiskurses gilt. »The German Influence on Israel's Draft Constitution of 1948«

This study shows that the founding fathers of Israel were exposed to the influence of German constitutional doctrine. An influence can be demonstrated above all with regard to the author of the draft: Leo Kohn studied law in Germany and obtained his doctorate with Richard Thoma. The proximity to the German constitutional doctrine of the Weimar Republic can also be shown in large part for the draft, which is the beginning of the Israeli constitutional discourse.
Table of Contents
Section Title
Page
Action
Price

Vorwort

7

Inhaltsverzeichnis

9

I. Einleitung

13

II. Äußere Einflüsse auf das Israelische Staatsrecht

18

1. Einleitung

18

2. Carl Schmitt und die israelische Verfassungswirklichkeit

19

3. Israels Verfasstheit als Sonderfall des englischen Verfassungsrechts

21

a) Einleitung

21

b) Die Adaption des "Britischen Modells" als Erklärungsmuster für Israels Zustand als Staat ohne geschriebene Verfassung

23

c) Zusammenfassung

25

4. Resümee

25

III. Geschichtlicher Hintergrund

27

1. Einleitung

27

2. Die Errichtung provisorischer Organe und die Wahl zur ersten Knesset

27

3. Verfassungsgeschichte

29

a) Von UNGAR 181 bis zum Verfassungsentwurf

29

b) Die Harari-Entscheidung

30

c) Das Schicksal des Entwurfs

32

IV. Leo Kohn. Der Autor des Entwurfs

35

1. Einleitung

35

2. Leo Kohn: Leben und Werk

36

a) Einleitung

36

b) Leo Kohn

37

aa) Leben

38

bb) Werk

43

c) Zusammenfassung

44

3. Leo Kohns Entwurf

45

a) Ein Entwurf in drei Fassungen

45

b) Die erste Fassung des Entwurfs

45

c) Die zweite Fassung des Entwurfs

47

d) Die dritte Fassung des Entwurfs

49

e) Zusammenfassung

50

4. Resümee

51

V. Der Verfassungsentwurf

52

1. Einleitung

52

a) Aufbau der Verfassung

53

b) Der kommentierte Entwurf

53

c) Die Einleitung zum kommentierten Entwurf

54

2. Der erste Abschnitt des Entwurfs: General Provisions

55

a) Einleitung: Die Formulierung des Sozialstaatsprinzips

55

b) Französisches Modell oder deutscher Einfluss?

57

c) Resümee

60

3. Der zweite Abschnitt des Entwurfs: Die Grundrechte

61

a) Aufbau und Inhalt des zweiten Abschnitts der Verfassung

61

b) Die Einleitung der Kommentierung des zweiten Abschnitts – Grundrechtstheorien

62

aa) Die Kommentierung der zweiten Fassung des Entwurfs

63

bb) Die Kommentierung der dritten Fassung des Entwurfs

64

cc) Resümee

69

c) Ausländische Grundrechtstheorien und ihr Einfluss auf den zweiten Abschnitt des Verfassungsentwurfs

69

aa) Der Verweis auf amerikanische und französische Traditionslinien

69

bb) Die Grundrechte im klassischen Rechtspositivismus

70

cc) Die Grundrechte in der Weimarer Staatsrechtslehre

73

(1) Einleitung

73

(2) Hans Kelsen

74

(3) Rudolf Smend

76

(4) Hermann Heller

77

(5) Richard Thoma

79

(6) Carl Schmitt

82

dd) Resümee

84

d) Einzelprobleme – Die Artikel des zweiten Abschnitts des Entwurfs

84

aa) Menschenwürde als Grundrecht

85

(1) UNO-Deklaration vom 10. Dezember 1948

86

(2) Die Präambel der irischen Verfassung von 1937

87

(3) Der Artikel 151 der Weimarer Reichsverfassung

90

(4) Resümee

92

bb) Der Ausnahmezustand nach den Artt. 13 Abs. 2, 14 und 16 des Entwurfs

92

(1) Die Einrichtung des Ausnahmezustands im Verfassungsentwurf

92

(2) Der Ausnahmezustand in England, Frankreich und Irland

94

(3) Der Ausnahmezustand als Schranken-Schranke

96

(4) Resümee

98

e) Zusammenfassung

99

4. Der dritte Abschnitt des Entwurfs: Gesetzgebung und Parlament

99

a) Einleitung

99

b) Das Ein-Kammer-System

99

c) Die Auflösung des Parlaments und Neuwahlen

102

d) Zusammenfassung

103

5. Der vierte Abschnitt des Entwurfs: Die Regierung und das Staatsoberhaupt

104

a) Einleitung

104

b) Das Staatsoberhaupt

104

c) Die Regierung

107

d) Zusammenfassung

108

6. Zusammenfassung

109

VI. Resümee

111

Literaturverzeichnis

114

Quellen

114

Monographien

114

Aufsätze

116

Zeitungsartikel

119

Sachwortverzeichnis

120