Contract law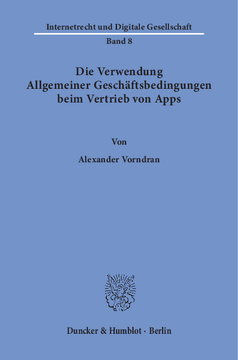 BOOK
Cite BOOK
Style
---
Vorndran, A. (2018). Die Verwendung Allgemeiner Geschäftsbedingungen beim Vertrieb von Apps. Duncker & Humblot. https://doi.org/10.3790/978-3-428-55269-6
Vorndran, Alexander. Die Verwendung Allgemeiner Geschäftsbedingungen beim Vertrieb von Apps. Duncker & Humblot, 2018. Book. https://doi.org/10.3790/978-3-428-55269-6
Vorndran, A, (2018): Die Verwendung Allgemeiner Geschäftsbedingungen beim Vertrieb von Apps, Duncker & Humblot, [online] https://doi.org/10.3790/978-3-428-55269-6
---
Format
---
Die Verwendung Allgemeiner Geschäftsbedingungen beim Vertrieb von Apps
Internetrecht und Digitale Gesellschaft, Vol. 8
(2018)
Additional Information
Book Details
ISBN

978-3-428-55269-6
978-3-428-15269-8 (print edition)

DOI

https://doi.org/10.3790/978-3-428-55269-6

Edition

1

Language

German

Pages

426

Collections

Subjects
Pricing
Institution

€ 116.00 (incl. local VAT if applicable)

Individual

€ 89.90 (incl. local VAT if applicable)
About The Author
Der Autor studierte Rechtswissenschaften an der Julius-Maximilians-Universität Würzburg, wo er auch das Begleitstudium im Europäischen Recht erfolgreich absolvierte. Nach dem juristischen Vorbereitungsdienst im Oberlandesgerichtsbezirk Bamberg, den er zu Stationen in einer internationalen Sozietät und einem weltweit agierenden Familienunternehmen nutzte, ist der Autor nunmehr in Frankfurt am Main als Rechtsanwalt in einer Wirtschaftskanzlei mit den Schwerpunkten Kapitalmarktrecht und Unternehmensfinanzierung tätig.
Abstract
Der Vertrieb von Apps für mobile Endgeräte hat sich seit seinen Anfängen im Jahr 2008 vom Nischenphänomen zu einer Branche mit Milliardenumsätzen und Millionen von Kunden gewandelt. Sind Apps heute kaum mehr aus dem Alltag wegzudenken, ist anzunehmen, dass dieses Geschäftsfeld aufgrund der zunehmenden Digitalisierung in Zukunft noch an Bedeutung gewinnen wird. AGBs nehmen im App-Vertrieb eine wichtige Rolle ein, in der Regel ersetzen Standardbedingungen das Ergebnis von Verhandlungen als Vertragsgrundlage. Dieses Oktroy verlangt den Schutz des schwächeren Vertragspartners vor Übervorteilung, der durch die §§ 305 ff. BGB sichergestellt wird. Im App-Vertrieb treffen damit zwei Aspekte aufeinander: die Vertragsgestaltung mittels AGB einerseits, ein neuartiger Geschäftsbereich und Vertragsgegenstand andererseits. Das Zusammenspiel dieser beiden Gesichtspunkte untersucht die Arbeit namentlich anhand von Fragen bezüglich des anwendbaren Rechts, der Einbeziehung von AGB, der vertragstypologischen Einordnung sowie hinsichtlich häufig genutzter Klauseltypen. »The Use of General Terms and Conditions in Mobile App Distribution«

Development and distribution of apps for mobile devices are, not at least regarding relevant legal aspects, subject to ongoing change, which is documented by numerous new publications in this field since submission of the present thesis to the legal faculty of the University of Würzburg in February 2016. For the print version new publications in legal literature and jurisdiction until May 2017 could be included. The present thesis shall contribute to further pervade this topic.
Table of Contents
Section Title
Page
Action
Price

Vorwort

7

Inhaltsverzeichnis

9

Abkürzungsverzeichnis

17

A. Einleitung

21

B. Einführung

26

I. Apps – Hilfsanwendungen für mobile Endgeräte

26

1. Apps, digitale Inhalte und Software

26

a) Apps und die verschiedenen Formen ihres Vertriebs

26

b) Digitale Inhalte und Software – komplementäre Begriffe?

32

aa) Digitale Inhalte

32

bb) Software

34

2. Überblick über die Besonderheiten des App-Vertriebs

36

a) Die Distribution über den App-Store

37

b) Komplexe Vertriebsstrukturen

39

c) Die Internationalität der Branche

41

d) Schaltung von Werbung und Nutzung von Daten

42

e) Die unkörperliche Lieferung von Apps und ihr Zuschnitt auf die Bedürfnisse des Betreibers

43

3. Zwischenergebnis

45

II. Ablauf des App-Erwerbs

45

III. Zwischenergebnis

50

C. Grundsätze der Ermittlung des anwendbaren Rechts im App-Vertrieb

51

I. Die Grundsätze des Art. 4 Rom I-VO

52

1. Die normierten Vertragsarten des Art. 4 Abs. 1 Rom I-VO

52

2. Die Regelanknüpfung des Art. 4 Abs. 2 Rom I-VO

56

3. Die offensichtlich engere Verbindung des Art. 4 Abs. 3 Rom I-VO

58

II. Die Sonderanknüpfung für Verbraucherverträge des Art. 6 Abs. 1 Rom I-VO

60

1. Die Ausnahmen des Art. 6 Abs. 4 Rom I-VO

60

2. Der Tatbestand des Art. 6 Abs. 1 Rom I-VO

62

a) Verbrauchervertrag

62

b) Ausüben

64

c) Ausrichten

64

III. Verbraucherverträge und Rechtswahl

74

1. Anforderungen an eine Rechtswahl

74

2. Einschränkungen bei der Rechtswahl

76

a) Art. 3 Abs. 3, 4 Rom I-VO

76

b) Art. 6 Abs. 2 Rom I-VO, Art. 46b EGBGB

79

aa) Art. 6 Abs. 2 Rom I-VO

79

bb) Art. 46b EGBGB

81

IV. Einfluss des Art. 3 E-Commerce-Richtlinie

83

V. Zwischenergebnis

88

D. Die Bedeutung des Vertragsschlusses für die Reichweite von AGB

90

I. Der Vertragsschluss im App-Vertrieb

93

1. Vertragsschluss über das mobile Internet

94

2. Der Vertragsschluss beim App-Überlassungsvertrag

95

a) Die Angebots-Bildschirmseite: Invitatio ad offerendum oder Angebot?

95

b) Die Parteien des Vertrags

100

c) Stellungnahme

102

aa) Maßgeblichkeit des objektiven Empfängerhorizonts

102

bb) Für die Bewertung maßgebliche Umstände

105

cc) Der Anbieter als der regelmäßige Vertragspartner des Nutzers

110

d) Die Annahme durch den Nutzer

117

3. Der Vertragsschluss bei In-App-Purchases und beim App-Store-Nutzungsvertrag

121

a) Der App-Store-Nutzungsvertrag

121

b) In-App-Purchases

123

II. Zwischenergebnis

124

E. Die Einbeziehung Allgemeiner Geschäftsbedingungen im App-Vertrieb

126

I. Die Ausnahme in § 305a BGB

126

III. Das Verschaffen der Möglichkeit zur Kenntnisnahme, § 305 Abs. 2 Nr. 2 BGB

132

1. Die Anforderungen des § 305 Abs. 2 Nr. 2 BGB in der Diskussion zum E-Commerce

137

2. Die Anforderungen des § 305 Abs. 2 Nr. 2 BGB im App-Vertrieb

140

3. Relevante Aspekte

142

a) Kosten und sonstige Belastungen

142

b) Speicherfähigkeit der AGB

143

c) Druckmöglichkeit der AGB

146

d) Anzeige der AGB am Display

147

e) Kenntnisnahmeverschaffung durch Display-Anzeige im App-Vertrieb

148

4. Weitere gestalterische Möglichkeiten

152

5. Grenzen der Zumutbarkeit

154

6. Kenntnisnahmeverschaffung durch Verweis per Link

156

7. Die Sprachenfrage

157

II. Die Hinweisobliegenheit des § 305 Abs. 2 Nr. 1 BGB

128

IV. Das Einverständnis gem. § 305 Abs. 2 BGB

161

V. Zwischenergebnis

162

VI. Maßgeblicher Zeitpunkt

162

VII. Nachträgliche Einbeziehung durch Abschluss eines Änderungs-/Nutzungsvertrags?

164

1. Reichweite des App-Überlassungsvertrags

165

2. Auswirkung auf die Willensentschließung

169

VIII. Einsatz von Rahmenverträgen gem. § 305 Abs. 3 BGB

171

IX. Zwischenergebnis

174

X. Drittwirkung der Betreiber-AGB?

174

1. Drittwirkung von AGB bei anderen Portalangeboten

176

2. Stellungnahme

177

3. Übertragbarkeit der Auslegungslösung auf den App-Vertrieb

178

4. Weitere Lösungsansätze

179

5. Zwischenergebnis

181

XI. Zwischenergebnis

181

F. Grundlagen der Inhaltskontrolle und Transparenzgebot

183

I. Die Notwendigkeit der Ermittlung eines vertraglichen Leitbilds bei der Inhaltskontrolle

187

II. Grundsätze der Ermittlung des Vertragstyps

188

III. Das Leitbild des App-Überlassungsvertrags

189

1. Überblick über den Meinungsstand

189

2. Der Meinungsstand zur Überlassung von Standardsoftware

190

3. Inhalt des App-Überlassungsvertrags

194

a) Fehlende Sachqualität des Vertragsgegenstands

195

b) Online-Funktionalitäten

197

c) Dauerhaftigkeit der Überlassung

200

d) Zwischenergebnis

201

4. Das vertragliche Leitbild bei der entgeltlichen Standard-App-Überlassung

202

a) Vertrag sui generis und Lizenzvertrag

202

b) Stellungnahme

203

aa) Kein Vertrag sui generis

203

bb) Kein Lizenzvertrag

205

c) Sachkauf, §§ 433 ff. BGB

208

d) Sachkaufähnliches Rechtsgeschäft, § 453 Abs. 1 Alt. 2 BGB

210

e) Zwischenergebnis

212

5. Das vertragliche Leitbild bei der kostenfreien Standard-App-Überlassung

212

a) Endgültige Vermögensverschiebung

213

b) Unentgeltlichkeit

215

aa) Datennutzung und Werbung als Gegenleistung

216

bb) Fehlen einer rechtlichen Verknüpfung

217

cc) Anknüpfungspunkt bei der Einwilligung

218

dd) Bedeutung des Koppelungsverbots

219

ee) Bedeutung der Widerruflichkeit

220

ff) Einwilligung als bloße Erwartung des Anbieters

221

gg) Gegenleistung bei Werbebannern

222

hh) Interessen der Beteiligten

223

c) Rechtsbindungswille

225

d) Zwischenergebnis

225

6. Das vertragliche Leitbild bei der Online-App-Überlassung

226

a) Kaufrecht

226

b) Mietrecht

226

c) Werk-/Dienstvertragsrecht

228

d) Kostenfreie Online-App-Überlassungsverträge

230

e) Notwendigkeit der Abgrenzung von Haupt- und Nebenleistung

231

f) Einordnung als gemischter Vertrag

232

g) Zwischenergebnis

235

7. Das vertragliche Leitbild des App-Store-Nutzungsvertrags

235

8. Das vertragliches Leitbild bei In-App-Purchases

237

IV. Zwischenergebnis

240

G. Darstellung und Inhaltskontrolle typischer Klauseln

242

I. Updateklauseln

243

1. Problemaufriss

245

2. Kontrollfähigkeit, § 307 Abs. 3 S. 1 BGB

248

3. § 308 Nr. 4 BGB

250

a) Anforderungen an die Transparenz

252

b) Anforderungen an die Zumutbarkeit

254

aa) Interessen des Verwenders

256

bb) Interessen des Nutzers

259

cc) Abwägung

260

(1) Klauseln zu attraktivitätssteigernden Updates

260

(2) Klauseln zur Fehlerbeseitigung

263

(3) Updates aufgrund von Gesetzesänderungen

265

c) Zwischenergebnis

266

4. Realisierung von Updates mittels Änderungsfiktion

266

5. Zwischenergebnis

270

II. Weitergabeverbote

271

1. Kontrollfähigkeit, § 307 Abs. 3 S. 1 BGB

272

2. Einschränkung der Weitergabe bei der Standard-App-Überlassung

273

a) Einschränkung urheberrechtlicher Befugnisse

273

b) Urheberrechtlicher Rahmen

274

c) Die UsedSoft-Entscheidung des EuGH

277

d) Anwendung der UsedSoft-Rechtsprechung auf Standard-Apps?

282

e) Der Erschöpfungsgrundsatz als wesentlicher Grundgedanke des Urheberrechts

285

f) Einschränkung kaufvertraglicher Rechte durch Weitergabeverbote

287

aa) Meinungsstand

287

bb) Stellungnahme

288

g) Vorliegen eines überwiegenden Verwenderinteresses?

290

aa) Interessen des Nutzers

290

bb) Interessen des Anbieters

291

cc) Abwägung

292

3. Zwischenergebnis

298

4. Einschränkung der Weitergabe bei der Online-App-Überlassung

299

a) Geltung des Erschöpfungsgrundsatzes

300

b) Abweichung von wesentlichen Grundgedanken anderer gesetzlicher Regelungen

301

c) Vertragszweckgefährdung durch Weitergabeverbote

302

d) § 307 Abs. 1 S. 1 BGB

303

5. Einschränkung der Weitergabe bei der kostenfreien App-Überlassung

305

a) Geltung des Erschöpfungsgrundsatzes

306

b) Abweichung von wesentlichen Grundgedanken anderer gesetzlicher Regelungen

308

c) Vertragszweckgefährdung durch Weitergabeverbote

309

d) § 307 Abs. 1 S. 1 BGB

309

6. Zwischenergebnis

311

III. Gewährleistungs- und Haftungsbeschränkungen

312

1. Gewährleistungsbeschränkungen

313

a) Kaufrecht

313

b) Schenkungsrecht

316

c) Dienstvertrags- und Auftragsrecht

316

d) Zwischenergebnis

317

2. Anwendbarkeit der §§ 474 ff. BGB

318

a) Direkte Anwendung

319

b) Analoge Anwendung

322

3. Anwendbarkeit des § 309 Nr. 8 lit. b) BGB

326

4. Zwischenergebnis

330

5. Wirksamkeit von Gewährleistungsbeschränkungen bei der Standard-App-Überlassung

331

a) Einschränkende Mangeldefinition

332

aa) (Un-)Vereinbarkeit mit wesentlichen Grundgedanken einer gesetzlichen Regelung, § 307 Abs. 2 Nr. 1 BGB

332

bb) Interessenabwägung

334

b) Einschränkung von Gewährleistungsrechten

334

aa) (Un-)Vereinbarkeit mit wesentlichen Grundgedanken einer gesetzlichen Regelung, § 307 Abs. 2 Nr. 1 BGB

334

bb) Interessenabwägung

337

6. Zwischenergebnis

340

7. Wirksamkeit von Einschränkungen bei der Haftung

340

a) § 309 Nr. 7 BGB als Schranke

341

b) Das Freizeichnungsverbot bei der Verletzung wesentlicher Vertragspflichten

342

aa) Wesentliche Vertragspflichten bei einzelnen App-Überlassungsverträgen

343

bb) Ausklammerung von Schadensposten als Vertragszweckgefährdung

347

cc) Interessenabwägung

349

c) Zwischenergebnis

351

8. Zwischenergebnis

351

IV. Einstellungsklauseln

352

1. Kontrollfähigkeit, § 307 Abs. 3 S. 1 BGB

353

2. Maßstab der Inhaltskontrolle

353

3. (Un-)Vereinbarkeit mit wesentlichen Grundgedanken einer gesetzlichen Regelung, § 307 Abs. 2 Nr. 1 BGB

355

4. Einstellungsklauseln bei der kostenfreien Online-App-Überlassung

359

5. Interessenabwägung

360

6. Zwischenergebnis

361

H. Ausblick – vom gescheiterten Entwurf für ein Gemeinsames Europäisches Kaufrecht zur DCRL – die Behandlung digitaler Inhalte auf Europäischer Ebene

362

I. Überblick zur Entstehung

362

II. Allgemeines

363

III. Anwendungsbereich des GEK

365

1. Art. 2 lit. j) GEK-VO

365

2. Art. 5 lit. b) GEK-VO

368

3. Dienstleistungen im GEK

369

4. Zwischenergebnis

372

IV. Der Begriff der digitalen Inhalte in der DCRL

372

V. Der Anwendungsbereich der DCRL

374

1. Allgemeines

374

2. Die Behandlung der kostenfreien Bereitstellung, Art. 3 Abs. 1 DCRL

376

3. Die Ausnahmen des Art. 3 Abs. 4 DCRL

378

4. Stellungnahme

379

5. Zwischenergebnis

380

VI. Das Gewährleistungsregime in der DCRL

381

1. Die Vertragsmäßigkeit des digitalen Inhalts, Art. 6 DCRL

381

2. Die Mängelrechte in der DCRL

382

3. Die Beweislastumkehr des Art. 9 Abs. 1 DCRL

384

4. Beendigung langfristiger Verträge und Haftungsdurchgriff

385

VII. Änderung digitaler Inhalte, Art. 15 DCRL

385

VIII. Zwischenergebnis

387

IX. Fazit

387

I. Zusammenfassung der wesentlichen Ergebnisse

393

J. Schlussbetrachtung

399

Literaturverzeichnis

402

Sachverzeichnis

424