Financial administration & public finance law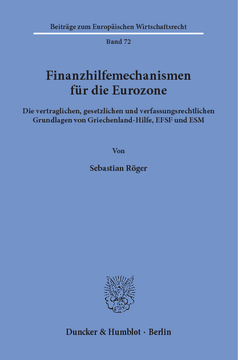 BOOK
Finanzhilfemechanismen für die Eurozone
Die vertraglichen, gesetzlichen und verfassungsrechtlichen Grundlagen von Griechenland-Hilfe, EFSF und ESM
Beiträge zum Europäischen Wirtschaftsrecht, Vol. 72
(2018)
Additional Information
Book Details
ISBN

978-3-428-55133-0
978-3-428-15133-2 (print edition)

DOI

https://doi.org/10.3790/978-3-428-55133-0

Edition

1

Language

German

Pages

329

Collections

Subjects
Pricing
Institution

€ 116.00 (incl. local VAT if applicable)

Individual

€ 89.90 (incl. local VAT if applicable)
About The Author
Sebastian Röger studierte von 2005 bis 2010 Rechtswissenschaften an der Ruprecht-Karls-Universität Heidelberg und war während der Erstellung der Dissertation wissenschaftlicher Mitarbeiter am Lehrstuhl für Öffentliches Recht, Europäisches und Internationales Steuerrecht von Prof. Dr. Ekkehard Reimer. Das Referendariat absolvierte er zwischen 2012 und 2014 am Oberlandesgericht Frankfurt am Main mit einer Station in London. Seit 2014 ist er in Frankfurt als Rechtsanwalt in einer internationalen Kanzlei im Bereich Steuerrecht tätig.
Sebastian Röger studied Law at the Ruprecht-Karls-University Heidelberg. As a PhD student he was research assistant at the Chair for Public Law, European and International Tax Law of Ekkehard Reimer. From 2012 to 2014 he did his legal internship at the Higher Regional Court Frankfurt am Main with one stay in London. Since 2014 he has been working as a lawyer in the field of tax law in an international law company in Frankfurt.
Abstract
Die europäische Staatsschuldenkrise hat nicht nur die ökonomischen und politischen Debatten der letzten Jahre beherrscht, sondern war auch Gegenstand von zahlreichen rechtswissenschaftlichen und gerichtlichen Auseinandersetzungen. Die vorliegende Arbeit beschreibt detailliert die von den Staaten der Eurozone verabschiedeten Rechtsakte zur Gewährung von finanziellen Hilfsmaßnahmen, stellt die Entwicklung von der ersten Griechenland-Hilfe über die vorläufige Europäische Finanzstabilisierungsfazilität bis hin zum dauerhaften Europäischen Stabilisierungsmechanismus dar und unterzieht die einzelnen Maßnahmen einer eingehenden verfassungsrechtlichen Prüfung. Hierbei werden insbesondere neue Ansätze zur Verzahnung von Grundgesetz und europäischem Primärrecht aufgezeigt und ein weitergehender Gesetzesvorbehalt für internationale Verträge jenseits des klassischen Völkerrechts begründet, um Entscheidungshoheit und politische Verantwortung im Deutschen Bundestag zu vereinen. »Financial Assistance Mechanisms for the Eurozone«

Since 2010 the European debt crisis has been the subject of intense legal controversies. Against this background the author reviews the legal acts adopted by the Eurozone member states in order to provide mutual financial assistance, describes the development from the initial loans to Greece via the temporary European Financial Stability Facility to the permanent European Stability Mechanism and analyses the constitutionality of these measures in detail.
Table of Contents
Section Title
Page
Action
Price

Vorwort

5

Inhaltsübersicht

7

Inhaltsverzeichnis

9

Einleitung

19

Vorüberlegungen

22

I. Gegenstand der Arbeit

22

II. Darstellung der rechtlichen Grundlagen für die Finanzhilfen der Euro-Staaten

24

1. Thematische Abgrenzung

25

2. Erklärungen, Schlussfolgerungen und Beschlüsse im Vorfeld der Finanzhilfen

27

3. Die Rechtsakte im Einzelnen

31

III. Verfassungsrechtliche Würdigung

33

IV. Bisheriger Forschungsstand und Neuigkeitswert der Arbeit

34

Erster Teil: Die Finanzhilfen und Finanzhilfemechanismen der Euro-Staaten

39

A. Die erste Griechenland-Hilfe

39

I. Die Vereinbarung über eine Darlehensfazilität und die Gläubigervereinbarung

40

1. Funktionale Einordnung der beiden Vereinbarungen in die Griechenland-Hilfe

40

2. Beteiligte

42

a) Parteien der Darlehensvereinbarung

42

b) Parteien der Gläubigervereinbarung

43

c) Inkongruenz der Parteien von Darlehens- und Gläubigervereinbarung

43

d) Die Rolle der EU-Kommission

44

3. Rechtsnatur von Darlehens- und Gläubigervereinbarung

45

a) Darlehens- und Gläubigervereinbarung als Verträge nach englischem Recht

45

b) Vergleichbarkeit mit Konsortialkredit

47

4. Inkrafttreten und Eintritt der Bindungswirkung

48

a) Abschluss und Inkrafttreten der Darlehensvereinbarung

48

b) Gläubigervereinbarung

49

5. Die Darlehensfazilität

50

a) Zweck und Funktionsweise der Darlehensfazilität

50

b) Umfang des Kreditrahmens

51

6. Die einzelnen Darlehen

53

a) Voraussetzungen für die Inanspruchnahme

53

aa) Auszahlungsantrag

53

bb) Voraussetzungen nach Art. 3 Abs. 4 und 5 der Darlehensvereinbarung

54

b) Ausreichung der einzelnen Darlehen

56

aa) Zusage der Darlehensgeber

56

bb) Überweisung durch die EU-Kommission

56

7. Pflichten Griechenlands und Vertragsverstöße

57

a) Zahlungspflichten

58

aa) Allgemeine Regeln für Zahlungen Griechenlands

58

bb) Rückzahlung des Darlehens

58

(1) Regelmäßige Tilgung

58

(2) Vorzeitige Rückzahlung

59

cc) Zinsen

60

dd) Servicegebühr

62

ee) Sekundäre Zahlungspflichten

62

b) Verhaltenspflichten

63

c) Vertragsverstöße

63

aa) Katalog des Art. 8 Abs. 1 der Darlehensvereinbarung

64

bb) Entscheidung über das Vorliegen eines Vertragsverstoßes

65

cc) Folgen eines Vertragsverstoßes

66

8. Kompensation höherer Finanzierungskosten eines Darlehensgebers

67

a) Ermittlung der Finanzierungskosten

67

b) Zinsausgleich

68

c) Befreiung von der Pflicht zur Beteiligung an einem Darlehen

69

9. Anpassung der Beteiligungsverhältnisse

70

a) Verteilung bis zur Anpassung der Beteiligungsverhältnisse

70

b) Zeitpunkt der Neuberechnung

71

c) Verzicht auf Neuzuweisung der Beteiligungen

71

d) Neuzuweisung der Beteiligungen

72

10. Die Reformerwartungen an Griechenland

73

a) Das wirtschaftliche Anpassungsprogramm für Griechenland

73

aa) Inhalt

73

bb) Verknüpfung mit der Darlehensfazilität

74

b) Der Beschluss des Rates nach Art. 126 Abs. 9, 136 AEUV

76

aa) Einordnung

76

bb) Verhältnis zum wirtschaftlichen Anpassungsprogramm

77

II. Das Währungsunion-Finanzstabilitätsgesetz

78

1. Funktionale Einordnung

78

2. Die Regelungen des Währungsunion-Finanzstabilitätsgesetzes

79

a) Ermächtigung zur Übernahme von Gewährleistungen

79

b) Konkretisierung der vom Bund gewährleisteten Kredite

80

aa) Notmaßnahmen zum Erhalt der Zahlungsfähigkeit Griechenlands

80

bb) Sicherung der Finanzstabilität in der Währungsunion

82

cc) Höhenmäßige Begrenzung im ersten Jahr

84

c) Verknüpfung mit den anderen Maßnahmen der Griechenland-Hilfe

84

d) Einbindung des Haushaltsausschusses

86

e) Anrechnungsregel des § 1 Abs. 2 WFStG

86

B. Die vorläufige Europäische Finanzstabilisierungsfazilität

87

I. Rechtsquellen

87

1. EFSF-Satzung

87

2. EFSF-Rahmenvertrag

88

3. Leitlinien

89

4. Bedingungen für die Maximierung der EFSF-Finanzhilfekapazitäten

90

5. Vereinbarungen zur Durchführung einzelner Finanzhilfen

91

6. Stabilisierungsmechanismusgesetz

91

II. Die korporativen und vertraglichen Grundlagen der EFSF

91

1. Verhältnis von EFSF-Satzung und EFSF-Rahmenvertrag

91

2. Gesellschaftsmerkmale

92

3. Kapitalausstattung

94

4. Verwaltungsrat

95

5. Gesellschafter

97

a) Gesellschafterbeschlüsse

97

b) Gewinnverteilung

98

c) Übertragung von Gesellschaftsanteilen

99

III. Die Funktionsweise der EFSF nach dem EFSF-Rahmenvertrag und den EFSF-Leitlinien

99

1. Finanzhilfeinstrumente und Verfahren zu ihrer Gewährung

100

a) Darlehensfazilität

100

aa) Form der finanziellen Unterstützung

100

bb) Abschluss der Vereinbarung über eine Finanzhilfefazilität

101

cc) Auszahlung der Finanzhilfen

102

b) Die speziellen Finanzhilfefazilitäten

103

aa) Vermeidung von Ansteckungsgefahren als gemeinsame Voraussetzung

103

bb) Vorsorgliche Fazilität

104

(1) Form der finanziellen Unterstützung

104

(2) Zugangsvoraussetzungen

105

(3) Verfahren

107

cc) Fazilität zur Rekapitalisierung von Finanzinstituten durch Darlehen an Nichtprogrammländer

108

(1) Form der finanziellen Unterstützung

108

(2) Zulassungsvoraussetzungen

109

(3) Mit dem Rekapitalisierungsdarlehen verbundene Konditionalität

110

(4) Verfahren

111

dd) Fazilität für Anleihekäufe am Primärmarkt

112

(1) Form der finanziellen Unterstützung

112

(2) Zulassungsvoraussetzungen und Einsatz

113

(3) Rahmenbedingungen für die Anleihekäufe auf dem Primärmarkt

113

(4) Umgang mit den erworbenen Anleihen

114

ee) Fazilität für Eingriffe in den Sekundärmarkt

115

(1) Form der finanziellen Unterstützung

115

(2) Voraussetzungen für Sekundärmarkteingriffe

115

(3) Verfahren und Umgang mit den erworbenen Anleihen

116

2. Finanzierung der Finanzhilfen

117

3. Gewährleistungen

118

a) Art und Umfang der Gewährleistung

119

b) Voraussetzungen für die Übernahme einer Bürgschaft

121

c) Grenzen und Ausnahme von der Verpflichtung zur Bürgschaftsübernahme

122

d) Inanspruchnahme der Bürgschaften und Ausgleich unter den Sicherungsgebern

124

4. Entscheidungen in Angelegenheiten der EFSF

125

IV. Die Maximierung der EFSF-Finanzhilfekapazitäten

126

1. Rechtliche Einordnung

127

2. Teilabsicherung von Staatsanleihen

129

3. Investitions-Zweckgesellschaften

130

V. Das Stabilisierungsmechanismusgesetz

131

1. Vorüberlegungen zur Auslegung des StabMechG

131

a) Berücksichtigung des EFSF-Rahmenvertrags

132

b) Berücksichtigung der Urteile des Bundesverfassungsgerichts

133

2. Gewährleistungsermächtigung

134

a) Umfang und Inhalt der Ermächtigung

134

b) Finanzierungsgeschäfte der EFSF

134

c) Zur Durchführung von Notmaßnahmen

135

aa) Erhalt der Zahlungsfähigkeit

135

bb) Wahrung der Stabilität des Euro-Währungsgebietes

136

cc) Unabdingbarkeit

137

dd) Feststellung nach § 1 Abs. 2 Satz 2 StabMechG

138

ee) Subsidiarität der Notmaßnahmen nach § 1 Abs. 2 StabMechG a.F.

139

ff) Besondere Anforderungen für den Einsatz der speziellen Finanzhilfeinstrumente

139

gg) Bindung der Notmaßnahmen an Auflagen

140

d) Vorlage des Vertrags über die Zweckgesellschaft

141

e) Überschreitung des Gewährleistungsrahmens

141

3. Beteiligung des Deutschen Bundestages

144

a) Beteiligung des Parlaments

144

aa) Parlamentsvorbehalt

144

bb) Haushaltspolitische Gesamtverantwortung des Bundestags

145

b) Beteiligung des Haushaltsausschusses

147

c) Beteiligung eines Gremiums aus Mitgliedern des Haushaltsausschusses

148

d) Unterrichtung durch die Bundesregierung

149

C. Der dauerhafte Europäische Stabilitätsmechanismus

151

I. Art. 136 Abs. 3 AEUV

151

1. Verhältnis zu Art. 123 und 125 AEUV

152

2. Unbestimmtheit und Entwicklungsoffenheit

153

3. Euro-Staaten als Adressaten

153

4. Voraussetzungen für die Aktivierung des Stabilitätsmechanismus

153

5. Gewährung der Finanzhilfen unter strengen Auflagen

155

6. Empfänger der Finanzhilfen

156

II. ESM-Vertrag

157

1. Rechtsförmliche Einordnung

157

2. Der ESM

158

3. Organe des ESM

159

a) Die Kollegialorgane: Gouverneursrat und Direktorium

160

aa) Abstimmungsregeln für Gouverneursrat und Direktorium

160

(1) Mehrheitserfordernisse und Stimmrechtsverteilung

160

(2) Aussetzung der Stimmrechte

161

bb) Besetzung von Gouverneursrat und Direktorium

162

cc) Entscheidungskompetenzen von Gouverneursrat und Direktorium

163

b) Der Geschäftsführende Direktor

165

4. Kapital und Finanzmanagement des ESM

165

a) Stammkapital

165

b) Kapitalabrufe

167

c) Veränderungen des genehmigten Stammkapitals

169

d) Bestimmung der Beteiligungsverhältnisse am genehmigten Stammkapital

170

e) Reserve- und Notfallreservefonds

171

5. Finanzhilfen des ESM

172

a) Grundsätze

172

aa) Voraussetzungen für Stabilitätshilfen und Gestalt der Auflagen

172

bb) Beteiligung des Privatsektors

174

cc) Umschuldungsklauseln

175

b) Verfahren für die Gewährung von Stabilitätshilfen

177

c) Finanzhilfeinstrumente

178

d) Kapitalaufnahme

180

e) Verknüpfung von Finanzhilfen mit dem "Fiskalpakt"

180

6. Schweigepflichten und Immunitäten im Zusammenhang mit dem ESM

181

7. Auslegung und Justiziabilität des ESM-Vertrags

183

III. ESM-Gesetz

184

IV. ESM-FinG

186

1. Ermächtigung zur und Begrenzung der finanziellen Beteiligung am ESM

186

2. Bezugnahme auf den ESM-Vertrag

188

3. Beteiligung des Deutschen Bundestages

189

a) Beteiligung des Parlaments

190

b) Beteiligung des Haushaltsausschusses

191

c) Beteiligung des Sondergremiums

192

4. Unterrichtung durch die Bundesregierung

193

Zweiter Teil: Verfassungsrechtliche Würdigung

195

A. Bindung an das Grundgesetz in auswärtigen Angelegenheiten

195

B. Primäres Unionsrecht als grundgesetzlicher Maßstab

198

I. Art. 23 Abs. 1 Satz 2 GG: Ultra vires-Kontrolle des Bundesverfassungsgerichts

198

1. Grundlage der ultra vires-Kontrolle

199

2. Maßstab der ultra vires-Kontrolle

201

3. Prüfungsgegenstand der ultra vires-Kontrolle

202

a) Begrenzung auf Akte der europäischen Einrichtungen und Organe

202

b) Maßstabsspezifische Erweiterung des Prüfungsgegenstands

203

4. Subsumtion

204

II. Art. 23 Abs. 1 GG, Präambel: Europarechtsfreundlichkeit des Grundgesetzes

204

1. Beschränkung der Ausübung mitgliedstaatlicher Rechtsprechungsgewalt

205

2. Einhaltung des Unionsrechts

205

a) Konturen

205

b) Leitlinien für die Konkretisierung

207

aa) Vereinbarkeit mit dem Europarecht und den bisherigen Ausprägungen der Europarechtsfreundlichkeit

207

bb) Konflikt mit Art. 23 Abs. 1 Satz 3 GG

209

c) Zwischenergebnis

210

III. Art. 23 Abs. 1 Satz 3: Änderung der vertraglichen Grundlagen

210

1. Funktion und herkömmlicher Anwendungsbereich von Art. 23 Abs. 1 Satz 3 GG

211

2. Außervertragliche Änderungen des Primärrechts und Art. 23 Abs. 1 Satz 3 GG

211

3. Konturen des Verbots einer "außervertraglichen Vertragsänderung"

213

a) Verstoß gegen Unionsprimärrecht

213

b) Vertragsändernde Qualität des Verstoßes

214

c) Subsumtion

214

C. Gesetzesvorbehalte für die internationalen Vereinbarungen über die Griechenland-Hilfe, die EFSF und den ESM

216

I. Art. 115 Abs. 1 GG: Vorbehalt gesetzlicher Ermächtigung zur Gewährleistungsübernahme

216

1. Vorwirkung des Gesetzesvorbehalts

216

2. Subsumtion

217

II. Art. 23 Abs. 1 Satz 2 GG: Gesetzesvorbehalt für die Übertragung von Hoheitsrechten

218

1. Übertragung von Hoheitsrechten

218

a) Ausübung öffentlicher Gewalt mit Durchgriffswirkung

218

b) "Besondere Qualität" statt Durchgriffsbefugnis

219

c) Integrationsspezifische Erweiterungen

221

2. Subsumtion

223

a) Darlehens- und Gläubigervereinbarung

223

b) EFSF-Rahmenvertrag

223

c) ESM-Vertrag

223

d) Einfügung des Art. 136 Abs. 3 AEUV

224

III. Art. 23 Abs. 1 Satz 3 GG: Gesetzesvorbehalt bei materiellen Grundgesetzänderungen

225

1. Änderungen der vertraglichen Grundlagen

225

2. Vergleichbare Regelungen

226

a) Bezugspunkt der Vergleichbarkeit

226

b) Kriterien für die Vergleichbarkeit

226

aa) Entstehungsgeschichte

226

bb) Verfassungssystematische Funktion

227

cc) Integrationsverantwortung des Gesetzgebers

228

c) Zwischenergebnis

229

3. Unmittelbare oder mittelbare Grundgesetzänderung oder -ergänzung

230

a) Umschreibung der Hoheitsrechtsübertragung

230

b) Beschränkung auf qualifizierte Hoheitsrechtsübertragungen

231

c) Erweiterung des Anwendungsbereichs parallel zu Art. 23 Abs. 1 Satz 2 GG

232

d) Konkretisierung

232

4. Subsumtion

234

a) Darlehens- und Gläubigervereinbarung; EFSF-Rahmenvertrag

234

b) ESM-Vertrag

235

c) Einfügung des Art. 136 Abs. 3 AEUV

235

aa) Unmittelbare Grundgesetzänderung oder -ergänzung

235

(1) Aushöhlung der Neuverschuldungsgrenzen

235

(2) Wahrung der "Stabilitätsgemeinschaft"

238

(3) Haushaltshoheit und -verantwortung des Bundestags

239

(4) Übertragung von Hoheitsrechten

239

bb) Ermöglichung einer Grundgesetzänderung oder -ergänzung

239

cc) Zwischenergebnis

240

IV. Art. 59 Abs. 2 Satz 1 GG: Gesetzesvorbehalt bei besonderen internationalen Verträgen

240

1. Verträge, Vertragsparteien, Vertragsänderungen

240

2. Regelung der politischen Beziehungen

243

3. Gegenstände der Bundesgesetzgebung

244

4. Subsumtion

245

a) Darlehens- und Gläubigervereinbarung

245

b) EFSF-Rahmenvertrag

247

c) ESM-Vertrag

248

D. Verfassungsrechtliche Sicherungen der parlamentarischen Haushaltshoheit

249

I. Art. 109 Abs. 3, 115 Abs. 2 GG: Vorwirkung der Schuldenbremse

249

1. Grenzen des Verfassungstextes

250

2. Entstehungsgeschichte

251

3. Systematische Auslegung

252

4. Teleologische Auslegung und Grenzen der Vorwirkung

253

5. Reichweite der Schuldenbremse, Art. 115 Abs. 2 Satz 5 GG

254

a) Gleichwertigkeit von Ausgaben und erworbener Beteiligung

255

b) Höhenmäßige Begrenzung der Bereinigung

256

c) Zwischenergebnis

257

6. Vorwirkung auf exekutive Gewährleistungsübernahmevereinbarungen

258

7. Subsumtion

260

a) Griechenland-Hilfe und EFSF

260

aa) Darlehens- und Gläubigervereinbarung; EFSF-Rahmenvertrag

260

bb) WFStG und StabMechG

261

b) ESM

262

II. Art. 109 Abs. 2, 110 Abs. 2 GG: Verbot der Herbeiführung einer "Unbeweglichkeit der Haushaltspolitik"

262

III. Art. 38 Abs. 1 Satz 1 GG in Verbindung mit Art. 20 Abs. 1 und 2, 79 Abs. 3 GG: Haushaltsverantwortung von Bundestag und Bundesregierung

263

1. Haushaltsverantwortung nach dem Bundesverfassungsgericht

264

2. Einwände und Rechtfertigung

267

a) Verknüpfung von Haushaltsverantwortung und Demokratieprinzip

267

b) Verbindung zu Art. 79 Abs. 3 GG

269

c) Organ- und funktionsadäquate Aufgabenzuordnung

271

d) Art. 23 Abs. 3 Sätze 1 und 2 GG als Verbot von Mandatsgesetzen

272

3. Die verschiedenen Ebenen der Haushaltsverantwortung

274

a) Haushaltsverantwortung des Bundestages bei der Zustimmung zu Finanzhilfevereinbarungen

274

aa) Bedeutung der Finanzhilfevereinbarung für die Haushaltsautonomie des Bundestages

276

bb) Besondere Anforderungen im Zusammenhang mit internationalen Vereinbarungen

278

(1) Auslegung internationaler Vereinbarungen

278

(2) Vertragliche Vereinbarung von Parlamentsvorbehalten

279

b) Haushaltsverantwortung des Bundestages bei der innerstaatlichen Begleitgesetzgebung

280

c) Haushaltsverantwortung der Bundesregierung

281

4. Subsumtion

283

a) Erste Griechenland-Hilfe

283

b) EFSF

284

aa) Haushaltsrelevanz der EFSF für die Bundesrepublik Deutschland

284

bb) EFSF-Rahmenvertrag und StabMechG

284

c) ESM

286

aa) Haushaltsrelevanz des ESM

286

bb) ESM-Vertrag

286

(1) Sperrminorität

286

(2) Haushaltsrelevante Entscheidungen

288

(3) Zwischenergebnis

289

cc) ESM-Gesetz und ESM-FinG

290

IV. Art. 38 Abs. 1 Satz 2 GG: Grenzen der innerparlamentarischen Delegation der Haushaltsverantwortung

290

1. Gewährleistungsgehalt

290

a) Recht auf gleiche Teilhabe

290

b) Statusgleichheit und innerparlamentarische Delegation von Entscheidungen

292

c) Mitwirkung an Entscheidungen von Euro-Finanzhilfeinstitutionen als Bundestagsangelegenheiten

293

2. Einschränkbarkeit der Rechte des Abgeordneten

295

3. Anforderungen an die Einschränkung der Gleichheit des Mandats

296

a) Besonderer Grund und Verhältnismäßigkeit

296

aa) Funktionsfähigkeit des Parlaments

296

bb) Grundsatz der Spiegelbildlichkeit

297

b) Wahrung der Geschäftsordnungsautonomie

298

4. Subsumtion

298

a) StabMechG

298

aa) § 3 Abs. 3 StabMechG a.F.: Delegation auf ein Sondergremium

298

bb) § 4 StabMechG a.F.: Delegation auf den Haushaltsausschuss

300

cc) StabMechG n.F.

301

b) ESM-FinG

301

E. Informationsrechte des Bundestages gegenüber der Bundesregierung in Angelegenheiten der Europäischen Union

303

I. Art. 23 Abs. 2 Satz 1: Mitwirkung des Bundestages

303

II. Art. 23 Abs. 2 Satz 2 GG: Unterrichtung des Bundestages durch die Bundesregierung

304

1. Angelegenheiten der Europäischen Union

304

a) Keine Beschränkung auf die EU als Institution

304

b) Besonderer Bezug zur EU

306

2. Anforderungen an die Unterrichtung

307

a) Umfassende Unterrichtung

307

b) Grenzen der Unterrichtungspflicht

308

aa) Vertraulichkeit der Informationen

308

bb) Völkervertragliche Schweigepflichten

308

cc) Kernbereich exekutiver Eigenverantwortung und außenpolitische Handlungsfähigkeit

309

3. Unterrichtungspflicht und völkervertragliche Schweigepflichten

310

4. Subsumtion

311

Fazit

313

Literaturverzeichnis

315

Stichwortverzeichnis

326