Art: financial aspects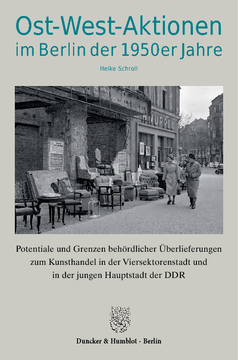 BOOK
Ost-West-Aktionen im Berlin der 1950er Jahre
Potentiale und Grenzen behördlicher Überlieferungen zum Kunsthandel in der Viersektorenstadt und in der jungen Hauptstadt der DDR. (Schriftenreihe des Landesarchivs Berlin, Band 20)
(2018)
Additional Information
Book Details
ISBN

978-3-428-55427-0
978-3-428-15427-2 (print edition)

DOI

https://doi.org/10.3790/978-3-428-55427-0

Edition

1

Language

German

Pages

102

Collections

Subjects
Pricing
Institution

€ 34.00 (incl. local VAT if applicable)

Individual

€ 26.90 (incl. local VAT if applicable)
About The Author
Heike Schroll studierte Archivwissenschaften und Geschichte an der Humboldt-Universität zu Berlin, wo sie 1996 auch promovierte. Seit 1986 arbeitet sie als wissenschaftliche Archivarin, zunächst im Stadtarchiv Berlin und seit 1991 am Landesarchiv Berlin. Sie wirkt in Forschung und Lehre sowie in diversen wissenschaftlichen Gremien mit, u.a. zu Themen der Provenienzforschung und der Wirtschaftsgeschichte. Darüber hinaus ist sie Spezialistin für Berliner Verwaltungsgeschichte und für archivalische Quellen zu Wiedergutmachungsangelegenheiten.
Heike Schroll studied history and archival science at Humboldt-Universität zu Berlin, where she received her PhD Degree in 1996. Since 1986 she has been working as a scientific archivist. Schroll is an expert for provenance research, economic history, history of the Berlin administration as well as for archival files in restitution matters.
Abstract
Kunsthandel und Kunstsammlungen in der DDR, ihre Besonderheiten, die Akteure, die geltenden Restriktionen und die innere Organisation, stehen erst seit Kurzem auf der Agenda der geschichts- und kulturwissenschaftlichen Forschung. Das komplexe Thema der Machenschaften eines staatlich sanktionierten Kunstraubes in der DDR und der dahinterstehenden menschlichen Schicksale wurde in der Öffentlichkeit bisher kaum wahrgenommen. Viele Ereignisse müssen noch rekonstruiert, viele Vorgänge müssen noch aufgeklärt werden. Die Provenienzforschung kann hierzu einen wesentlichen Beitrag leisten. Auf welche Quellenbasis sie sich dabei stützen kann, zeigt diese Untersuchung. Sie bietet eine Darstellung der wirtschaftlichen und rechtlichen Rahmenbedingungen für den Kunsthandel im besetzten Berlin und der jungen Hauptstadt der DDR und beschreibt beispielhaft einzelne Kunsthandlungen. Mit dem detaillierten Spezialinventar ist sie zugleich ein Beleg für das Vorhandensein einer durchaus reichen archivalischen Überlieferung zur Thematik. »East-West-Operations in Berlin in the 1950s«

Art trade and art collections in the former GDR are new subjects in historical and cultural research. This volume offers a study on the legal and economic frameworks for the art trade business in occupied Berlin and the early years of the capital of the GDR. It also provides examples for art traders and a detailed inventory with archival sources in the Landesarchiv Berlin.
Table of Contents
Section Title
Page
Action
Price

Zum Geleit

5

Inhalt

7

Einleitung

9

Ein paar Zahlen

11

"Reinhaltung des Kunst- und Antiquitätenhandels" ‒ Gewerbegenehmigungen für den Kunsthandel

12

Überwachung des Kunsthandels und der Versteigerer

14

Kunsthandel in Berlin, Hauptstadt der DDR

23

1950: Ost-West-Aktion I: Schutz der Währung der Deutschen Notenbank ‒ Geschäfte mit Sitz im Westsektor und Filialen im Demokratischen Sektor

24

1952: Ost-West-Aktion II: Verordnung zur Sicherung von Vermögenswerten: Geschäfte, die sich auf Ostberliner Territorium befanden, \nderen Inhaber oder Eigentümer jedoch in Westberlin wohnten

33

Fallbeispiele für den Bereich Kunsthandel

41

1. Karst. Kunsthaus am Alexanderplatz

41

2. Wilhelm R. Schmidt, Kunsthandel

51

3. Kunsthandlung Herbert P. Ulrich

56

4. Gemälde-Galerie Franzisko

58

5. Wilhelm Lindner, Graphische Kunstanstalt für Photogravüre & Kupferdruck

63

Archivische Quellen und mögliche Forschungen

66

Zusammenfassung

67

Fundstellenliste Landesarchiv Berlin

69