Public international law, human rights: labour & social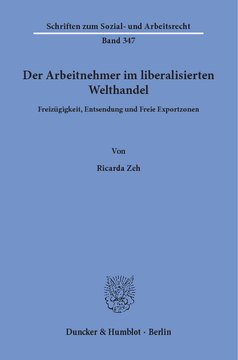 Additional Information
Book Details
ISBN

978-3-428-55210-8
978-3-428-15210-0 (print edition)

DOI

https://doi.org/10.3790/978-3-428-55210-8

Edition

1

Language

German

Pages

304

Collections

Subjects
Pricing
Institution

€ 104.00 (incl. local VAT if applicable)

Individual

€ 79.90 (incl. local VAT if applicable)
About The Author
Ricarda Zeh studierte Rechtswissenschaften an der Albert-Ludwigs-Universität Freiburg mit dem Schwerpunkt Arbeit und soziale Sicherung. Nach der ersten juristischen Prüfung war sie drei Jahre wissenschaftliche Mitarbeiterin am Lehrstuhl für Arbeitsrecht der Universität Freiburg und promovierte bei Prof. Dr. Sebastian Krebber, LL.M. (Georgetown). Von 2014 bis 2015 absolvierte sie ein LL.M.-Studium an der Columbia Law School in New York City. Seit 2016 ist sie Referendarin am Landgericht Stuttgart mit Stationen unter anderem bei der Kanzlei Gleiss Lutz in München, dem VGH Baden-Württemberg und bei der Kanzlei Marval, O'Farrell & Mairal in Buenos Aires.
Ricarda Zeh studied law at the University of Freiburg where she specialised in Labour and Employment Law. After graduating from law school she worked as a research and teaching assistant at the Institute for Labour and Employment Law at the University of Freiburg and wrote her Ph.D. thesis under supervision of Prof. Dr. Sebastian Krebber, LL.M. (Georgetown). In 2015 she graduated from Columbia Law School in New York City. Since 2016 she is pursuing her legal clerkship at the District Court of Stuttgart. Throughout her clerkship she worked with Gleiss Lutz in Munich, the Higher Regional Administrative Court in Mannheim and Marval, O'Farrell & Mairal in Buenos Aires.
Abstract
Die Autorin untersucht die Auswirkungen der Liberalisierung des Welthandels auf die Arbeitsbedingungen von Arbeitnehmern. Diese zeigen sich insbesondere bei der Arbeitnehmerfreizügigkeit, der Entsendung und der Arbeit in Freien Exportzonen. Die Arbeitnehmerfreizügigkeit erlaubt es Arbeitnehmern Beschäftigung in anderen Staaten zu suchen. Die Entsendung ermöglicht kurzfristige Aufenthalte im Rahmen bestehender Arbeitsverhältnisse in anderen Staaten. Ein Arbeitsverhältnis kann auch dadurch Modifikationen erfahren, dass der Arbeitnehmer ein für den Export bestimmtes Produkt herstellt. So haben zahlreiche Entwicklungsländer Zonen eingerichtet, in denen das nationale Arbeitsrecht keine Anwendung findet. Die Autorin untersucht die rechtlichen Grundlagen der jeweiligen Arbeitsform und ihre Auswirkungen auf das Arbeitsverhältnis. In einem zweiten Schritt wird untersucht, mit welchen völkerrechtlichen Mitteln den Auswirkungen des Freihandels auf die Arbeitsbedingungen Grenzen gesetzt werden. »The Employee in Liberalised Trade«

The thesis discusses the effects of liberalised trade on the working conditions of employees. For this purpose three forms of employment are evaluated: free movement of workers, posting of workers and work in Export Processing Zones. The thesis analyses to what extend international labor law can limit those effects by setting internationally binding labour standards or force states to comply with their own national labour law.
Table of Contents
Section Title
Page
Action
Price

Vorwort

7

Inhaltsübersicht

9

Inhaltsverzeichnis

11

Abkürzungsverzeichnis

27

Einleitung

33

A.  Der Arbeitnehmer im liberalisierten Welthandel

33

B.  Ziel der Arbeit und Gang der Untersuchung

34

C.  Stand der Forschung

35

1. Kapitel: Arbeitsformen im liberalisierten Welthandel

37

A. Einführung

37

B.  Eingrenzung der möglichen Arbeitsformen im liberalisierten Welthandel

38

I.  Formen der Freizügigkeit von Arbeitnehmern

38

1.  Die Arbeitnehmerfreizügigkeit

38

2.  Die Arbeitnehmerentsendung

38

a)  Begriff der Entsendung

38

aa)  Notwendigkeit einer Eingrenzung des Entsendebegriffs

38

bb)  Anhaltspunkt Unionsrecht

39

b)  Die Entsendung von Arbeitnehmern zur Erbringung \neiner Dienstleistung

40

aa)  Die Entsendung von Arbeitnehmern im Rahmen eines Vertrags zwischen dem Unternehmen und dem Dienstleistungsempfänger

40

bb)  Die Entsendung von Arbeitnehmern in eine Niederlassung oder in ein der Unternehmensgruppe angehörendes Unternehmen

40

cc)  Die Entsendung von Arbeitnehmern durch \nein Leiharbeitsunternehmen in ein verwendendes Unternehmen

40

dd)  Weitere Formen der Entsendung von Arbeitnehmern im Rahmen der Dienstleistungsfreiheit

41

c)  Die Entsendung von Arbeitnehmern im Rahmen \nder Warenverkehrsfreiheit

41

d)  Eingrenzung des Untersuchungsgegenstandes

41

II.  Formen der Arbeit in Freien Exportzonen

42

III.  Zwischenergebnis

42

C.  Rechtliche Realisierung der ausgewählten Arbeitsformen

42

I.  Erforderlichkeit einer weiteren Begrenzung des Untersuchungsgegenstandes

42

II.  Formen der Freizügigkeit von Arbeitnehmern

43

III.  Formen der Arbeit in Freien Exportzonen

43

D.  Ergebnis

44

2. Kapitel: Rechtliche Grundlagen und Schranken der Freizügigkeit

45

A.  Rechtliche Grundlagen der Freizügigkeit

45

I.  Vorgehen

45

II.  Freizügigkeit im Recht der UN und im Recht der ILO

45

III.  Freizügigkeit im Welthandelsrecht

46

1.  Die vier Formen der Dienstleistungserbringung im GATS

46

2.  Dienstleistungserbringung mittels Präsenz natürlicher Personen \n(Mode 4)

47

a)  Wortlaut des Art. I:2(d) GATS und Abs. 1 der Anlage zu Mode 4

47

b)  Einschränkungen gemäß Abs. 2 der Anlage zu Mode 4

48

c)  Kriterium der Beschäftigung bei einem Dienstleister, Abs. 1 Alt. 2 Anlage zu Mode 4

49

d)  Zwischenergebnis zum Umfang der Dienstleistungserbringung mittels der Präsenz natürlicher Personen

51

3.  Stand der Liberalisierung zu Mode 4

51

4.  Erstreckung nationalen Arbeitsrechts auf ausländische Dienstleistungserbringer

53

5.  Ergebnis zur Freizügigkeit im Welthandelsrecht

53

IV.  Freizügigkeit in Verträgen zur regionalen Wirtschaftsintegration

53

1.  Formen regionaler Wirtschaftsintegration

53

2.  Zulässigkeit regionaler Wirtschaftsintegration \nim Recht der WTO

55

3.  Freizügigkeit in ausgewählten regionalen Freihandelszonen

56

a)  Freizügigkeit im NAFTA

56

b)  Freizügigkeit im Mercosur

57

c)  Freizügigkeit in der Europäischen Union

57

aa)  Arbeitnehmerfreizügigkeit

57

bb)  Arbeitnehmerentsendung

59

(1)\tMaßgebliche Grundfreiheit für die entsandten Arbeitnehmer

59

(2)\tRechtsfolgen der Anwendung der Dienstleistungsfreiheit

61

(3)\tVorgaben des Kollisionsrechts

62

(4)\tWirkung der Entsenderichtlinie

63

(a)\tHintergrund

63

(b)\tDie Anwendung des Rechts des Bestimmungslandes nach Art. 3 Entsenderichtlinie

64

(c)\tVereinbarkeit mit der Dienstleistungsfreiheit?

65

(d)\tDie Entsenderichtlinie im System des Kollisionsrechts

67

(5)\tZwischenergebnis

68

4.  Freizügigkeit in bilateralen Freihandelsabkommen

68

V.  Zwischenergebnis und weitere Eingrenzung des Untersuchungsgegenstandes

69

B.  Völkerrechtliche Schranken der Freizügigkeit

70

I.  Vorgehen

70

II.  Quellen des Arbeitsvölkerrechts

70

1.  Mindeststandards der ILO

70

a)  Die ILO

70

aa)  Entstehungsgeschichte der ILO

70

bb)  Struktur und Organe der ILO

71

b)  Die Setzung von Mindeststandards durch die ILO

72

aa)  Ziel eines Arbeitsvölkerrechts

72

bb)  Zulässigkeit arbeitsrechtlicher Mindeststandards im System des freien Welthandels

72

cc)  Instrumentarien der ILO

73

(1)\tDie ILO-Übereinkommen

73

(2)\tDie Empfehlungen der ILO

74

(3)\tDie Erklärung über grundlegende Prinzipien und Rechte bei der Arbeit

74

(4)\tDie technische Zusammenarbeit

76

2.  Arbeitsrecht in Internationalen Menschenrechtsabkommen

76

a)  "Labour Rights as Human Rights"?

76

b)  Arbeitsrechte in den Übereinkommen der UN

77

aa)  UN-Charta und Allgemeine Erklärung der Menschenrechte

77

bb)  Die UN-Menschenrechtspakte

77

cc)  Spezielle Übereinkommen zum Schutz \nbesonders gefährdeter Gruppen

78

dd)  Überwachungsorgane

78

c)  Arbeitsrechte in den Übereinkommen des Europarats

79

aa)  Europäische Menschenrechtskonvention

79

bb)  Europäische Sozialcharta

79

cc)  Überwachungsorgane

80

III.  Völkerrechtliche Schranken \nder Arbeitnehmerfreizügigkeit

80

IV.  Völkerrechtliche Schranken der Arbeitnehmerentsendung

81

1.  Völkerrechtliche Schranken der Anwendung \ndes Herkunftslandprinzips

81

a)  ILO-Übereinkommen Nr. 97 und Nr. 143 zum Schutz \nder Wanderarbeitnehmer

81

b)  UN-Wanderarbeitnehmerkonvention

82

c)  Art. 19 Abs. 4 ESC

83

d)  Konsequenzen eines Verstoßes \ngegen die UN-Wanderarbeitnehmerkonvention \nund Art. 19 Abs. 4 ESC

83

aa)  UN-Wanderarbeitnehmerkonvention

83

bb)  ESC

84

2.  Völkerrechtliche Schranken der Anwendung des Rechts \ndes Bestimmungslandes gemäß Art. 3 Entsenderichtlinie

85

3.  Völkerrechtliche Schranken der Einschränkung des Arbeitskampfrechts durch die Rechtsprechung des EuGH zur Entsenderichtlinie

85

a)  Problemstellung

85

b)  Die Rechtsprechung des EuGH zum Arbeitskampfrecht \nin Entsendefällen

86

c)  Völkerrechtliche Garantie des Arbeitskampfrechts

88

aa)  Übereinkommen der ILO

88

(1)\tILO-Übereinkommen Nr. 87 und 98 zur Vereinigungsfreiheit

88

(2)\tGewährleistung des Streikrechts durch ILO-Übereinkommen Nr. 87?

89

bb)  Garantie des Streikrechts in Menschenrechtskonventionen

91

(1)\tMenschenrechtsübereinkommen der UN

91

(2)\tMenschenrechtsübereinkommen des Europarats

92

d)  Vereinbarkeit der Rechtsprechung des EuGH zum Arbeitskampf in Entsendefällen mit dem Arbeitsvölkerrecht

93

aa)  Darstellung der Problematik am Beispiel des geplanten Streiks der British Airline Pilots' Association gegen die British Airways

93

bb)  Vereinbarkeit mit ILO-Übereinkommen Nr. 87

94

cc)  Vereinbarkeit mit Art. 8 IPwskR

96

dd)  Vereinbarkeit mit Art. 6 ESC

96

ee)  Vereinbarkeit mit Art. 11 EMRK

97

ff)  Zwischenergebnis

98

4.  Bindung der EU-Mitgliedstaaten bzw. des EuGH \nan das Arbeitsvölkerrecht und Durchsetzungsmechanismen

99

a)  ILO-Übereinkommen

99

aa)  Bindung der EU an ILO-Übereinkommen Nr. 87

99

(1)\tBindung kraft Völkerrechts

99

(2)\tBindung kraft Unionsrechts

100

(3)\tZwischenergebnis

102

bb)  Durchsetzung der Mindeststandards der ILO

103

(1)\tVorlage- und Berichtssystem (Art. 22 ILO-Verfassung)

103

(2)\tBeschwerdeverfahren (Art. 24 ILO-Verfassung)

103

(3)\tKlageverfahren (Art. 26 ILO-Verfassung)

104

(4)\tErgebnis

104

b)  ESC

104

c)  EMRK

105

aa)  Bindung der EU an die EMRK

105

bb)  Durchsetzung

107

V.  Abschließende Bewertung der völkerrechtlichen Schranken der Freizügigkeit

108

1.  Völkerrechtliche Pflicht zur Gleichstellung grenzüberschreitend \ntätiger Arbeitnehmer mit Ortskräften

108

2.  Unvereinbarkeit der Rechtsprechung des EuGH zu Arbeitskämpfen \nin Entsendesituationen mit dem völkerrechtlich \ngewährleisteten Streikrecht

108

3.  Mögliche Durchsetzung des Arbeitsvölkerrechts

111

3. Kapitel: Rechtliche Grundlagen und Schranken der Arbeit in Freien Exportzonen

112

A.  Begriff, Ziele und rechtliche Grundlagen der Arbeit in Freien Exportzonen

112

I.  Arbeit in Freien Exportzonen als weitere durch den liberalisierten Welthandel entstandene Arbeitsform

112

II.  Freie Exportzonen

112

1.  Begriff

112

2.  Entstehungsgeschichte

113

3.  Organisation

114

4.  Ziele

114

III.  Arbeitsrecht in Freien Exportzonen

115

1.  Konzepte zur Regelung des Arbeitsrechts in Freien Exportzonen

115

2.  Methode zur Untersuchung des maßgeblichen Arbeitsrechts in Freien Exportzonen

116

3.  Spezielles Arbeitsrecht für Arbeitnehmer in Freien Exportzonen

117

a)  Gang der Untersuchung

117

b)  Ausgewählte Beispiele

117

aa)  Mauritius

117

(1)\tFreie Exportzonen in Mauritius

117

(2)\tSpezialgesetzliche Regelungen durch EPZA, 1970

118

(a)\tArbeitszeit

118

(b)\tMutterschutz

119

(c)\tBeendigungsschutz

119

(d)\tReform des EPZA durch den Industrial Expansion Act, 1993

120

(3)\tZwischenergebnis

120

bb)  Bangladesch

121

(1)\tFreie Exportzonen in Bangladesch

121

(2)\tHerausnahme der Freien Exportzonen aus dem Anwendungsbereich arbeitsrechtlicher Gesetze auf Grundlage des BEPZAA, 1980

121

(3)\tSpezialgesetzliche Regelung der Koalitionsfreiheit und des Streikrechts durch den EPZ Workers' Associations and Industrial Relations Act, 2004

123

(a)\tEntstehungsgeschichte

123

(b)\tRegelungen der Gründung von Gewerkschaften

123

(c)\tEinschränkungen des Arbeitskampfrechts

125

(d)\tVerlängerung der bestehenden Rechtslage durch den EPZ Workers' Welfare Association and Industrial Relations Act, 2010

125

(e)\tZwischenergebnis und Ausblick

126

cc)  Pakistan

127

(1)\tFreie Exportzonen in Pakistan

127

(2)\tHerausnahme der Freien Exportzonen aus dem Anwendungsbereich \nnationalen Arbeitsrechts durch die Export Processing Zones Control \nof Employment Rules, 1982

127

(3)\tAusschluss des Streikrechts durch die EPZ Control \nof Employment Rules, 1982

128

(4)\tZwischenergebnis

128

dd)  Türkei

129

(1)\tFreie Exportzonen in der Türkei

129

(2)\tEinschränkung des Streikrechts durch den Free Trade Zones Act, 1985

129

(3)\tZwischenergebnis

129

ee)  Togo

130

(1)\tFreie Exportzonen in Togo

130

(2)\tSpezielle Regelungen zu Einstellung und Entlassung durch Art. 21 Statut de Zone Franche, 1989

130

(3)\tAusschluss der Koalitionsfreiheit durch Art. 33 Décret no. 90 – 40, 1990

130

(4)\tAnwendung des Code du Travail in den Freien Exportzonen gemäß Art. 30 Statut de Zone Franche Industrielle, 2011

131

(5)\tZwischenergebnis

131

ff)  Panama

131

(1)\tFreie Exportzonen in Panama

131

(2)\tEinschränkungen des Arbeitsrechts in den Freien Exportzonen durch Ley 25/1992

132

(a)\tEinschränkungen der Koalitionsfreiheit und des Streikrechts

132

(b)\tEinschränkungen des Befristungsschutzes

133

(c)\tEinschränkungen des Kündigungsschutzes

134

(3)\tReform des Arbeitsrechts in den Freien Exportzonen durch Ley 32/2011

134

(4)\tZwischenergebnis

134

gg)  Nigeria

135

(1)\tFreie Exportzonen in Nigeria

135

(2)\tEinschränkung des Streikrechts in den Zonen durch das Export Processing Zones Decree, 1992

135

(3)\tZwischenergebnis

136

hh)  Iran

136

(1)\tFreie Exportzonen im Iran

136

(2)\tHerausnahme der Freien Exportzonen aus dem Anwendungsbereich des nationalen Arbeitsrechts durch LAFTIZ, 1993

136

(3)\tSpezialgesetzliche Regelung des Arbeitsrechts durch die Regulations \non Employment of Workforce, Insurance and Social Security \nin the Free Trade Industrial Zones, 1994

137

(a)\tKonzept

137

(b)\tVergleich zum maßgeblichen Arbeitsrecht außerhalb der Zonen

137

(aa)\tKündigungschutz

137

(bb)\tArbeitszeit und Urlaub

138

(4)\tZwischenergebnis und Ausblick

138

ii)  Namibia

138

(1)\tFreie Exportzonen in Namibia

138

(2)\tHerausnahme der Freien Exportzonen aus dem nationalen Arbeitsrecht durch den Export Processing Zones Act, 1995

139

(3)\tAusschluss des Streikrechts durch den Export Processing Zones Amendment Act, 1996

139

(4)\tZwischenergebnis und Ausblick

140

c)  Zusammenfassung

141

aa)  Anwendbarkeit und Unanwendbarkeit des nationalen Arbeitsrechts

141

bb)  Hauptsächlich eingeschränkte Arbeitsbedingungen

141

(1)\tHauptsächlich ausgeschlossene Arbeitsbedingungen

141

(2)\tHauptsächlich speziell geregelte Arbeitsbedingungen

142

(3)\tGründe für die Einschränkung dieser Arbeitsbedingungen

142

cc)  Arbeitskampfverbot

142

4.  Die Durchsetzung des nationalen Arbeitsrechts in Freien Exportzonen \nohne ein speziell geregeltes Zonenarbeitsrecht

143

a)  Verbreitung

143

b)  Vorgehensweise

143

c)  Ausgewählte Beispiele

143

aa)  Mexiko

143

(1)\tFreie Exportzonen in Mexiko (Maquiladoras)

143

(2)\tMaßgebliches Arbeitsrecht in den Maquiladoras

145

(3)\tDurchsetzung des Arbeitsrechts in den Maquiladoras

145

(a)\tVerbot der Diskriminierung aufgrund des Geschlechts

145

(aa)\tDie Bedeutung von Arbeitnehmerinnen in mexikanischen Maquiladoras

145

(bb)\tDiskriminierungen im Bewerbungsprozess

147

(cc)\tDiskriminierung von schwangeren Arbeitnehmerinnen

150

(dd)\tSexuelle Belästigung von Arbeitnehmerinnen

151

(b)\tKoalitionsfreiheit

152

(c)\tArbeitsschutz

154

(d)\tLohn

154

(4)\tZwischenergebnis

154

bb)  Dominikanische Republik

155

(1)\tFreie Exportzonen in der Dominikanischen Republik

155

(2)\tMaßgebliches Arbeitsrecht in den Freien Exportzonen

155

(3)\tDurchsetzung des Arbeitsrechts in den Freien Exportzonen

156

(a)\tVerbot der Diskriminierung aufgrund des Geschlechts

156

(b)\tKoalitionsfreiheit

157

(4)\tZwischenergebnis

157

cc)  Jamaika

157

(1)\tFreie Exportzonen in Jamaika

157

(2)\tMaßgebliches Arbeitsrecht in den Freien Exportzonen

158

(3)\tDurchsetzung des Arbeitsrechts in den Freien Exportzonen

158

(4)\tZwischenergebnis

159

dd)  Honduras

159

(1)\tFreie Exportzonen in Honduras

159

(2)\tMaßgebliches Arbeitsrecht

159

(3)\tDurchsetzung des Arbeitsrechts in den Freien Exportzonen

160

(a)\tVerbot der Diskriminierung aufgrund des Geschlechts

160

(b)\tArbeitszeit und Lohn

161

(c)\tEinschränkungen der Koalitionsfreiheit

161

(4)\tZwischenergebnis

162

ee)  Nicaragua

162

(1)\tFreie Exportzonen in Nicaragua

162

(2)\tMaßgebliches Arbeitsrecht in den Freien Exportzonen

162

(3)\tDurchsetzung des Arbeitsrechts in den Freien Exportzonen

164

(a)\tArbeitszeit

164

(b)\tLöhne

164

(c)\tArbeitsschutz

164

(d)\tMutterschutz

165

(e)\tKoalitionsfreiheit

165

(4)\tZwischenergebnis

167

ff)  Madagaskar

167

(1)\tFreie Exportzonen in Madagaskar

167

(2)\tMaßgebliches Arbeitsrecht

167

(3)\tDurchsetzung des Arbeitsrechts in den Freien Exportzonen

168

(a)\tLöhne und soziale Sicherung

168

(b)\tArbeitszeit

168

(c)\tKoalitionsfreiheit

168

(4)\tZusammenfassung

169

d)  Zusammenfassung

169

e)  Gründe der mangelhaften Durchsetzung \ndes Arbeitsrechts in den Freien Exportzonen

170

5.  Zusammenfassung zum Arbeitsrecht in Freien Exportzonen

171

IV.  Typenbildung

173

1.  Der Ausschluss des nationalen Individualarbeitsrechts in den Freien Exportzonen (Typ 1)

173

2.  Der Auschluss des nationalen kollektiven Arbeitsrechts in den Freien Exportzonen (Typ 2)

173

3.  Vom nationalen Individualarbeitsrecht negativ abweichende Spezialregelungen in den Freie Exportzonen (Typ 3)

174

4.  Vom nationalen kollektiven Arbeitsrecht negativ abweichende Spezialregelungen in den Freie Exportzonen (Typ 4)

174

5.  Unzureichende Durchsetzung des nationalen Individualarbeitsrechts in den Freien Exportzonen (Typ 5)

174

6.  Unzureichende Durchsetzung des nationalen kollektiven Arbeitsrechts in den Freien Exportzonen (Typ 6)

174

B.  Rechtliche Schranken der Arbeit in Freien Exportzonen

175

I.  Mögliche Schranken der Arbeit in Freien Exportzonen

175

II.  Schranken der Arbeit in Freien Exportzonen durch die Übereinkommen der ILO

175

1.  Die ILO und Freie Exportzonen

175

2.  Ratifizierung eines Übereinkommens unter Herausnahme bestimmter geographischer Regionen oder bestimmter Arbeitnehmergruppen?

176

3.  Vereinbarkeit der Arbeitsbedingungen in Freien Exportzonen mit dem Recht der ILO

177

a)  Der Ausschluss des nationalen Individualarbeitsrechts in den Freien Exportzonen (Typ 1)

177

aa)  Der Ausschluss der Regelungen zur Arbeitszeit in den Freien Exportzonen in Bangladesch

177

(1)\tVorgaben der ILO-Übereinkommen zur zulässigen Höchstarbeitszeit

177

(2)\tVereinbarkeit eines Ausschlusses des nationalen Arbeitszeitrechts \nfür den Bereich der Freien Exportzonen in Bangladesch \nmit dem Recht der ILO

178

bb)  Der Ausschluss der Regelungen zum Beendigungsschutz in den Freien Exportzonen in Bangladesch

180

(1)\tVorgaben der ILO-Übereinkommen zum Kündigungsschutz

180

(2)\tVereinbarkeit eines Ausschlusses des nationalen Kündigungsschutzes für Freie Exportzonen mit Übereinkommen Nr. 158

181

cc)  Der Ausschluss von Regelungen zum Arbeits- und Gesundheitsschutz \nin den Freien Exportzonen in Bangladesch

181

(1)\tDie Vorgaben der ILO-Übereinkommen zum Arbeits- \nund Gesundheitsschutz

181

(2)\tVereinbarkeit eines Ausschlusses des nationalen Arbeitsschutzrechts in den Freien Exportzonen von Bangladesch mit dem Recht der ILO

182

b)  Der Ausschluss des nationalen kollektiven Arbeitsrechts in den Freien Exportzonen (Typ 2)

183

aa)  Der Ausschluss der Vereinigungsfreiheit in den Freien Exportzonen in Bangladesch

183

(1)\tVorgaben der ILO-Übereinkommen zur Koalitionsfreiheit

183

(2)\tVereinbarkeit des Ausschlusses der Koalitionsfreiheit in den Freien Exportzonen in Bangladesch mit dem Recht der ILO

183

bb)  Das Arbeitskampfverbot in den Freien Exportzonen in Bangladesch

185

(1)\tVorgaben der ILO-Übereinkommen zum Streikrecht

185

(2)\tVereinbarkeit des Ausschlusses des Streikrechts in den Freien Exportzonen in Bangladesch mit dem Recht der ILO

185

c)  Vom nationalen Individualarbeitsrecht negativ abweichende Spezialregelungen in den Freie Exportzonen (Typ 3)

186

aa)  Spezialregelung zur Arbeitszeit in den Freien Exportzonen in Mauritius

186

(1)\tUnfreiwillige Überstunden

186

(2)\tBegrenzung der Arbeitszeit auf sieben aufeinanderfolgende Tage

187

(3)\tVerpflichtende Feiertagsarbeit

187

bb)  Spezialregelungen zum Beendigungsschutz in den Freien Exportzonen in Mauritius

187

cc)  Spezialregelungen zum Mutterschutz in den Freien Exportzonen in Mauritius

188

(1)\tMutterschutz in den Übereinkommen der ILO

188

(2)\tVereinbarkeit der Spezialregelungen in Mauritius \nmit dem Recht der ILO

189

d)  Vom nationalen kollektiven Arbeitsrecht negativ abweichende Spezialregelungen in den Freie Exportzonen (Typ 4)

189

aa)  Vereinbarkeit der Regelungen zur Koalitionsfreiheit in den Freien Exportzonen in Bangladesch mit dem Recht der ILO

189

bb)  Vereinbarkeit der Regelungen zum Streikrecht in den Freien Exportzonen in Bangladesch mit dem Recht der ILO

191

e)  Unzureichende Durchsetzung des nationalen Individualarbeitsrechts in den Freien Exportzonen (Typ 5)

191

aa)  Diskriminierung und Belästigung von Arbeitnehmerinnen in den Maquiladoras Mexikos

191

(1)\tDiskriminierungen im Bewerbungsprozess

191

(2)\tÜbertragung besonders schwerer Arbeiten \nan schwangere Arbeitnehmerinnen

193

(3)\tKündigung schwangerer Arbeitnehmerinnen

193

(4)\tSexuelle Belästigung von Arbeitnehmerinnen

194

bb)  Unzureichende Durchsetzung des nationalen Arbeitsschutzrechts in den Maquiladoras Mexikos

194

f)  Unzureichende Durchsetzung des nationalen kollektiven Arbeitsrechts in den Freien Exportzonen (Typ 6)

195

aa)  Kündigungen und blacklisting von Gewerkschaftsmitgliedern in den Maquiladoras Mexikos

195

bb)  Etablierung arbeitgeberfreundlicher Gewerkschaften \ndurch den Staat

197

4.  Rechtsfolgen des Verstoßes gegen die ILO-Übereinkommen

197

a)  Rechtsfolgen des Ausschlusses des nationalen Arbeitsrechts \nund der Schaffung von Spezialregelungen \nfür die Freien Exportzonen

197

b)  Rechtsfolgen der fehlenden Durchsetzung \ndes nationalen Arbeitsrechts in Freien Exportzonen

198

c)  Durchsetzung der ILO-Übereinkommen

199

5.  Ergebnis

199

III.  Schranken der Arbeit in Freien Exportzonen durch internationale Menschenrechtsabkommen

201

1.  Arbeitsrecht in Internationalen Menschenrechtsabkommen

201

a)  Menschenrechtsinstrumente der Organisation Amerikanischer Staaten

202

aa)  Charta der Organisation Amerikanischer Staaten und Amerikanische Menschenrechtserklärung

202

bb)  Amerikanische Menschenrechtskonvention

202

cc)  Zusatzprotokoll von San Salvador

203

dd)  Interamerikanische Konvention zur Verhütung, Bestrafung und Beseitigung von Gewalt gegen Frauen

203

b)  Menschenrechtsinstrumente der Afrikanischen Union

204

2.  Rechtsgutsverletzung durch Arbeitsbedingungen \nin Freien Exportzonen

204

a)  Der Ausschluss des nationalen Individualarbeitsrechts in den Freien Exportzonen (Typ 1)

204

aa)  Der Ausschluss der Regelungen zur Arbeitszeit in Freien Exportzonen in Bangladesch

204

(1)\tVorgaben des IPwskR zur zulässigen Höchstarbeitszeit

204

(2)\tVereinbarkeit eines Ausschlusses des nationalen Arbeitszeitrechts für den Bereich der Freien Exportzonen in Bangladesch mit Art. 7 IPwskR

205

bb)  Der Ausschluss der Regelungen zum Beendigungsschutz in den Freien Exportzonen in Bangladesch

207

cc)  Der Ausschluss von Regelungen zum Arbeits- und Gesundheitsschutz in den Freien Exportzonen in Bangladesch

207

(1)\tVorgaben des IPwskR zum Arbeitsschutz in den Freien Exportzonen in Bangladesch

207

(2)\tVereinbarkeit des Ausschlusses des Arbeitsschutzrechts mit dem IPwskR

207

b)  Der Ausschluss des nationalen kollektiven Arbeitsrechts in den Freien Exportzonen (Typ 2)

208

aa)  Der Ausschluss der Vereinigungsfreiheit in den Freien Exportzonen in Bangladesch

208

(1)\tVorgaben des IPbpR und des IPwskR zur Koalitionsfreiheit

208

(2)\tVereinbarkeit des Ausschlusses der Koalitionsfreiheit \nin den Freien Exportzonen in Bangladesch \nmit den Vorgaben zur Koalitionsfreiheit

208

bb)  Das Arbeitskampfverbot in den Freien Exportzonen in Bangladesch

208

(1)\tVorgaben des IPwskR zum Streikrecht

208

(2)\tVereinbarkeit des Ausschlusses des Streikrechts \nmit den Vorgaben des IPwskR

209

c)  Vom nationalen Individualarbeitsrecht negativ abweichende Spezialregelungen in den Freie Exportzonen (Typ 3)

209

aa)  Spezialregelungen zur Arbeitszeit in den Freien Exportzonen \nin Mauritius

209

(1)\tVereinbarkeit der Spezialregelungen zur Arbeitszeit mit dem IPwskR

209

(2)\tVereinbarkeit der Spezialregelungen zur Arbeitszeit \nmit der AfrMRK

210

bb)  Spezialregelungen zum Beendigungsschutz in den Freien Exportzonen in Mauritius

210

cc)  Spezialregelungen zum Mutterschutz \nin den Freien Exportzonen in Mauritius

211

(1)\tVereinbarkeit der Spezialregelungen zum Mutterschutz mit dem IPwskR

211

(2)\tVereinbarkeit der Spezialregelungen zum Mutterschutz \nmit der AfrMRK

211

d)  Vom nationalen kollektiven Arbeitsrecht negativ abweichende Spezialregelungen in den Freie Exportzonen (Typ 4)

211

aa)  Vereinbarkeit der Regelungen zur Koalitionsfreiheit in den Freien Exportzonen in Bangladesch mit dem IPbpR und dem IPwskR

211

bb)  Vereinbarkeit der Regelungen zum Streikrecht in den Freien Exportzonen in Bangladesch mit dem dem IPwskR

212

e)  Unzureichende Durchsetzung des nationalen Individualarbeitsrechts \nin den Freien Exportzonen (Typ 5)

212

aa)  Diskriminierung und Belästigung von Arbeitnehmerinnen und Bewerberinnen in den Maquiladoras Mexikos

213

(1)\tDiskriminierungen im Bewerbungsprozess

213

(a)\tVereinbarkeit mit dem IPbpR, dem IPwskR und der UN-Frauenrechtskonvention in den Maquiladoras Mexikos

213