Criminal procedure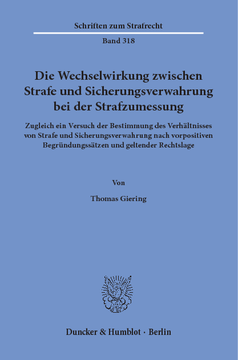 BOOK
Die Wechselwirkung zwischen Strafe und Sicherungsverwahrung bei der Strafzumessung
Zugleich ein Versuch der Bestimmung des Verhältnisses von Strafe und Sicherungsverwahrung nach vorpositiven Begründungssätzen und geltender Rechtslage
Schriften zum Strafrecht, Vol. 318
(2018)
Additional Information
Book Details
ISBN

978-3-428-55181-1
978-3-428-15181-3 (print edition)

DOI

https://doi.org/10.3790/978-3-428-55181-1

Edition

1

Language

German

Pages

386

Collections

Subjects
Pricing
Institution

€ 104.00 (incl. local VAT if applicable)

Individual

€ 79.90 (incl. local VAT if applicable)
About The Author
Thomas Giering hat an der Juristenfakultät der Universität Leipzig Rechtswissenschaften studiert und 2008 das Erste Juristische Staatsexamen abgelegt. Den Schwerpunkt seiner Ausbildung bildeten die Kriminalwissenschaften. Nach dem Studium arbeitete er als wissenschaftliche Hilfskraft an strafrechtlichen Lehrstühlen der Universität Leipzig. In dieser Zeit entstand ein Großteil der von der Universität Leipzig als Dissertation angenommenen Arbeit zur Wechselwirkung zwischen Strafe und Sicherungsverwahrung. Am Kammergericht Berlin absolvierte er zwischen 2011 und 2013 sein Rechtsreferendariat. Seit 2015 lebt und arbeitet er als Rechtsanwalt in Berlin.
Abstract
Die Arbeit beschäftigt sich mit der Wechselwirkung zwischen Strafe und Sicherungsverwahrung bei der Strafzumessung. Sie wird von der Rechtsprechung dahingehend angenommen, dass die Sicherungsverwahrung bei der Bemessung der Strafe regelmäßig mildernd zu berücksichtigen sei. Ausgehend von den straftheoretischen (Teil 1) und maßregeltheoretischen Grundlagen (Teil 2) gelangt der Autor zu dem Zwischenergebnis, dass die Sicherungsverwahrung nach geltendem Recht ihrer Natur nach Strafe sei und führt eine eigene Terminologie ein. Nach der Darstellung der strafzumessungsrechtlichen Grundlagen geht der Verfasser intensiv auf die Wechselwirkung auf der Grundlage der Rechtsprechung sowie weiterer Strafzumessungstheorien ein (Teil 3). Diese sei lediglich im Ergebnis zu befürworten. Darauf aufbauend plädiert der Verfasser für die Aufnahme der Sicherungsverwahrung in das vikariierende System und deren Vorwegvollzug (Teil 4). »Interaction between Penalty and Preventive Detention in Regard to Sentencing«

This paper is about the interaction of penalty and preventive detention in regard to sentencing, meaning the sentence reducing consideration of the latter. After the presentation of the criminal as well as sentencing basics, the jurisdiction in regard to the interaction is evaluated. A sentence reducing consideration is approved only by way of earnings. In contrast the problem should be solved by including the preventive detention into the vicarious system according to sec. 67 German penal code.
Table of Contents
Section Title
Page
Action
Price

Vorwort

7

Inhaltsübersicht

9

Inhaltsverzeichnis

15

Abkürzungsverzeichnis

25

Einleitung

31

1. Teil: Die Strafe

36

1. Kapitel: Wesen und Zweck der Strafe – ein Überblick \rüber historische und aktuelle Ansätze der Straftheorie

36

A. Die sogenannte absolute Straftheorie

37

I. Die Straftheorie von Immanuel Kant

38

1. Die Theorie

38

a) Rechtfertigung der Strafe

38

aa) Recht, Unrecht und Zwangsbefugnis

38

bb) Verbrechen und Strafe in der Gesellschaft

40

b) Strafzumessung

41

2. Beurteilung

42

II. Die Straftheorie von Georg Wilhelm Friedrich Hegel

44

1. Die Theorie

45

a) Rechtfertigung der Strafe

45

aa) Rechtsbegriff

45

bb) Unrecht

46

cc) Strafbegründung

48

(1) Rechtfertigung im abstrakten Recht

48

(a) Wiederherstellung des Rechts

49

(b) Selbstgesetzgebung

49

(2) Die Strafe in der bürgerlichen Gesellschaft

50

dd) Exkus: Rechtszwang gegen den natürlichen Willen

52

b) Strafzumessung

52

2. Beurteilung

54

a) Beurteilung der Strafbegründung

54

b) Beurteilung der Strafzumessung

57

c) Fazit

60

B. Die sogenannten relativen Straftheorien

61

I. Paul Johann Anselm von Feuerbach: Die Theorie der negativen Generalprävention

61

1. Die Theorie

61

a) Rechtfertigung der Strafandrohung und der Strafe

61

b) Strafzumessung

62

2. Beurteilung

63

II. Günther Jakobs: Die Theorie der positiven Generalprävention

65

1. Die Theorie

65

a) Rechtfertigung der Strafe

65

b) Strafzumessung

67

2. Beurteilung

68

III. Franz von Liszt: Die spezialpräventive Straftheorie

72

1. Die Theorie

73

2. Beurteilung

74

C. Die sogenannten Vereinigungstheorien

77

I. Claus Roxin: Die spezialpräventive Vereinigungstheorie

77

1. Die Theorie

77

a) Die Schuldlehre Roxins

77

b) Straftheorie

78

2. Beurteilung

80

II. Michael Köhler: Die freiheitsgesetzliche Straftheorie

81

1. Die Theorie

81

a) Recht und Verbrechen

82

b) Der (Willens-)Schuldbegriff in der Aristotelischen Tradition

82

c) Die Strafe

84

d) Strafzumessung

85

2. Beurteilung

86

2. Kapitel: Die Straftheorie der Rechtsprechung vor dem Hintergrund der geltenden Gesetzeslage

89

A. Die Straftheorie des Gesetzgebers

89

I. Gesetzeshistorie

89

1. Vom Reichsstrafgesetzbuch von 1871 zu den Reformvorhaben bis 1932

89

2. Die Entwürfe eines Strafgesetzbuches von 1959, 1960 und 1962 als Ergebnis der Arbeiten der Großen Strafrechtskommission

90

a) Vorschlag und Ablehnung der ausdrücklichen Regelung der Strafzwecke im Strafgesetzbuch durch die Große Strafrechtskommission

90

b) Der gegenseitige Einfluss der Großen Strafrechtskommission und des Bundesgerichtshofes auf die Ablehnung der Regelung der Strafzwecke im Gesetz

91

3. Der Alternativentwurf des Allgemeinen Teils des Strafgesetzbuches von 1966

93

4. Der Abschluss der Reformvorhaben durch das Erste und Zweite Gesetz zur Reform des Strafrechts

94

II. Die Straftheorie des Gesetzgebers

95

B. Die Straftheorie der Rechtsprechung

95

I. Schuldausgleich als Grundlage der Strafe

96

II. Berücksichtigung präventiver Aspekte

97

III. Beurteilung

97

3. Kapitel: Die der Untersuchung zugrundeliegende Auffassung

99

2. Teil: Die Maßregeln der Besserung und Sicherung

102

1. Kapitel: Maßregeltheorien im Überblick

102

A. Die Maßregeln des geltenden Rechts im Überblick

103

I. Die Unterscheidung zwischen freiheitsentziehenden und freiheitsbeschränkenden Maßregeln

103

1. Die freiheitsentziehenden Maßregeln der Besserung und Sicherung im StGB

103

2. Die lediglich freiheitsbeschränkenden Maßregeln der Besserung und Sicherung im StGB

105

II. Die Unterscheidung nach der Funktion der Maßregeln

107

1. Strafersetzende Maßregeln

107

2. Strafergänzende Maßregeln

107

3. Strafvertretende Maßregeln

108

B. Eigenständige Maßregeltheorien

108

I. Rechtfertigung aus übergeordneten Prinzipien

108

1. Mangel an innerer Freiheit

108

2. Der Gedanke der sozialen Notwehr

111

II. Verfassungsrechtliche Rechtfertigungsansätze

114

1. Verwirkung

114

2. Die staatliche Schutzpflicht und das Prinzip des überwiegenden Interesses

117

a) Die Begründungsansätze im Einzelnen

118

b) Die Dogmatik der staatlichen Schutzpflichten aus Grundrechten

119

aa) Inhalt und Reichweite der grundrechtlichen Schutzpflicht des Staates

119

bb) Ableitung der staatlichen Schutzpflicht

121

(1) Anknüpfung an Hobbes und Locke

121

(2) Exkurs: von Listzsche Strafidee

123

c) Kritische Beurteilung

124

3. Die Sonderopfertheorie

128

C. Aus den Straftheorien entwickelte Maßregeltheorien

129

I. Der generalpräventive Ansatz

129

1. Die Theorie

129

2. Kritische Beurteilung

131

II. Der freiheitsgesetzliche Ansatz

132

1. Theoretische Annahmen

132

2. Kritische Beurteilung

134

D. Zusammenfassung

137

2. Kapitel: Die Sicherungsverwahrung im Besonderen

138

A. Rechtfertigung

138

I. Rechtfertigung der Sicherungsverwahrung

138

1. Ausgangslage

138

2. Freiheitsgesetzliche Rechtfertigung dem Grunde nach

140

3. Strafergänzende Anwendung

141

4. Tätertypologie und Strafmaßdifferenzierungen bei habitueller Kriminalität

142

5. Zusammenfassung

144

II. Terminologie

144

B. Historische Entwicklung im Überblick

146

I. Die Einführung der Sicherungsverwahrung durch das Gesetz gegen gefährliche Gewohnheitsverbrecher und über Maßregeln der Sicherung und Besserung vom 24. November 1933

146

II. Änderungen im Rahmen der Großen Strafrechtsreform

147

III. Ausweitungen in den 1990er und 2000er Jahren

148

IV. Beschränkungen durch das Gesetz zur Neuordnung des Rechts der Sicherungsverwahrung und zu begleitenden Regelungen vom 22. Dezember 2010 und das Gesetz zur bundesrechtlichen Umsetzung des Abstandsgebotes im Recht der Sicherungsverwahrung vom 5. Dezem

149

C. Grundsätzliche Bedenken gegen die Sicherungsverwahrung

150

I. Die Erforderlichkeit der Sicherungsverwahrung

150

II. Der betroffene Personenkreis und der Katalog der Anlasstaten

151

III. Unsicherheiten im Umgang mit den notwendigen Prognosen

154

IV. Fazit

157

D. Einordnung der Sicherungsverwahrung in den europa- und verfassungsrechtlichen Kontext

158

I. Vereinbarkeit der §§ 66 ff. StGB mit dem Europarecht

159

1. Die Sicherungsverwahrung und das Recht der EMRK

159

a) Grundsätzliches zum Verhältnis der EMRK zum nationalen Recht

159

b) Die Sicherungsverwahrung nach deutschem Recht und das Recht auf Freiheit und Sicherheit nach Art. 5 Abs. 1 EMRK

160

aa) Die Sicherungsverwahrung als Freiheitsentzug nach Art. 5 Abs. 1 S. 2 lit. a EMRK

160

bb) Die Sicherungsverwahrung als Freiheitsentzug nach Art. 5 Abs. 1 S. 2 lit. c EMRK

163

cc) Die Sicherungsverwahrung als Freiheitsentzug nach Art. 5 Abs. 1 S. 2 lit. e EMRK

164

dd) Schlussfolgerungen aus Art. 5 Abs. 1 S. 2 EMRK für das deutsche Recht der Sicherungsverwahrung

165

c) Die Sicherungsverwahrung nach deutschem Recht als Strafe i. S. d. Art. 7 Abs. 1 EMRK

167

aa) Autonome Begriffsbestimmung des EGMR

167

bb) Folgerungen aus dem Strafbegriff des EGMR

171

d) Die Sicherungsverwahrung nach deutschem Recht und das Folterverbot nach Art. 3 EMRK

172

e) Ergebnis

175

2. Exkurs: Die Sicherungsverwahrung und die Europäische Grundrechtscharta

176

II. Verfassungsmäßigkeit der Sicherungsverwahrung nach §§ 66, 66a StGB

177

1. Gesetzgebungskompetenz

178

2. Die Garantie der Menschenwürde

180

a) Grundsätzliches

181

b) Resozialisierung als Ausdruck der Menschenwürde

182

c) Das Verbot erniedrigender, grausamer und unmenschlicher Behandlung als Ausdruck der Menschenwürde

184

3. Die Garantie der persönlichen Freiheit

185

a) Formale Anforderungen an die Rechtfertigung einer Freiheitsentziehung

186

b) Materielle Anforderungen

189

aa) Vorüberlegungen

189

bb) Gestaltungsspielraum des Gesetzgebers

191

cc) Schutz gewichtiger Rechtsgüter

192

dd) Angemessenheit

192

(1) Unbestimmte Dauer der Sicherungsverwahrung

193

(a) Gebot erster Überprüfungen der Erforderlichkeit noch während des Strafvollzugs

193

(b) Fortlaufende Überprüfungen

195

(2) Zur Frage eines Gebotes der Festsetzung von Höchstfristen für die Vollstreckung der Sicherungsverwahrung

197

ee) Ergebnis

201

c) Ergebnis

201

4. Der Grundsatz der Rechtssicherheit

202

a) Der Vertrauensschutz

202

aa) Verhältnis zu Art. 103 Abs. 2 GG

202

bb) Exkurs: Der allgemeine Vertrauensschutz in den Konstellationen der Rückwirkungsfälle

205

(1) Die nachträgliche Verlängerung der Dauer der Sicherungsverwahrung

206

(2) Die nachträgliche Anordnung der Unterbringung in der Sicherungsverwahrung nach § 66b StGB a. F.

207

cc) Ergebnis

209

b) Bestimmtheitsgrundsatz

209

aa) Hang zu erheblichen Straftaten

209

(1) Der Begriff des "Hangs"

210

(2) Die Erheblichkeit der zu erwartenden Straftaten

213

bb) Gefährlichkeit für die Allgemeinheit

217

cc) Verhältnis zwischen dem Hangmerkmal und der Gefährlichkeitsprognose

218

5. Ergebnis

219

E. Zusammenfassung

220

3. Teil: Die Strafzumessung

222

1. Kapitel: Die Strafzumessungsentscheidung des Tatgerichts und ihre gerichtliche Überprüfbarkeit

222

A. Grundsätzliches zur Bemessung der Strafe nach §§ 46 ff. StGB

223

I. Einordnung und Gesetzesgeschichte

223

II. Die gesetzlichen Vorgaben zur Strafzumessung im Überblick

224

1. Strafrahmenwahl

225

2. Die relevanten Umstände der Strafbemessung

225

a) Die strafprozessuale Feststellung der Umstände und die Darstellung in den Urteilsgründen

226

b) Die Schuld als Grundlage, § 46 Abs.1 S. 1 StGB

227

c) Der Katalog des § 46 Abs. 2 StGB

227

d) Präventive Aspekte, § 46 Abs. 1 S. 2 StGB

228

e) Weitere Aspekte

228

3. Die Bewertung der relevanten Umstände

229

a) Die Bewertung der einzelnen Umstände

229

b) Die Bewertung des gesamten Falls

231

III. Die Darstellung in den Urteilsgründen

232

B. Die Anfechtung der Strafzumessungsentscheidung

233

I. Grundsätzliches

233

II. Beschränkung der Anfechtung

234

1. Grundsätzliches

234

2. Die isolierte Anfechtung des Rechtsfolgenausspruchs

235

2. Kapitel: Die Theorie vom Schuldrahmen

235

A. Die "Spielraumtheorie" der Rechtsprechung

236

I. Die theoretischen Annahmen

236

II. Kritische Stellungnahme

237

B. Die Berücksichtigung der Sicherungsverwahrung bei der Strafzumessung nach der Rechtsprechung auf der Grundlage der "Spielraumtheorie"

241

I. Die Anordnung der Sicherungsverwahrung im Ausgangsverfahren

241

1. Die Rechtsprechung des Bundesverfassungsgerichts

241

2. Die Rechtsprechung des Bundesgerichtshofes

242

3. Die Rechtsprechung der Ausgangsgerichte

244

a) Vorüberlegungen

245

b) Nichterwähnung in den Urteilsgründen

245

c) Strafmildernde Berücksichtigung der Sicherungsverwahrung bei der Strafzumessung

246

aa) Strafmildernde Berücksichtigung sowohl bei der Einzel- als auch der Gesamtstrafenbildung

246

bb) Strafmildernde Berücksichtigung bei der Gesamtstrafenbildung

248

II. Die Nichtanordnung der Sicherungsverwahrung im Ausgangsverfahren

249

III. Der Vorbehalt der Sicherungsverwahrung im Ausgangsverfahren

252

IV. Zusammenfassung

253

C. Kritik der Rechtsprechung zur Wechselwirkung zwischen Strafe und Sicherungsverwahrung

254

I. Kritik der präventiven Begründungen

254

1. Straftheoretische Kritik der Übernahme von Strafzwecken durch die Sicherungsverwahrung

255

2. Kritische Beurteilung der Übernahme der Strafzwecke im Einzelnen

257

a) Nicht zwingende Wechselwirkung von Strafe und Sicherungsverwahrung nach der Rechtsprechung

257

b) Die einzelnen Strafzwecke

259

aa) Positive Spezialprävention

259

bb) Negative Spezialprävention

261

cc) Sicherung

262

dd) Generalprävention

263

3. Ungewissheit über den Vollzug nach Anordnung der Sicherungsverwahrung

264

4. Ergebnis

265

II. Kritik der Gesamtabstimmung von Rechtsfolgen aufgrund und anlässlich von Straftaten

266

1. Die Rechtsprechung zur Abstimmung von Strafe und Sicherungsverwahrung

266

2. Das Prinzip der Gesamtabstimmung der Rechtsfolgen in der Rechtsprechung

267

3. Kritische Beurteilung

270

a) Die Rechtsprechung zur Gesamtabstimmung von Rechtsfolgen überhaupt

270

b) Die Berücksichtigung lediglich möglicher Folgen als Ausdruck des Zweifelssatzes

272

c) Zur Frage der Wechselwirkung zwischen Strafe und Sicherungsverwahrung als Ausdruck des Zweifelssatzes

275

4. Ergebnis

277

III. Zur Frage der Wechselwirkung in den Fällen des Vorbehalts der Sicherungsverwahrung nach § 66a StGB

278

IV. Kritik der Rechtsprechung zur Beschränkbarkeit der Anfechtung in diesem Zusammenhang

280

1. Die Rechtsprechung zu §§ 20a, 42e StGB a. F.

280

2. Die Rechtsprechung zu §§ 46, 66, 66a StGB

281

3. Beurteilung

282

V. Kritik der Berücksichtigung der Wechselwirkung nur bei der Gesamtstrafenbildung bzw. auch bei der Einzelstrafenbildung

283

VI. Kritik aus der Sicht der Rechtsprechung zu den §§ 63, 64 StGB im vikariierenden System

286

1. Die Rechtsprechung zu §§ 63, 64 StGB

286

a) Wechselwirkung zwischen Strafe und Unterbringung in einem psychiatrischen Krankenhaus

287

aa) Rechtsprechung zu § 63 StGB

287

bb) Würdigung

288

b) Wechselwirkung zwischen Strafe und Unterbringung in einer Entziehungsanstalt

290

aa) Rechtsprechung zu § 64 StGB

290

bb) Würdigung

291

c) Kritische Beurteilung in Bezug auf die Rechtsprechung zur Sicherungsverwahrung

292

2. Das vikariierende System nach § 67 StGB

293

a) Das vikariierende System im geltenden Recht

294

b) Zur Frage der strafzumessungsrechtlichen Relevanz

296

c) Implikationen für die Rechtsprechung zu § 66 StGB

299

3. Ergebnis

299

VII. Ergebnis

299

D. Argumentative Neuausrichtung der Rechtsprechung

300

I. Höhere Belastung des Gefangenen im Strafvollzug

301

1. Intensiverer Strafvollzug

301

a) Vollzugslockerungen und Hafturlaub

302

b) Einschränkungen aufgrund der Anordnung der Sicherungsverwahrung

302

c) Keine Einschränkungen aufgrund bloßen Vorbehalts der Sicherungsverwahrung

305

2. Anwendbarkeit der Rechtsprechung zur Folgenabstimmung

306

3. Ergebnis

306

II. Gesamtabstimmung der Strafe mit der Maßregel der Führungsaufsicht nach § 68 StGB

307

III. Verfahrensrechtliches

310

E. Zusammenfassung

311

3. Kapitel: Weitere theoretische Ansätze

312

A. Die Strafzumessung nach der Spielraumtheorie auf der Grundlage der präventiven Vereinigungstheorie

312

I. Allgemeines zur Strafzumessung

312

II. Auswirkungen auf den Untersuchungsgegenstand

313

B. Die Strafzumessung auf der Grundlage des freiheitsgesetzlichen Ansatzes

314

I. Die konkrete Strafbemessung unter Einbeziehung habitueller Schuld

314

II. Kritische Beurteilung

317

III. Die Wechselwirkung von Strafe und Sicherungsverwahrung nach der freiheitsgesetzlichen Theorie

318

1. Möglichkeit der Wechselwirkung nach der freiheitsgesetzlichen Theorie

318

2. Kritische Würdigung

319

C. Die Stellenwerttheorie

320

I. Die Theorie

320

II. Kritische Stellungnahme

321

III. Die Einordnung des Untersuchungsgegenstandes in die Theorie

324

1. Die Wechselwirkung zwischen Strafe und Sicherungsverwahrung

324

2. Kritische Bewertung

325

D. Die Theorie tatproportionalen Strafens

326

I. Die theoretischen Annahmen

326

II. Kritische Würdigung

327

III. Die Berücksichtigung der Sicherungsverwahrung im Rahmen der Theorie tatproportionalen Strafens

330

1. Möglichkeiten der Wechselwirkung

330

2. Kritische Würdigung

332

E. Die Theorie der Strafzumessung als sozialer Gestaltungsakt

332

F. Zusammenfassung

333

4. Teil: Eigener Ansatz

336

1. Kapitel: Die Erstreckung des vikariierenden Systems auf die Sicherungsverwahrung

336

A. Unanwendbarkeit der bestehenden Regelungen auf die Sicherungsverwahrung

337

I. Unmöglichkeit einer erweiternden Auslegung

337

II. Unmöglichkeit einer Analogiebildung

344

B. Die Notwendigkeit einer Erstreckung des vikariierenden Systems auf die Sicherungsverwahrung

345

I. Die Notwendigkeit der Anwendung der Grundsätze des Vikariierens auf die Sicherungsverwahrung aus straftheoretischer Sicht

345

II. Erforderlichkeit einer Neuregelung

347

C. Maßstäbe der Anwendung

348

2. Kapitel: Ergebnis

349

Zusammenfassung

351

Literaturverzeichnis

357

Stichwortverzeichnis

379