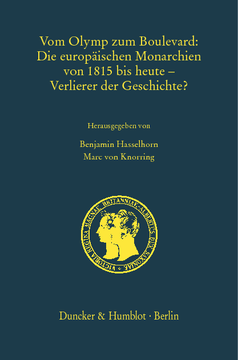 BOOK
Cite BOOK
Style
---
Hasselhorn, B., Knorring, M. (Eds.) (2018). Vom Olymp zum Boulevard: Die europäischen Monarchien von 1815 bis heute – Verlierer der Geschichte?. Duncker & Humblot. https://doi.org/10.3790/978-3-428-55358-7
Hasselhorn, Benjamin and Knorring, Marc von. Vom Olymp zum Boulevard: Die europäischen Monarchien von 1815 bis heute – Verlierer der Geschichte?. Duncker & Humblot, 2018. Book. https://doi.org/10.3790/978-3-428-55358-7
Hasselhorn, B, Knorring, M (eds.) (2018): Vom Olymp zum Boulevard: Die europäischen Monarchien von 1815 bis heute – Verlierer der Geschichte?, Duncker & Humblot, [online] https://doi.org/10.3790/978-3-428-55358-7
---
Format
---
Vom Olymp zum Boulevard: Die europäischen Monarchien von 1815 bis heute – Verlierer der Geschichte?
Editors: Hasselhorn, Benjamin | Knorring, Marc von
Prinz-Albert-Forschungen / Prince Albert Research Publications. Neue Folge, Vol. 1
(2018)
Additional Information
Book Details
Publisher Name

Duncker & Humblot

ISBN

978-3-428-55358-7
978-3-428-15358-9 (print edition)

DOI

https://doi.org/10.3790/978-3-428-55358-7

Edition

1

Language

German

Pages

307

Collections

Subjects
Pricing
Institution

€ 106.00 (incl. local VAT if applicable)

Individual

€ 79.90 (incl. local VAT if applicable)
About The Author
Nach dem Studium der evangelischen Theologie, Geschichte und Erziehungswissenschaften in Göttingen und Mainz war Benjamin Hasselhorn von 2008 bis 2011 Promotionsstipendiat der Studienstiftung des deutschen Volkes. Seiner Dissertation in Systematischer Theologie an der Humboldt-Universität zu Berlin (»Politische Theologie Wilhelms II.«) folgte 2011 bis 2014 die Anstellung als wissenschaftlicher Mitarbeiter der Historischen Kommission bei der Bayerischen Akademie der Wissenschaften und als Lehrbeauftragter der Universität Passau für das Fach Neuere und Neueste Geschichte. 2014 wurde er mit einer Arbeit über den deutschbaltischen Historiker Johannes Haller zum Dr. phil. promoviert. Seit 2014 ist er wissenschaftlicher Mitarbeiter und Kurator der Stiftung Luthergedenkstätten in Sachsen-Anhalt.
Abstract
Ist die Monarchie ein Verlierer der Geschichte? Eine lange in der Geschichtswissenschaft verbreitete Modernisierungsthese konnte diesen Schluss nahelegen. Auch heute noch spielen normative Konzepte einer »politischen Moderne« und die Annahme einer Fortschrittsgeschichte von der Monarchie zur (parlamentarischen) Demokratie eine große Rolle. Dabei haben die monarchiegeschichtlichen Forschungsarbeiten in den vergangenen Jahren eine ganze Reihe von Erkenntnissen zu Tage gefördert, die einem eindimensionalen Negativurteil über die Monarchie entgegenstehen. Es ist daher an der Zeit, eine Neubewertung vorzunehmen, welche die enorme Wandelbarkeit und Anpassungsfähigkeit der modernen europäischen Monarchien angemessen berücksichtigt. Der Band leistet dazu einen ersten Beitrag. Er versammelt die Aufsätze wichtiger Vertreter der »neuen Monarchiegeschichte« und untersucht die vielfältigen politischen, rechtlichen und kulturellen Wandlungen, denen die europäischen Monarchien im 19. und 20. Jahrhundert unterlagen.»From Olympus to Boulevard«Is monarchy on the losing side of history? The modernisation thesis which has long been popular in the historical sciences seems to suggest that. But during the last years research on monarchy has brought new findings to light contradicting this one-dimensional judgement. This volume collects essays from important researchers on »new monarchy history«, analysing the diverse transformations European monarchies went through since 1815.
Table of Contents
Section Title
Page
Action
Price

Geleitwort

V

Vorwort

VII

Inhalt

IX

Benjamin Hasselhorn / Marc von Knorring: Einleitung

1

I. Phasen der Monarchiegeschichte

9

Josef Johannes Schmid: Fatalität der Revolution? – Monarchische Innovation und Behauptung monarchischer Tradition (1760–1820)

11

Die Monarchien des 18. Jahrhunderts – eine Neubewertung

12

Rußland als Vorreiter des klassisch erneuerten Monarchiegedankens

14

Gustav III. – der königliche Staatsstreich

19

George III – die Wiedergeburt der englischen Monarchie

22

Der König und die Kaiserin

24

Die Monarchie im Sturm der Erhebung

25

Ausblick – ein "König von Amerika"?

30

Jes Fabricius Møller: Die Domestizierung der Monarchien des 19. Jahrhunderts

35

Meritokratisierung

37

Kodifizierung

39

Konvergenz

41

Nationalisierung

42

Popularisierung

43

Zusammenfassung

44

Benjamin Hasselhorn: Das Monarchiesterben 1914–1945: Ein Siegeszug der Demokratie?

47

I.

47

II.

51

III.

58

Marc von Knorring: Nur Moderatoren und Medienstars? Europäische Herrscherfamilien seit dem Zweiten Weltkrieg

61

I. Die europäischen Monarchien nach 1945 – Überblick und Problemstellung

61

II. Der Monarch als Inhaber oder dominierender Partizipator der Macht

65

III. Der Monarch als Juniorpartner und "stiller Teilhaber" der Regierung

70

IV. Der Monarch als politische Randfigur

75

V. Fazit

78

II. Europäische Herrscherhäuser

81

Eberhard Straub: Die letzten Hohenzollern: Die ästhetisierte Monarchie als historisches Kostümstück und Große Oper

83

Frank-Lothar Kroll: Zwischen Autokratie und Konstitutionalismus. Herrschaftsbegründung und Herrschaftsausübung im späten Zarenreich

101

I.

104

II.

110

III.

118

Matthias Stickler: Die Habsburger – eine alteuropäische Dynastie im Spannungsfeld von Konstitutionalismus und Nationalismus

125

I. Grundsätzliches

125

II. "Das Vaterland" schlechthin – Das Haus Habsburg als dynastischer Gegenentwurf zum konstitutionellen Staat

128

III. Vom "Kron-Fideikomiss" zur dualistischen Verfassungsstaatlichkeit

138

1. Der verfassungspolitische Dualismus: Die Habsburgermonarchie im Vormärz

138

2. Zerfall versus Zentralismus – Die Habsburgermonarchie im Zeichen von Revolution, Reaktion und Modernisierung

140

3. Zwei Verfassungsstaaten mit gemeinsamer dynastischer Legitimitätsreserve – Der österreichisch-ungarische Ausgleich von 1867 und seine Folgen

147

IV. Fazit

153

Dieter J. Weiß: Das Wittelsbacher Königtum – Entwicklung des Legitimitätsprinzips

157

Georg Eckert: Legitimationsstiftung durch Skandale: Die eigenartige Popularität der britischen Monarchie in der Moderne

175

I. Präliminarien: Monarchie als Inszenierung

176

II. Die Wiedergeburt der Monarchie aus dem Geist der Popularität

185

III. George III., George IV., William IV.: Ein Zerrbild inmitten zweier Fürstenspiegel

188

IV. Victoria I., Edward VII. und der ungekrönte Albert: Eine Monarchie zum Anfassen

196

V. George V. und Edward VIII.: Vom Nutzen und Nachteil der Volksnähe

203

VI. Edward VIII. und Lady Diana – George VI. und Elizabeth II.: Zwei gescheiterte Herzensmonarchen und zwei Vernunftkönige

210

VII. Fazit und Ausblick

217

III. Begründungsstrategien monarchischer Herrschaft

221

Hans-Christof Kraus: Monarchie und Volk – Idee und Problem der 'Volksmonarchie' in Deutschland. Eine Skizze

223

I.

223

II.

227

III.

231

IV.

233

V.

236

VI.

239

Volker Sellin: Die Nationalisierung der Monarchie

241

Franz-Reiner Erkens: Vom "magischen Kitt" der Monarchie. Ein Essai über die longue durée und das allmähliche Verblassen religiöser Herrschaftsbezüge

255

Autorenverzeichnis

295