Methods, theory & philosophy of law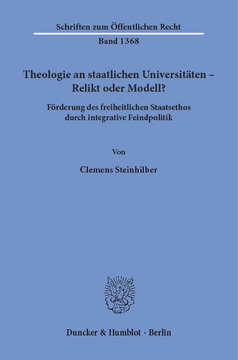 BOOK
Cite BOOK
Style
---
Steinhilber, C. (2018). Theologie an staatlichen Universitäten – Relikt oder Modell?. Förderung des freiheitlichen Staatsethos durch integrative Feindpolitik. Duncker & Humblot. https://doi.org/10.3790/978-3-428-55304-4
Steinhilber, Clemens. Theologie an staatlichen Universitäten – Relikt oder Modell?: Förderung des freiheitlichen Staatsethos durch integrative Feindpolitik. Duncker & Humblot, 2018. Book. https://doi.org/10.3790/978-3-428-55304-4
Steinhilber, C (2018): Theologie an staatlichen Universitäten – Relikt oder Modell?: Förderung des freiheitlichen Staatsethos durch integrative Feindpolitik, Duncker & Humblot, [online] https://doi.org/10.3790/978-3-428-55304-4
---
Format
---
Theologie an staatlichen Universitäten – Relikt oder Modell?
Förderung des freiheitlichen Staatsethos durch integrative Feindpolitik
Schriften zum Öffentlichen Recht, Vol. 1368
(2018)
Additional Information
Book Details
ISBN

978-3-428-55304-4
978-3-428-15304-6 (print edition)

DOI

https://doi.org/10.3790/978-3-428-55304-4

Edition

1

Language

German

Pages

437

Collections

Subjects
Pricing
Institution

€ 146.00 (incl. local VAT if applicable)

Individual

€ 109.90 (incl. local VAT if applicable)
About The Author
Clemens Steinhilber, geboren 1983; Studium der Rechtswissenschaften: 2012 Erstes Juristisches Examen (Heidelberg) und LL.M. (Krakau); 2012–2016 Promotion an der Juristischen Fakultät Heidelberg mit Forschungsaufenthalten in Montpellier, Berlin, Paris (DU Gratianus 2014/2015 – Institut Catholique de Paris / Paris Sud) und Cambridge. 2011–2015 Lehraufträge an den juristischen Fakultäten der Universität Montpellier 1 (2011/2012), der Humboldt Universität zu Berlin (2012/2013) sowie der Universität Paris Sud (2014/2015). 2015–2017 Rechtsreferendariat am Kammergericht mit Stationen im Bundeskanzleramt und am Bundesverfassungsgericht.
Abstract
»Theology at State Universities – Model or Relic?«Concerning the constitutionality of teaching theology at state universities, scholars come to a variety of conclusions (requirement, prohibition, or neutrality). In contrast, this work does not analyze the constitutionality of teaching theology at state universities from the perspective of legal dogma alone. Instead, it recognizes that interpretation of constitutional norms is a matter of opinion, and ultimately cannot be isolated from their context: the practical needs of the secular democratic order underlying the Basic Law. This study finds that theology at state universities forms a bulwark against religious fundamentalism by integrating potential enemies of social order into the modern religious framework. Religious communities who accept the invitation for government-funded academic education of faith leaders are then transformed from within in the medium- and long term, pacifying religious and ideological conflicts without state infringement upon religious autonomy and liberty. The multi-perspective approach may convince secular opponents of state-university theology that higher education of faith leaders is not only constitutional, but also serves religious-political interests and preserves basic assumptions of democratic government.Zur grundgesetzlichen Entscheidung hinsichtlich des Ob von »Theologie an staatlichen Universitäten« werden im juristischen Diskurs gegensätzliche Ansichten vertreten (Gebot, Verbot und Enthaltung). Die vorliegende Untersuchung nimmt ein grundgesetzliches Gebot an. Indes greift sie auf den religionsverfassungsrechtlichen Klassiker nicht rechtsdogmatisch zu. Infolge der rechtstheoretischen Erkenntnis, dass präskriptive Rechtsnormativität zugleich binnenperspektivisch möglich und metaperspektivisch unmöglich ist, nimmt sie eine mehrperspektivische Rechts- und Ordnungsbetrachtung vor. Die juristische Binnenentscheidung bemisst sich dabei maßgeblich an den religions- sowie integrationspolitischen und staatstheoretischen Bedürfnissen der säkularen, freiheitlichen demokratischen Ordnung des Grundgesetzes. Die Untersuchung erkennt in staatsuniversitärer Theologie eine integrative Feindpolitik, um religiös-weltanschauliche Konfliktlagen im Rahmen einer säkularen Ordnungskonzeption zu befrieden und die Gefahr des religiösen Fundamentalismus mittel- bis langfristig in freiheitsadäquater Weise zu bannen. Der mehrperspektivische Zugriff vermag auch säkularen Gegnern staatsuniversitärer Theologie aufzuzeigen, dass dieses Integrationsinstrument nicht nur im Sinne ihrer religionspolitischen Interessen und staatstheoretischen Grundannahmen ist, sondern auch keine rechtlichen Vorbehalte angezeigt sind.
Table of Contents
Section Title
Page
Action
Price

Vorwort

9

Inhaltsübersicht

11

Inhaltsverzeichnis

15

Abkürzungsverzeichnis

21

Anstatt einer Einleitung: Entwicklung des juristischen Zugriffs anhand einer Genese des Untertitels

25

§ 1 Heranführung an den Untersuchungsgegenstand

31

A. Begriffliche Fassung des betroffenen Rechtsgebiets als Vorprägung juristischer Argumentation: Staatskirchenrecht, Religionsverfassungsrecht oder Religionsrecht?

31

B. Empirische Betrachtung des Untersuchungsgegenstands: Was ist Theologie an staatlichen Universitäten?

37

C. Wegmarken und Stand der Diskussion

53

I. Wegmarken der Diskussion

53

II. Stand der Diskussion

56

D. Fokus der Untersuchung: Das 'Ob' staatsuniversitärer Theologie

59

Erster Teil: Versuch einer juristischen Binnenbetrachtung: Von der Suche nach einer Entscheidung des Rechts

61

§ 2 Verfassungsrechtliche Entscheidung zu Theologie an staatlichen Universitäten? – Interpretationsvielfalt

61

A. Verfassungsrechtliche Entscheidung im engeren Sinne: Gebot – Enthaltung – Verbot?

62

I. Interpretatorischer Ausgangspunkt: Nichtrezeption des Art. 149 Abs. 3 WRV

62

II. Religionsverfassungsmodell als Grundlegung der Verfassungsinterpretation

65

III. Interpretationsvielfalt: Gebot – Enthaltung – Verbot

68

1. Gebot – staatsuniversitäre Theologie ist verfassungsrechtlich garantiert

68

2. Enthaltung – staatsuniversitäre Theologie ist verfassungsrechtlich zulässig

71

3. Verbot – staatsuniversitäre Theologie ist verfassungsrechtlich (teilweise) unzulässig

73

IV. Kurzgefasst

75

B. Verfassungsrechtliche Entscheidung im weiteren Sinne\x03: Wissenschaftlichkeit der Theologie

75

I. Ausgangslage: Bekenntnisbindung akademischer Theologie als Kritikgrund

76

II. Das Angebot grundgesetzlicher Wissenschaftsbegriffe: offen – normativ – inpersonal

77

1. Offener Wissenschaftsbegriff

78

2. Normativer Wissenschaftsbegriff

80

3. Inpersonaler Wissenschaftsbegriff

83

III. Kurzgefasst

85

§ 3 Von den Grenzen der Rechtserkenntnis zur Mehrperspektivität des Rechts

86

A. Grenzen der Rechtserkenntnis: Reflexionen zu juristischem Denken und Handeln

86

I. Interpretationsvielfalt

86

II. Präskriptive Normativität als regulative Idee des Rechts

88

1. Erkenntnisinteresse: Rechtsnormativität

88

2. Religionsverfassungsrecht: Mahnungen zu redlicher Rechtsarbeit aufgrund besonderer Ideologieanfälligkeit

98

III. Mehrperspektivität juristischen Denkens und Handelns

102

1. Partikulare Begründbarkeit universaler Wahrheitsansprüche

102

2. Ebenenadäquate Rechtsbetrachtung: Binnen- und Metaebene

105

B. Konsequenzen aus der Besinnung auf die Mehrperspektivität des Rechts im Rahmen dieser Untersuchung: Entbehrlichkeit einer Binnenbetrachtung

111

I. Allgemein: Entlastende juristische Redlichkeit

111

II. Konsequenzen im Rahmen dieser Untersuchung: Entbehrlichkeit einer Binnenbetrachtung

112

C. Kurzgefasst

113

Zweiter Teil : Metabetrachtungen: Staatliche Motivation zu staatsuniversitärer Theologie

115

§ 4 Religionspolitische Perspektiven: Herausforderungen durch religiösen Fundamentalismus

116

A. Aktuelle Herausforderungen durch islamischen Fundamentalismus

116

B. Fundamentalismus als religions- / konfessionsübergreifendes Phänomen – \rAnschauungsmaterial

126

C. Vergewisserung: Wann spricht man von religiösem ­Fundamentalismus? – Strukturelle Einordnung ­fundamentalistischen Denkens und Handelns in modernen Gesellschaften

133

§ 5 Mehrperspektivische Betrachtung des religiösen Fundamentalismus als Voraussetzung integrativer Feindpolitik

149

A. Maßgeblicher Gesichtspunkt: Positionierung zum säkularen Nationalstaat

149

B. Sprachlosigkeit: Religiöser versus säkularer ­Fundamentalismus – religiöse versus säkulare Ordnungsideologie

153

C. Notwendigkeit einer mehrperspektivischen Betrachtung: Metaebene und Binnenebene

165

I. Der anbrechende Ernstfall – (un)berechtigtes Widerstreben freiheitlicher Ordnungen

166

II. Religiös (un)gleich säkular

173

III. 'Integrative Feindpolitik' als begriffliche Fassung der notwendigen Gleichzeitigkeit von Konsensdenken und der Freund-Feind-Unterscheidung

176

IV. Gehalt(losigkeit) des Fundamentalismusbegriffs

181

§ 6 Staatstheoretische Verortung der Thematik und konzeptionelle Grundlegung mehrperspektivischen Ordnungsdenkens

184

A. Annäherung an das staatstheoretische Grundproblem des freiheitlich-säkularen Staates: Der freiheitlich-demokratische Staat steht in der Luft

185

B. Individuelle Freiheit und freiheitliche Gesellschaftsordnung – ein Paradoxon

188

C. Konzeptionelle Grundlegung mehrperspektivischen ­Ordnungsdenkens im freiheitlich-säkularen Staat

191

I. Binnenebene: Der idealistische Modus des modernen Staates – adjektivische Ordnungsbetrachtung ('freiheitlich-demokratische' Ordnung)

194

II. Metaebene: Der realistische Modus des modernen Staates – substantivische Ordnungsbetrachtung (freiheitlich-demokratische 'Ordnung')

198

1. Erinnerung: Herausforderungen im idealistischen Binnenmodus

201

2. Der realistische Metamodus

203

III. Lösungsstrategie: Metaperspektivische Binnenbetrachtung und -steuerung

204

D. Kurzgefasst

210

§ 7 Erdungsstrategien – Sicherung und Förderung des staatstragenden Ethos durch integrative Feindpolitiken

212

A. Integrationsleistung der modernen Staatskonzeption

213

I. Die freiheitliche Rahmenordnung: Das Gute und das Rechte

214

II. Qualitative Allgemeinheit der Bürger und Nichtidentifikation des Staates

220

III. Von der Verzauberung einer Machtordnung

224

Exkurs: Anschauungsmaterial zur metaperspektivischen Binnensteuerung

226

IV. Kurzgefasst

229

B. Religiös-weltanschauliche Neutralität: Integrationspotenzial des (unmöglichen) konstitutiven Moments einer freiheitlichen demokratischen Grundordnung

231

I. Religiös-weltanschauliche Neutralität als konstitutives Moment einer freiheitlichen demokratischen Grundordnung

232

II. Funktionsweise religiös-weltanschaulicher Neutralität in moderner Ordnungskonstruktion

238

III. (Un)Möglichkeit religiös-weltanschaulicher Neutralität am Beispiel staatsuniversitärer Theologie

242

C. Maßnahmen der Außen- und der Innensteuerung

247

I. Maßnahmen der Außensteuerung

247

II. Maßnahmen der Innensteuerung (unmittelbar / mittelbar): Dialogstrategien

249

§ 8 Theologie an staatlichen Universitäten als besonderes feindpolitisches Integrationsinstrument

255

A. Religionspolitischer Aufriss: Moderne Religiosität durch akademische Theologie

255

B. Detailbetrachtung des feindpolitischen Integrationsinstruments

263

I. Ausnahmerhetorik in der zweiten Hälfte des 20. Jahrhunderts – geglaubte Verwirklichung einer Utopie

263

II. Theologie an staatlichen Universitäten als Instrument mittelbar-unmittelbarer Innensteuerung

267

III. Funktionsweise des Übersetzungsmechanismus

273

1. Religiöser Fundamentalismus und moderne Wissenschaft

273

2. Moderne Religiosität durch Erlernen innerer Diskursivität

276

3. Bekenntnisbindung als notwendiges Relais für religiöse Bildung

289

4. Ordnungsaffirmation infolge religionsneutraler Rhetorik

295

5. Staatsuniversitäre Theologie als allgemeines Werkzeug der Ordnungssicherung

297

a) Vor 1870 / 1871

297

b) Deutsches Kaiserreich

298

c) Weimarer Reichsverfassung

303

d) Drittes Reich

304

e) Deutsche Demokratische Republik

307

f) Bundesrepublik Deutschland

308

g) Kurzgefasst

315

6. Kurzgefasst

316

IV. Leistungsfähigkeit staatsuniversitärer Theologie als Instrument religiöser Bildung

317

1. Perspektivische Diskursausschließung nichtwissenschaftlicher Theologie als Leistungsnachweis

319

2. Innere Zerrissenheit der Religionsgemeinschaften und deren Aufhebung in die Moderne

322

a) Innere Zerrissenheit am Beispiel islamischer Theologie an staatlichen Universitäten

322

b) Entwicklungspfad der christlichen Großkirchen als Modell

327

3. Stimmungsbild: Breiter Konsens als Indiz ordnungsstabilisierender Wirkung staatsuniversitärer Theologie

330

V. Negative Implikationen einer überschießenden Zielerreichung – staatsuniversitäre Theologie als Bedrohung ihrer selbst

330

VI. Theologie an staatlichen Hochschulen versus akademische Theologie: Religionspolitische Gründe für einen Fokus auf staatsuniversitäre Theologie

333

VII. Theologie an staatlichen Universitäten als religions- und integrationspolitisches Modell auch für andere Religionsverfassungstraditionen

336

Kurzgefasst – Zweiter Teil

337

Staatliche Motivation zu staatsuniversitärer Theologie

337

Dritter Teil: Metaperspektivisch begründete Binnendarstellung

340

§ 9 Metaperspektivisch begründete Binnendarstellung – grundgesetzliches Gebot staatsuniversitärer Theologie

342

A. Verfassungsrechtliche Entscheidung im engeren Sinne: Gebot – Enthaltung – Verbot?

342

B. Verfassungsrechtliche Entscheidung im weiteren Sinne: Wissenschaftlichkeit der Theologie

342

I. Gedanken zum Diskurs über die Wissenschaftlichkeit der Theologie

343

1. Theologie als Wissenschaft – dominante Deutung verfassungsjuristischer, politischer und religionsgemeinschaftlicher Akteure

343

2. Religiöse und säkulare Soll- und Kann-Kritik an akademischer Theologie an staatlichen Universitäten

350

3. Theologie (un)gleich Wissenschaft – Einordnung der Positionen

357

4. Diskursausschließung nichtakademischer Theologie aufgrund Perspektivität der Fragestellung

358

II. Mahnung zur Annahme eines offenen Wissenschaftsbegriffs: Kritik des normativen und des inpersonalen Wissenschaftsbegriffs

360

1. Kritik des normativen Wissenschaftsbegriffs

360

a) Rationalisierung der Bekenntnisbindung als wissenschaftliches Prädikat

361

b) Strukturelle Parallelen: Rechtswissenschaft als 'bekenntnisgebundene' Disziplin

365

c) Kurzgefasst – Kritik des normativen Wissenschaftsbegriffs

370

2. Kritik des inpersonalen Wissenschaftsbegriffs: Verwirklichung der Erkenntnisoffenheit durch wissenschaftliche Tätigkeit

370

a) Gewinnung religiöser Individuen für wissenschaftliches Denken durch staatsuniversitäre Theologie

371

b) Folgenlosigkeit äußerer wie innerer Bekenntnisbindung für den Telos der Wissenschaftsfreiheit

372

c) Einordnung des inpersonalen Wissenschaftsbegriffs

373

3. Kurzgefasst

374

III. Die Wissenschaftlichkeit der Theologie: Ein (un)entbehrliches Gefecht – Mehrperspektivität der Diskussion

375

IV. Kurzgefasst

377

§ 10 Sicherung des freiheitlichen Staatsethos durch Liberalisierung der Rechtsarbeit

379

Schlusswort

381

Literaturverzeichnis

383

Stichwortverzeichnis

430